#1
Above
Atop the first peak of the Olomana trail with Natalie, Dan and Kim.
Hiking up Olomana always gives me that "Wow, I freakin' live here [in Hawaii]" feeling. It's an amazing hike and it's only about 25 minutes away from my apartment. The trail takes you up the ridge of Mt. Olomana. There are three peaks to hike to. The first one is fairly intermediate to get to and is the most sceneic. You get a 360 degree view from the top. The second peak is a bit more intermediate of a hike. And the third peak is an advanced hike/climb. I have yet to do the third peak (keep running out of time) but when I do I will blog it immediately.
Update 4/25/2011: This is a very popular hike and a lot of people do it but it's still very dangerous. There have been several news reports recently about hikers falling on this trail and being critically injured. Yesterday, someone fell 150 feet and died. If you have any doubt in your hiking/climbing ability, you may want to consider a different trail.
#2
Above
A log.
As with many hikes in Hawaii, the terrain changes dramatically. You go from feeling like you're in a rain forest to feeling like you're in Yosemite every few hundred yards. Here we are walking through a patch of pine trees.
The hike starts with a pretty rapid climb so be prepared. Lots of water helps and you'll be taking frequent breaks. I always end up stopping at these rocks to rest for a bit.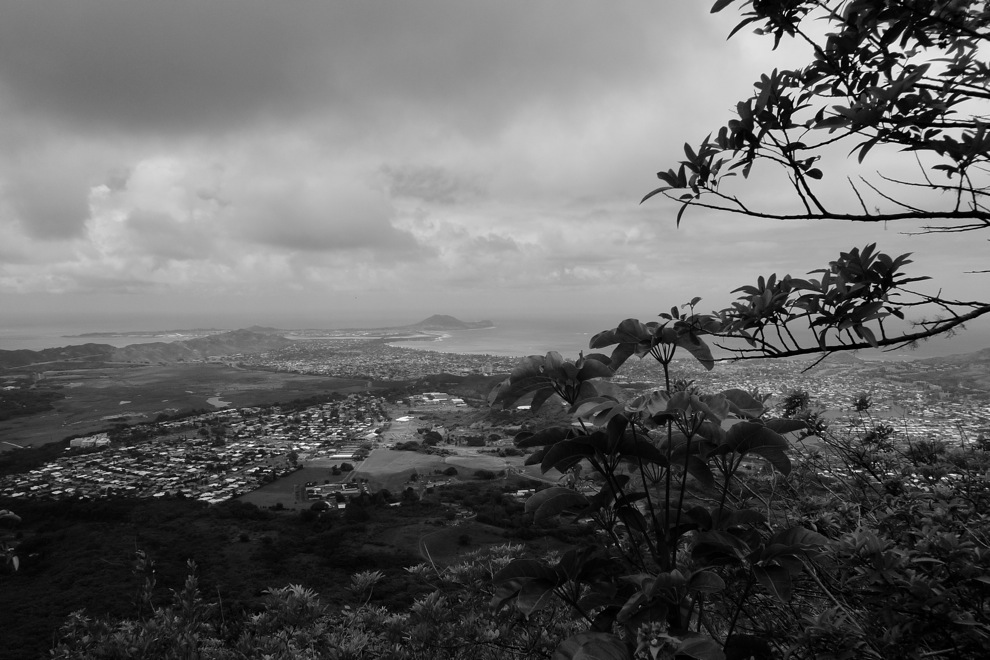 #3
Above
View from 1/3 of the way up to the first peak.
Black and white Hawaii views always feels nostalgic. This is only a third of the way up and already the views are great. Just wait until you see the top.
#4
Above
View of the third peak.
The trail ends at the very top of this peak here. It's pretty sketchy looking but we're going to do it someday. Very soon I think.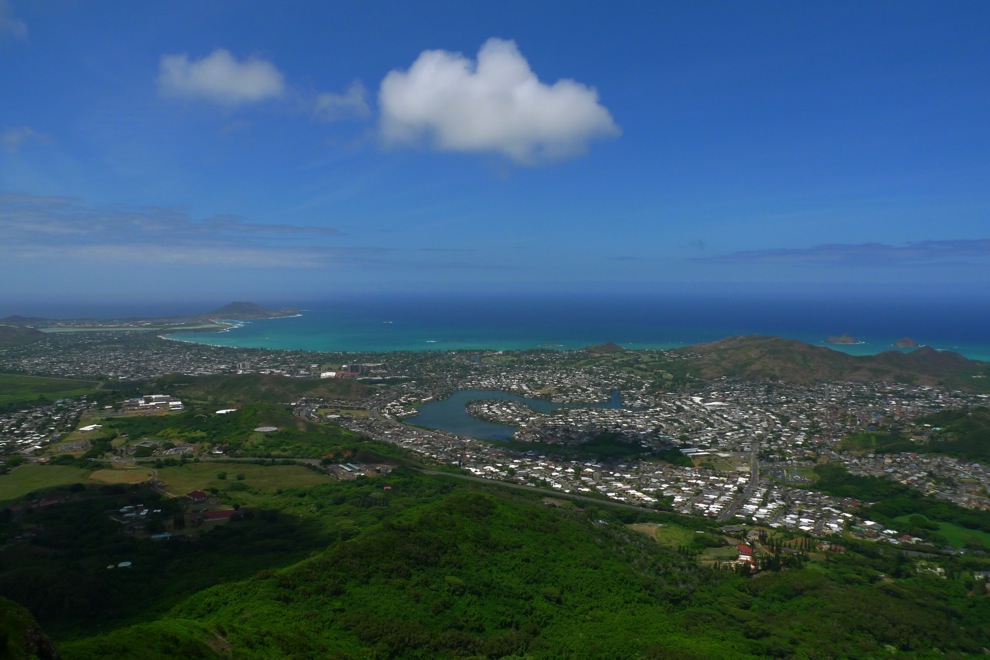 #5
Above
Kaneohe and Kailua.
Here's the view from the top. You get a 360 degree view from the top of the first peak. A lot of people chill and picnic at the top.
#6
Above
Me checking out the decent to the third peak trail.
We hit the second peak and checked out the path to the third peak. It didn't look to bad actually. One day, when there's more time…
#7
Above
Dan, rock climbing.
So I see this rock and I joking say to Dan, "Wanna take the hard way up?" To which he replied "Okay." So there he is climbing straight over this boulder.
#8
Above
Almost home.
So we hiked to the first peak, chilled for a bit, hiked the second peak, chilled for a bit, went back to the first peak, chilled for a bit, and then made out way down. The decent is still pretty challenging. All those small hand and foot holds you had to use on the way up come in to play on the way down as well. And the steep decline can be rough on the knees.
But when it was all said and done the verdict was: totally worth it, totally tired. When I got home I showered, shoved a ton of Korean food in my face, and took a three hour nap.
See also: