#1
Above
The third peak. Looks easy enough.
That point you see there is it — the third and most challenging peak of the Olomana Trail. I've hiked up Olomana a few times already but I was never able to get to the third peak. Last weekend, Dan, Jack and I set out to get to it. It was more challenging and time consuming than I expected. Total hiking time, round trip, was about five hours. It was incredibly fun. I'll show you the path the top in the photos to follow.
Update 4/25/2011: This is a very popular hike and a lot of people do it but it's still very dangerous. There have been several news reports recently about hikers falling on this trail and being critically injured. Yesterday, someone fell 150 feet and died. If you have any doubt in your hiking/climbing ability, you may want to consider a different trail.
#2
Above
View from our parking spot. The first peak is visible on the left.
It was a great day for a hike. Overcast is good. Shade is good.
An important tip: The sun came out later on and beat down on us while we were well into the hike. All three of us ran out of water a little too early. If you want to hike to the third peak, bring plenty to drink. Two liters of water and a two quarts of Gatorade, each, would have been nice.
#3
Above
The descent.
Okay here we go. Starting from the second peak, the trail begins with a steep descent. It's almost vertical but it not too difficult. You just grab the ropes (that someone has set up at sometime and you just have to trust) and repel down.
#4
Above
Navigating down the slope.
It gets tougher though. The ropes end when the vertical decent ends and you have to make your way down a steep slope on your own. This part is tricky but here are plenty of rocks and roots to hold on to.
#5
Above
The path to the third peak.
Alright, we made it down. Safe and sound. In the left photo you can sort of make out the trail down. And then on the right you can see that the path to the third peak pretty much goes straight up. There's a person about half way up the path.
#6
Above
A rock formation. Left: Me. Right: Dan scaring the crap out of us by climbing up this rock.
Half way up to the third peak a rock formation juts some 25 feet straight up and out of the ridge. What you can't really see in the photos is that on either side of the rock, there's a sheer drop off of several hundred feet. It is sketchy. If you have any fear of heights (like I do), I think this section is where your heart will be pumping the fastest. I'm guessing most people that do this hike don't actually climb up this rock and bust a shaka. Yeah…Dan didn't really have a problem with it.
#7
Above
The peak.
Just a few more steps to the top.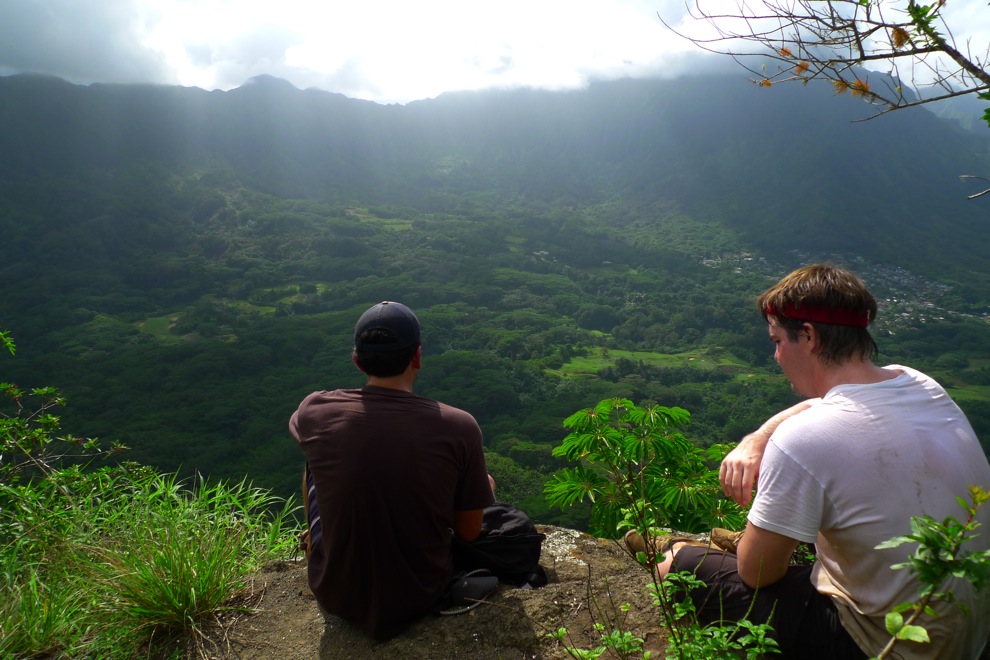 #8
Above
View from the top.
And we made it. Sweaty, thirsty and totally stoked.
#9
Above
Me, resting.
The view is the same as from first and second peak. This part of the hike is all about the fun of climbing. Which you get to do again on way back. The next challenge is to do it all over again, only faster.
#10
Above
View from the third peak.
Third peak of Olomana — check.
See also: