#1
Update 12/7/2013: A big fence has been erected that blocks off the trailhead. 
Update 10/13/2013: Please note that this hike is officially off-limits. If you attempt this trail, you are doing so at your own risk.
Whenever I get to the end of a hike I always see these little off-shoot trails and wonder where they go. Problem is, I'm usually too tired to explore or running out of daylight. Well last weekend, at the end of Mariner's Ridge, we hooked a left, found a trail and kept on hiking. It was most awesome.
Hard to describe in words. Photos better.
But first, let's start from the beginning. If you look up the reviews on Yelp, you see that people love this hike. It's quick (about an hour round trip), not very rigorous and there's a fantastic view at the end.
#2
Above
The start of the trail.
This trail starts a bit different than I'm used to. You get to drive pretty far up the mountain through a neighborhood to get to the trail head. As for the Kuliouou trail (the next ridge over) … not so much.
#3
Above
Horizontal pine needles.
Here's the first terrain change. A patch of forest with serious wind blowing through.
#4
Above
End of trail.
So you get to end of the trail quickly. There's not much to see during hike but at the end there's a huge payoff. The view of the windward coast (it hasn't even begun to get old).
#5
Above
View to the left.
Okay, here's where the hike can get interesting. I'm at the end of Mariner's Ridge here looking to my left. You can see that this ridge zigzags right then left. I think it might connect all the East Side ridges (Kuliouou, Hawaii Loa and Wiliwiliniu). It looked hikeable so I figured it was worth checking out. We spotted a trail right away. It was lesser traveled which made it more fun.
#6
Above
Steve (top right).
We've descended quite a bit here. Here you can see a person (Steve) at the top right area of the photo. That's the end point of Mariner's Ridge.
#7
Above
Kim and Tim.
Sister and brother taking in the view. And trying to keep a hat from flying off. That mound of rock in the background was our descent.
#8
Above
The objective.
As we started exploring this new trail we set a goal to get to the top of this peak. No one knew if this was possible but it seemed like it should be. After all … this is hikeable.
#9
Above
The objective — only closer.
The closer we got, the more intimidating the peak looked. In a good way though I suppose because it just meant it would be cooler if we made it to the top.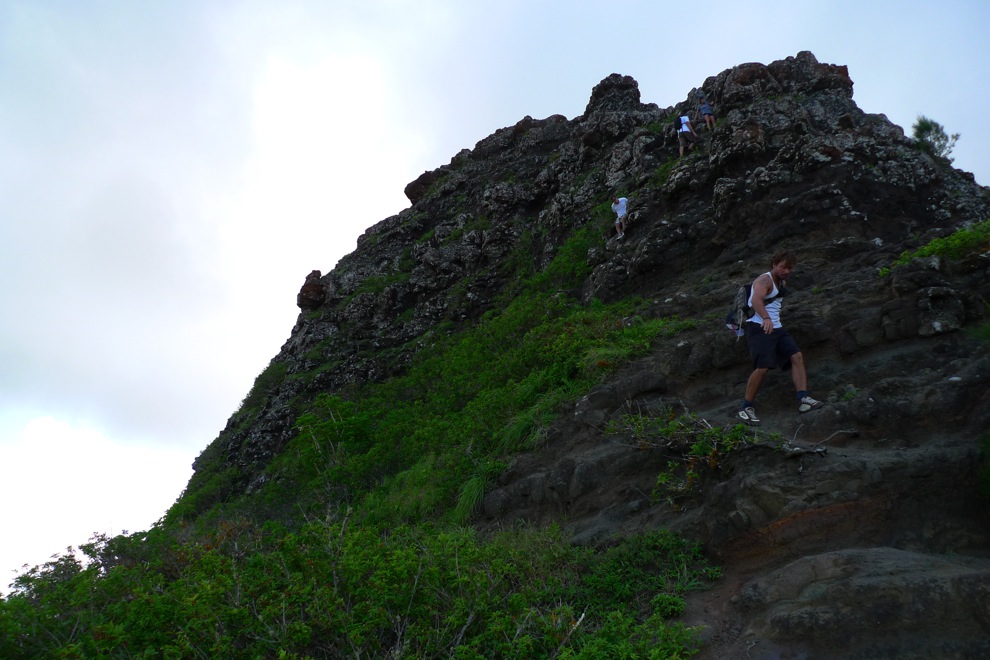 #10
Above
Path to the top.
And we did. It took some climbing up loose lava rock but it was very doable.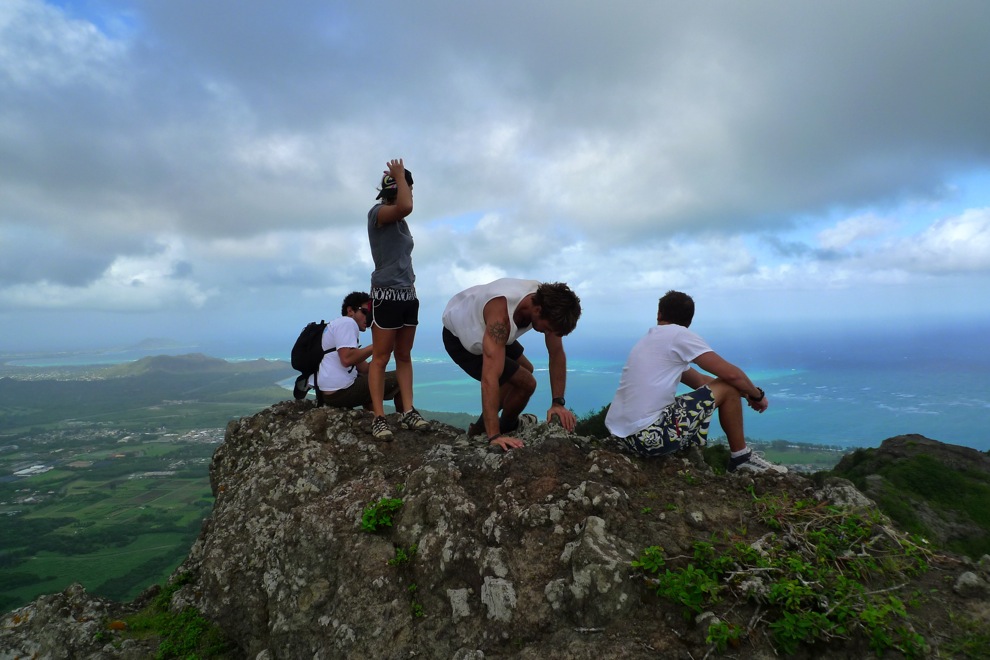 #11
Above
At the top.
And very rewarding. We're at the top now, safe and totally stoked.
#12
Above
Now that's a view.
You get a unique perspective from here. It's different than being at the top of Mariner's or Kuliouou ridge as you're centered above Haha'ione Valley. Mariner's Ridge (left) and Kuliouou Ridge (right) converge with Koko Head and Hanauma Bay in view towards the ocean. The haze and overcast created these slats of sunlight that shimmered off of the ocean.
Being up here erases the stress and brain drain of the work week. Much needed indeed.
#13
Above
The crew.
At this point I think Kim said it best: "Beef jerky time."