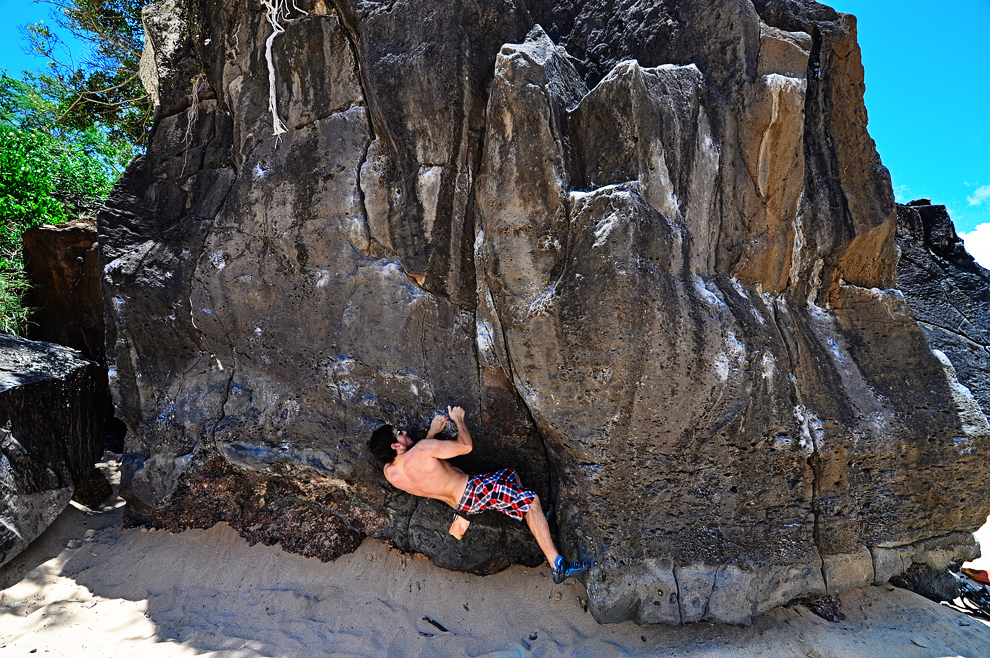 #1
Above
Dan
starts off a boulder problem.
Waimea Bay is one of the most famous beaches in Hawaii. It's best known for big wave surfing and more specifically, The Eddie. What many people may not know though, is that Waimea Bay is also home to some of the best bouldering on Oahu.
In case you're not familiar with climbing, "bouldering" is a type of rock climbing. It's pretty much free climbing (meaning, no ropes) but you only go up 10 to 2o feet. Since the heights are low if you fall you just push off the rock and land on either crash pads or in this case, sand. And to make the most of the short climbing distance, climbers set up "problems" for each other. You pick a point A and point B on the rock then figure out how to do the route using only specific holds. On outdoor rock, you can usually see where the holds are by the white marks left by chalk climbers use on their hands.
Bouldering is a super niche sport but I'm not sure why more people don't do it. It's incredibly addicting. And at Waimea, you get to climb on the beach. Which is awesome.
#2
This is the rock. There's good variety here. Most of the face shown in this photo is climbable. To the right of the tent is an overhang section. There are also cracks you can climb and some beginner routes as well.
It's important to remember is that this is a beach park and many families like to use this shaded area by the overhang to hang out and BBQ. You can avoid awkward beach turf standoffs by climbing in the morning or evening. I'd estimate that before 10am and after 5pm would be good. People also like to come out here and climb at night. But even at peak beach going hours, there's still climbable sections.
Now one downside to having this be a popular beach hangout is the litter that accumulates around the rock. Not only is litter dirty but it's dangerous. Broken glass from beer bottles gets buried in the sand and you don't want to be falling on that. Thankfully, local climbers come out periodically and help clean up the beach and maintain the rock. Volcanic Rock Gym actually organized a beach/rock clean up earlier this morning.
#3
Here's Dan finishing that problem he started. When you get to the top of the boulder, there's a cement path that leads you to stairs behind the rock. It takes you down to the left of the boulder. My guess is that it was initially made to help people get to the top of this boulder, not down.
#4
This was one of the easier ways to get to the top. Even so, being up this high without a rope gets the heart pumping.
#5
Jim came by and helped us figure out some problems. We know him from the rock gym.
#6
He quickly punished one of the problems we were working on.
#7
Then he paused for a minute to take in the view.
#8
A view of this beach. Where Kim is laying here is about thirty yards from where we were climbing. So when you start getting tired on the rock, you can stroll on over and jump in the water. During the summer months, Waimea is great for swimming. In the winter, not so much (think 20-50ft waves).
#9
And when you get tired of swimming you can go jump off a rock.
See also:
Here's a note on parking. Free parking is scarce but don't let that turn you off. There's $5 parking available at the Waimea Valley Park (across from the beach park on the opposite side of street). You can park there until 7pm.