#1
Above
A body boarder paddling back to catch another wave.
Up until a couple weeks ago, I thought the cliff section in Portlock over the spitting cave was called China Wall. Oops. That area is Portlock Point. This (above), is China Wall. It's just around the corner from the Portlock Point and overlooks a kamikaze style surf break. The view is most amazing at dusk and at this time of year, you can watch the sun set over Diamond Head.
China Wall is one of the most beautiful places on Oahu. Go there to hang out, soak in the view and watch some intense surf.
#2
You'll want to park just outside of this cul-de-sac. At the end, where so signs are is the access to the cliff.
#3
Officially this is called Koko Kai Mini Beach Park. Because of the dangerous waves here, they also have a sign that tells how you to give your location to the 911 operator.
#4
Walk down this path and you'll be on the cliffs.
#5
The view is just amazing.
#6
The waves can be intense here. Every now and then a set of three or four waves will come in and crash against the rocks. It's loud and violent. And very fun to watch.
#7
Above
Crashing waves up front and sun shining over Diamond Head in the distance.
Just don't get careless. Stay high up on the cliffs where the ground is dry. This waves here are notorious for sweeping people off the rock.
In fact … keep your eye on the girl standing on the ledge in the photo below.
#8
This huge wave came out of nowhere. I saw a body boarder going for it so I started snapping pics. He got the wave but the girl standing on the ledge got creamed. On all the other waves that came through, the splash barely reached up the rocks. But this one came in hard and swept the girl into the water. The guys jumped in after her. She was okay. But the wave must have slammed her against the rocks because she had a cut up leg and a chipped tooth. She laughed it off.
#9
Surfing here is also treacherous. It's a big wave and a long ride so many take the risk. But you ride the wave right up against the rocks. If you fall at the wrong spot, you could get slammed against the cliff but, I'm sure that's all part of the rush.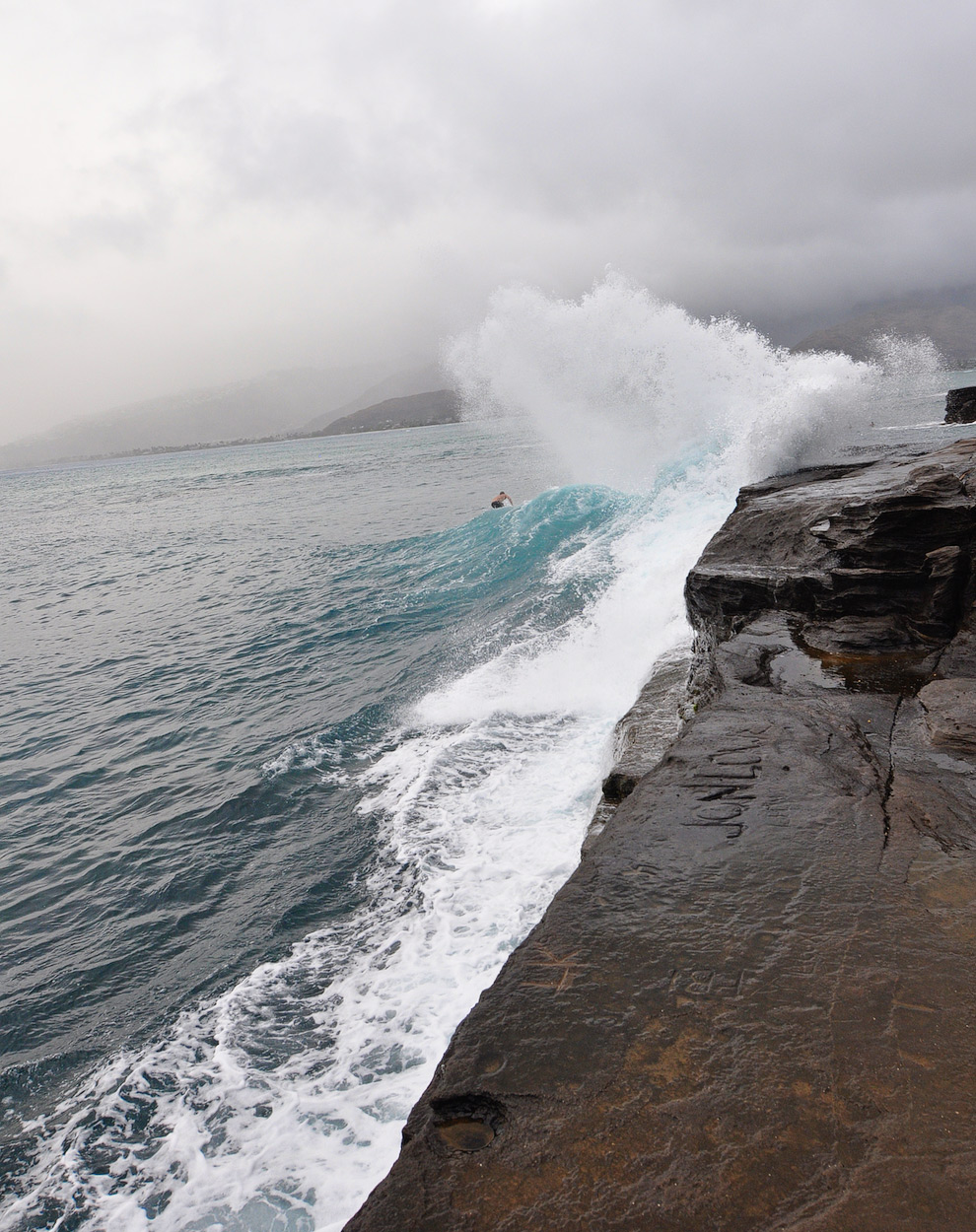 #10
The danger of this surf break also makes it fun to watch. These guys are nuts.
#11
Scroll right to see this sequence.
See also: