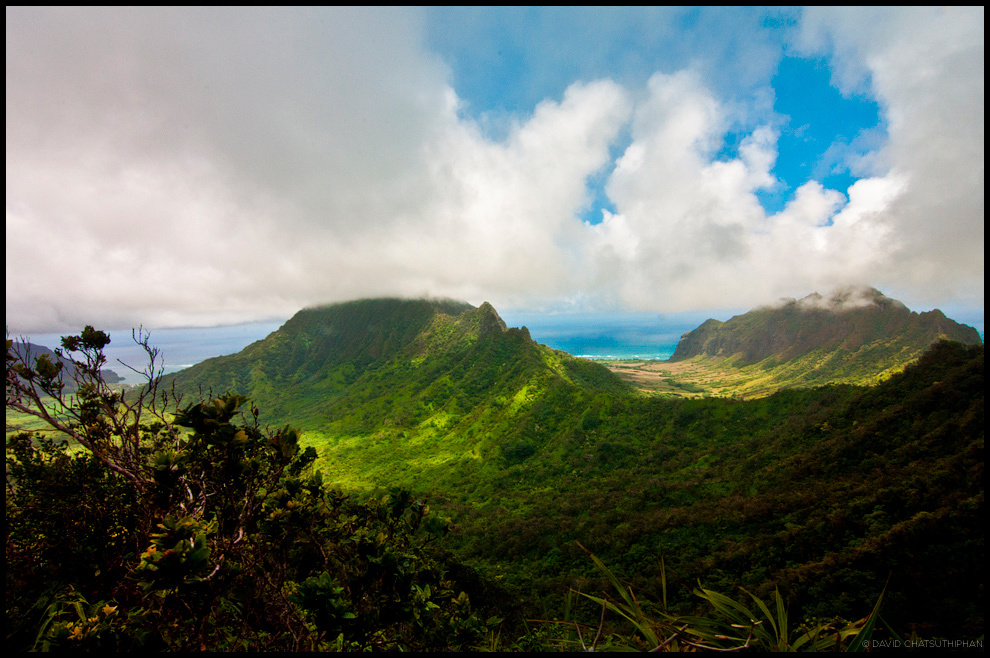 Above
The view from deep in the back of Kahana Valley.
Here's what we're looking at from left to right: Kahana Valley, Pu'u Manamana, Ka'a'awa Valley, then Pu'u Kanehoalani. So how do you see this view? Hike up to Pu'u Ohulehule.
Pu'u Ohulehule is the pyramid shaped mountain that sits in the back of Kahana Valley. (The word "pu'u" can be translated "hill" or "mountain" by the way.) There's a trail that starts at Ahupua'a 'O Kahana State Park (formerly Kahana Valley State Park) that takes you through the valley and up to the very top of the mountain. You'll hike 8 miles round trip and including breaks, it takes about 8 hours to complete.
The trail up Pu'u Ohulehule is known as one of the most difficult on Oahu but don't let it's reputation deter you. It's advanced but doable. You'll have different types of terrain to explore including stream crossings, rain forests, narrow ridgelines and vertical climbs. The trail will take a lot out of you but the experience is worth it.