#1
I've seen Chinaman's Hat (Mokoli'i Island) countless times while hiking, driving or swimming on the Windward side of Oahu. It's the small island that looks like a rice picker hat. But up until a few of months ago, I had no idea you could walk out to it. Yep, you just drive out to Kualoa Regional Park, put on some old shoes and walk right out to it over the reef.
Please note: you can only walk to Chinaman's Hat at low tide. Once the tide gets higher, a kayak, surfboard or paddle board is required. People have died attempting to come out to Chinaman's Hat without the help of some type of floatation device.
At low tide the water is waist high but at high tide it'll be neck high or higher. You may have heard that there are supposedly hammerhead sharks all over these waters but we didn't see any.
On the back side of the island there's a beautiful small cove with a tiny sandy beach. We had been talking about trying to have a BBQ out there and a couple of weeks ago we finally made it happen. The experience of walking out to the island and being on your own secluded and private cove made for a happy day indeed.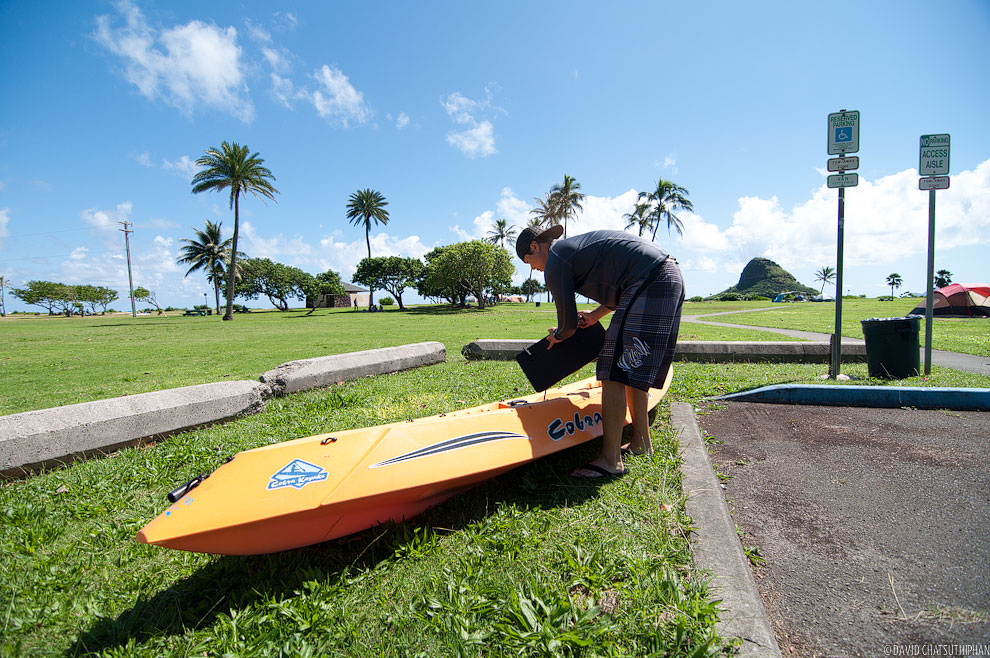 #2
This is Cory. Our guide and chef. If you want to BBQ at Chinaman's Hat, knowing a guy like Cory helps a lot. He was able to fill his two person kayak with food, drinks and the grill.
#3
If you don't have a kayak it would still be worth it to go out and picnic at the hat. Just throw your food in a waterproof bag. Although I've heard of it being done before, we actually didn't walk the whole way. We had either boogie boards or surfboards that let us carry more gear over. And we used them on our return trip in the evening during high tide.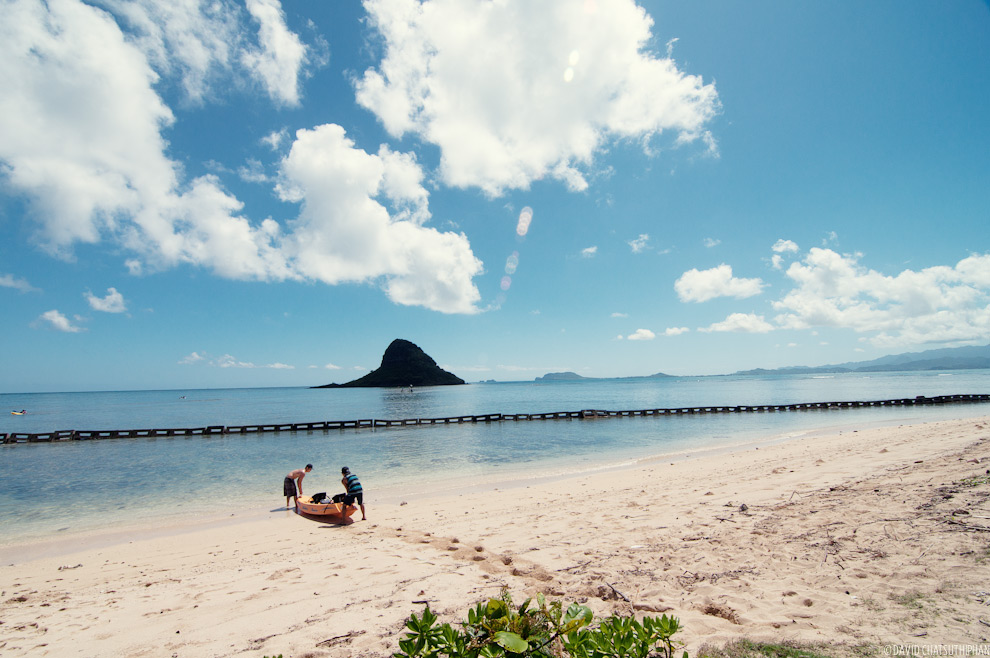 #4
This is where you want to start the journey.
#5
Our trip out to the island was during low tide. The reef is uneven so there were times when the water will be waist high and sometimes as shallow as knee high.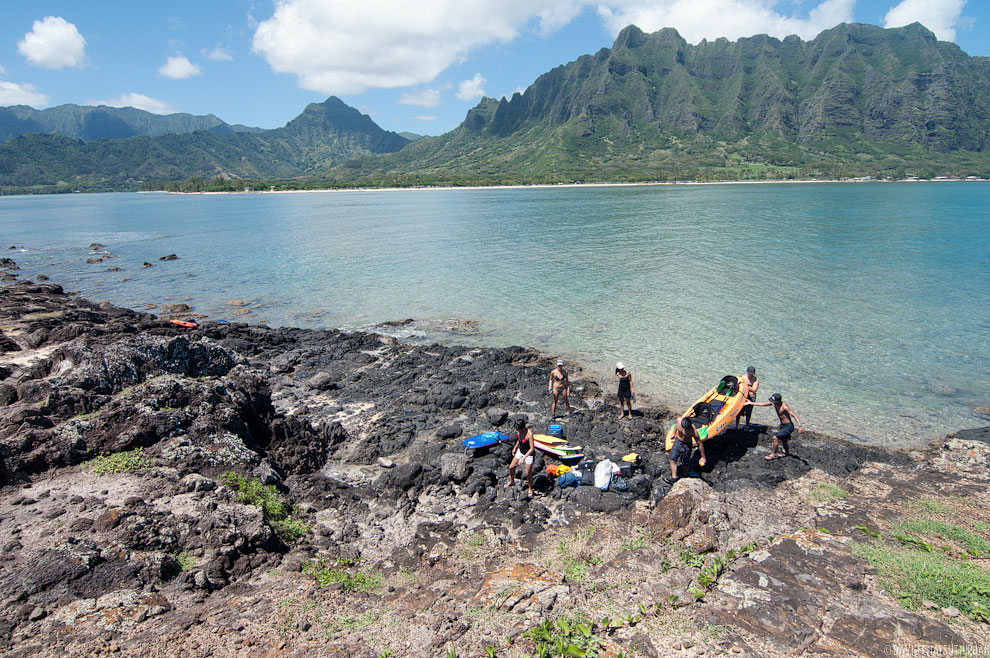 #6
After 15-20 minutes you'll be at the hat. There are a few places to enter the island. This one was convenient for bringing the kayak up.
#7
Chinaman's Hat was much bigger than I had expected. I had always seen it from so far away. You can hike to the top of this peak here.
#8
Looking back at the shore you'll see this beautiful view of the coast.
#9
Time to hike to the top. We stowed our stuff under some shade and walked along the shoreline. There were several other groups of people on the island but we figured our stuff would be okay.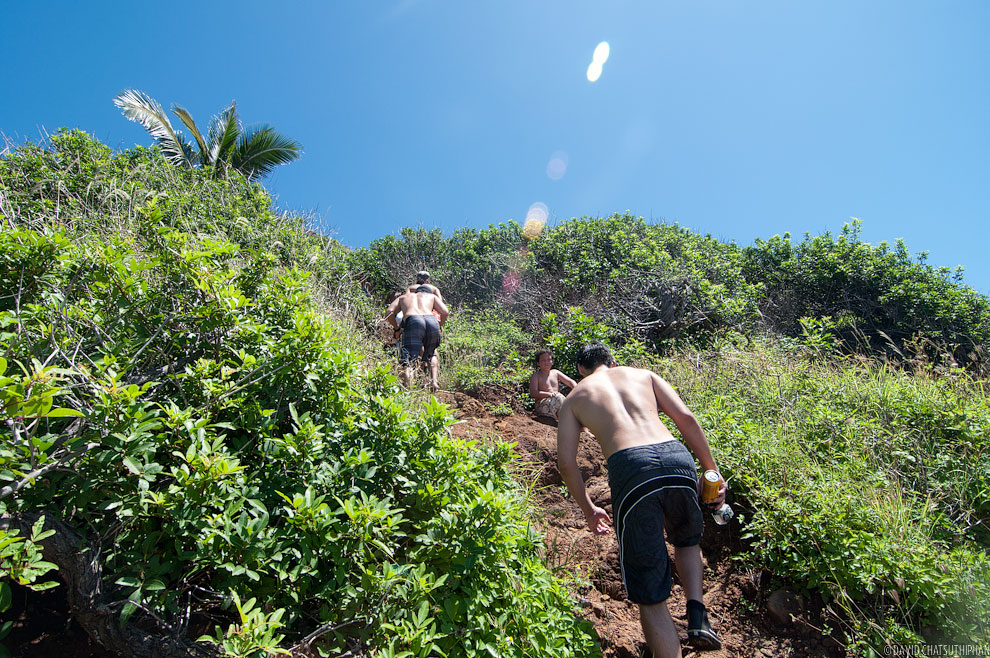 #10
If you walk along the shoreline for a few hundred yards you'll see the trail that leads up the peak.
#11
Getting to the top involves some light bouldering. You may not want to take novice hikers up this trail (especially if they are wearing slippers) but if you have some hiking experience, it should be fine.
#12
Steps away from the top now.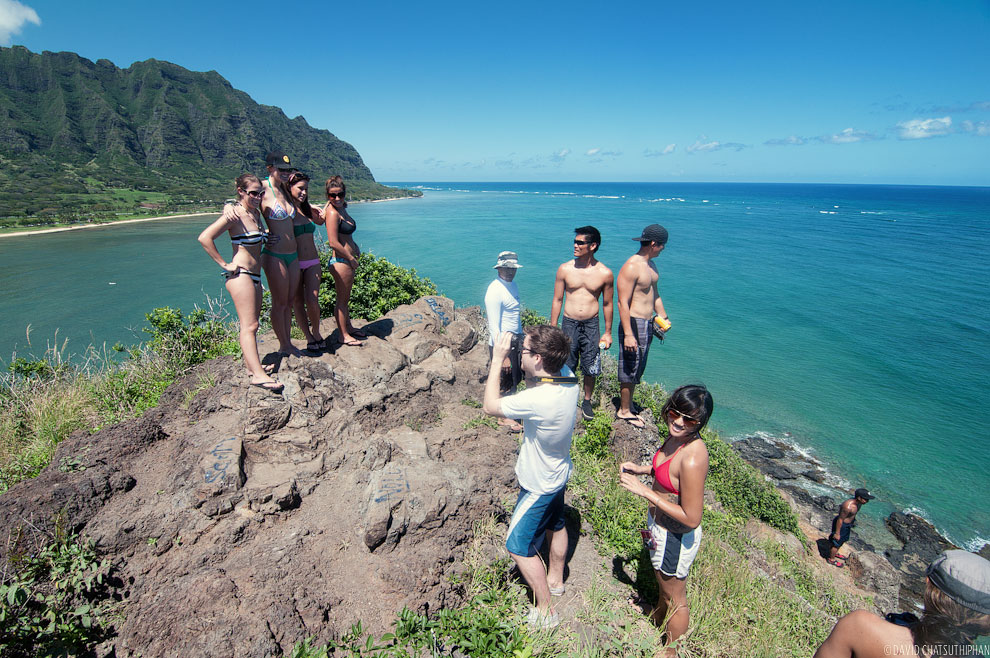 #13
When you get to the top you'll have a 360 degree view. Hang out and soak it in.
#14
In the distance you'll see the Kaneohe Sandbar.
#15
Facing out to sea we saw a whale breach 3 times (not pictured).
#16
Views are cool but we came here to eat and drink. You'll walk back down the peak the same way you came up.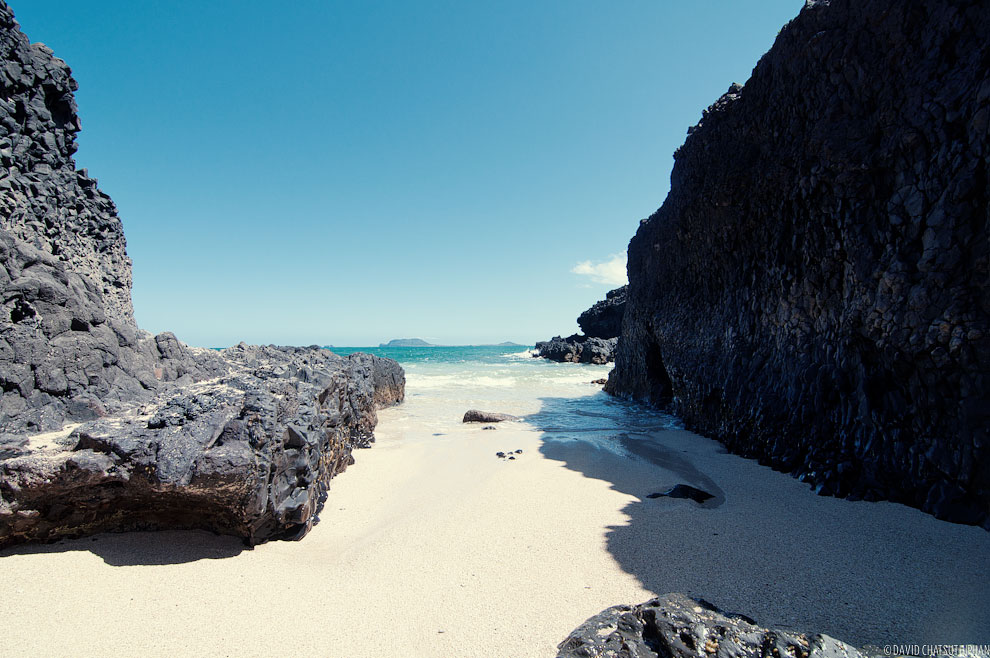 #17
Here's the beach.
#18
It feels like a private swimming pool with some fun small waves.
#19
We set up camp against the rocks. We were able to build a shelter with some rope and beach towels. I don't know how they did it but it was genius.
#20
In front of our camp was a collection of small tide pools.
#21
Time to fire up the grill.
#22
Asparagus cooks while we play in the water.
#23
Apparently, if you're a swimmer, you can swim around the island in 25-30 minutes. Jen and Luke took a swim around the island with Jen and Dale following in the kayak. It helps to have fins if you try this.
#24
And when you have to go to the bathroom, what better way to get in the water than jumping off a ledge.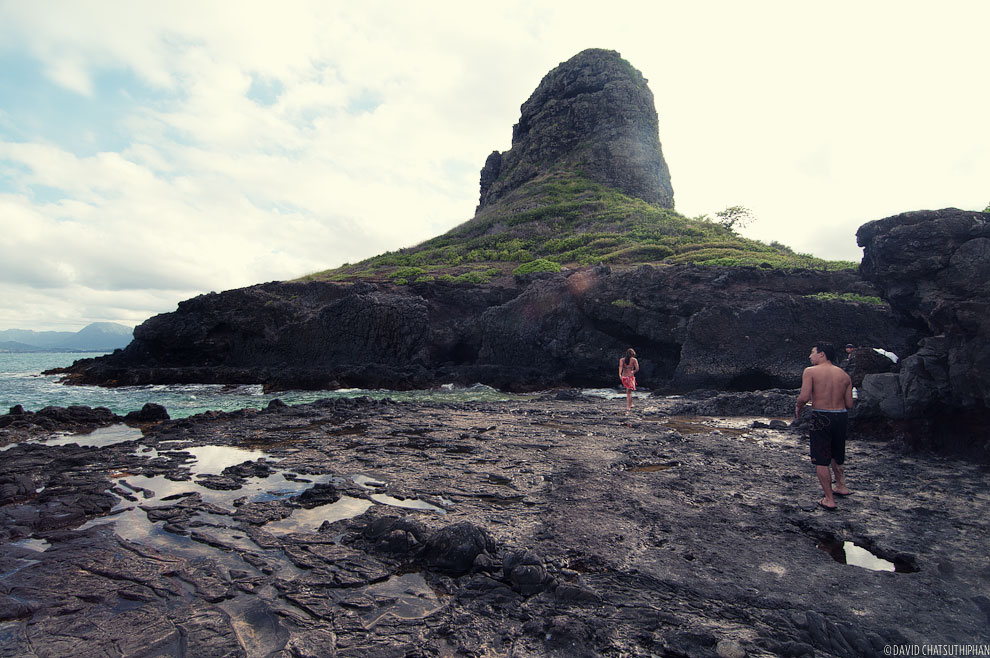 #25
It was a fun day exploring this small cove with some good food, drinks and friends.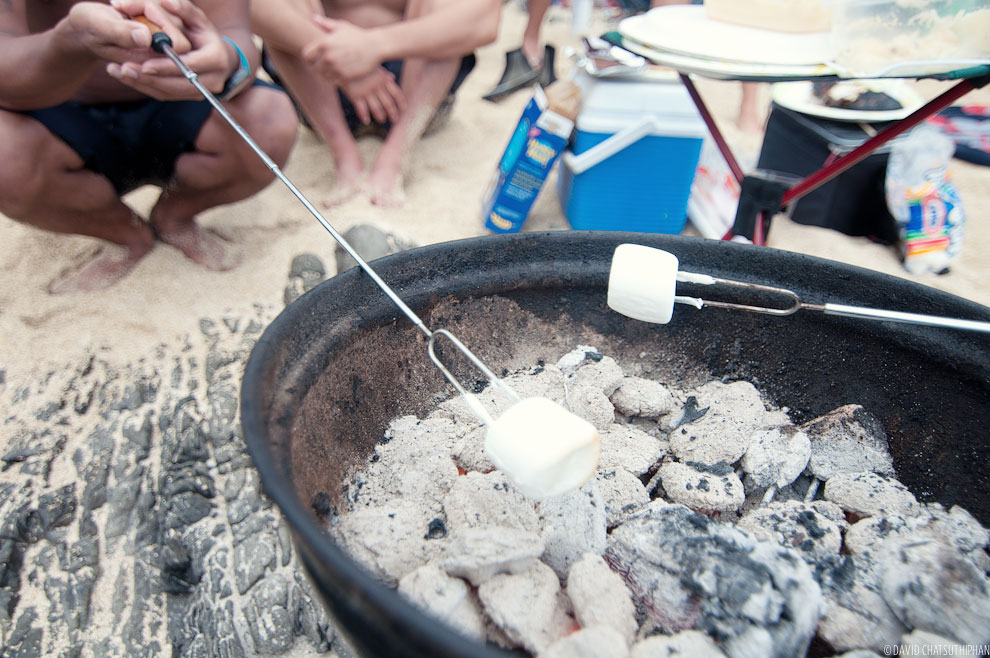 #26
Later in the afternoon, there were s'mores.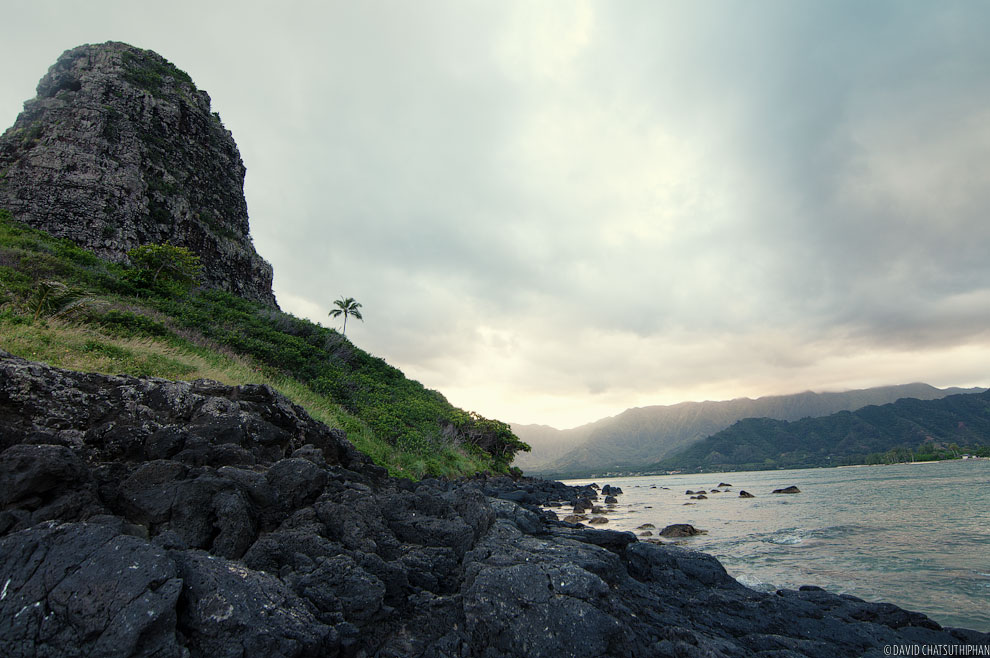 #27
As the evening approached remember that you eventually have to leave the island. Give yourself plenty of time to get back to shore. I believe the gate to Kualoa Regional Park (where your car will be parked) closes at 7:30 or 8.
#28
Now just pack up your gear and drive home with a smile on your face.
Tips:
Check the tides before you go and make sure you have a boogie board, surfboard or kayak if you plan to go during high tide. You can see the times for low and high tide on SurfNewsNetwork.com.
See also: