#1
Above
Scoping out our objective.
Last weekend, we explored the steep cliffs of Oahu's coastline. To be respectful to the fishermen that frequent this area, I cannot explicitly say where this. But, I'm sure a lot of you can already tell where we are.
#2
Getting to the cove is not easy. There are spikes in the rock with ropes attached to help you descend the steep sections but who knows how old and weathered they are. We brought our own rope as well which proved to be very useful.
#3
If you're afraid of heights, people always tell you "don't look down." I guess Jen is not afraid of heights.
#4
Not only is this rock steep, but it's a bit slippery. Reanne and Jen got around this bend easily but I have trust issues with old rope so I took it nice and slow.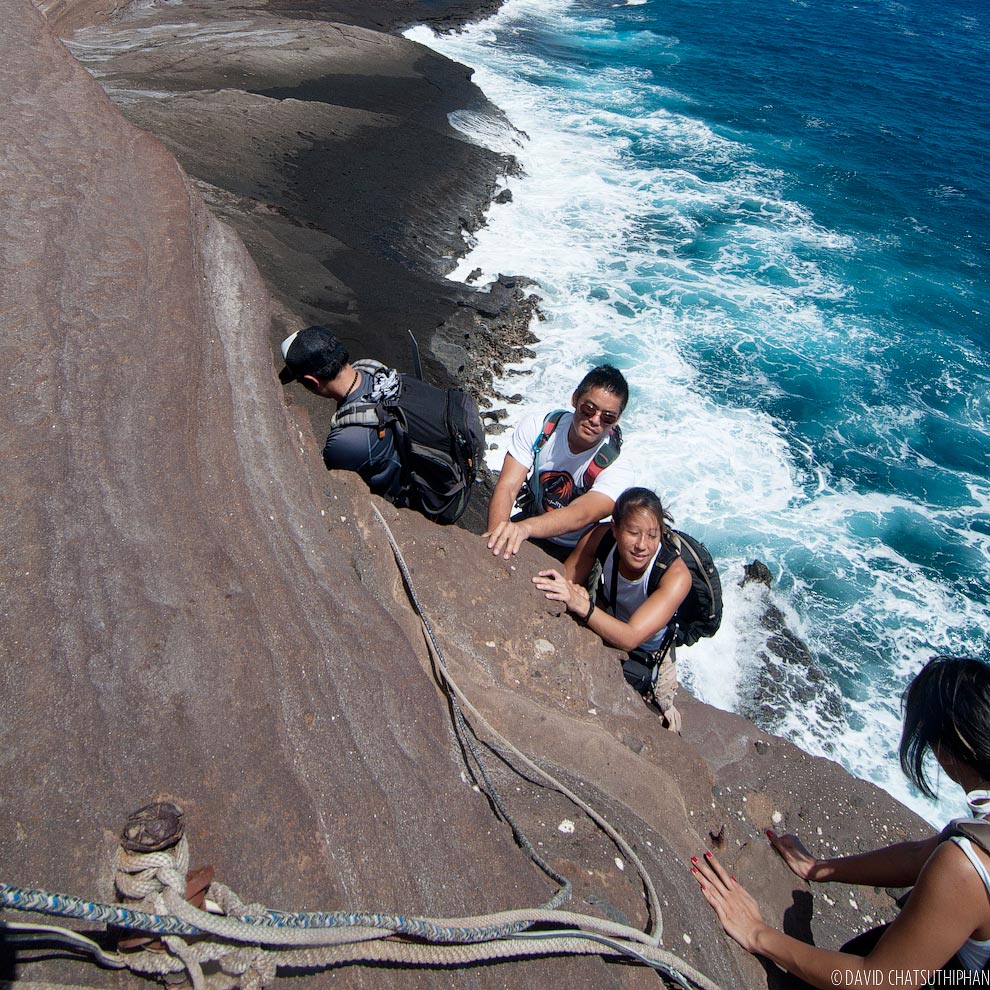 #5
We stayed here for a while with the wind whipping against us and the waves crashing below us. Cory was setting up his rope so that we could lower are gear down, and then ourselves.
#6
And this is the cove. It was sort of amazing.
#7
There was a rope ladder already there that some fisherman had set up but we didn't trust it 100%. We used our rope as well just in case.
#8
Time to set up camp.
#9
There's ridges like this to post up in everywhere.
#10
Cory set up as the rest of us ate snacks and took pictures.
#11
This is Cory's long rod. Or, pole. (I can't seem to make this caption not sound awkward.)
#12
After our snacks we took a tour of the area. We pressed on to see how far we could walk along the coast.
#13
Troy with his GoPro.
#14
The slope here is steep but it's not too difficult to hike on.
#15
But this part is really steep. And you're footing is all loose gravel. This is where we had to turn back around. It felt as though if you slipped, you would slide down the slope and into the ocean.
#16
It felt like we were in an Indiana Jones movie. It's hard to believe this is Oahu.
#17
Cory now had his gear set up so we tried to catch some fish.
#18
We used bread, shrimp and squid as bait. Amazingly, we caught a couple.
#19
Reanne caught a kūpīpī.
#20
I caught this behemoth. A po'opa'a.
#21
Of course, we threw the fish back.
Now it was time to sip on few brews, take more pictures and get ready for the hike out.
See also: