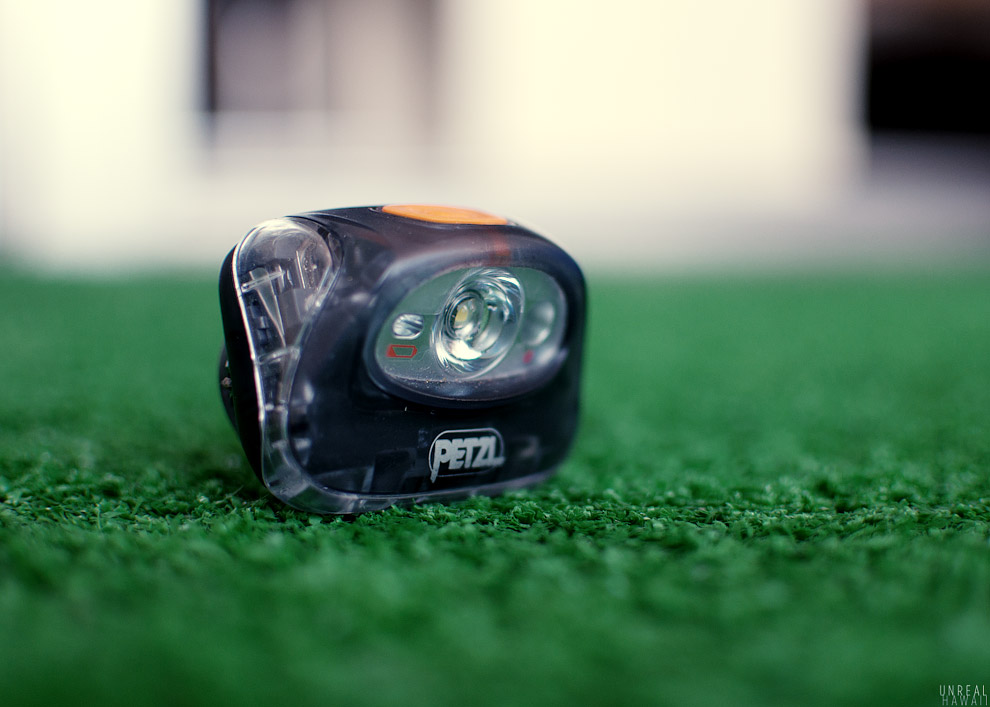 #1
No matter what hike I'm on, I always pack a headlamp. You never know what will happen. I've been on plenty hikes where we've stayed on the trail longer than we anticipated and had to spend some time hiking in the dark. On some occasions we've gotten lost and on others we voluntarily decided to stay out longer than we had planned for.
This is a Petzl Zipka Plus 2 Headlamp. I like it because it has a retractable head strap and is super compact. This model provides 50 lumens of light and is plenty bright. 50 lumens, by the way, is the minimum strength you want in a hiking headlamp. I recently upgraded to a 100 lumen Black Diamond Storm Headlamp for nighttime rock climbing sessions. On any hike where you know you'll be using a headlamp, make sure to pack extra batteries.
When you buy a headlamp, check that it has a red led option. Most do. The red light lets you see in the dark without constricting your pupils. So, when you turn it off, you're eyes will still be adjusted for seeing in the dark.
Also, remember that when you're hiking with your headlamp on, never point your light towards a street or neighborhood. People on the ground could mistake your light for a distress signal and call search and rescue. This happened to me once. I hiked down with some friends from the Mokule'ia Crag in the dark and there were cops waiting for us on the street. (Oops!) Headlamps can be visible from miles away.
#2
I use a CamelBak M.U.L.E. Hydration Pack hydration pack. There are many others to choose from but CamelBak has the best reviews because it seems to be the most durable. I tend to like the packs they make for mountain bikers as they are more narrow than a traditional hiking day pack. In general, hikes in Hawaii don't require too much gear. I found that full size day packs are too bulky for my taste. The M.U.L.E. packs are super compact yet carry 3 liters of water. And if you need more gear, they have expansion storage compartments. Or, you could simply clip your gear on using carabiners. Perfect for a 4 to 8 hour hike.
#3
Above
Essential gear to have while hiking in Hawaii.
This might not apply to everyone but, for me, a camera is an essential piece of equipment for hiking in Hawaii. Maybe it's because I'm Asian. Or, maybe it's because the views from the top of the ridges in Hawaii are epic. I carry a dSLR but any camera will do. For those of you that like to carry dSLRs, I'll show you my method of carrying such a heavy camera on the trail.
Everyone I hike with packs differently and has different opinions on what would be considered "essential hiking gear". If you are interested in what I would recommend, read on…
#4
This is the Black Rapid R-Strap. It's a huge upgrade from your traditional camera strap. The sling design gives you way more freedom of movement and ensures that your camera will never fall down the side of a mountain if dropped. The little strap attachment that you see going under my arm keeps it secure while you hike. Without it, the camera strap would creep up your shoulder towards your neck and irritate the heck out of you.
#5
While I'm hiking, I attach the camera to my back pack strap using a carabiner. The R-Strap attaches to your camera via the tripod mount and you can clip a carabiner into the R-Strap clip. And, CamelBaks have conveniently placed loops on their shoulder straps to hook the carabiner too.
#6
When I'm hiking, because the camera hangs so close to my shoulder, I can snap away without even unclipping the carabiner. And if I want more freedom of movement, I can unclip the carabiner and get better angles. The great thing is that if I were to drop the camera, it would simply swing to my side. This accessibility is what has allowed me to snap pictures at a moments notice and get what's called "grab shots" while on the trail.
I must warn you though that carrying a camera this high on your body does make you top heavy so you'll have to be careful on narrow ridges or if you're rock hopping in a stream bed. There have been many times when my camera has thrown me off balance on narrow ridges creating some serious "oh shit" moments.
#7
The most common question I get asked from readers is "What type of camera do you use?" Well, I use a Nikon d90. Recently, Nikon released an upgrade to this model called the Nikon d7000. (For those that prefer Canon, the T3i is a great option.) If you're willing to spend the money, I highly recommend a camera in this range. This model, in my opinion gives you the best image quality for the amount of weight you have to put up with. Carrying a dSLR on hikes is not necessary, but the picture quality you get from a dSLR is well worth the trouble.
These cameras are also built to withstand a beating. I've banged it on rocks several times and it still performs like a champ. Higher-end cameras (like the Nikon d300 or Canon 5D Mark II) are great too but you'll have to deal with more weight on the trail.
#8
If you already use a dSLR then you know that the camera model is actually not all that important. What matters more is the lens. I use two lenses: a Nikon 35mm f1.8 and a Tokina 11-16 2.8. The Tokina 11-16 is what's called an ultra-wide angle lens. I recommend this lens to all my hiking photog friends. Read reviews and check out the Flickr group for this lens and you'll see why.
If you're craving a shallow depth of field (the blurred out background effect), there's no better lens for Nikon cameras than the 35mm f1.8 prime.
Both lenses will give you the most bang for your buck. And, a little tip: before you buy it new, check Craigslist first. You might be able to get it used for a much better price.
On some hikes, like the Pali Notches, a fish-eye lens will get you some great shots. When I want to use a specialty lens, I'll just rent one for the day from Hawaii Photo Rental.
#9
This cheap little lens cap leash has been a blessing on the trail. There are a bunch of options available so take your pick. Imagine losing your lens cap somewhere on the trail. If you did, you could say goodbye to clear pictures for the rest of your hike. This leash has saved me from losing my lens cap countless times.
Tip: don't trust the adhesive that comes with the leash. Buy some industrial strength double sided tape and mount it using that.
#10
For those of you that don't want to put up with the weight of a dSLR, or the risk, there are several other options available. Point and shoot cameras are getting better and better. But, if you want really good image quality, I would recommend a high-end point and shoot. These are called "prosumer" compact cameras.
I like the Panasonic Lumix line of cameras. This is my LX3. I used it to shoot all of the photos in my original Haiku Stairs post. It has a wide-angle lens and plenty of manual settings you can use to set up your photos. And, you can shoot in RAW, a higher quality image format than JPEG (JPEG which is what most point and shoot cameras output.) Ever take a picture that was too dark or too bright? With RAW you can adjust the image in Photoshop or other image editing software without loosing image quality. If you are interested in this option, the camera to get is the Panasonic Lumix LX5.
One other option you should consider, if you don't want a heavy dSLR but want high quality photos, is the Sony NEX. It's a smallish camera (but not really pocketable) with the image quality of a dSLR. It's a step up from the Panasonic Lumix LX5 model so it'll cost you a bit more money, but it's cheaper than a full size dSLR. This camera is great for hiking. Josh Serrano (the man behind the 808 Goonies blog) recently picked one up and has been taking some killer pictures with it.
#11
Clothing-wise, you can wear anything on Hawaii hiking trails. The weather in Hawaii is perfect almost every day so you rarely need extra layers of clothing. Heck, people hike the 11 mile Kalalau Trail butt-naked. I've seen it with my own eyes (and I cannot un-see it).
In reality, a t-shirt and board shorts are fine for almost any hike. On some hikes though, you'll be more comfortable in long pants. Getting your legs scratched up by shrubbery can get old after a couple hours. I like rock climbing pants for hiking. They are thinner (so they dry fast) and  more stretchy than your typical hiking pants. Plus, you can use them for rock climbing. If you get pants that can convert into shorts, you can unzip the pant leg zippers a bit when it's hot to vent your legs.
#12
I see a lot of people wearing sneakers on hikes. This is fine for many trails but if you start hiking more difficult trails, or anything in the mud, I would recommend investing in some hiking shoes. Your feet will thank you.
The soles on cross trainers or even trail running shoes will break down on you after several hours on a rocky trail. It doesn't matter what brand you get, just get something sturdy and with good traction. The shoes you see in the photo above are the Keen Targhee Mid II. I picked these up from SoulTrex at the Windward Mall in Kaneohe.
People also swear by the Vibram Five Fingers for hiking. I've never tried them but from what I can tell, they are way better than regular sneakers as well.
#13
The final piece of essential gear I'd recommend might not apply to all of you. Many of the friends I hike with don't get bit by mosquitoes. I've been in places where mosquitoes are swarming around me and my friends and for some reason, I'm the only one that gets bit. I've come home with over 20 mosquito bites after some hikes. The worst are the bites on the fingers, face and ears. I've learned my lesson and I pack 100% deet mosquito repellant on every hike.
What's on your list of essential gear? If you have ideas to share, feel free to leave a note in the comments.