#1
You can get here via kayak, boat, outrigger canoe or stand up paddle board.
#2
The beach on Moku Nui Island faces Lanikai and Kailua.
#3
Above
Moku Nui Island off of the Kailua and Lanikai shoreline on Oahu.
There's a cove on the backside of the island where you can cliff jump.
You've seen the Mokulua Islands countless times I'm sure. They are the two small islands that sit off the coast in Kailua and are commonly referred to as "the Mokes." The larger island is called Moku Nui and is a popular destination for kayakers. The smaller island, Moku Iki, is currently off limits.
Last memorial day, we rented some kayaks and paddled out to Moku Nui to BBQ on the beach and explore the island.
#4
We rented kayaks at Go Bananas in Aiea to get a better deal. There are a few places to rent them right in Kailua if you don't want to have to strap them to your car.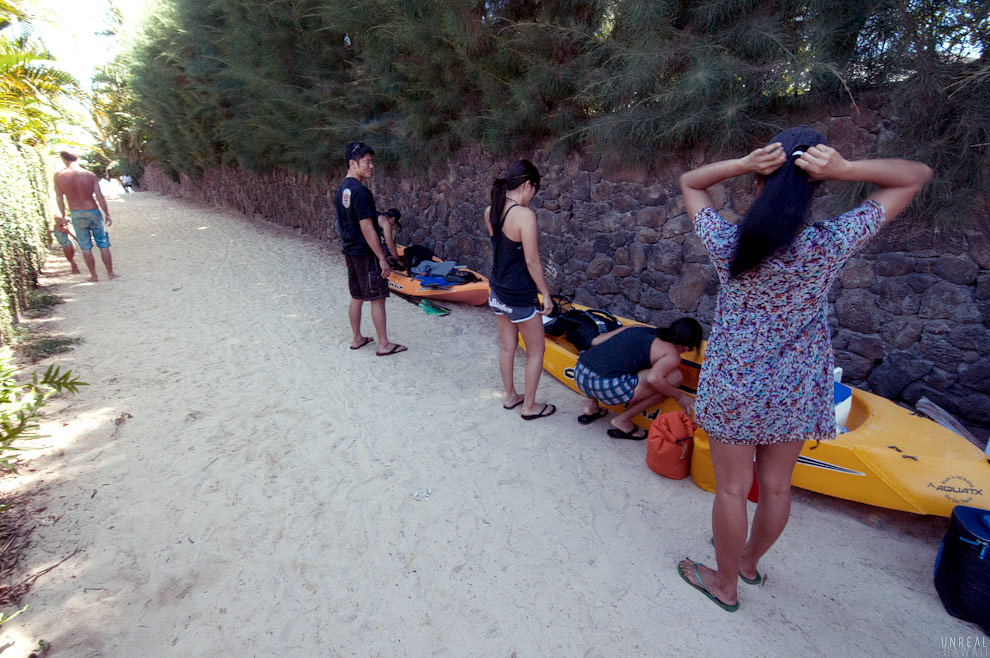 #5
The best place to push off is Lanikai Beach.
#6
You can see that the Mokuluas are relatively close to Lanikai Beach.
#7
We had two two-person and one three-person kayaks. Plus a lot of gear for bbqing.
#8
Another benefit of starting at Lanikai is that there's no beach break. You won't have to fight with the waves while you try to get on your kayak.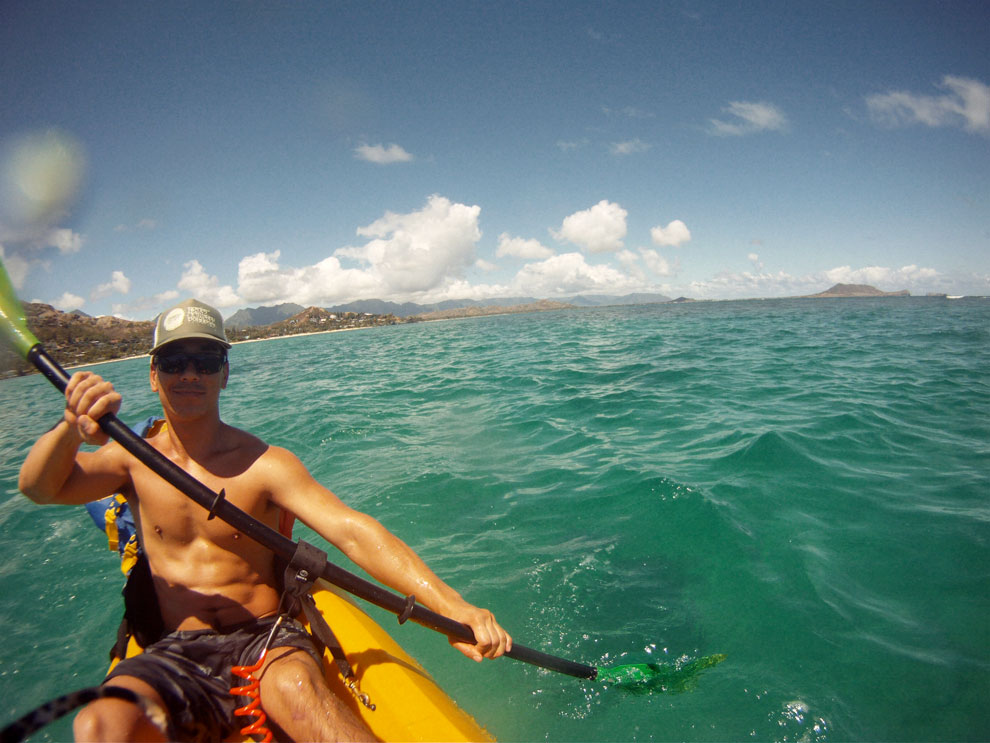 #9
Kayak for about 30 minutes and you'll be at Moku Nui Island.
#10
We went on Memorial Day and the island was super crowded.
#11
It was kayaks galore.
#12
We set up a pop up tent that Cory was able to fit in his kayak. It's the "backpack tent" you can buy at Sports Authority.
#13
We arrived at Moku Nui around lunch time and fired up the grill.
#14
Chef Cory grilled up some marinated bone-in rib eyes.
#15
Bacon wrapped mushrooms and teriyaki chicken.
#16
Asparagus and shrimp.
#17
The girls used the tent shade to help them people watch undetected. Absolutely no ogling or judgement took place.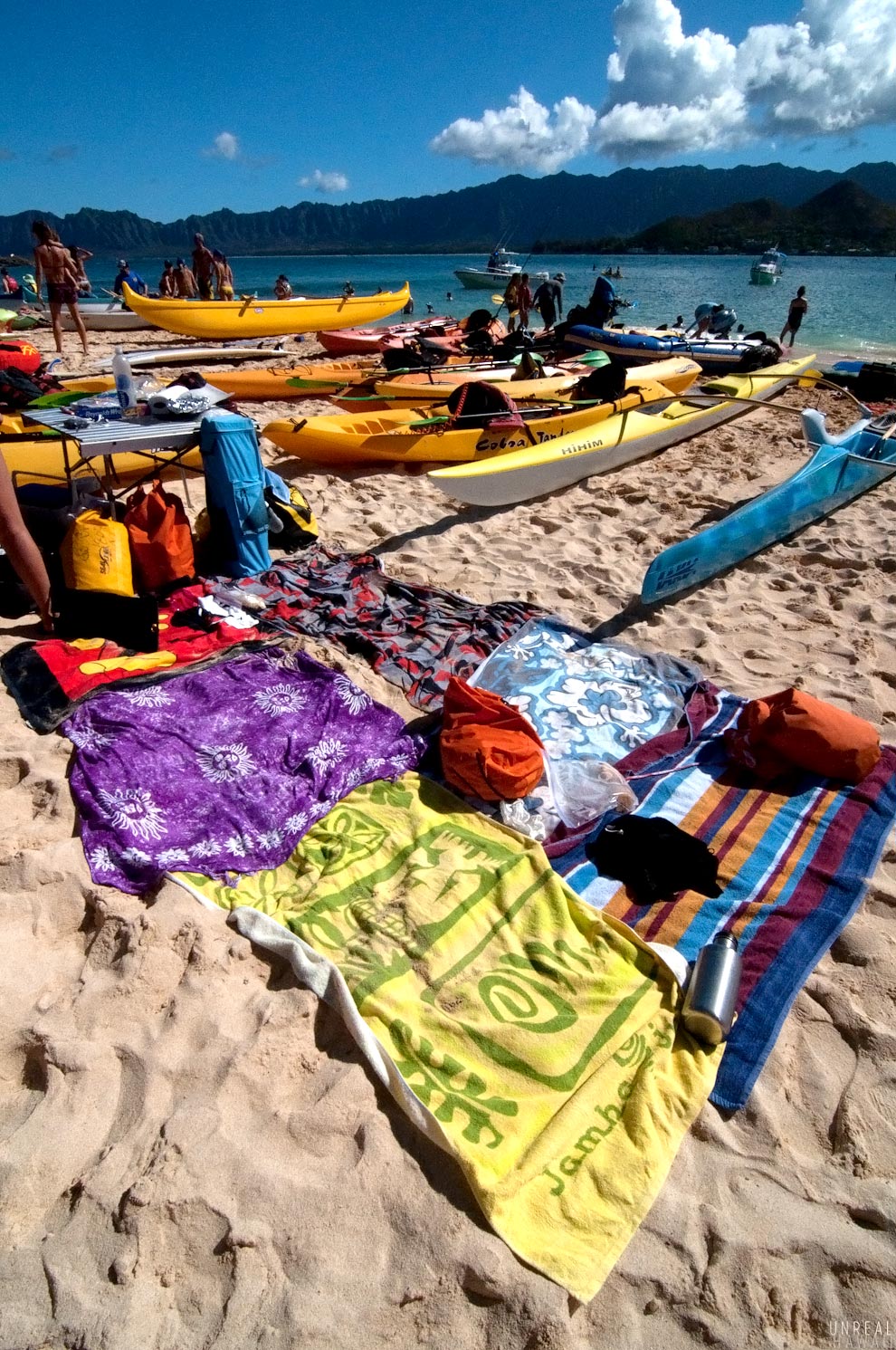 #18
Later in the afternoon, officers from the Department of Land and Natural Resources came up in a boat and made everyone take down their tents and umbrellas. Tents and umbrellas are technically "shelters" and shelters are prohibited on this island.
#19
The DLNR officers were probably also trying to make sure this huge Memorial Day crowd was not destroying the island.
#20
To get away from the crowds, we hit the trail to explore the back side of Moku Nui.
#21
Just a few hundred yards from the beach you can find peace and quiet. And the terrain becomes more wild.
#22
There's an overhanging wall here that I've heard people climb. I spotted a bolt at the top that confirms this. The bolt could be old and insecure now so it would be wise to ask around in the Hawaii rock climbing community before attempting to anchor a rope to it.
#23
The cove at the back of the island is unreal. It's rugged and completely unexpected.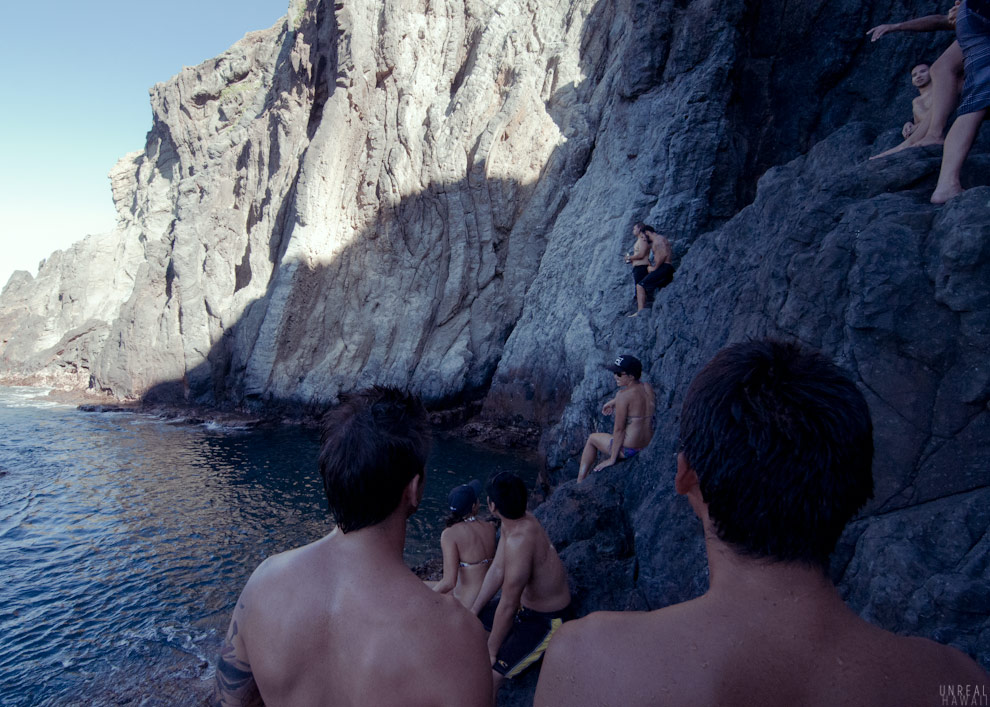 #24
There were a few people hanging out on the rocks back here. We joined them.
#25
The girl here is sitting on the main jump off point.
#26
The shape of the cove seems to form a pool of calm water. I didn't detect a current in the water at the time we went. But, the ocean does weird things so be cautious.
#27
Reanne jumps.
#28
The terrain in this place reminded me of Kalalau.
#29
We sat and watched as others jumped.
#30
Sherri pushes off.
#31
Others arrive and line up to get in the water.
#32
We saw a few adventures folks climb up to find other places to jump off from.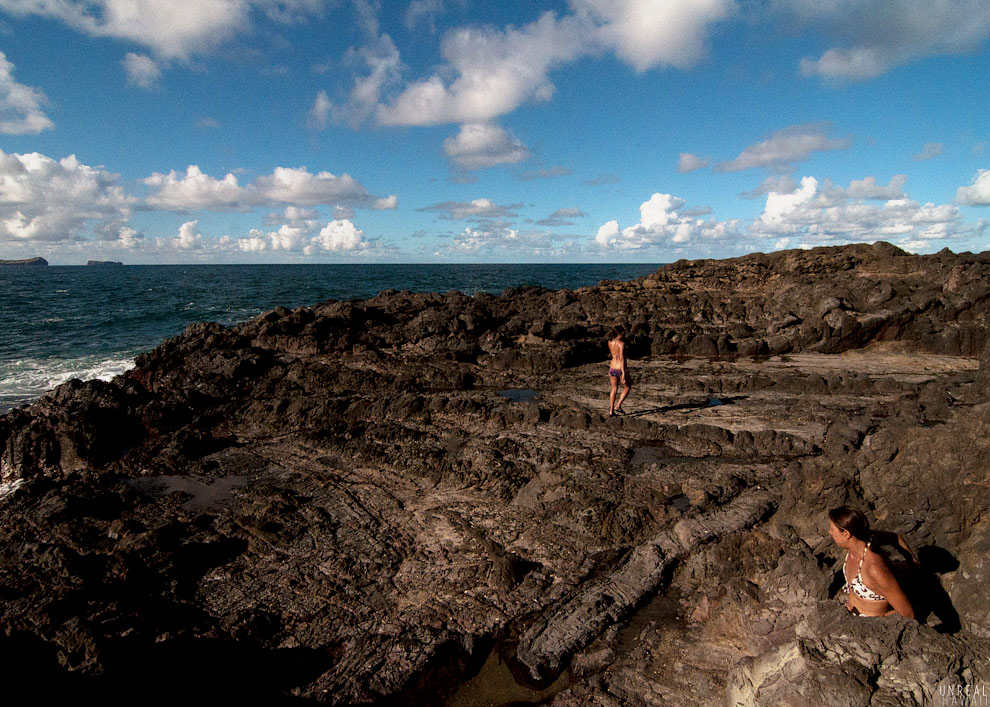 #33
You can explore the small piece of land in front of the cove. It looks like this. You'll need you're slippers to walk on this rock as it's super sharp.
#34
The rock looks like an alien land.
#35
And you may find some alien looking creatures (like this sea cucumber) in the small tide pools.
#36
As we walked back to towards to cove we saw an crazy sight. (Look towards the top right of the above photo.)
#37
A daredevil had free climbed up the 80-90 foot rock wall.
#38
He was barefoot.
#39
He made it to the top of the wall successfully.
#40
I was not sure what he would do from there. He could have walked to the top of the island and hiked down to the beach. Or, he could walk down to the edge of the cliff. He chose option 2.
#41
Surprisingly, he seemed more timid about the cliff jump than the free climb.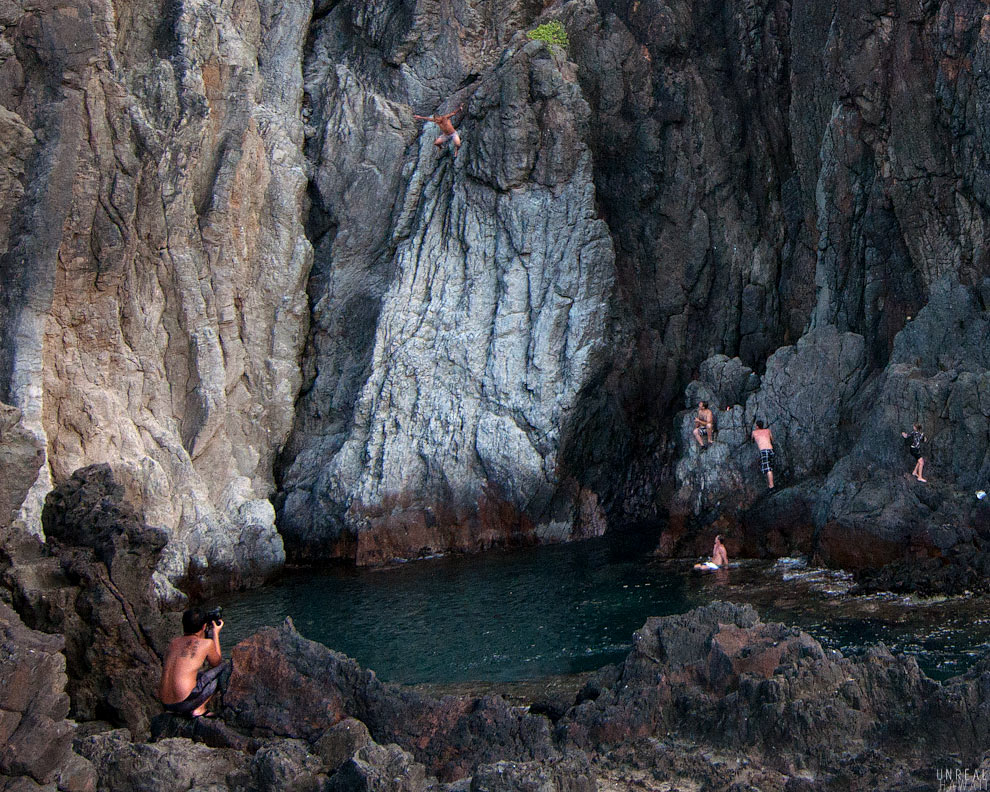 #42
After a few deep breaths he jumped. It was a long fall.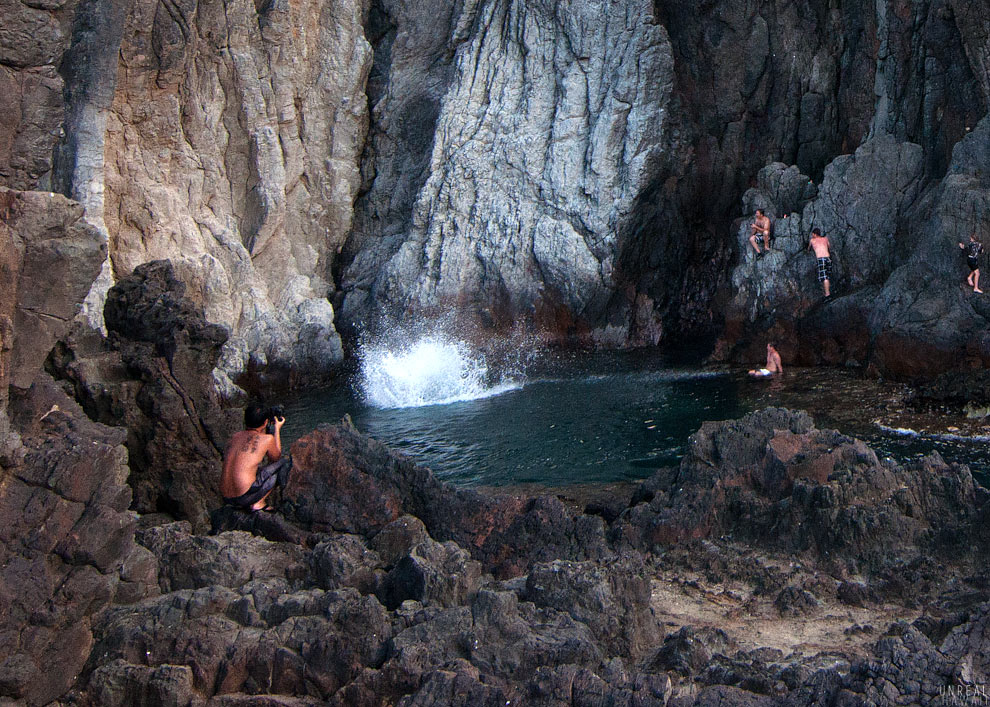 #43
This guy definitely won for biggest splash of the day.
#44
And after he got out of water, him and his crew casually walked back to the beach. There was very little fanfare.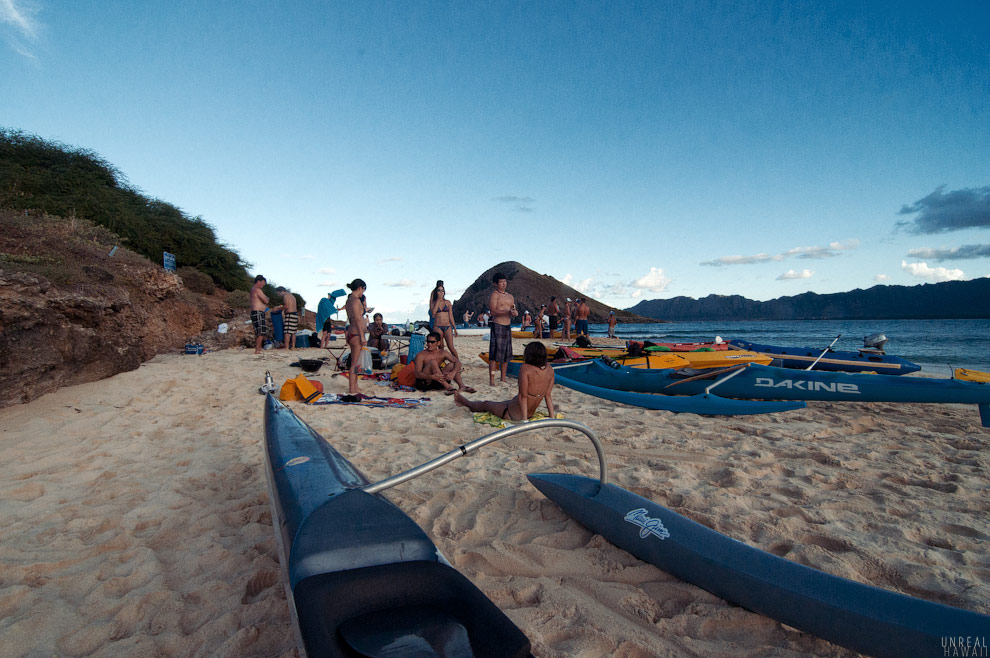 #45
By the time we got back to the beach the sun was starting to set.
#46
You're not allowed to park past 7pm on most streets in Lanikai so we had to get back.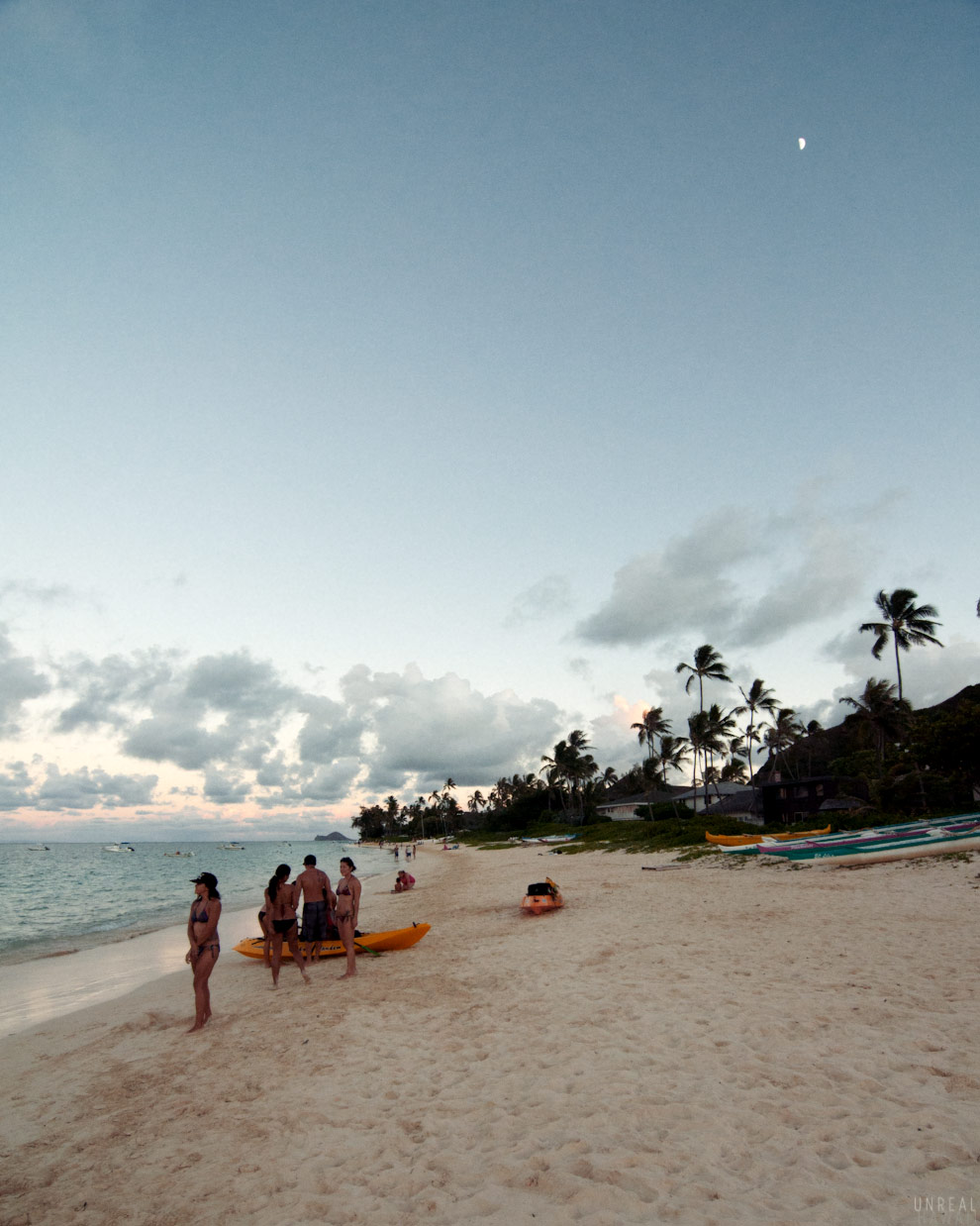 #47
The sky was becoming pink.
#48
The Mokulua Islands turned into silhouettes.
See also: