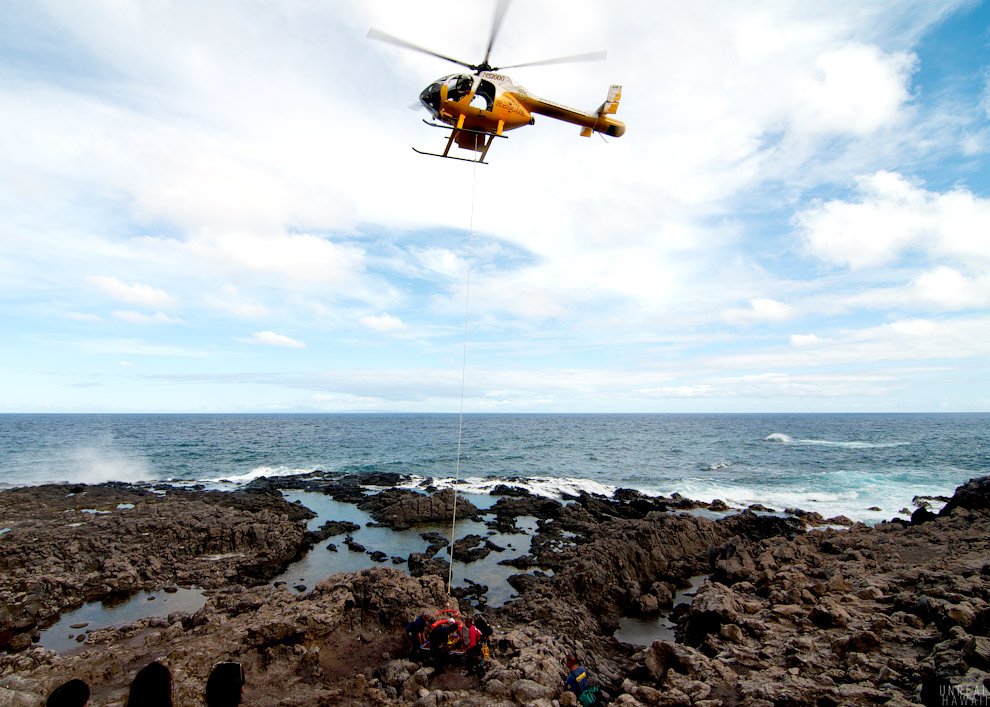 #1
Accidents happen. All it takes is one trip, one slip or, if you're by the water, one rogue wave to put you on the ground. And when the ground looks like this, a fall is no laughing matter. But when something does happen, it's good to know that a rescue team can get to you and help you quickly.
We hiked down to the Makapu'u tide pools last weekend and found three people in distress. Two of them had been knocked over by a wave and sustained cuts and possible head injuries. They did not have a cell phone and were unable to hike back up the cliff. The feeling of being injured and stranded down here without a phone must have been unsettling.
When we showed up, Reanne and her friend Angela (both nurses), went to check out the two injured people. They were banged up pretty good but were conscious and talking.
I called 911. Being that we were at the bottom of a cliff, I was connected to a 911 operator in Molokai (the island you can see off this part of the shoreline). I told them I was at the Makapu'u tide pools so they routed me to an Oahu operator. The operator asked if I needed police, an ambulance or a firetruck and I said ambulance. I was then routed to different operator who was able to dispatch the a rescue crew. I was bounced around from operator to operator but each person I was transferred to picked up the phone immediately.
About 15 minutes later a fireman called me to get details of the situation. I could tell he was calling from a firetruck as I could hear the siren. About 10 minutes after that we could see 3 firemen hiking down to us at the tide pools.
And about 10 minutes after that, a helicopter showed up.
#2
When the helicopter showed up it landed for just a few seconds as two firemen jumped out.
#3
Then it took off backwards and hovered out over the ocean while the crew checked out the injured.
#4
A basket was lowered from the helicopter and a fireman and one of the injured persons got in.
#5
They don't hoist the people up into the chopper. You just hang in the basket.
#6
They were dropped off at the parking lot where the rest of the crew was waiting.
#7
The helicopter then returned for the second injured person.
#8
We waved goodbye and wished them well.
See also: