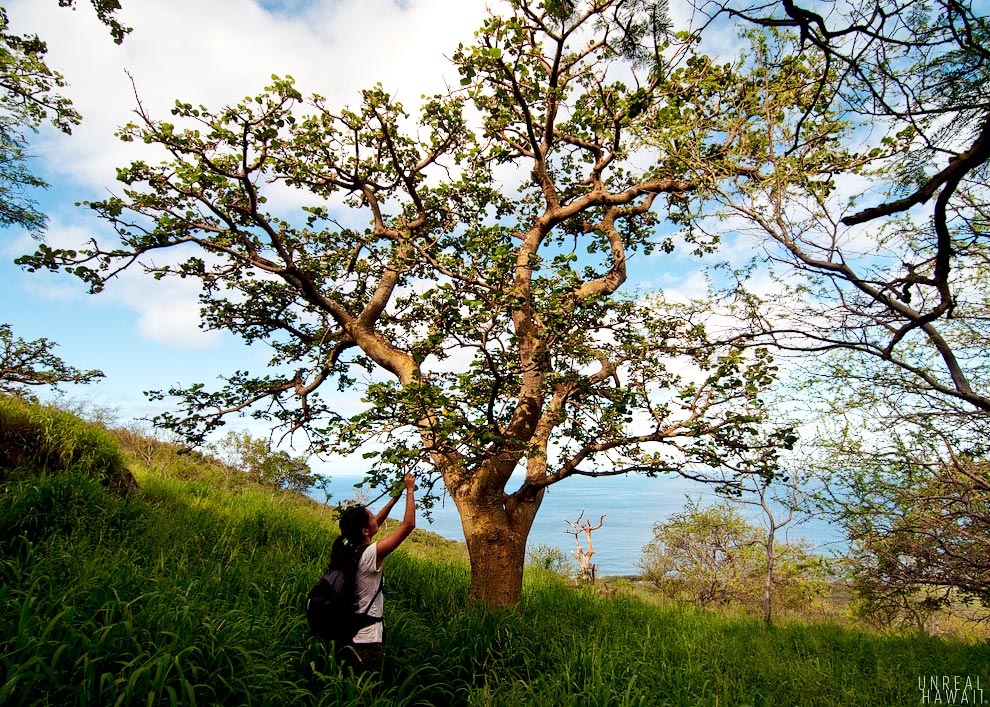 #1
We hiked through a beautiful forest on the Leeward side of Oahu.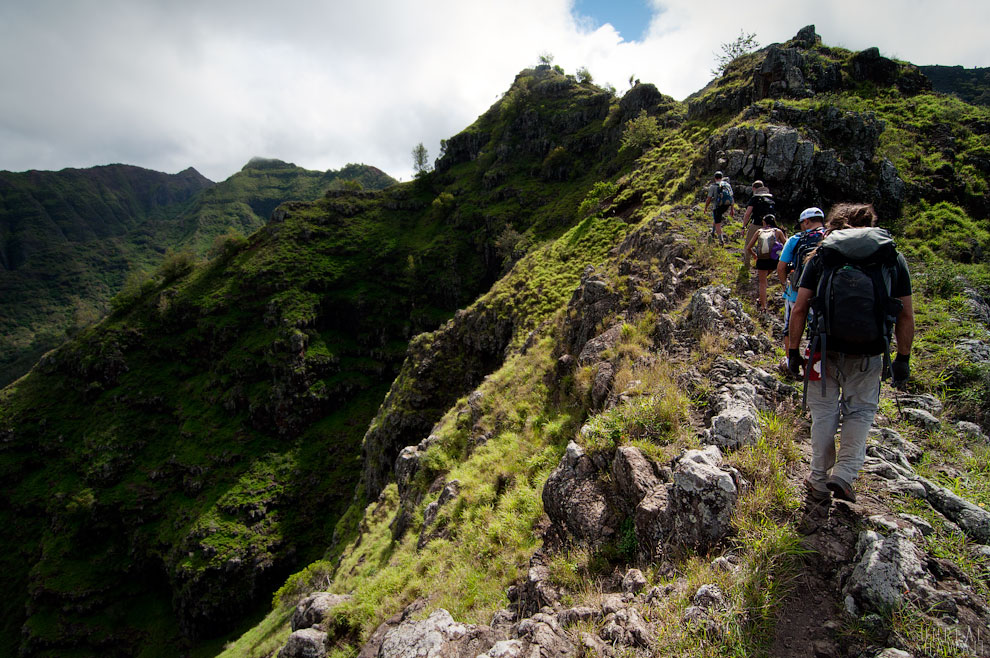 #2
Following the ridge, we summitted Pu'u Keaau.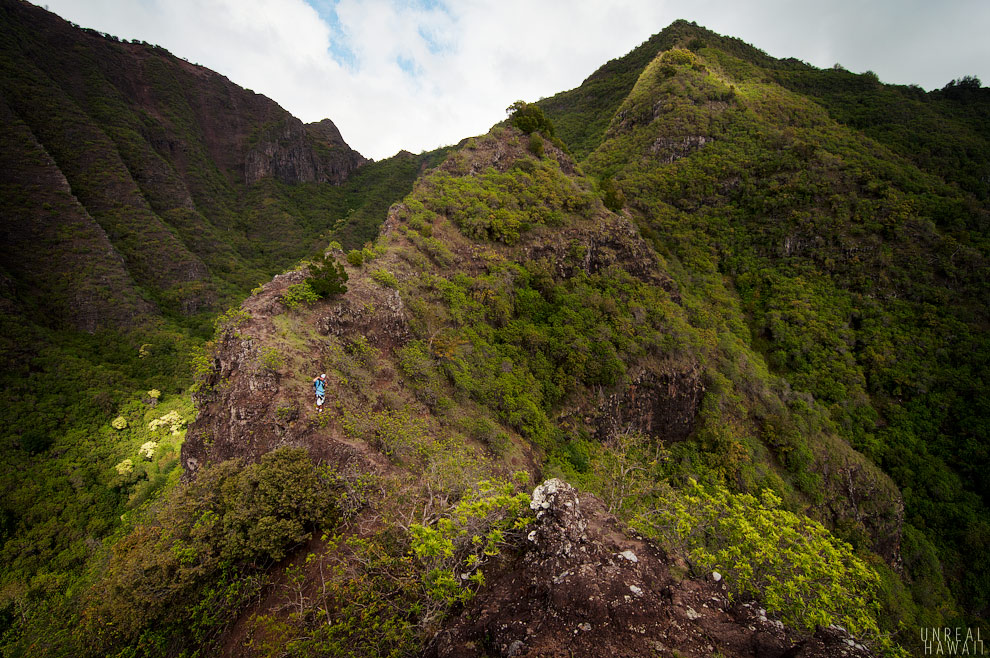 #3
We hiked across a saddle in the ridgeline and descended Keaau Middle Ridge.
#4
Above
Hiking to the summit of Pu'u Keaau and down the Middle Ridge with: Lei, Chenay, Pete, Chase, Ryan and August. Leeward side of Oahu, Hawaii.
It was a long hike that took most of the day. Keaau is a Hawaii ridge hiker's dream.
With the heavy rain we had in Hawaii this season, the Waianae Mountains were as green as I've ever seen them. It was a perfect time to hike them and my friend Pete had a hike planned.
There are a different ways to hike this area. We did a loop that goes up the front of Pu'u Keaau, turns left (sort of) into a saddle in the ridgeline and then back down Keaau Middle ridge. We were on the trail for something like 8 hours.
#5
Pete knew the trail and lead us up Keaau Ridge. The crew for this hike: Lei, August, Ryan, Chenay, Chase and Pete on this hike.
#6
We started at a stream bed.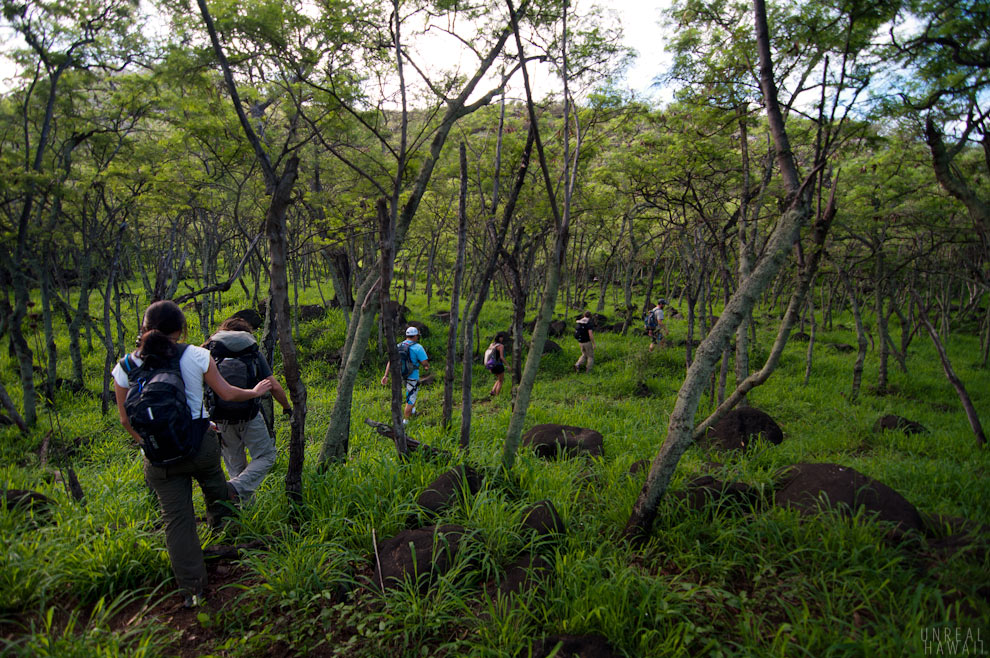 #7
Pete lead us through this forest to the base of Pu'u Keaau.
#8
With no real warm up time, we were making our way up the 2,650 foot tall mountain.
#9
The summit of Keaau came into view and we wanted to get to it as quickly as possible.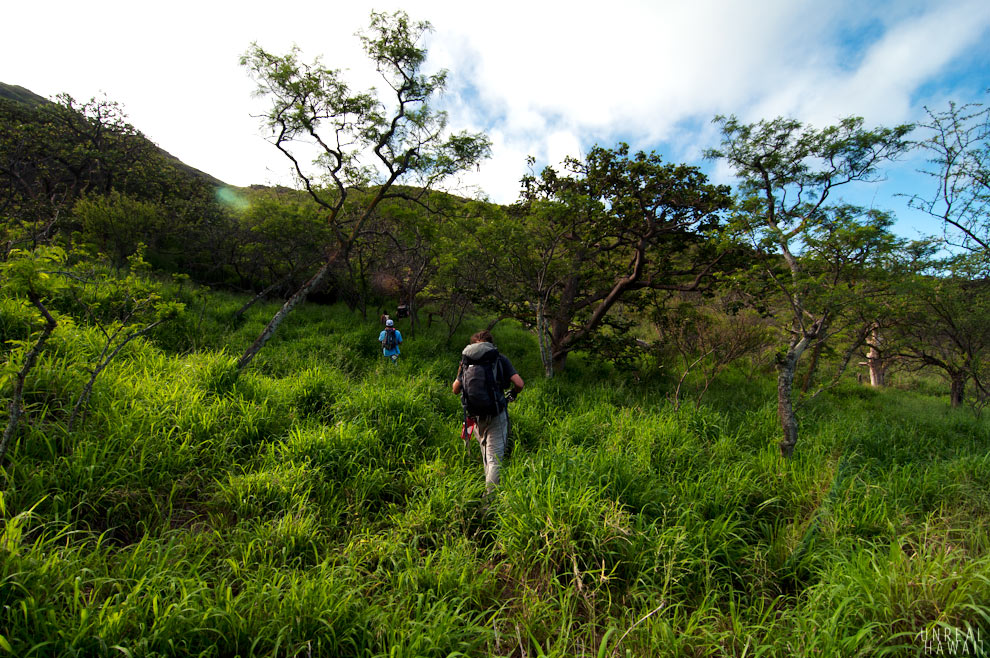 #10
We got a chance to catch our breadth as we traversed this small foresty area.
#11
And then it was back to climbing.
#12
I don't think these mountains typically look this green. The cows and goats in Keaau must have been as happy about this site as we were.
#13
Taking advantage of the cooler morning air, we kept pushing up the mountain.
#14
During the hike up, we encountered some protruding dike formations that we had fun scrambling over. We would see a lot more of this later on.
#15
Looking back periodically I could see stunning views of the ocean. I could also wave for Ryan and Lei's cameras. And I could also give them a break from looking at my butt.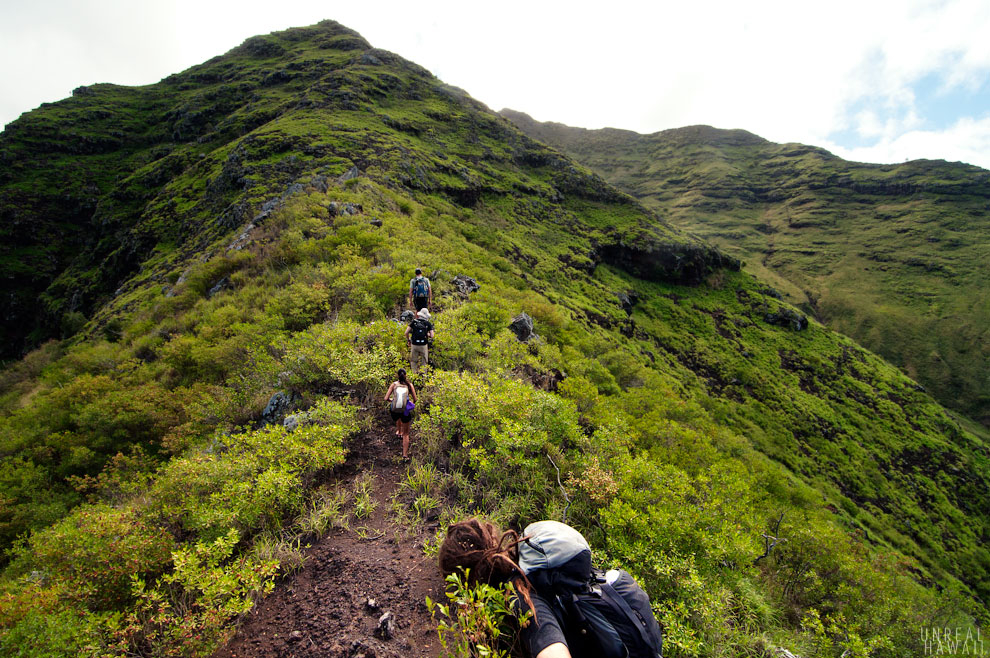 #16
Onward and upward.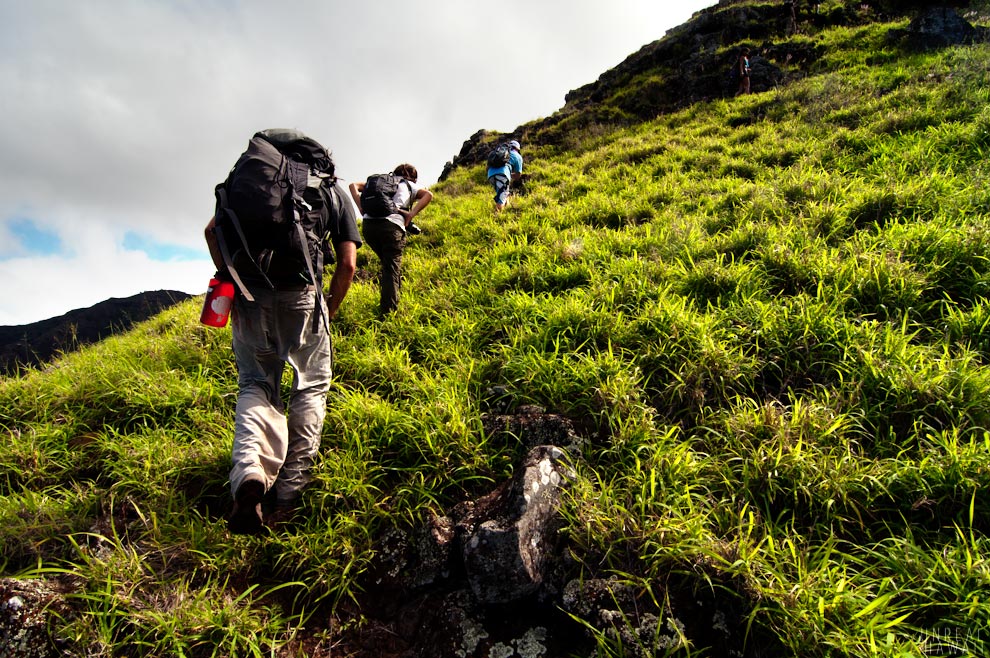 #17
Onward and upward.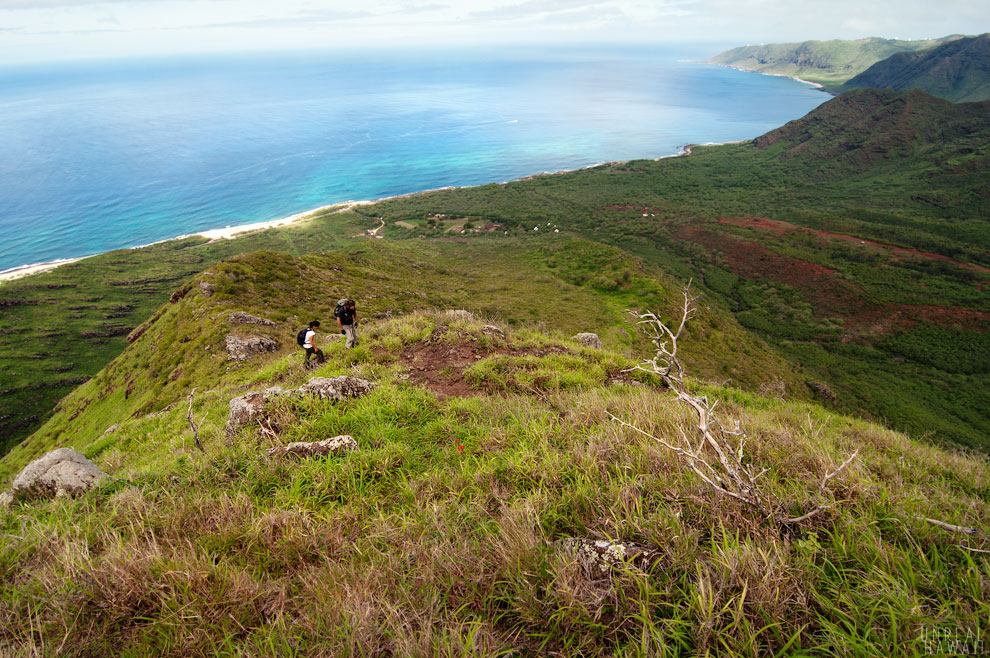 #18
Onward and upward.
#19
Break time. We were not yet at the summit but we were hungry.
#20
The closer to the top of Pu'u Keaau we were, the more amazing the views were of this incredible ridge.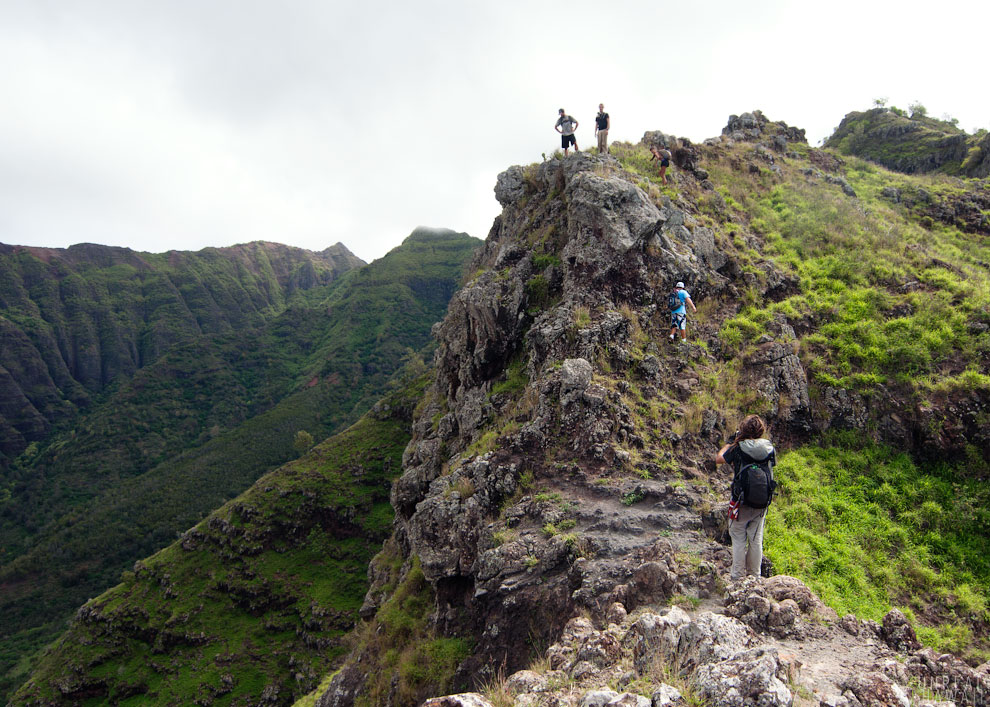 #21
Rock dike formations abound in these hills.
#22
If your balance is a good as Chenay's you can peer step out to get a better view. But, not too many people have balance as good as Chenay.
#23
Most of these dikes have contour trails that run beside them. Sometimes we contour, sometimes we climb.
#24
Just a bit more hiking and scrambling and we would be at the top of Keaau.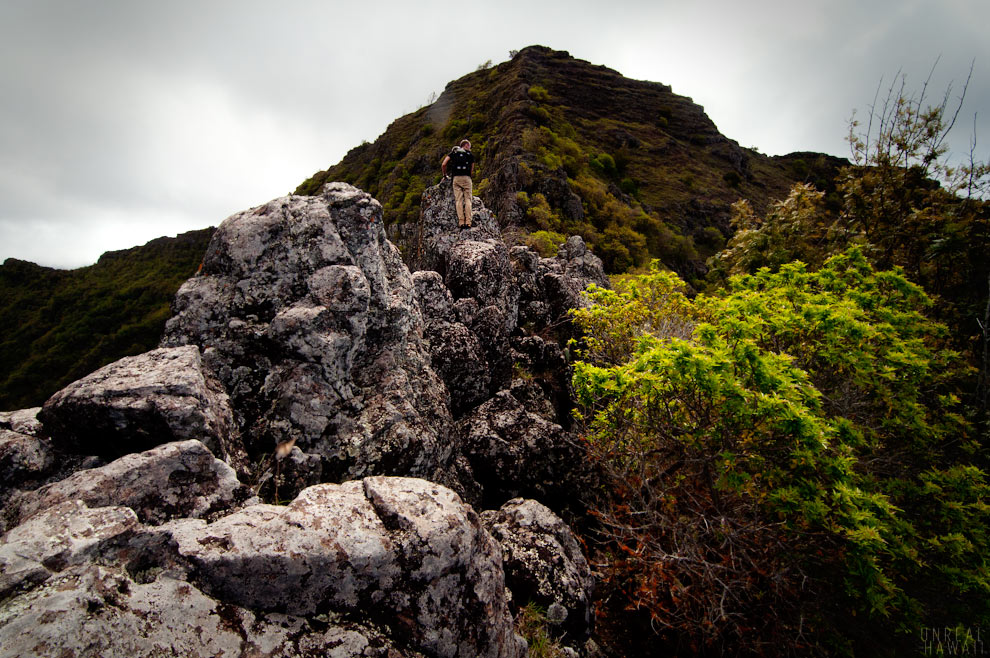 #25
Chase inspects the dike here to see if it would be better to rock hop or contour around it.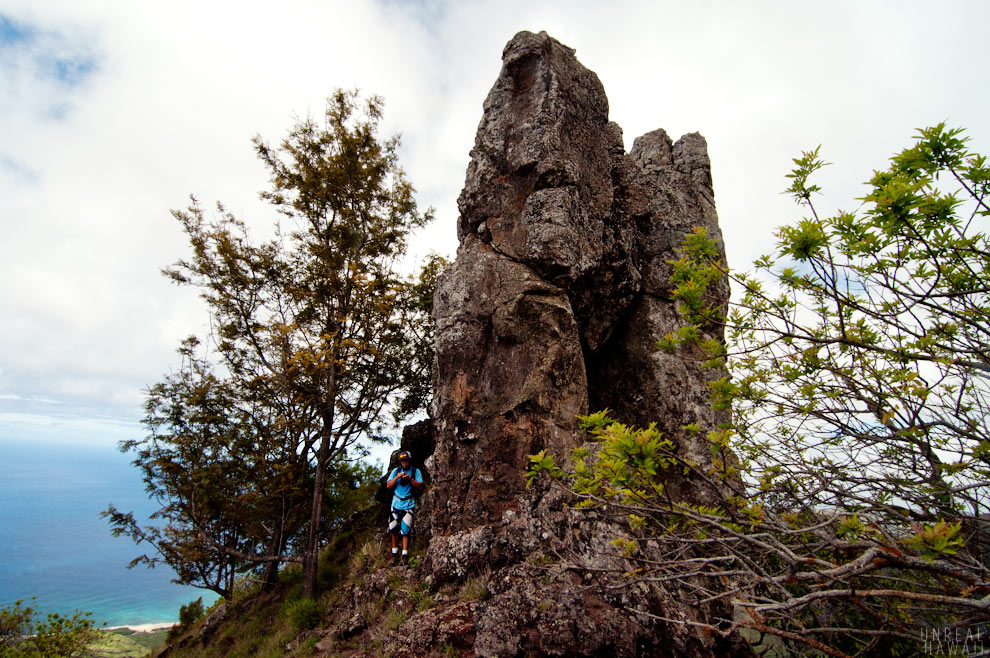 #26
In this case, the contour was the better option.
#27
At the summit of Pu'u Keaau we stopped for lunch.
#28
We then continued along the ridge that dips down into a saddle and then hits Keaau Middle Ridge.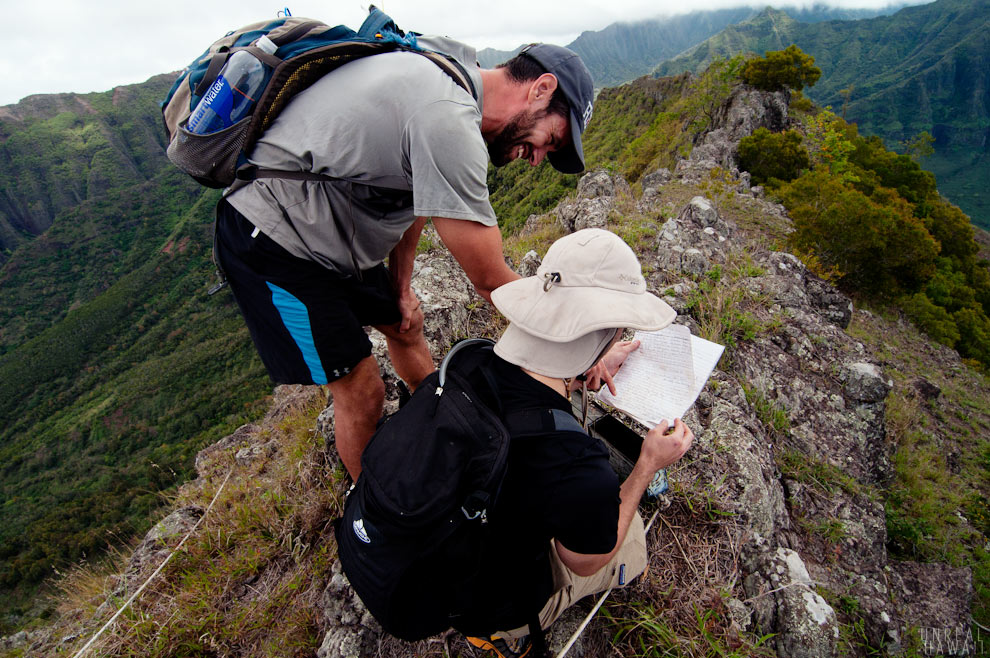 #29
Pete and Chase checked out the geocache. Amongst the items in it was a journal that listed hikers that have passed this mark.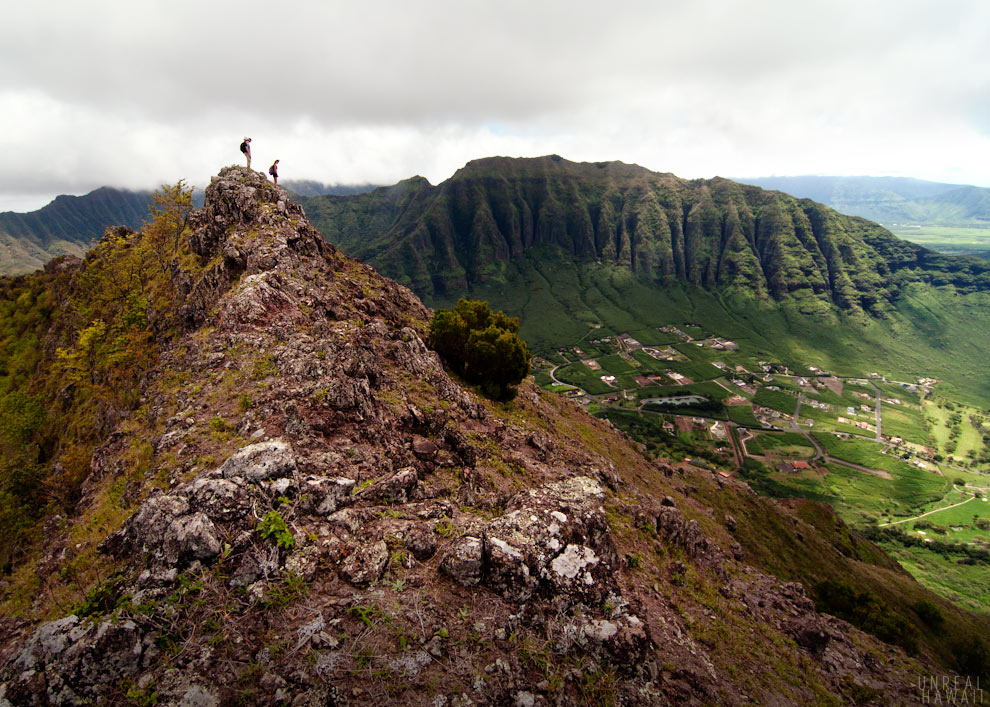 #30
You could see all of Waianae from the top.
#31
The ridge was clear of growth but there were significant drop offs on either side.
#32
We set off to find the junction to Keaau Middle Ridge.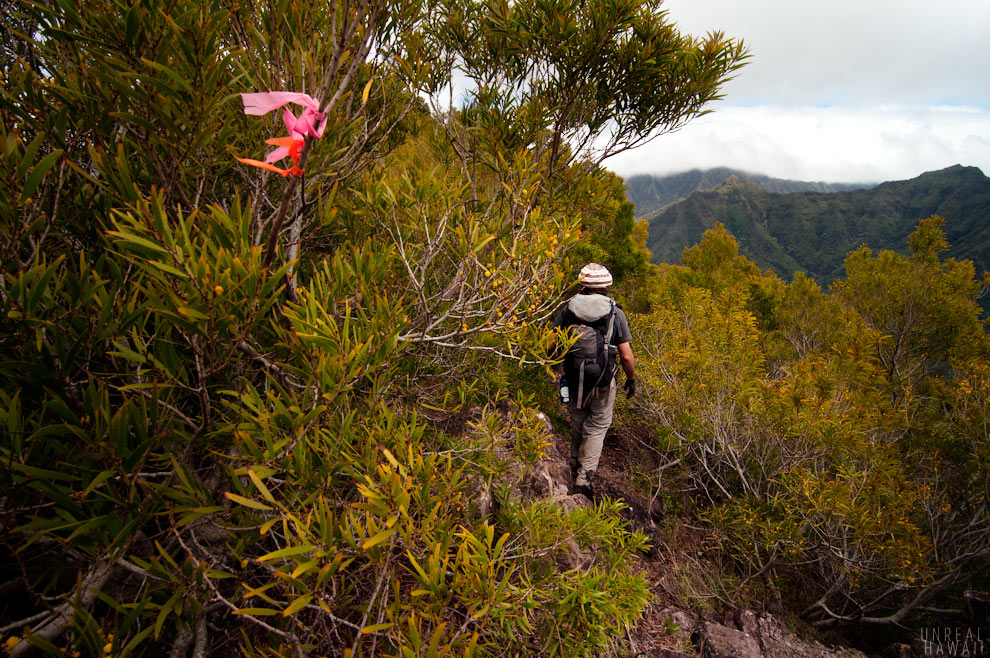 #33
Along the ridge we would pass through shrubbery. Nothing that required bushwhacking though.
#34
And then, a cliff.
#35
There was a trail that lead down the side of the cliff that made it safe to pass.
#36
At this lookout point we broke for a snack.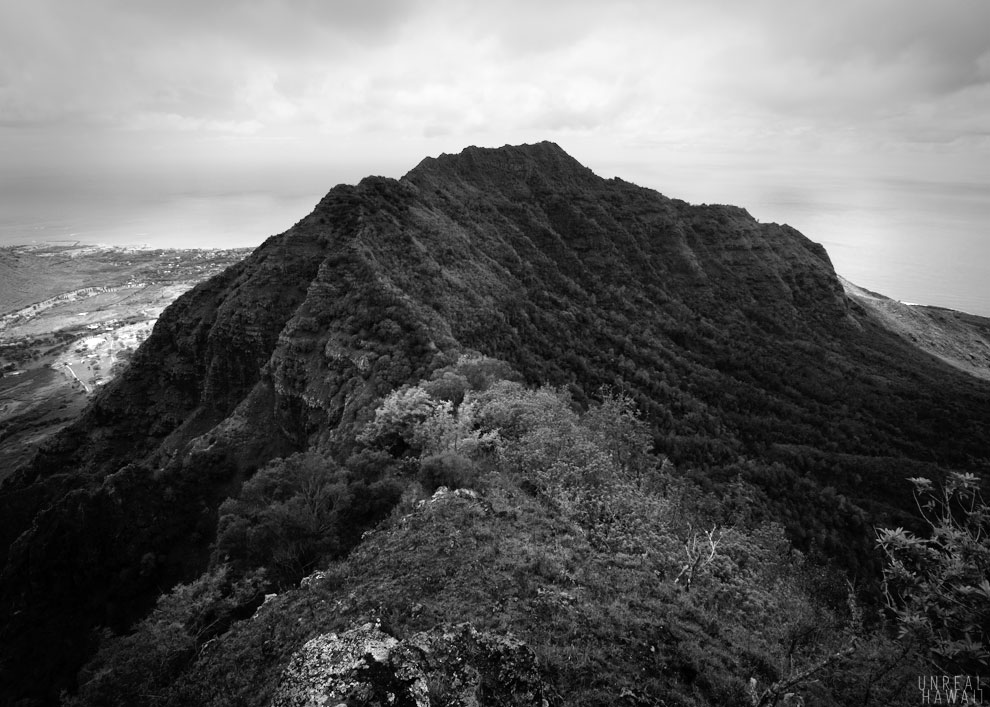 #37
From here we could look back and see the ridge we had just hiked. This is Pu'u Keaau.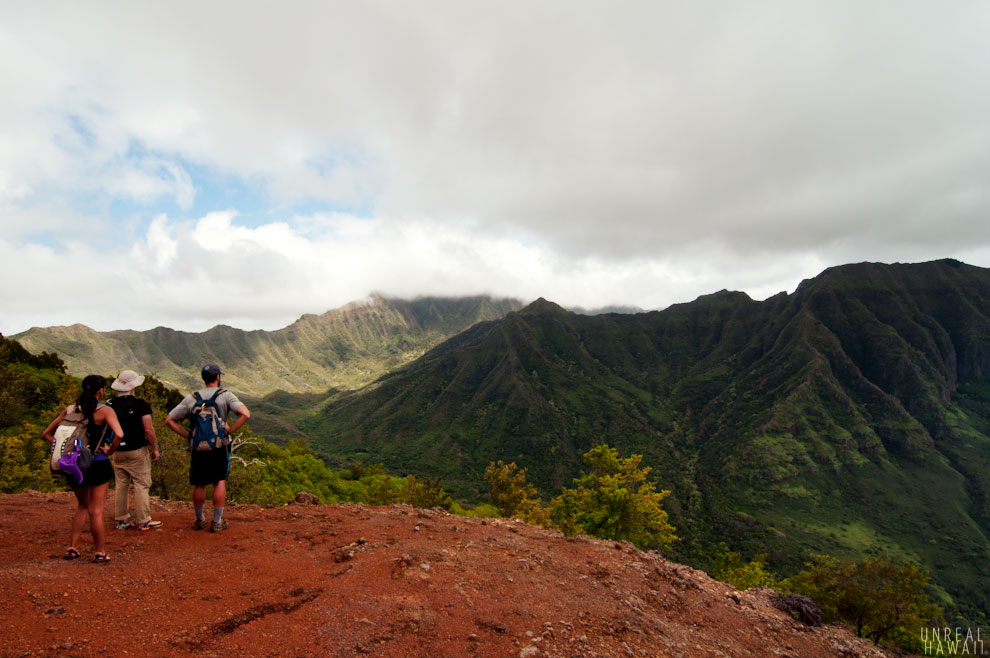 #38
Way off in the distance we could see a waterfall.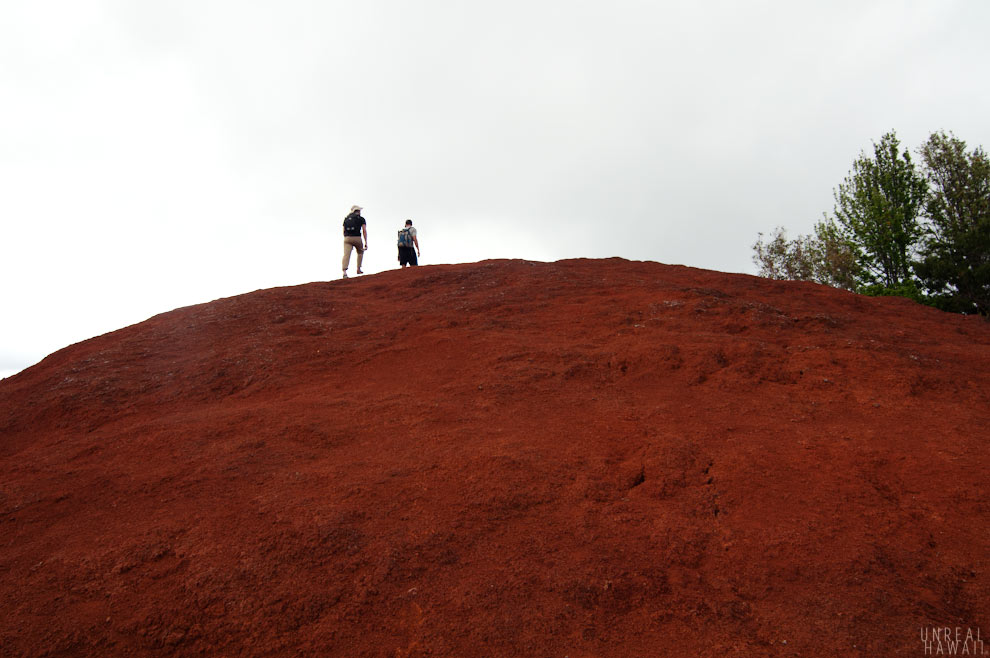 #39
We hiked over this red mound to find our trail junction.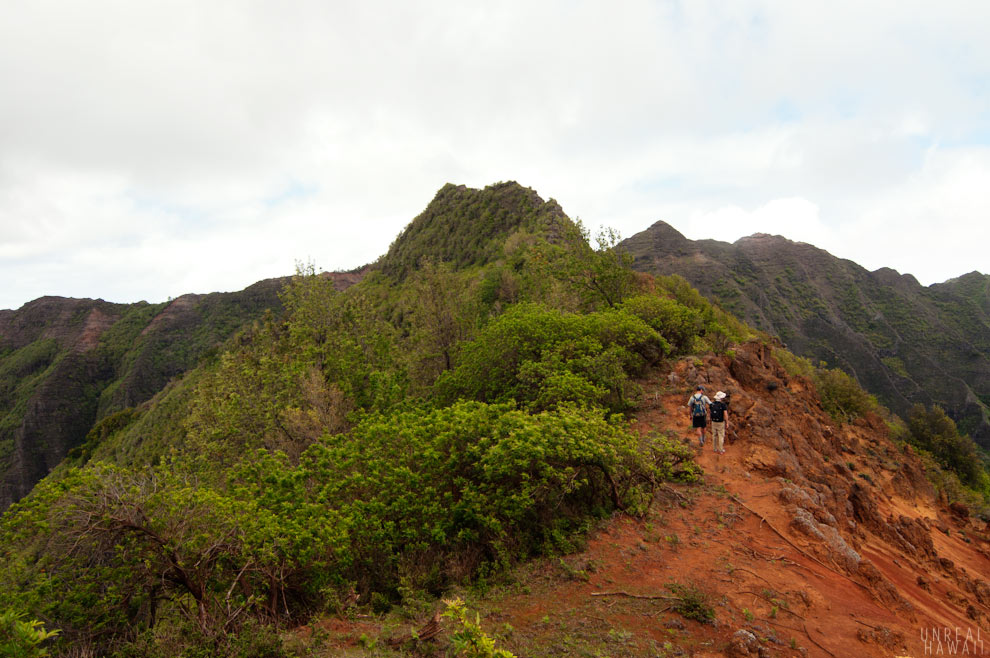 #40
Our objective was this peak. To the right of the peak you can see a point. That's the summit of Ohikilolo. (You can learn about hiking to Ohikilolo on Josh's 808 Goonies blog.)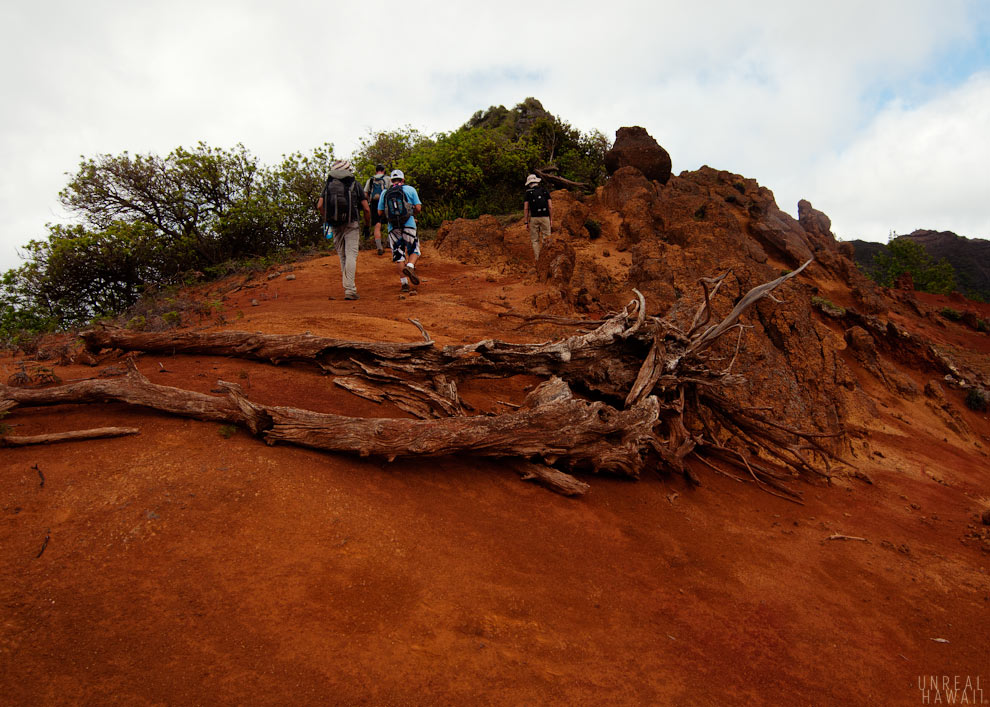 #41
We hiked up another red mound.
#42
The spines of the Wainae mountains have a different character than the Kooloaus.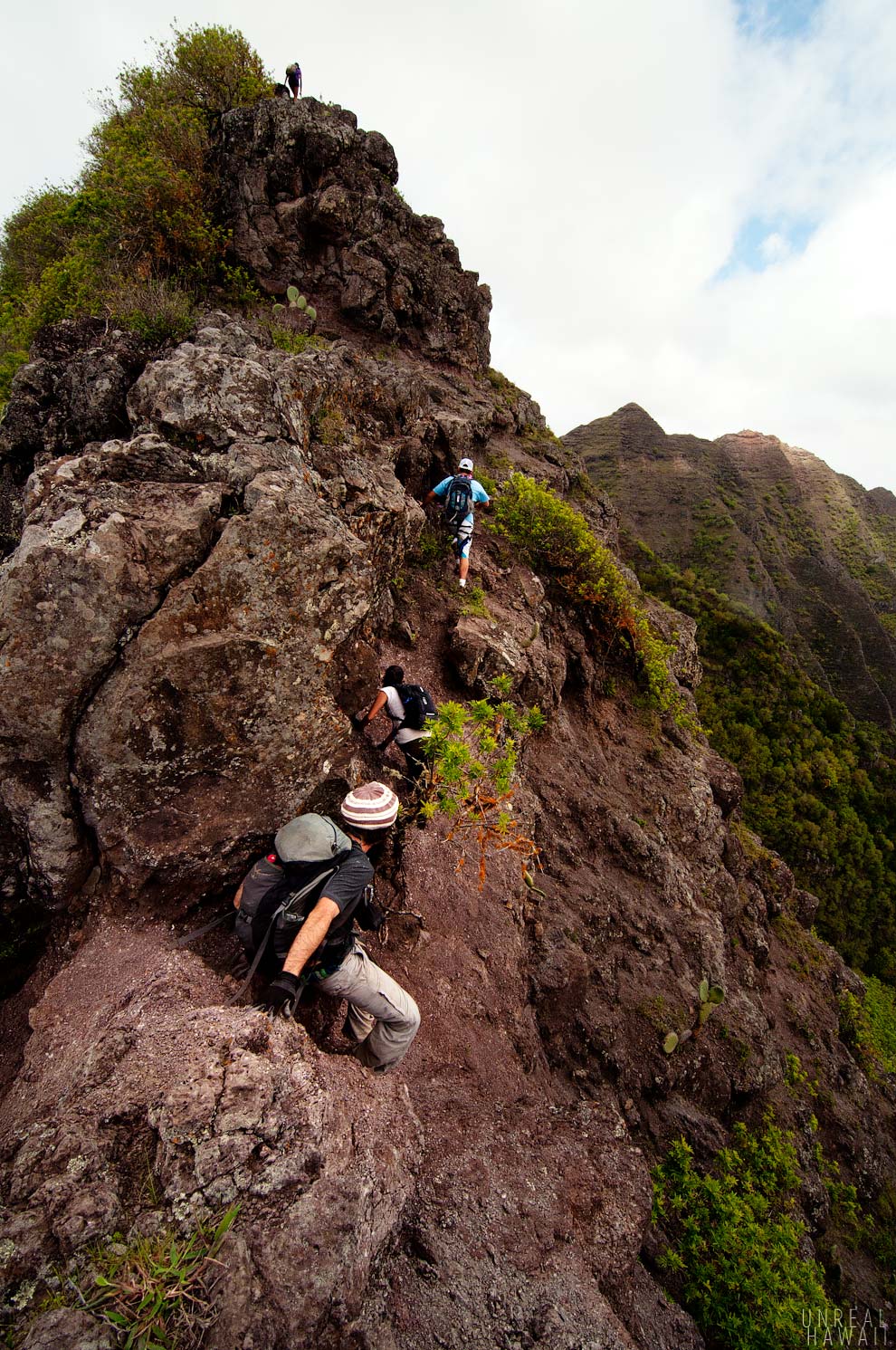 #43
One last scramble and we would be at the peak.
#44
Lunch, part deux.
#45
August and Pete look off into the distance at some hikers they spotted on Ohikilolo.
#46
After a much needed break, spent eating and talking story, we made our way down Keaau Middle Ridge.
#47
Some parts are forested and some are exposed.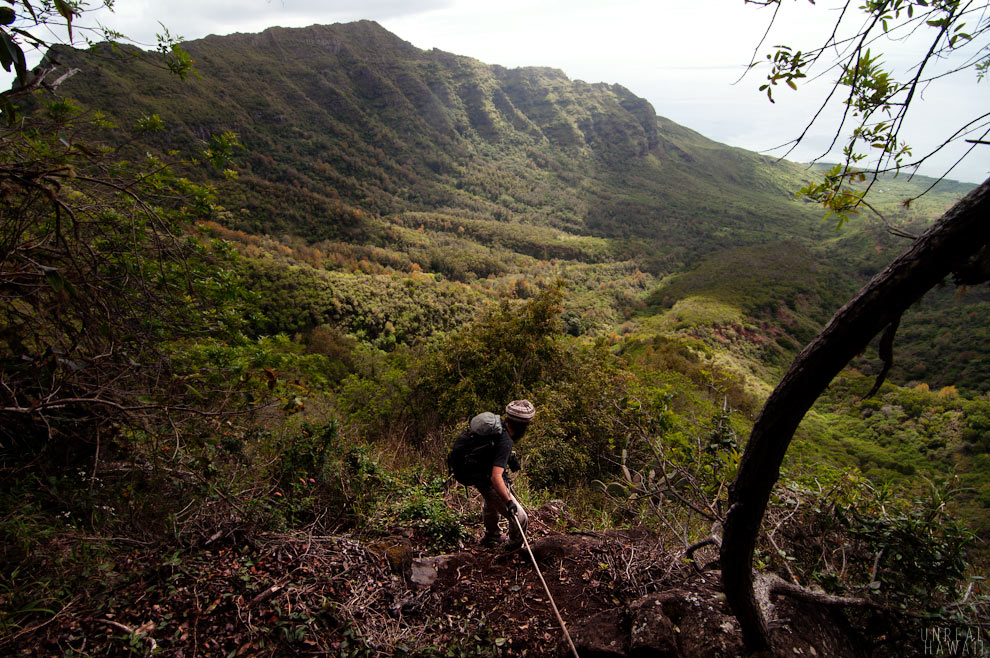 #48
There were ropes in place on several sections that help in getting down slippery sections.
#49
The middle ridge is a beautiful hike in itself.
#50
After a couple hours of descending down the ridge we were finally on level ground.
#51
We walked down the dirt road passing cows and a huge bull.
#52
It was late afternoon and we were happy to be closer to sea level.
#53
The views we saw on the trail were majestic. Almost as good as seeing your car still in the place you parked it after a long hike.
See also: