#1
These just arrived the other day. They showed up just in time for summer.
#2
I've been working on this Unreal Hawaii / Volcanic Rock Gym collaboration shirt for a couple months now. We wanted to create a shirt that showed the main bouldering spots in Hawaii (well, Oahu).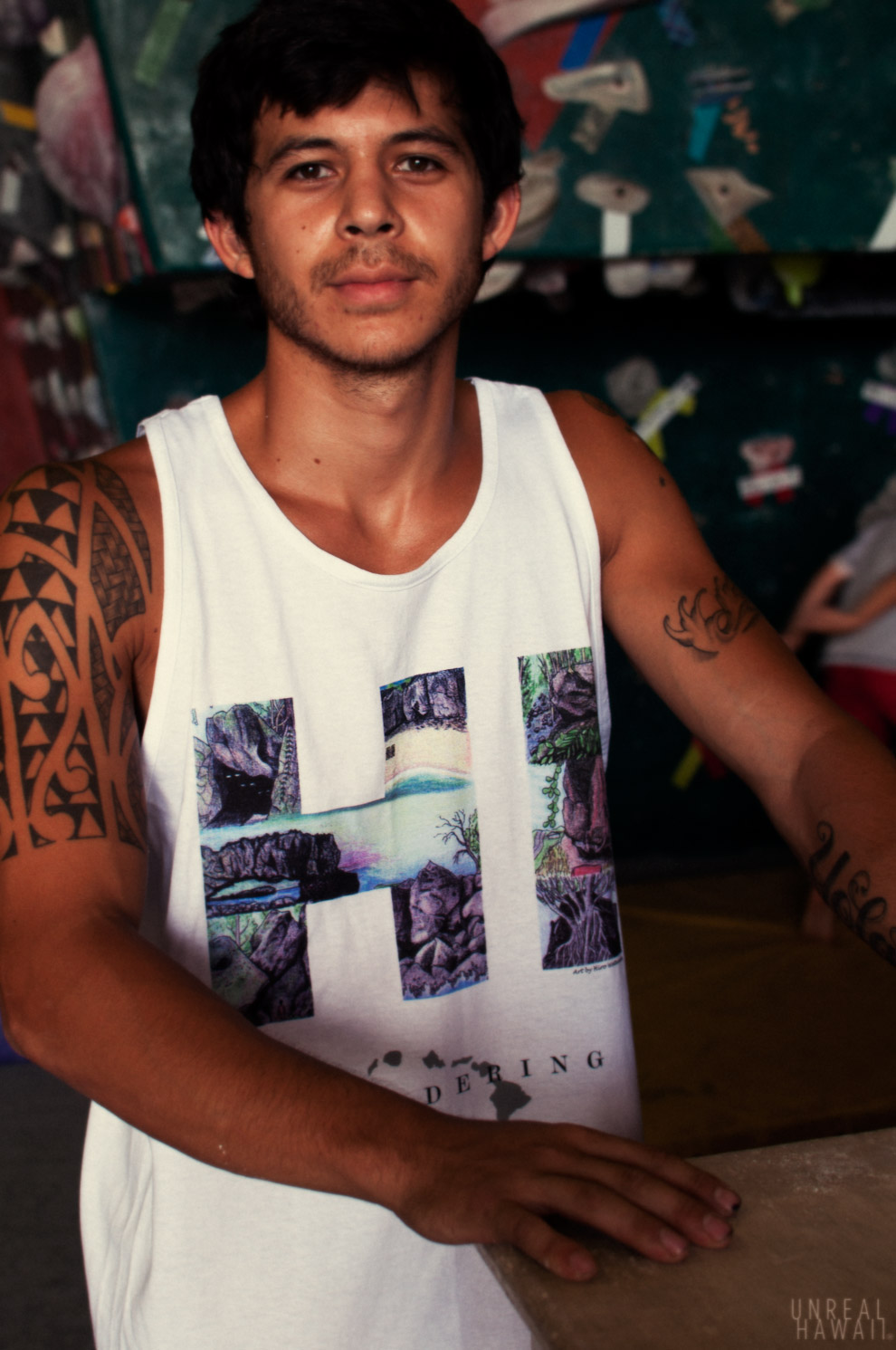 #3
Above
"HI Bouldering" tank tops are available for purchase. Features original artwork by Hiro Watanabe.
This is Hiro Watanabe ("hiroachi" on Instagram). You may know this guy from Volcanic Rock Gym. He's works there six days a week and has set most of the routes we all climb on (look for "HW" next to the route name).
You probably know that he's a sick rock climber but what you might not know is that he's also talented artist. This tank top features custom hand-drawn art by Hiro. He picked the 8 main climbing spots and drew each one in his own original style.
This is my first Unreal Hawaii branded shirt. I don't have plans to go into the apparel business anytime soon but I was hoping this would be a way to raise some funds for a new rock climbing video project I want to work on.
Video production is really expensive but if we can get enough sales through this shirt, we're hoping to be able to rent some nice cameras and hire a production company to help shoot and edit. If you haven't already seen it, here's the last rock climbing video we made. It was an Unreal Hawaii / Berad Studio piece done for Hawaiian Airlines called "Hawaii Bouldering".
Our ultimate goal is to keep creating interesting content that our rock climbing community in Hawaii can get stoked on. If you have the means, please buy one. It's a nice shirt.
Tank tops are $24.
Buy online >
You can also pick them up at Volcanic Rock Gym. If you would like to sell them in your retail store, please contact me.
#4
This is Hiro's original piece. His medium, color pencil.
#5
There are 8 tiles, each depicting a bouldering spot on Oahu.
1) Town Boulders 2) Waimea 3) Rainforest Boulders 4) The Arch 5) Oz 6) The Green Boulders 7) Sacreds 8) Bunker Boulders
#6
You can grab yours at Volcanic Rock Gym the next time you go climb. Or, order online here.
#7
It's makes for a great climbing shirt.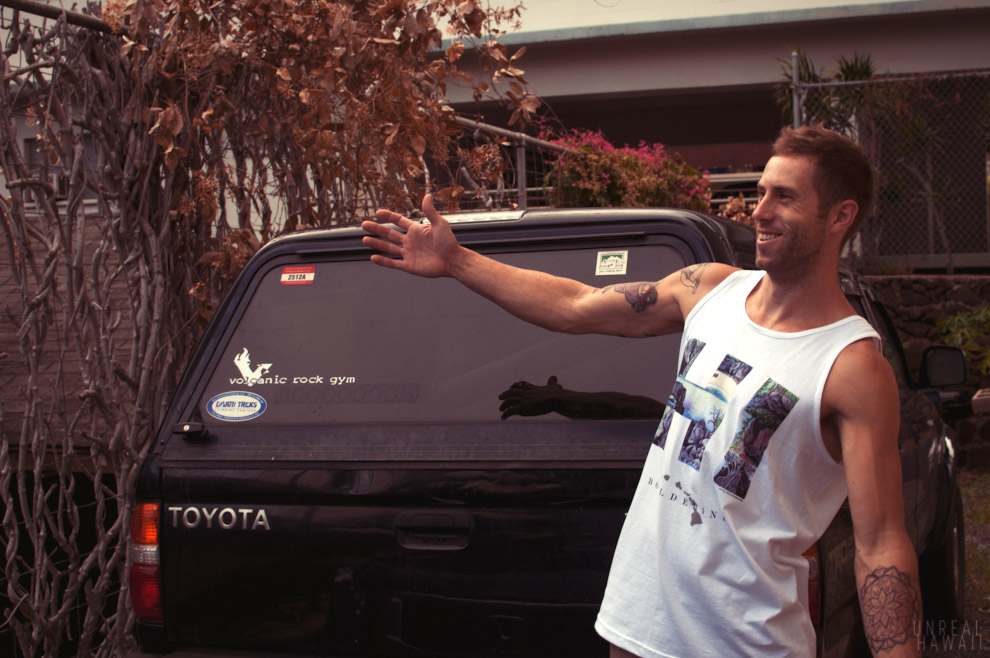 #8
It's also good for posing next to trucks. (Justin's wearing a Large.)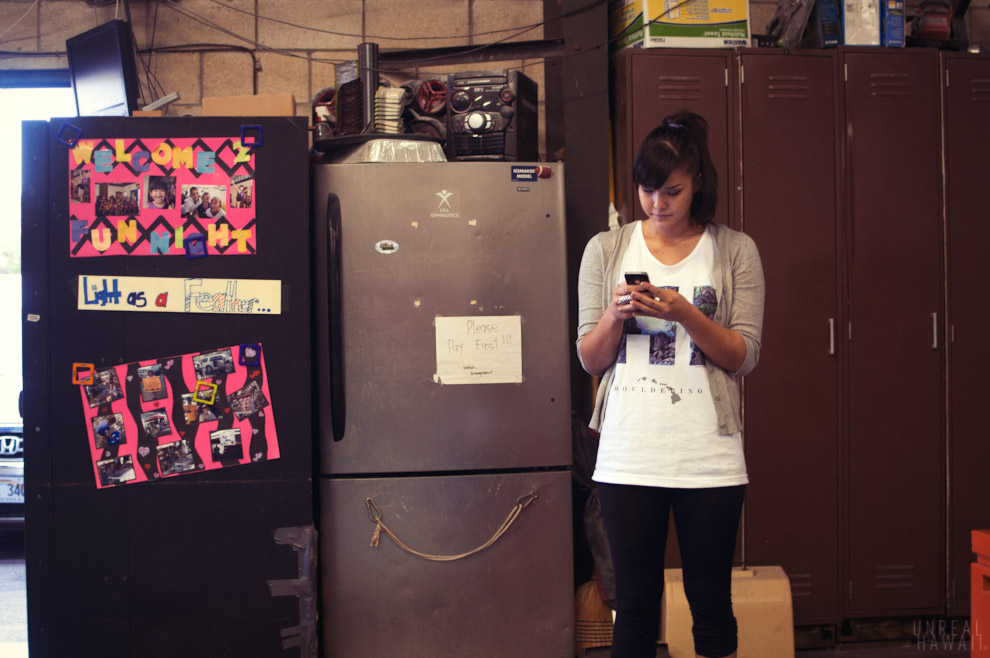 #9
Send texts, fashionably. (Jesse is wearing a Medium.)
#10
The shirts are 100% chalk-resistant. (I'm wearing a Medium.)
#11
Pick some up for your friends (Maria and Sarah are wearing Smalls). And get them for your brothers (Bryce is wearing a Small).
#12
Children may flock to you.
#13
No kids sizes yet though.
#14
Bro. Tank top. Do it. (Hiro is wearing a Large.)
#15
If you have the means, please buy one and help support our next video project.
Recommendation on sizing:
The tanks are long when you first get them but they will shrink up a lot once you throw it in the dryer.
Under 5'5″ – Small (medium if you want to wear it loose as the smalls run narrow)
5'5″ to 5'9″ – Medium (large if you want it wider)
5'10" to 6'2″ – Large
6′ and up – Large or X-Large if you want it a bit looser)
Tank tops are $24.
Buy online >
You can also pick them up at Volcanic Rock Gym.
I'm a one-man show here so I hope you can understand that *all sales are final*.
. . .