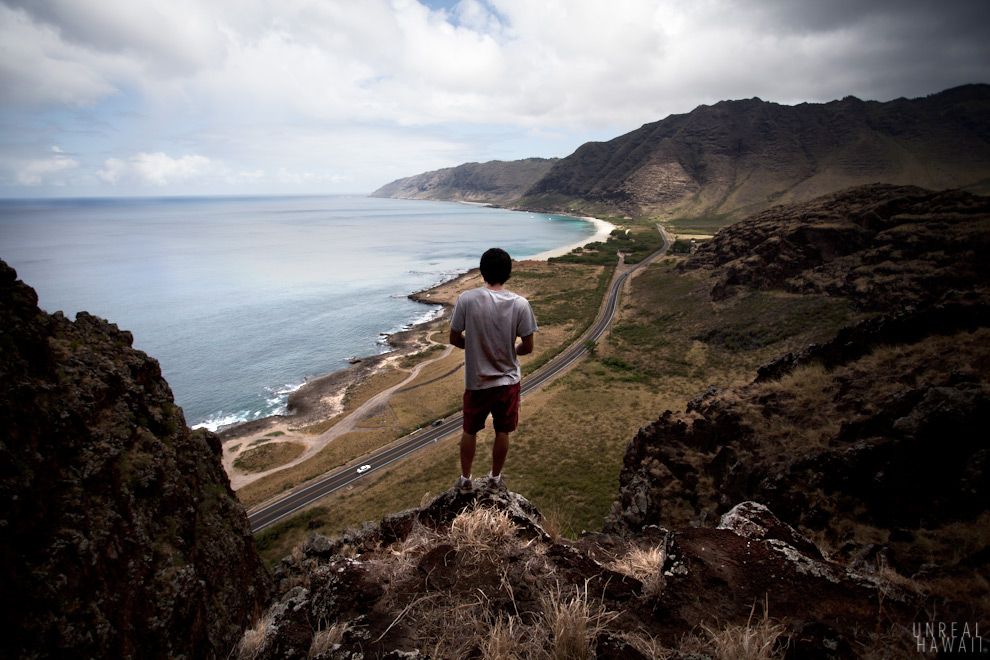 #1
There's this spot up on a hill that offers some unique views of west Oahu.
#2
It's a cave up on the mountain that's being called "Upper Makua Cave."
#3
Above
Hiking up to Upper Makua Cave, Waianae, Oahu, Hawaii.
A few months ago, I hiked up here with Justin (Volcanic Rock Gym) and Hiro to see if it was possible to climb the roof of the cave.
If the rock was climbable, it would have made for one amazing climbing spot. But as it turns out, the rock here at Upper Makua Cave is too crumbly to climb. I was still happy that I got to see this spot and take photos of the views from up there.
Please note: this part of Oahu is not exactly tourist friendly.
#4
Upper Makua Cave is located right off of Farrington Hwy in Waianae.
#5
We parked on the side of the road and loaded up on pads. (Please note that parked cars get broken into all the time over here. I wouldn't recommend coming out here if you have a rental car.)
#6
Then we hiked up the side of the mountain following a faint trail. The trail is made up entirely of loose rocks.
#7
Once we reached the top of the hill we could see views of Makua Valley.
#8
There are two caves here.
#9
The one on the left is tiny and any hand holds broke off when Justin and Hiro tried pulling on them.
#10
The larger cave is huge and would be amazing to climb if the rock was more solid.
#11
As it turns out, water seems to seep through the rock on this hill and the roof is brittle and even wet in some parts.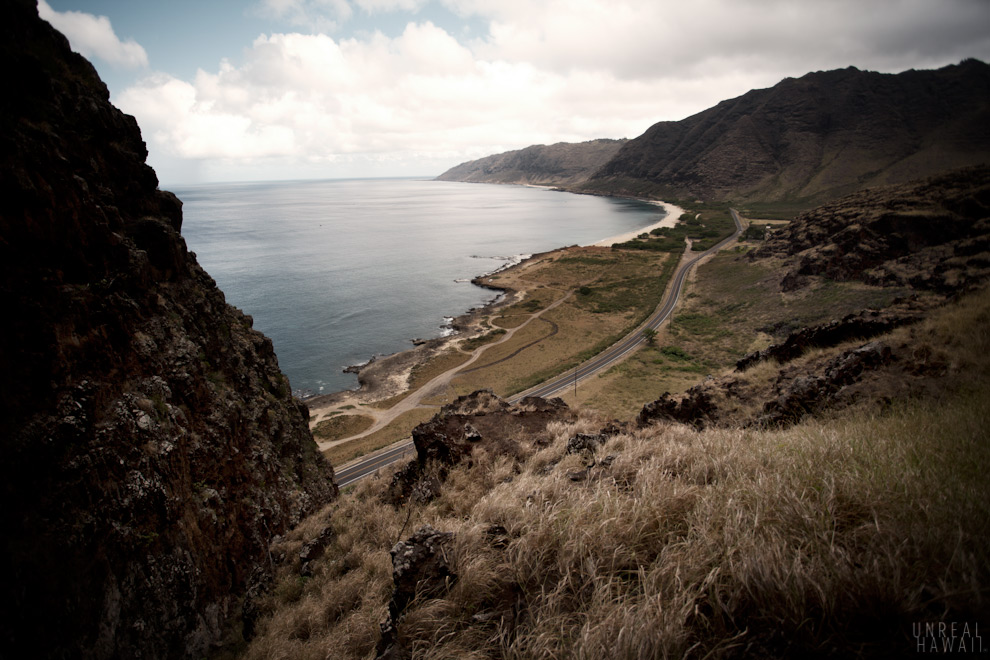 #12
Still, the view from up here is awesome. You can see all the way to Kaena Point.
#13
After inspecting the entire roof, we gave up.
#14
A bit of rain passed through.
#15
We took shelter in the cave amongst copious quantities goat poop. We also ate sandwiches.
#16
A few old bullet casings were scattered about.
#17
After the rain passed I walked out onto this ledge to grab some shots of Farrington Hwy.
#18
The freshly paved and painted highway stands out against the rural landscape.
#19
I took maybe thirty photos of the same view from this spot.
#20
After we had finished our sandwiches it was time to lace up the hiking shoes and head down.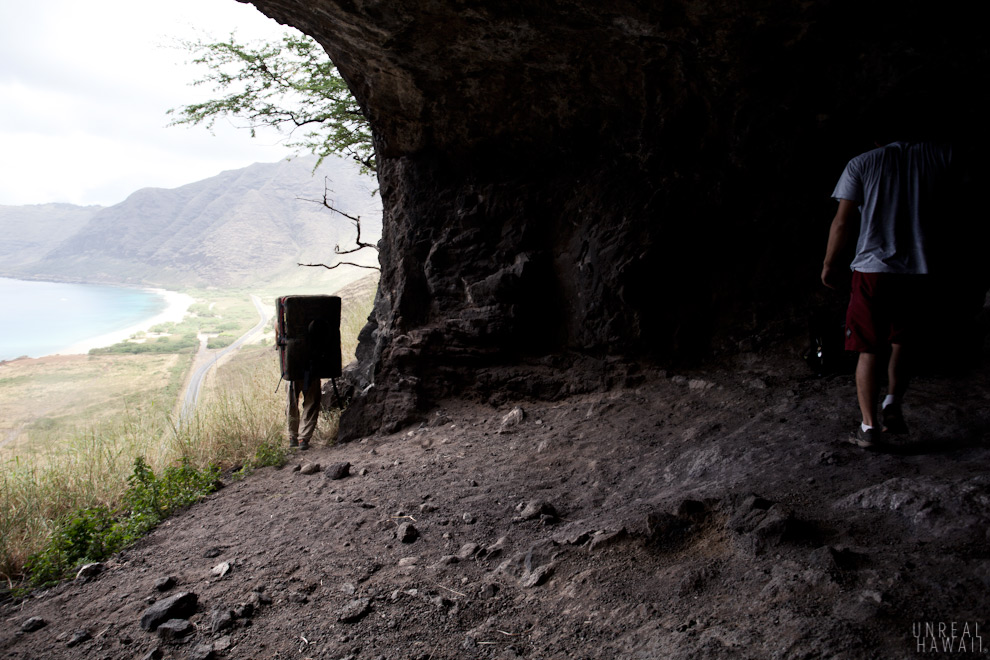 #21
This day's mission was a bust.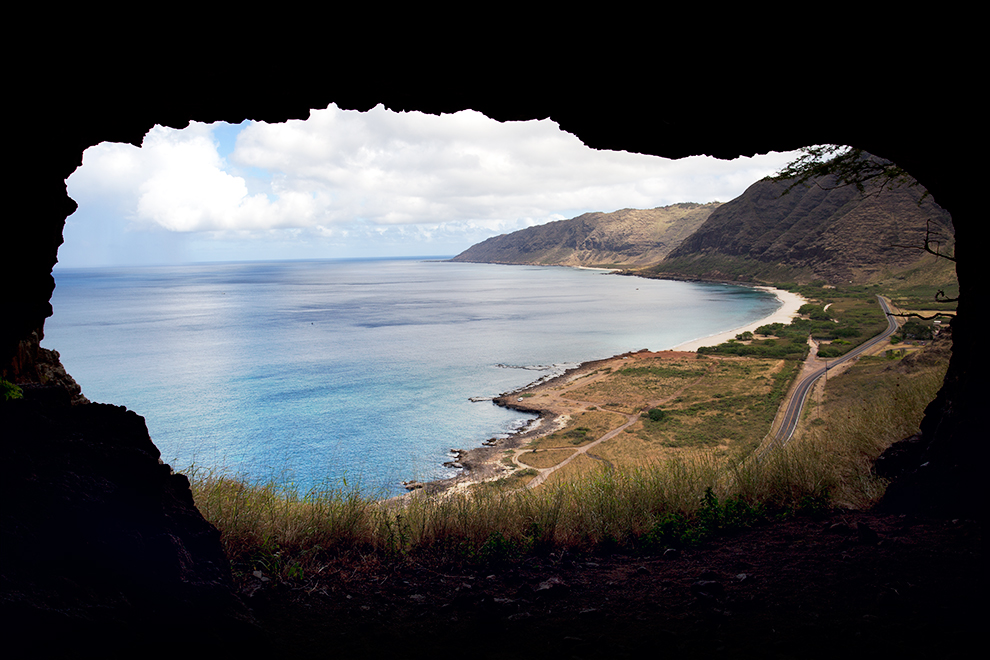 #22
But at least we got to see this view from this special place.
Please help preserve adventure in Hawaii.
If you happen to make it out to this spot, please help preserve it by keeping the location undisclosed on blogs, Instagram, Facebook, Yelp and the Internet in general. It's always more rewarding to discover things on your own or through friends anyway right? Unfortunately there are some people out there that make it a point to make location information for Hawaii adventures publicly available on the Web. In general that's a very nice giving mentality to have but, when you live on a small island it can actually hurt more than help.  My goal is to tell interesting visual stories and share my photography. Unreal Hawaii is for inspiration but not really for instruction. If you enjoy my website the best way you can support Unreal Hawaii is by helping keep directions and location information off the Internet. Mahalo for your help and thanks for understanding.