#1
Jump on a boat.
#2
Enjoy drinks with friends.
#3
Above
Sunset sailing on a catamaran in Waikiki, Oahu, Hawaii.
Watch the sunset.
The sunset catamaran cruise in Waikiki is an activity I always recommend to friends visiting Hawaii. For thirty bucks, you can sail around Waikiki and Diamond Head for an hour and a half and help yourself to as much beer or cocktails you're in the mood for. It's a great way to start off an evening.
I've done this cruise a few times already but since my friend Penny was visiting from Tokyo, I figured it would be fun to do it again. And this time I brought a camera.
#4
Nancy and Matt, two of the sickest Hawaii rock climbers I know, came out to join us wearing full on Waikiki sailing attire.
#5
We boarded the catamaran at the beach right in front of Dukes.
#6
The boat can hold up to 49 people but there were maybe only 30 on board on this day.
#7
I wish I had a boat, or friends with a boat so I could see views like this more often.
#8
From a boat you get to see unique views of Diamond Head.
#9
This is Diamond Head from the front.
#10
As you sail, the ocean breeze seems to prevent any sea sickness.
#11
The boat ride can be bumpy though and if you hang out on the netting, you can get wet when the catamaran skips over waves.
#12
The star of the show here of course is the view. Every sunset will be different. On our trip, the sunset was masked behind rain clouds but it still looked amazing.
#13
Not only did the clouds have a silver lining, but they created windows in the sky.
#14
Later, Matt steered the ship as Nancy navigated.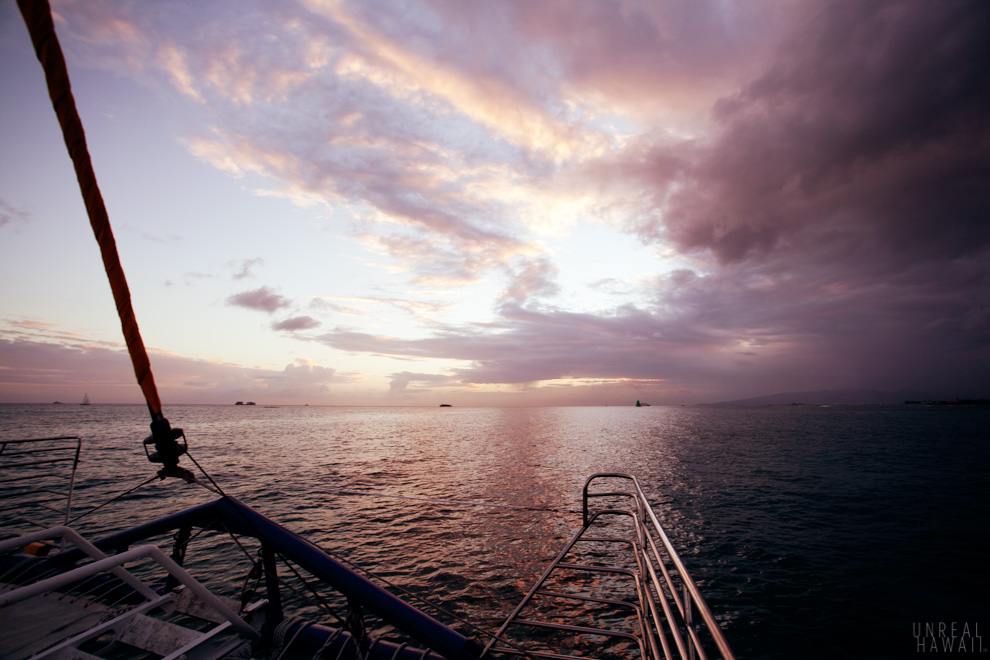 #15
And I took more photos of the horizon.
#16
The hour and a half goes by fast. My only qualm with this activity is that it would be better if it was an hour longer.
#17
When you sail back to shore you pass by Waikiki surfers.
#18
As you step off the boat they hand you a photo of your group. Penny bought it.
#19
Afterwards, we went to Dukes for pupus.
There are at least four Waikiki catamarans to choose from. I think they are all pretty similar. The good thing is that if one is sold out for the day, one of the other boats can probably accommodate you.
Sunset catamarans (best to make a reservation):