#1
I've posted about the cliffs on this side of the island before in a post called "Oahu's Unreal Coastline." On this day's outing, we went to check out another section of the coastline.
#2
The strong wind and constant waves have created a landscape full of beautiful textures.
#3
One of the highlights of the area is this little rock bridge.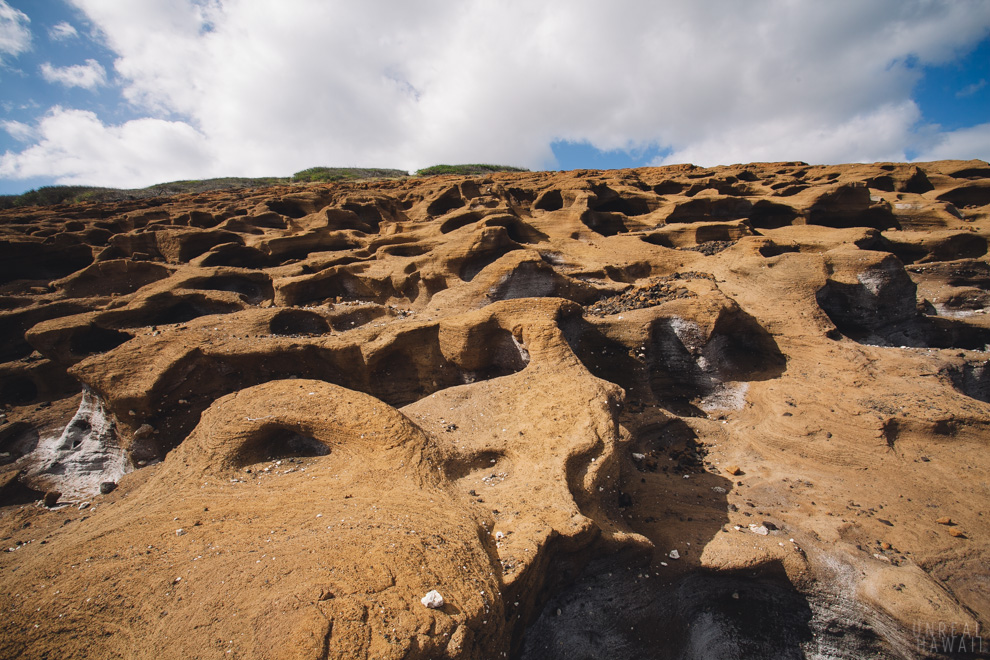 #4
This wind eroded rock is another highlight.
#5
We walked around and explored the coastline.
WARNING: Please note that it is extremely dangerous to stand on rocks along any coastline in Hawaii. Rogue waves can crash on the shore and sweep you away. Do not attempt what you see in the photos on this website.
#6
This section of the coast formed a bowl. The water would rush in sideways, swirl around and suck out exposing the rock and coral.
#7
To the right in this photo, you can see a small cove.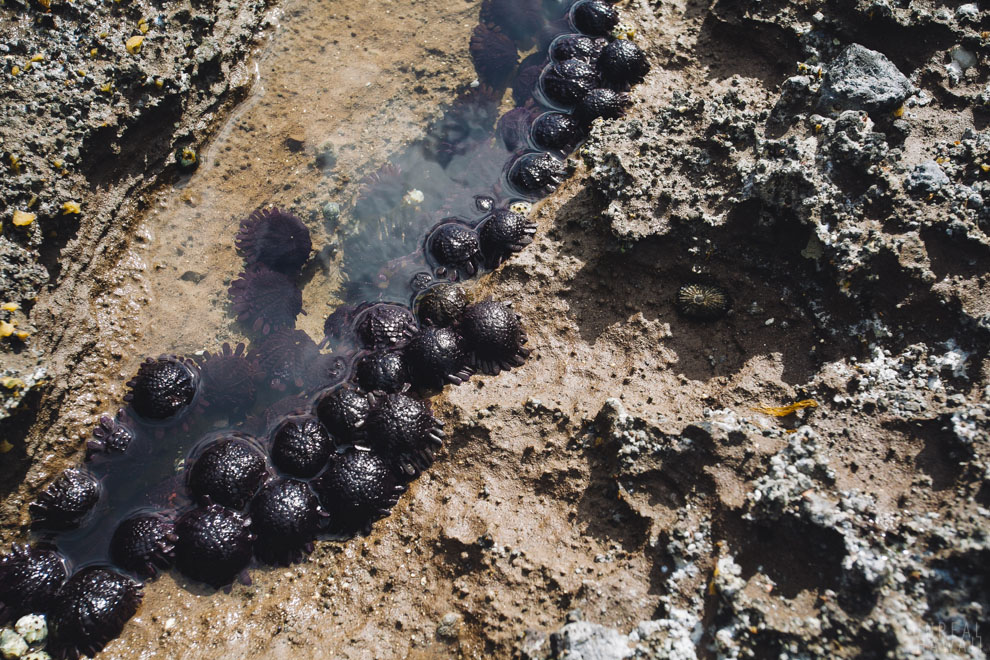 #8
These little guys were all over the place. They are hard to the touch.
#9
I haven't heard and couldn't find any background information on this rock bridge. It appears to have been formed by erosion.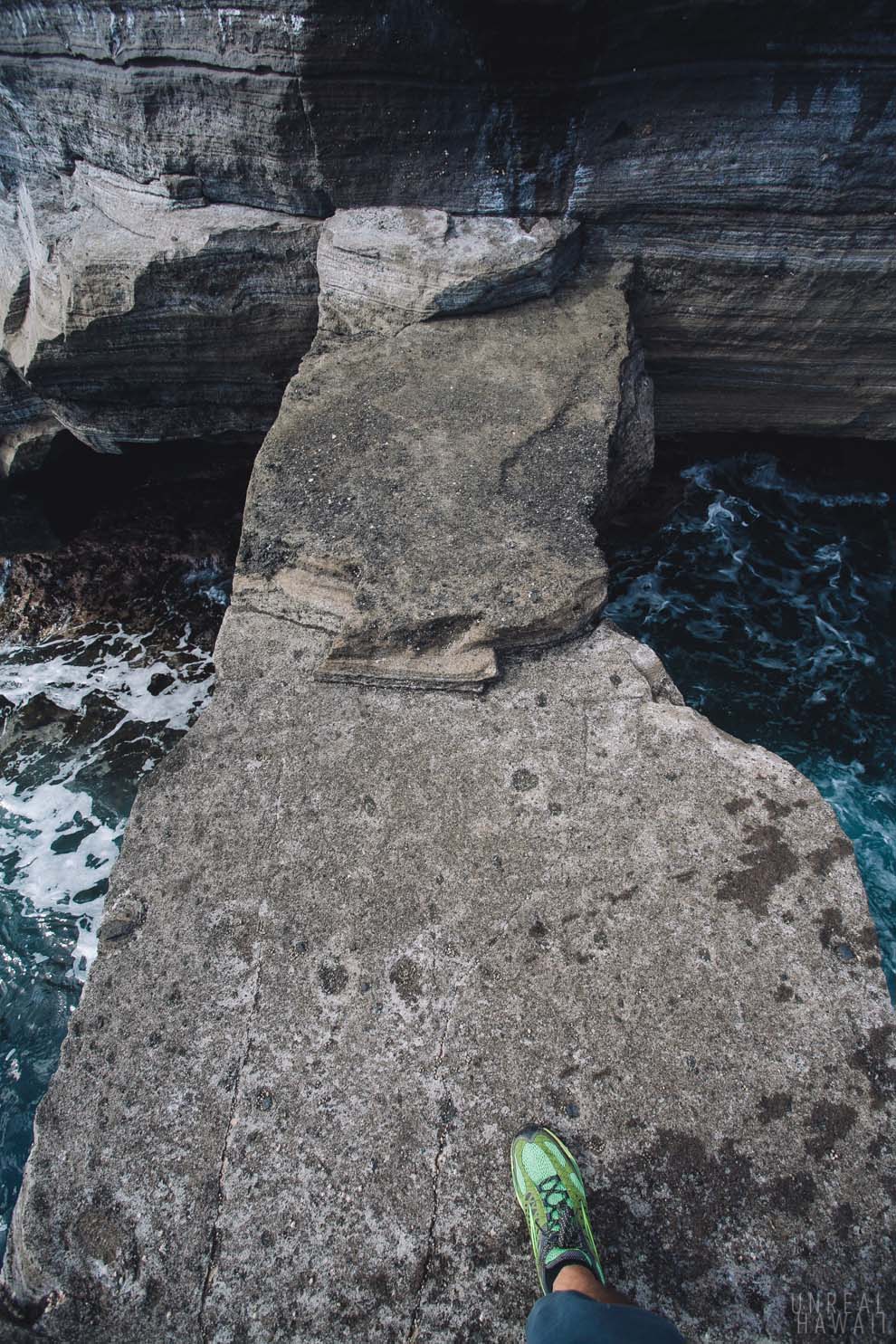 #10
There's a big crack in the middle of it so I would not recommend standing on it. If you do, you are doing so at your own risk. So, please do not stand on it.
#11
If the bridge were to collapse, you would fall into this swirling death hole.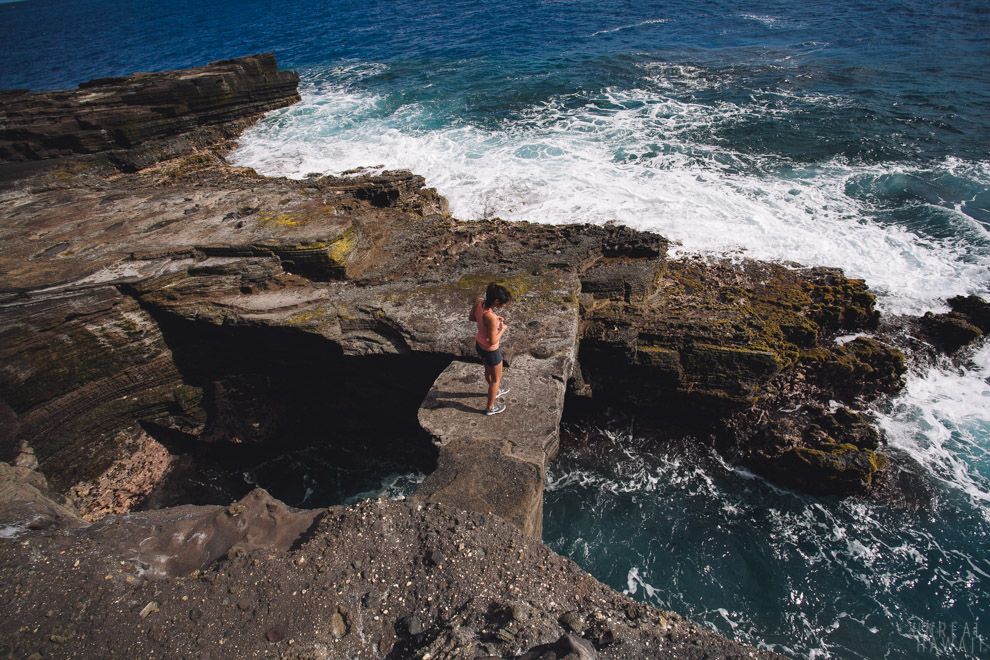 #12
Of course, some are willing to test their luck.
#13
After we finished checking out the bridge we walked along the cliffs a bit more.
#14
The wind shaped ridges make some excellent benches so we sat for a while and had some snacks.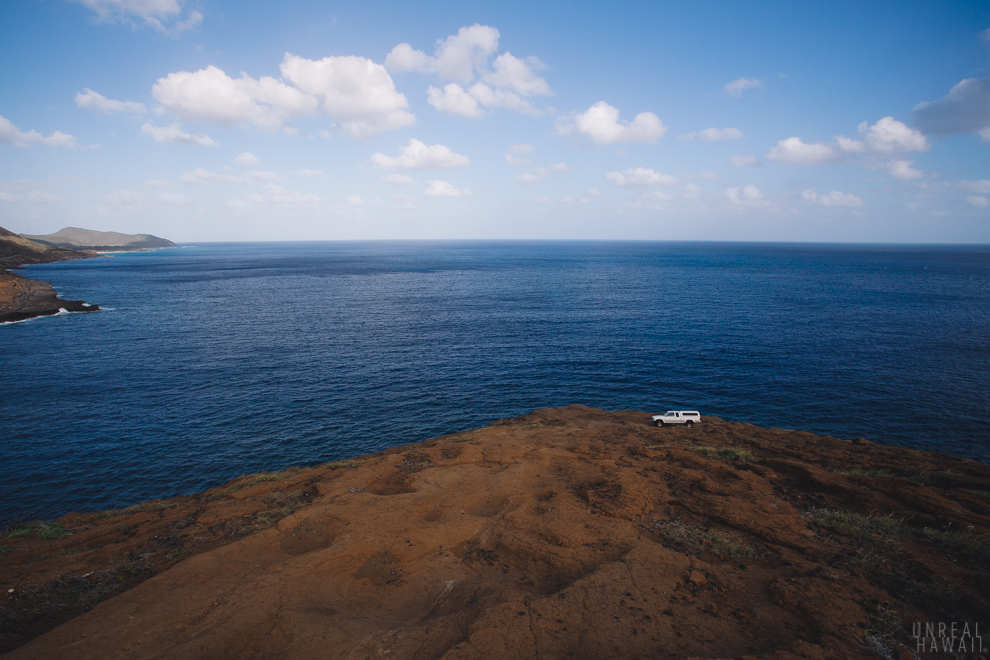 #15
While we were walking back to the trail a truck had appeared on the cliffs.
We headed back to the car and called it a day. But I would return about a week later to take some more photos.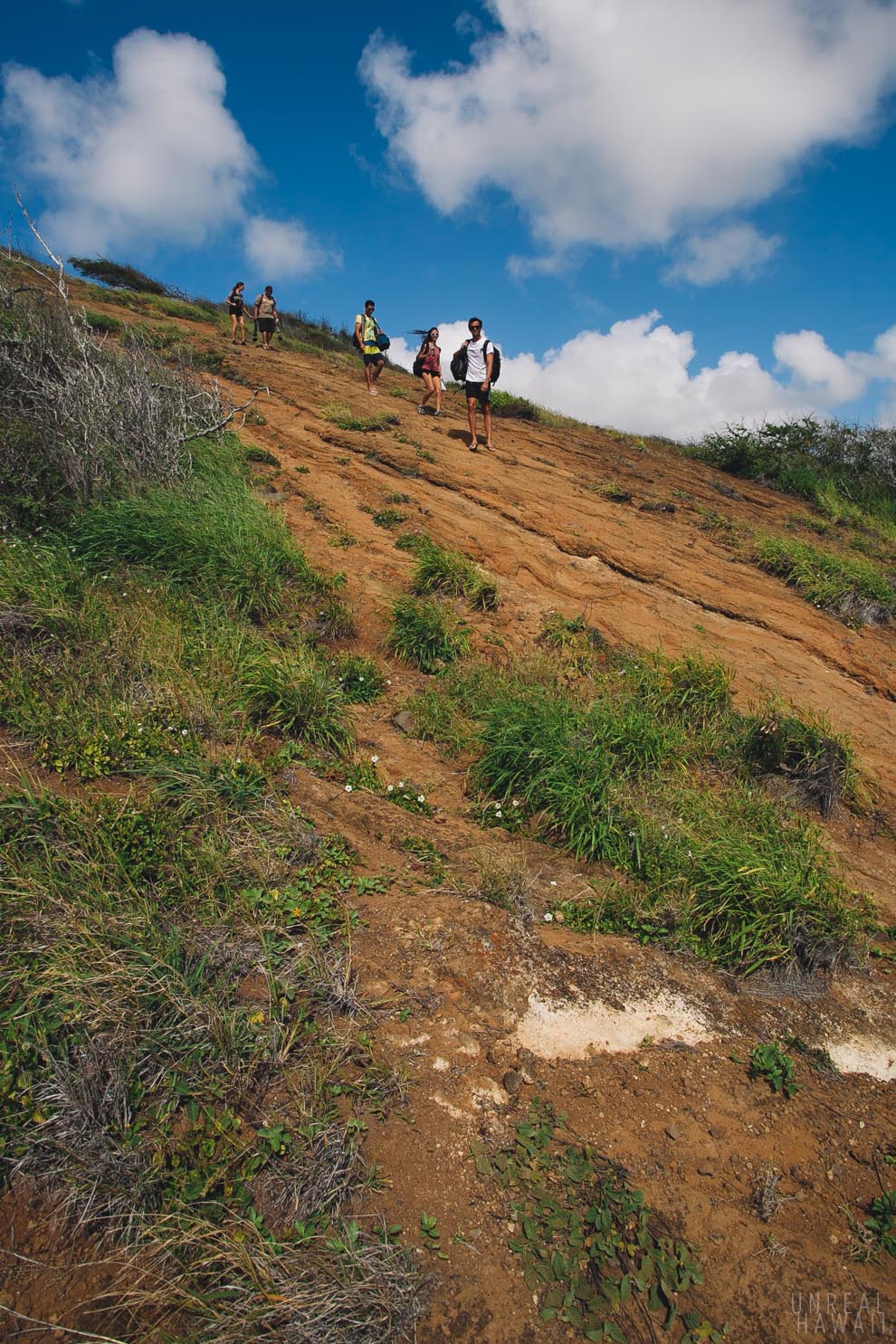 #16
On my second outing to the rock bridge and cliffs I invited some Hawaii photographer friends. I wanted to come back and get some different shots of the rock bridge and I figured it would be fun to go with a small group.
#17
Partly cloudy seems to be the best lighting conditions for this area.
#18
As we hiked in I noticed there were little pukas ("puka" means "hole") in the rock.
#19
These guys are John Hook and Zak Noyle. If you haven't already heard of him, Zak is a Hawaii born professional surf photographer. He currently works as a staff photographer for Surfer Magazine. If you've seen his profile video by Red Bull, you probably know this guy has a pretty fun job. John is taking portrait shots of Zak for his sponsorship profile.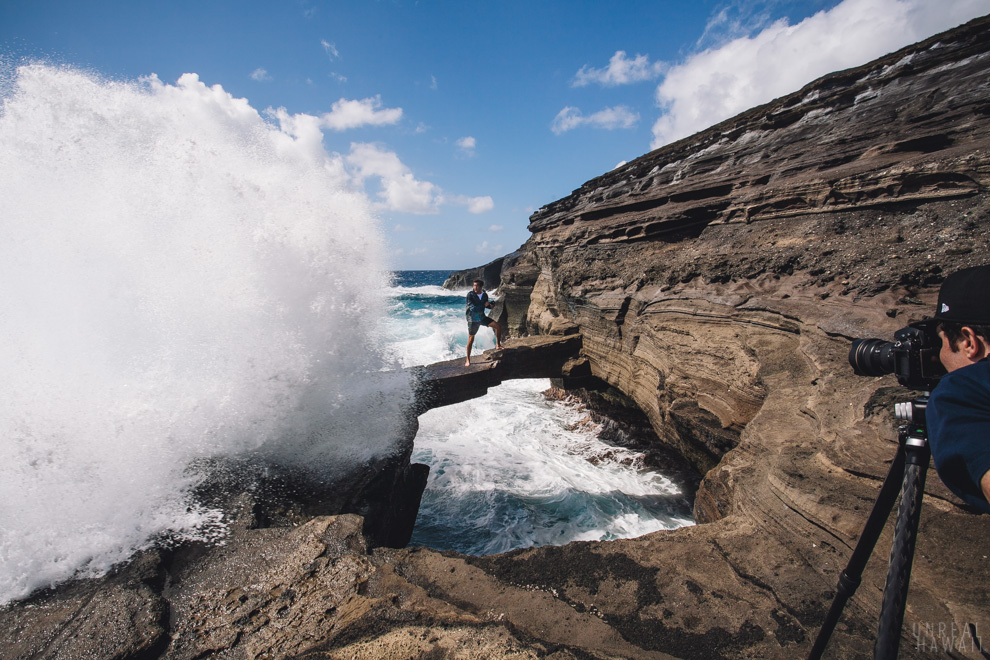 #20
As Zak was standing on the bridge (which I do not recommend you do), a huge wave hit the rocks and splashed all over him. The waves were much bigger on this day. Tom (myspacetom) was snapping away and got this crazy photo.
#21
John decided to face the waves head on and take photos of them.
#22
The reason I wanted to come back to these cliffs was to get this photo. I screwed on a neutral density filter to my lens and took some daytime long exposure photos.
#23
The waves end up looking like clouds.
#24
We then walked further down the coastline to check out the cliffs.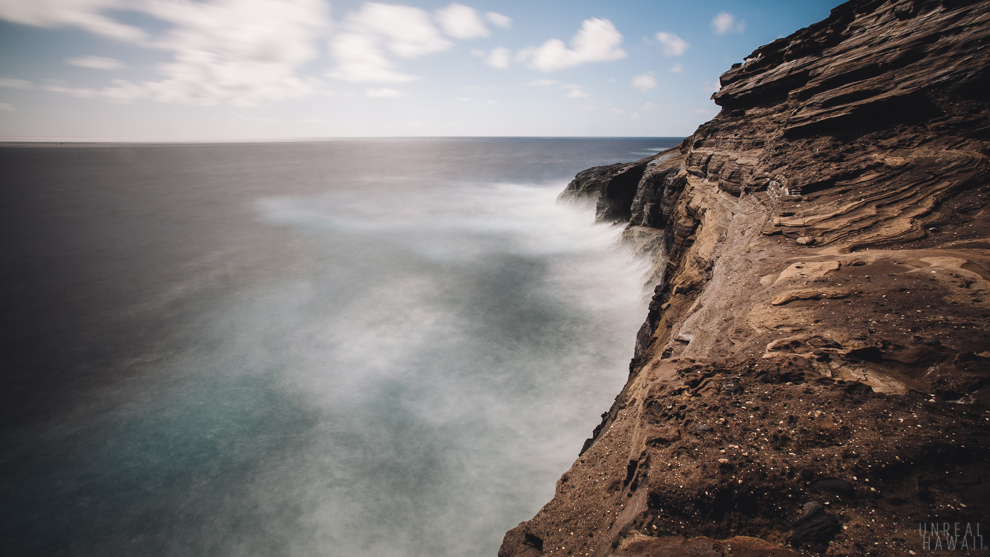 #25
These cliffs were also majestic.
#26
Each one of these naturally formed pedestals was screaming to be yoga-posed on.
#27
Waves splashed up on the cliffs and as they drained, formed some nice textures.
#28
One of the many nice things about adventuring with photographers is that you get to borrow their lenses. Dallas Nagata White let me borrow a telephoto lens to get this shot.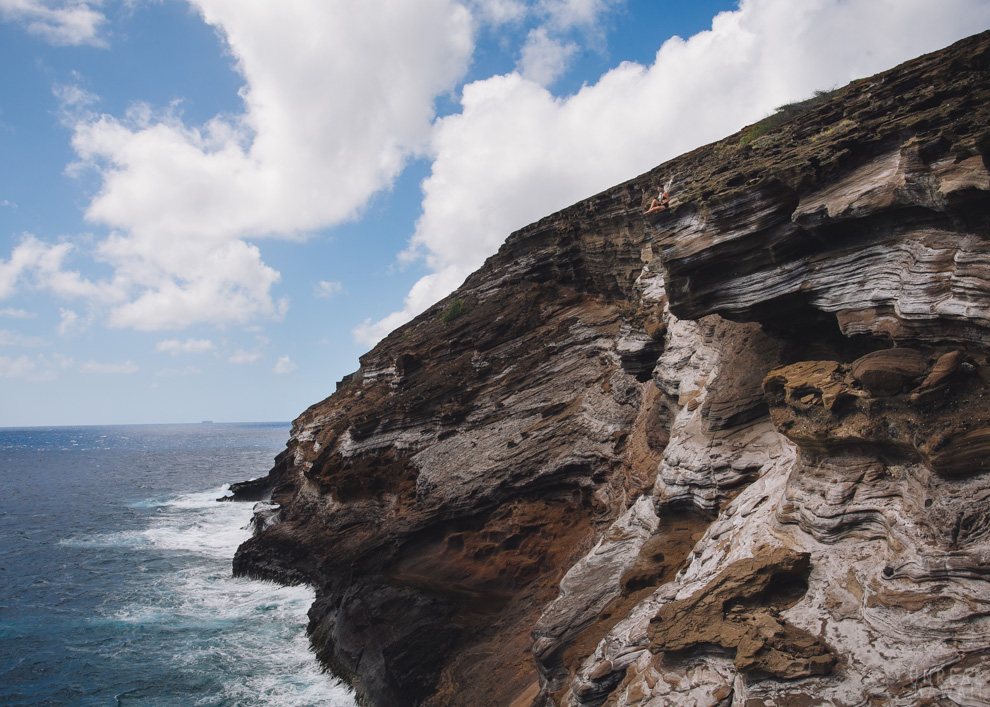 #29
Then she walked to the edge of the cliff to pose for me and Tom.
#30
We should have been concerned but Dallas looked pretty comfortable up there.
#31
John ended up pretty close to the edge as well.
#32
Walking back we passed through this field of trees. The white bark stood starkly against the lush green grass.
Check out the work of my companions on this day (all of whom are Hawaii photographers):
Please help preserve adventure in Hawaii.
If you happen to make it out to this spot, please help preserve it by keeping the location undisclosed on blogs, Instagram, Facebook, Yelp and the Internet in general. It's more rewarding to discover things on your own or through friends anyway right? I know people are trying to help by sharing directions and locations in social media and on blogs and in general that's a very nice giving mentality to have. But, when you live on a small island it can actually hurt more than help. My goal is to tell interesting visual stories and share beautiful imagery. Unreal Hawaii is for inspiration but not necessarily for instruction. If you enjoy my website the best way you can support Unreal Hawaii is by helping keep directions and location information off the Internet. Mahalo for your help and thanks for understanding.
See also:
I have two other stories that feature this strip of Oahu coastline.
WARNING: Please note that it is extremely dangerous to stand on rocks along any coastline in Hawaii. Rogue waves can crash on the shore and sweep you away. Do not attempt what you see in the photos on this website.