#1
A view of Kahana Bay from the trail.
#2
The giant slab of super sharp lava rock you walk under as you approach the "lion."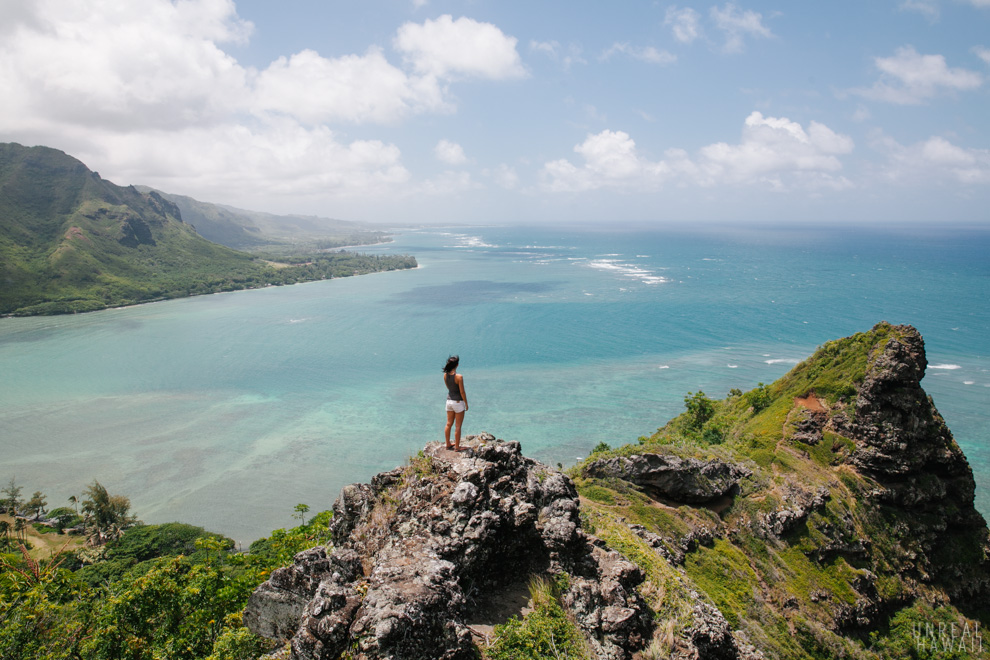 #3
The expansive view of the Pacific Ocean.
#4
All these sights and more can be had on this short and sweet hike.
Crouching Lion is the small rock formation you see in the top left section of the photo above. It sits above the Crouching Lion Inn & Restaurant. At just the right angle, it looks like a lion sitting on it's belly (you'll have to Google it).
This isn't an all day affair. It's just a quick way to get a nice view if you happen to be out near Kaaawa on Oahu. Expect to break a sweat though. You'll need more water than you think.
It takes maybe just 30-40 minutes to get to the top of the Crouching Lion. But the views are impressive so you might end up staying on the mountain longer than you expect. I'd recommend bringing a peanut butter & jelly sandwich to eat at the top.
Note: The full "Crouching Lion" hike involves taking this trail all the way to the summit of the mountain. The mountain is called Pu'u Manamana and I've covered the full hike in two posts: 1) Pu'u Manamana and 2) Kahekili-Manamana Loop. These two hikes however are much longer, way more strenuous and very dangerous.
#5
If you're coming from the nearest cross street (which is Kamehameha Hwy / Trout Farm Road) the trailead will be on your right. The trailhead is located between this "Do Not Pass" sign and the telephone pole just past it. Please note that parking on Trout Farm Road is not recommended. You will get towed.
#6
Look into the forest and you'll see this clearing. The trail is not ribboned.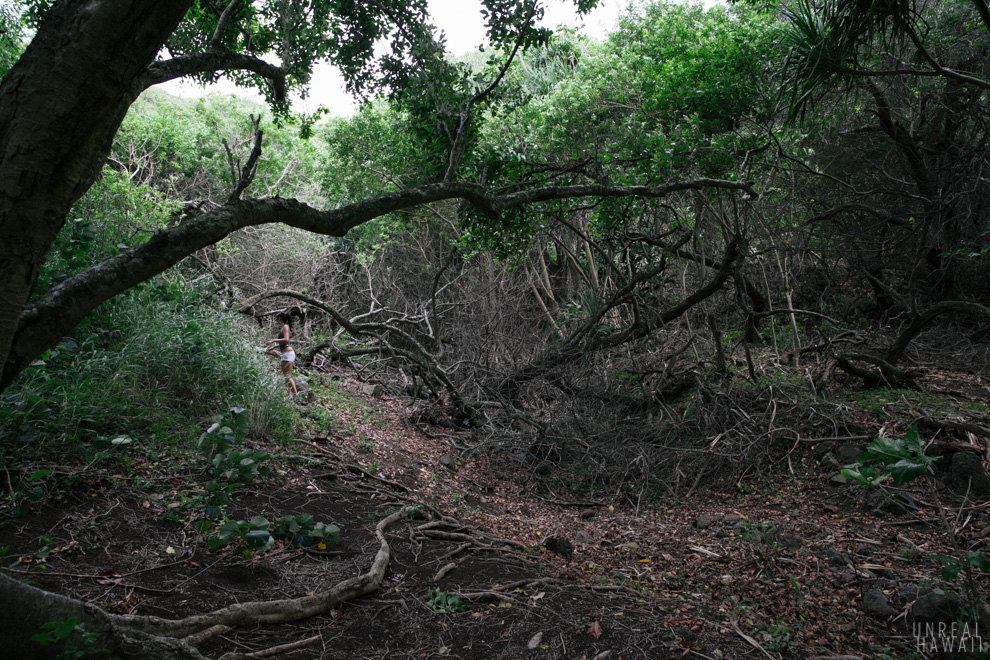 #7
As you hike in you'll see a trail (sort of). Walk up and to the left and look for the fallen tree.
#8
Go under the fallen tree here.
#9
As you walk through the trees, there will hopefully be a faint trail you can follow. Hopefully your path-finding skills are honed.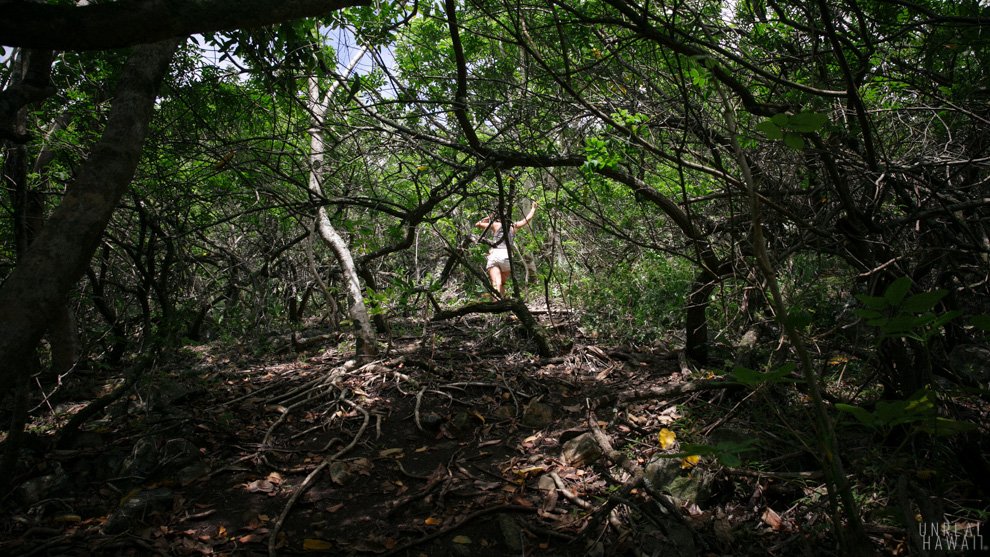 #10
The basic idea is to keep going up.
#11
You gain elevation fast and you'll start to see nice views of Kahana Bay. Hopefully you'll get a nice breeze at this point. Bring more water than you think you'll need. The trail is steep and it can get hot over here.
#12
Keep making you're way up. The trail becomes more defined at this point.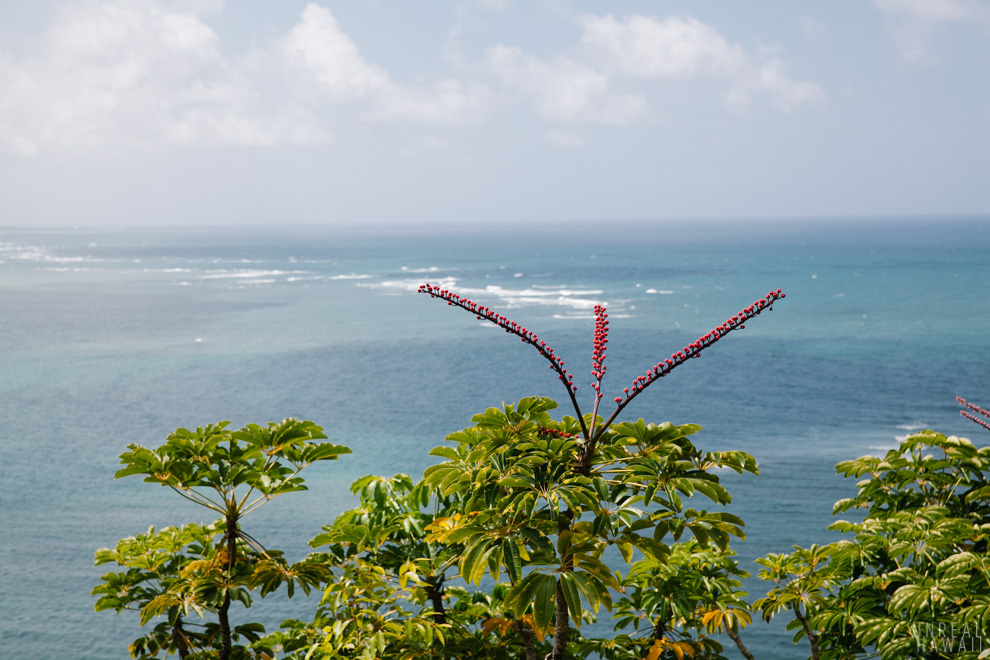 #13
He'e trees (invasive) are all over.
#14
The trail is totally exposed from here on and if you're hiking around noon like we were, you'll be glad you carried that extra bottle of water and that can of AXE body spray.
#15
It's hot!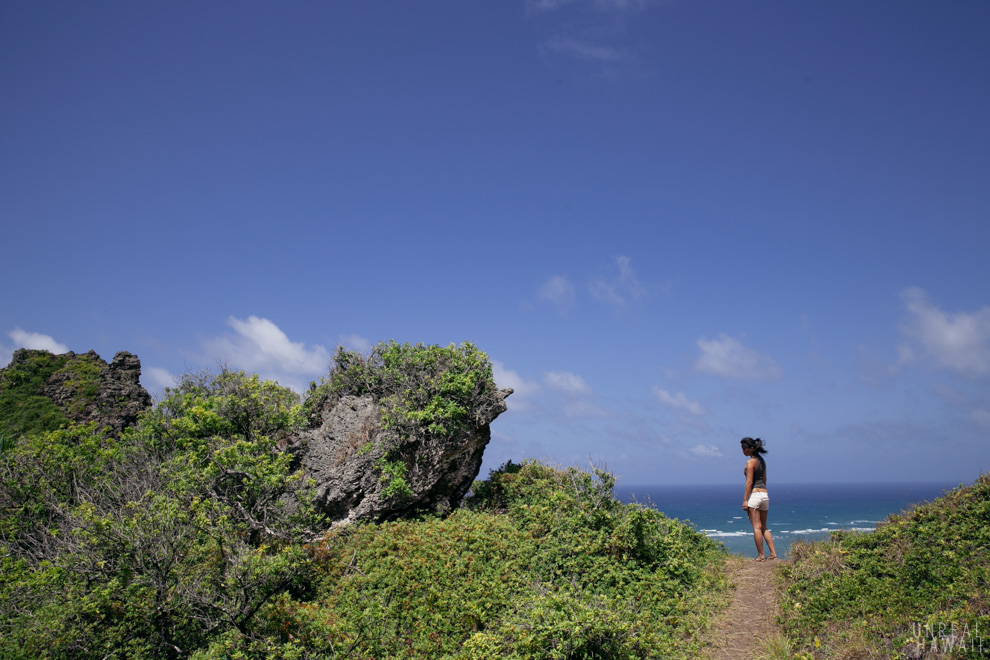 #16
At the top though, the breeze will feel amazing. Especially if the trade winds are blowing. Go left here.
#17
If you were to turn right you would connect with the Pu'u Manamana trail.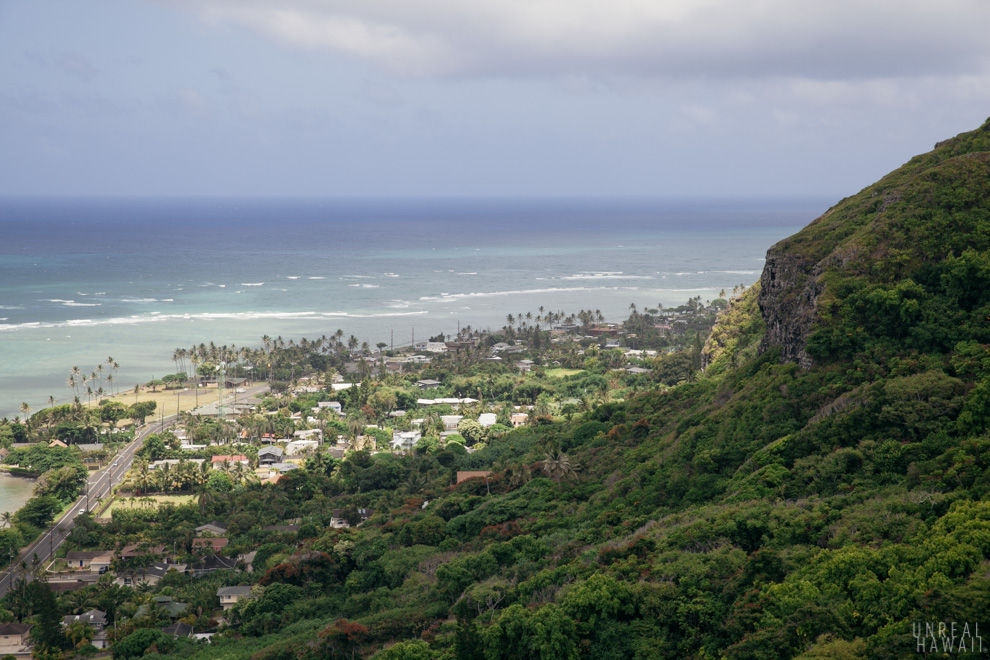 #18
You get views of the small town of Kaaawa from here.
#19
Despite the heat, the jungle was looking lush.
#20
We continued on to hike to the top of Crouching Lion.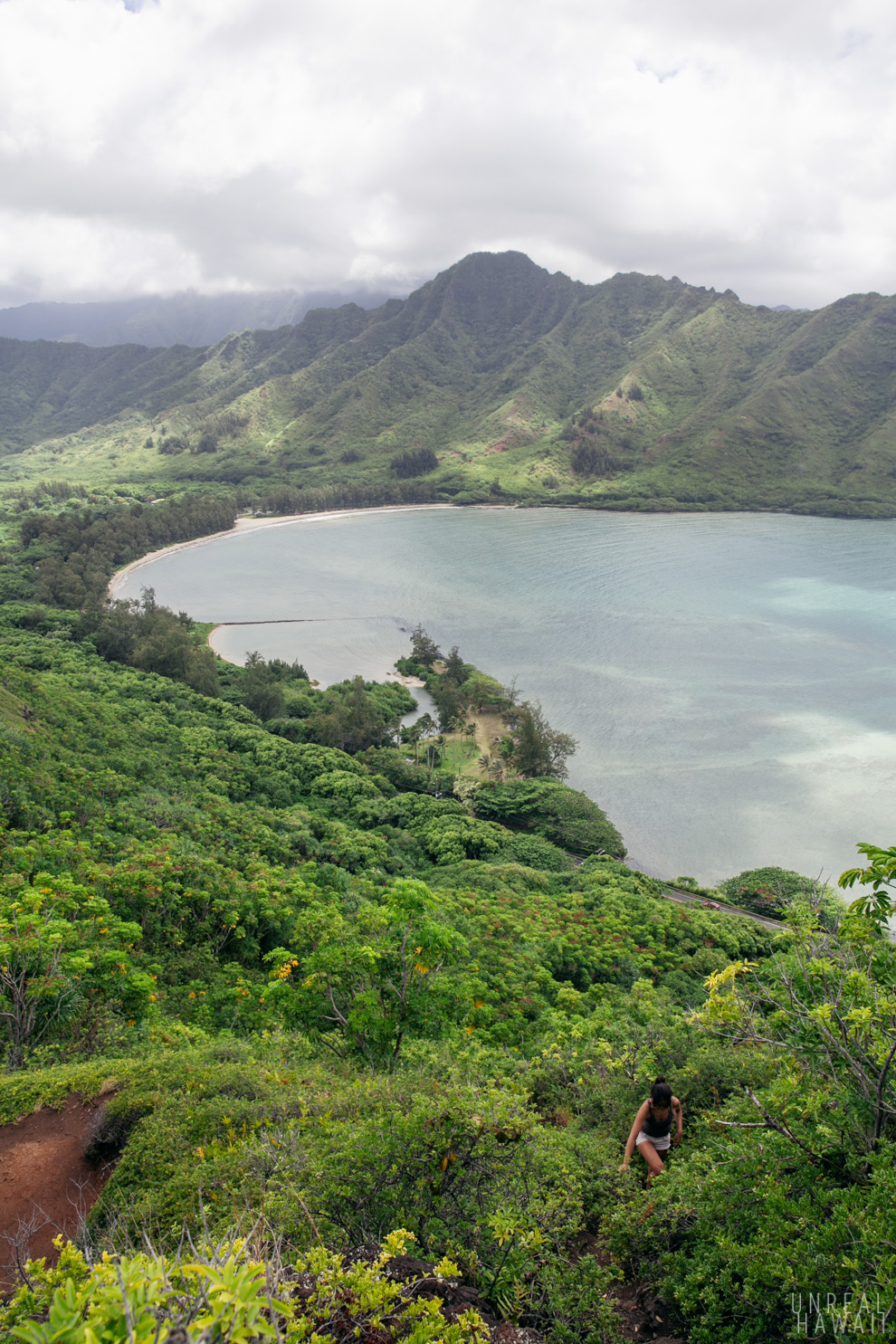 #21
We ascended a steep dirt trail. This type of stuff gets slippery when wet (it's science).
#22
From the top of Crouching Lion you can see perfect views of the windward side of Oahu.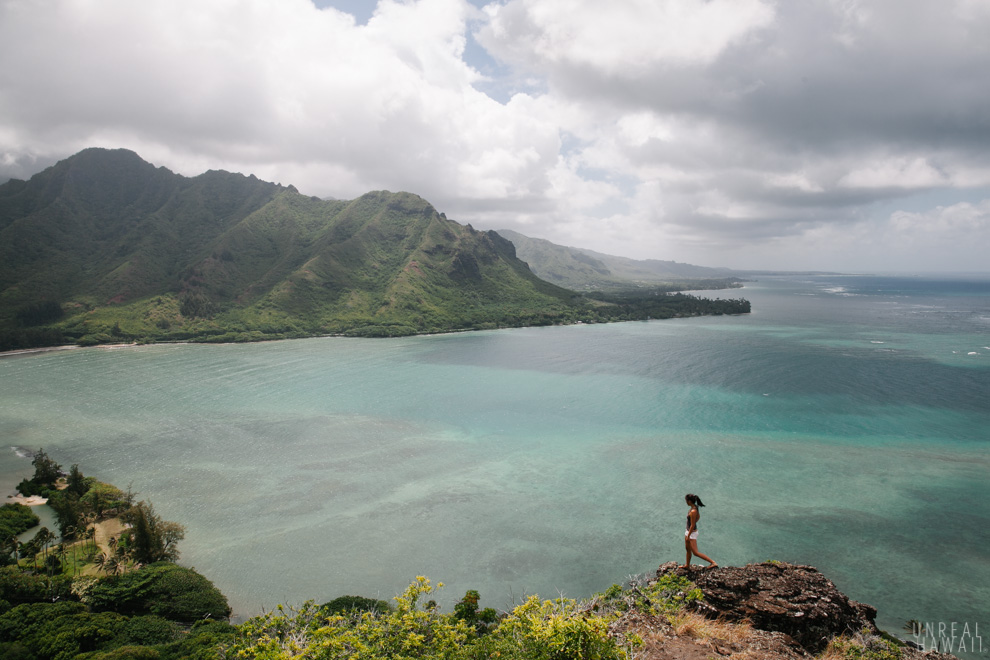 #23
The mountain sitting on the other side of Kahana Bay is Pu'u Piei. Some crazy hikes can be done on that one.
#24
Kahana State Park, in that valley, was looking majestic. It's a great place to explore.
#25
Aerial ocean views somehow always give me energy. Must be the 25 mph winds hitting me in the face.
#26
Looking back towards the mountain you can see the intimidating windwards cliffs of Pu'u Manamana.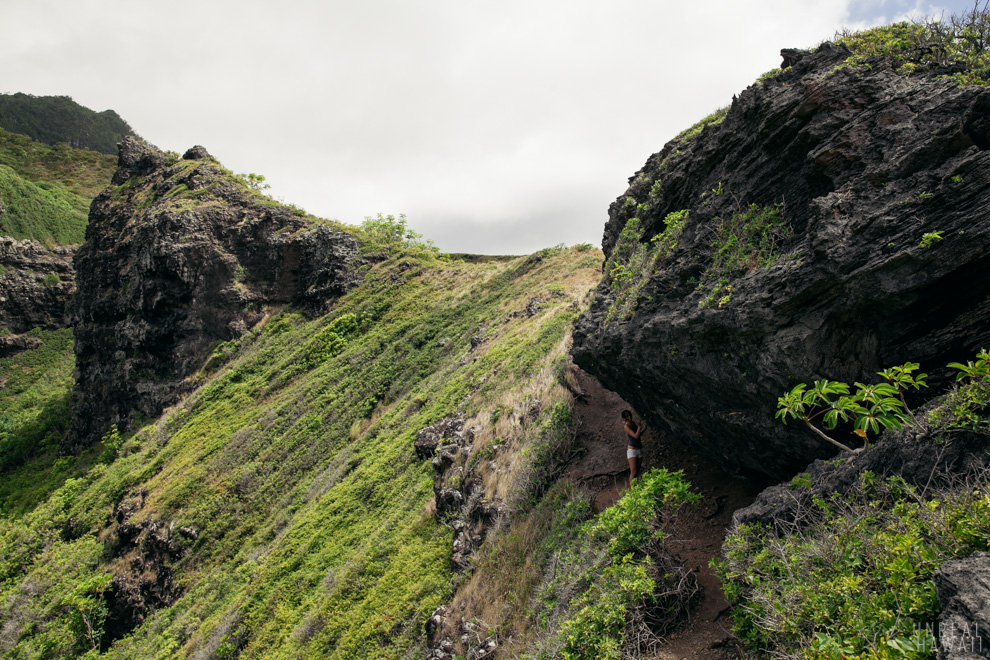 #27
While we were up here we followed the trail to a few different vantage points.
#28
The higher you go the better the view. But, we weren't in the mood and didn't have time for a long hike on this day. This quick hike hit the spot.
#29
You can descend via the same trail you came up. If you're familiar with the trails up here, you can hike down the Pu'u Manamana trail (that one is usually ribboned).
#30
Though the elevation of this trail might not be that high, this is still a dangerous hike. There are sheer drop offs on several parts of this crumbly trail. Do not take this hike lightly.
Quick tip on where to park:
Like many hikes, parking is tricky. Use your best judgement or get dropped off.
Do not park on Trout Farm Rd. It's a private road and you will be towed.
I have heard it's possible to park near the bus stop over there or by Huilua Fishpond. Again, use your best judgement and park at your own risk.
Other short hikes with great views: