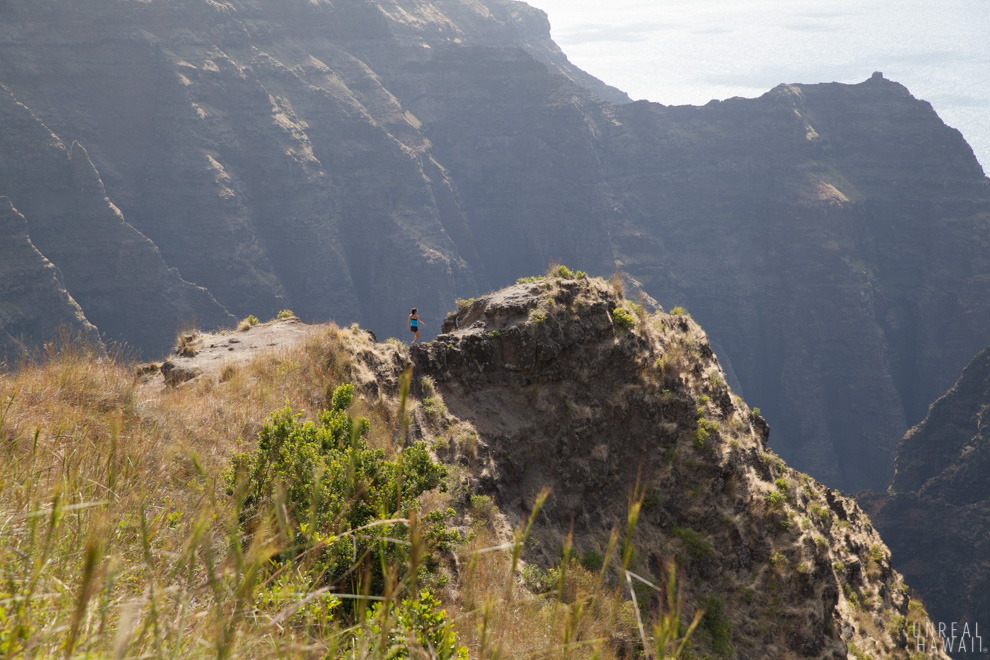 #1
We crossed the narrow bridge.
#2
Stepped up on the platform.
#3
Pulled up a chair.
#4
And soaked in the view.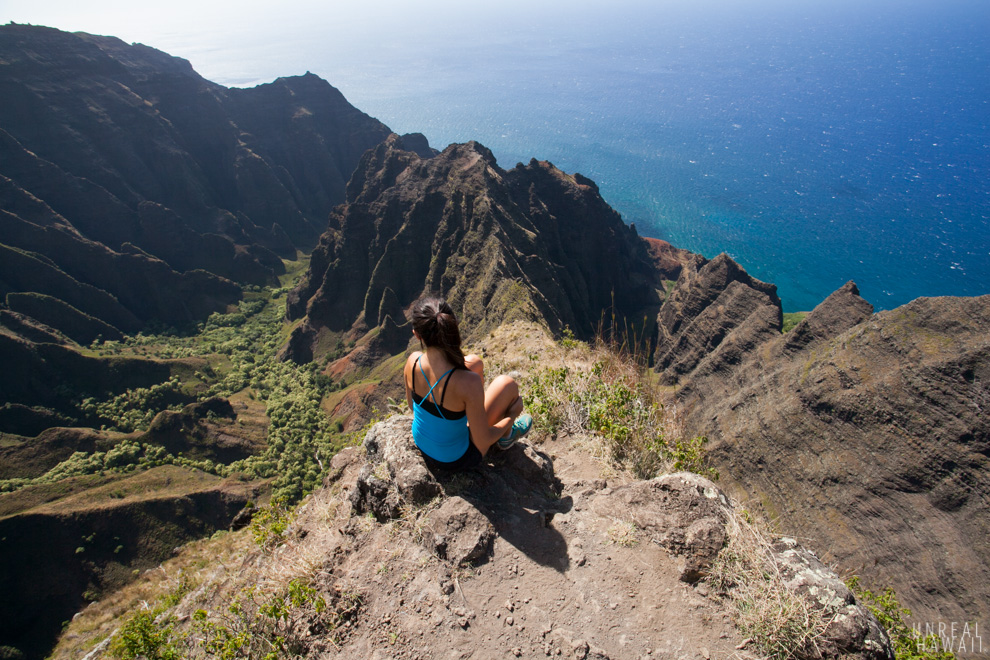 #5
We were perched atop the na pali over looking Nualolo Valley (left) and Awa'awapuhi Valley (right.)
We saw this view at the end of the Awa'awapuhi Trail in Kauai. This is an incredibly unique Hawaii hike.
The trail is in located in Koke'e State Park on the northwest side of Kauai. The hike is just over 6 miles long (3.1 miles in and you return the same way you came) and can take anywhere from 3-5 hours depending on what type of shape you are in and how long you stick around at the vistas.
The Awa'awapuhi Trail is an intermediate hike if you are in shape. But if you're not in shape, you might not have fun as the return hike is entirely uphill. And, you'll be hiking at elevation going from 2,500ft to 4,120ft above sea level.
Extreme caution should be take at the end of the trail because, well, it's a cliff. It would be very easy for a careless person to slip and fall to their death. Unlucky people might be standing at the edge enjoying the view only to have the eroded dirt beneath their feet give way and then also fall to their death. But as long as you stay behind the railings, this hike can be very safe.
Before reading on, please read this disclaimer …
DISCLAIMER: DO NOT ATTEMPT WHAT YOU SEE DEPICTED IN THE PICTURES ON THIS PAGE. This website is for entertainment purposes only and does not serve as an official guide of any type. The information presented on UnrealHawaii.com has not been vetted for accuracy, safety or legality. If you attempt any of the hikes, climbs, or other activities documented on UnrealHawaii.com you are doing so at your own risk. Hiking is dangerous and accidents while hiking can be fatal. David Chatsuthiphan is not responsible for loss, damages, legal fees, medical fees, injury or death incurred as a result of your actions taken after visiting this website.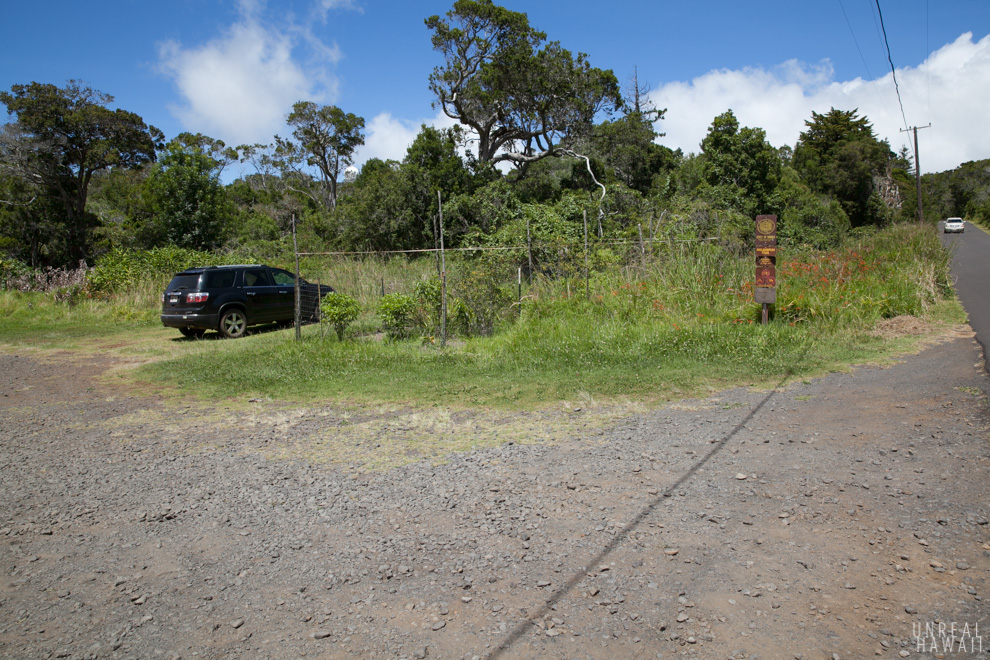 #6
The trail starts along Koke'e Road near the mile 17 marker. There's a convenient parking lot for hikers right off the road. It's a little bit past the Koke'e Museum. If you've ever driven to the Kalalau Lookout, you've passed by this parking lot.
#7
The trailhead is obvious. The Awa'awapuhi hike is part of the Hawaii Trail and Access System (the Na Ala Hele).
#8
The hike starts off very basic. Flat at first then it gradually takes you downhill.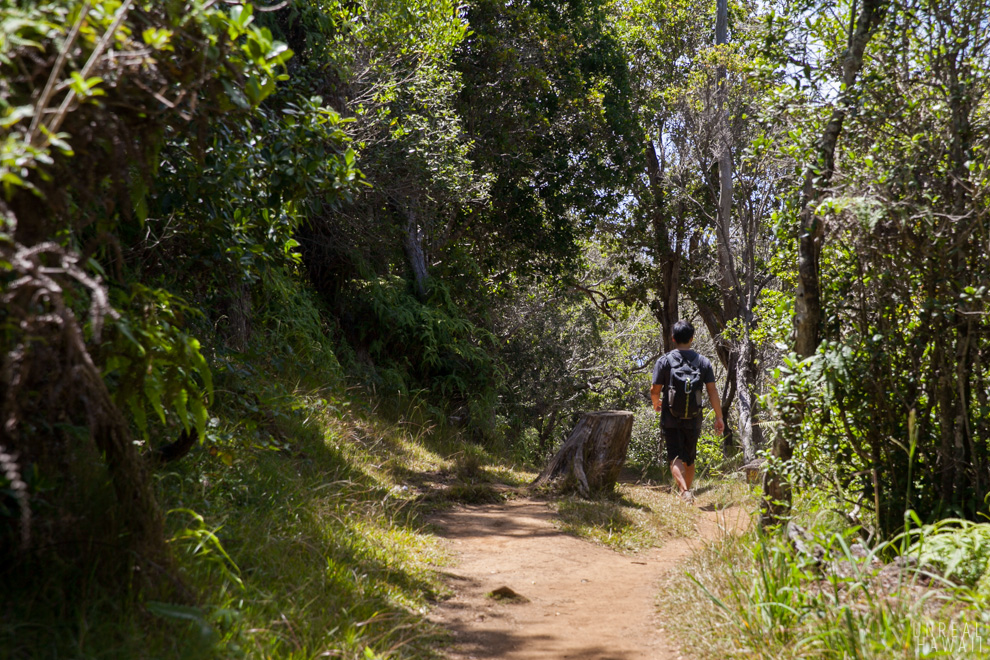 #9
In fact the entire trail, except for the cliffs at the end, is totally unassuming.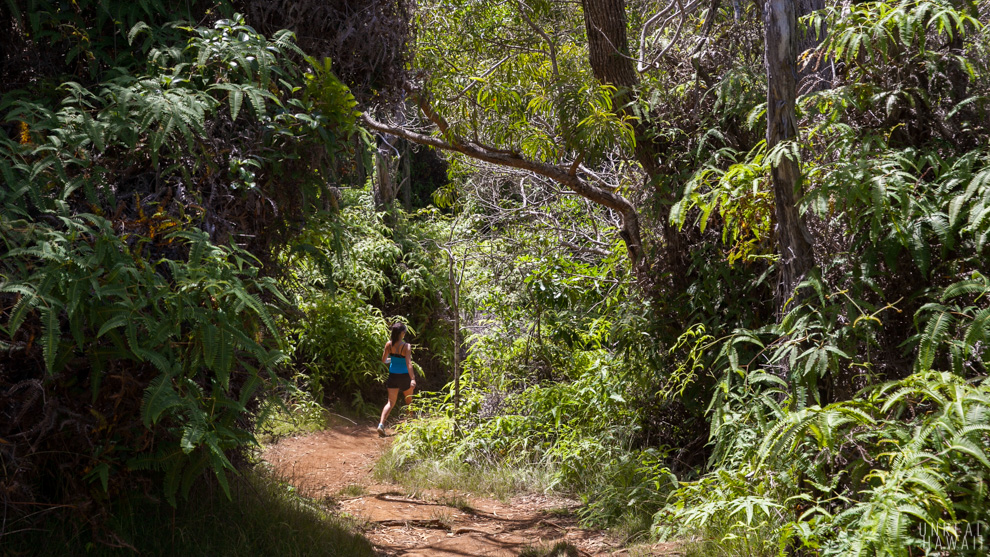 #10
One might even call it boring.
#11
Unless you like trees.
#12
You will walk past many trees.
#13
Sometimes there will be a clearing.
#14
That clearing might lead to a lookout where you get a glimpse of the ocean.
#15
But for the most part you'll be hiking around and under trees.
#16
Again, a clearing where you can see what a beautiful day it is. I'd recommend checking the weather first for this one as this is not a trail you want to do in the rain.
#17
If you like trees though, then this is the trail for you.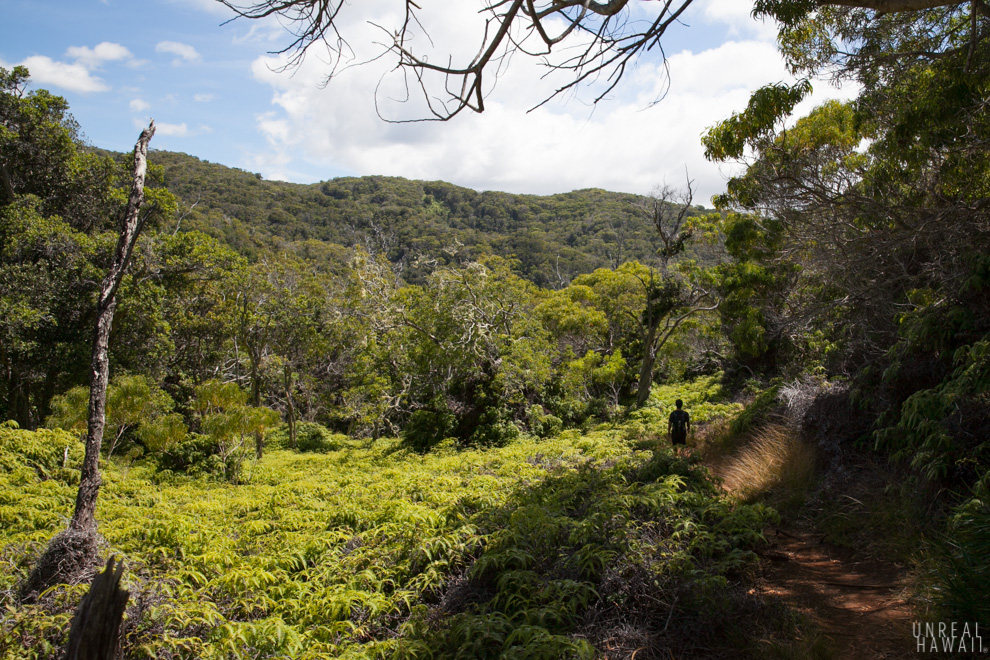 #18
We continued on at a fast pace. Although the scenery wasn't mind blowing, the trail was uncrowded (we crossed paths with less than 10 people while hiking) and we felt like we were in the middle of nowhere. That feeling of seclusion can be therapeutic. And it was ensuring to see at least some other people here and there.
#19
The 3.1 mile hike in goes by pretty fast. The hike to the cliffs is entirely downhill and the trail is in very good condition. We barely needed any water on the way down which was good because we were able to save it for the hike back up (which was a bun burner).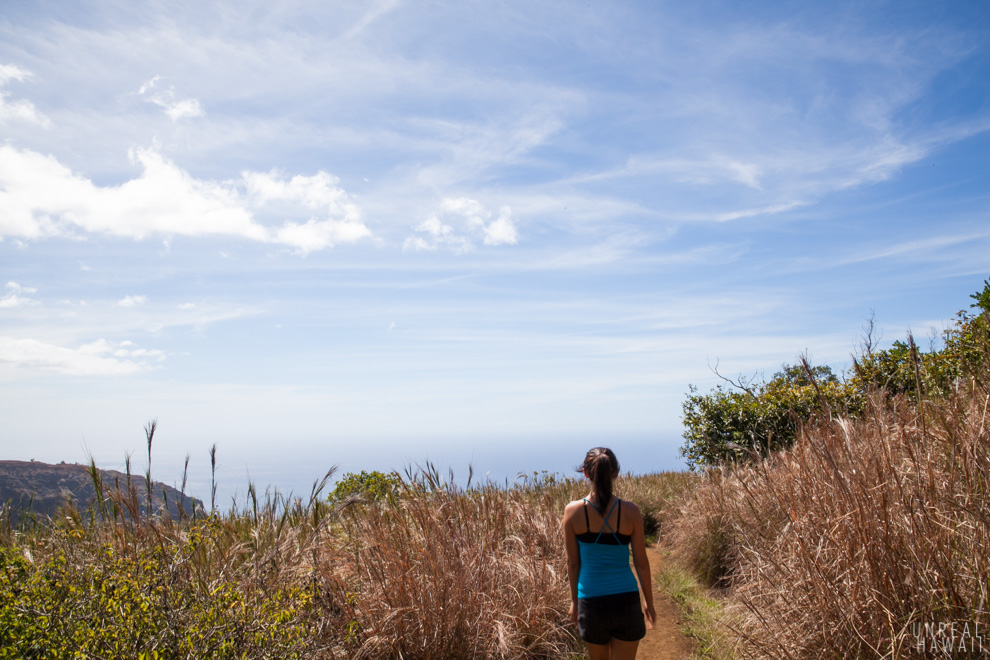 #20
Eventually, after maybe an hour of hiking, we reached this clearing.
#21
You can't see the cliff from here but the railing and sign saying "Vistas" told us we had reached our destination.
#22
There are two lookouts at the end of the Awa'awapuhi Trail. This one, to the right, offers a view of Awa'awapuhi Valley.
#23
This is the view from the railing.
#24
I read that Awa'awapuhi Valley is named after the awapuhi, or wild ginger, that grows in there. It's the most narrow and deep valley along Kauai's Na Pali Coast.
#25
This lookout on the left overlooks Nualolo Valley.
#26
It's good to know your limits and the limits of others. Peer pressure is not cool. No one needs to prove anything to anyone. Hiking can be dangerous and everyone has their own comfort levels and tolerance for risk.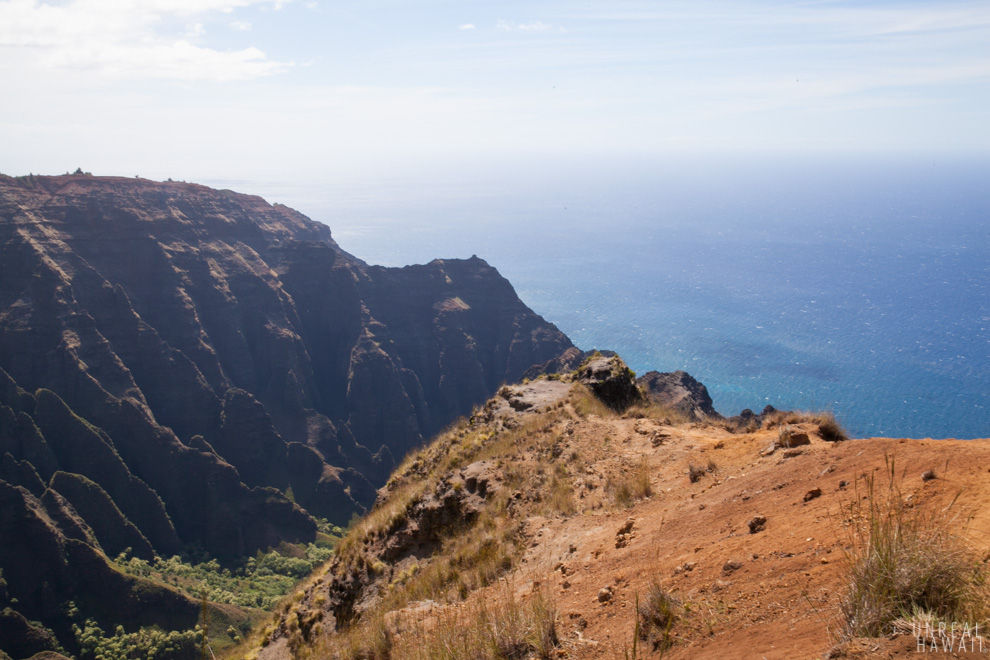 #27
From the Awa'awapuhi Trail lookout you can see some sweeping views of the Na Pali Coast.
#28
Seeing that the weather was good and the trail looked dry, we decided to get a closer look at the vistas. (If you attempt to hike this section you are doing so at your own risk. A fall on this section of the cliff could easily lead to serious injury or death.)
#29
The trail was made up of loose dirt but since we were wearing proper footwear, we felt secure.
#30
Once we obtained the ridgeline, what we saw was vertigo-educing.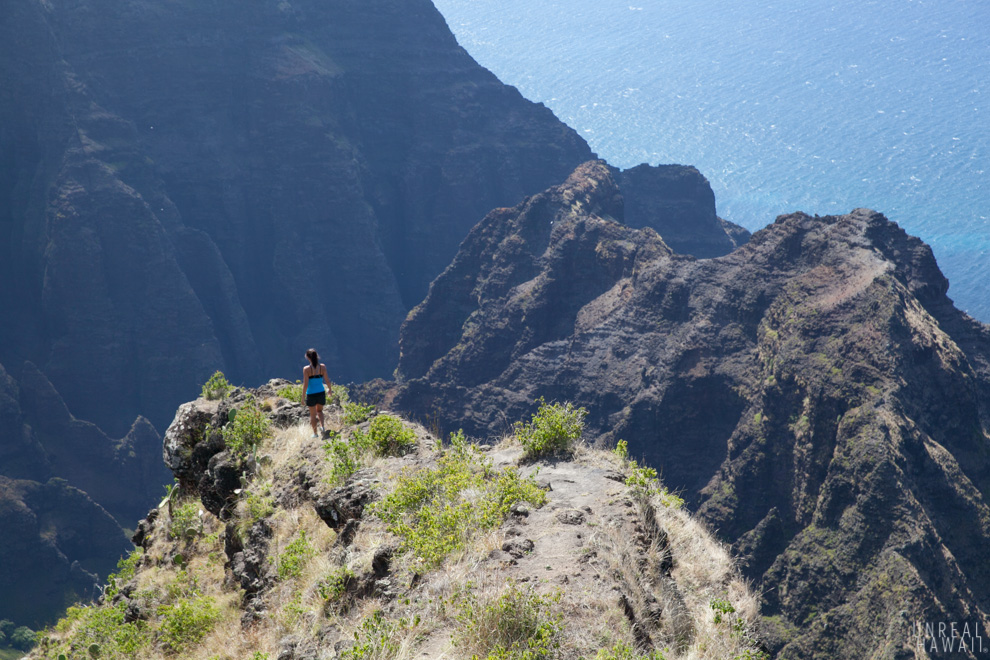 #31
We worked our way a little further out.
#32
Being surrounded by 4,000 foot tall cliffs made us feel tiny.
#33
We were specs standing between two cathedral-like valleys. It was breathtaking.
#34
To the right we could see Awa'awapuhi Valley in greater detail.
#35
Its valley wall looked like a fin sticking out of the mountain. It was so narrow.
#36
Nualolo Valley had sea birds soaring through it well below us.
#37
It's hard to believe that there's nothing more exotic than a wild boar, goat or naked hippie living back here.
#38
These fluted ridges are so much more wild than what we see while hiking in Oahu.
#39
We sat here for twenty minutes or so geeking out on the view and taking photos. At some point you start to feel the need to return to more solid ground.
#40
I stood up to get one last view.
#41
One last view of my feet.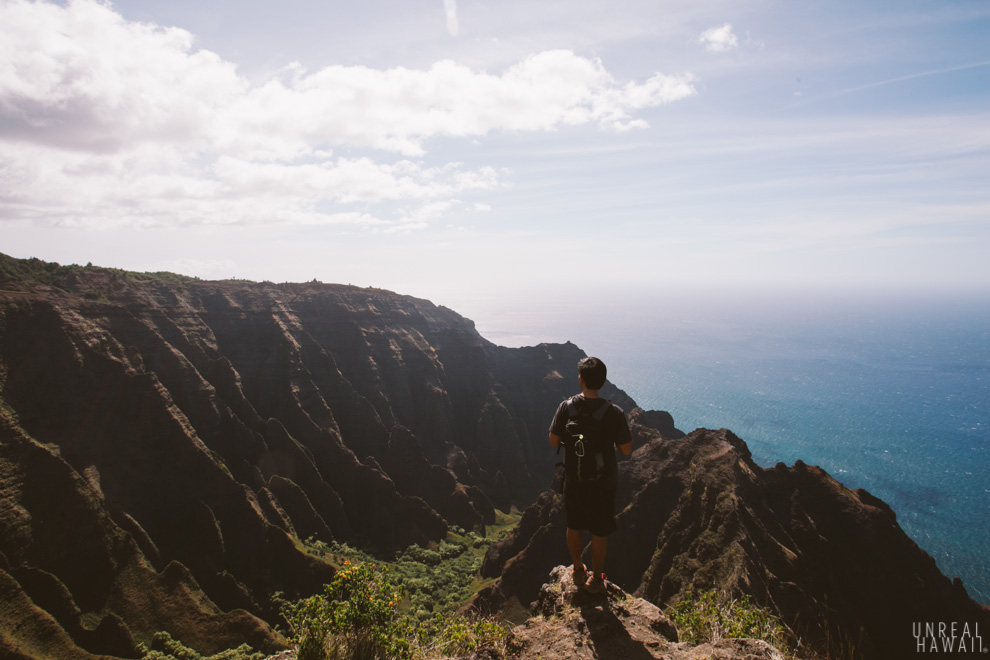 #42
The Awa'awapuhi Trail certainly delivered. To hike just three miles to see a view like this felt almost too easy. But that's why we're lucky to live in Hawaii.
#43
We took one last look and then got ready to hike back to the car.
#44
We crossed the narrow rocky path again.
#45
And hiked back up the Awa'awapuhi Trail. The way back was all uphill but it was worth it.
NOTE: There are ways to extend the Awa'awapuhi Trail into loop by connecting it with the Nualolo Cliff trail. It will be a much longer hike. Directions for that loop are all over the Google.
See also:
Location:
Awa'awapuhi Trail on a map
TIP: Print this map out before you go. You won't have cell service up in Koke'e State Park.
The parking lot is located a mile or so after the Koke'e Museum near the mile 17 marker.