#1
We hiked between two peaks along the Koolaus. On this Oahu hike we would connect the summits of Kuliouou Ridge and Pu'u O Kona.
#2
This small plot of grass on Pu'u O Kona offers a panoramic view of Oahu from Hawaii Kai to Waikiki.
#3
We descended down this gorgeous trail.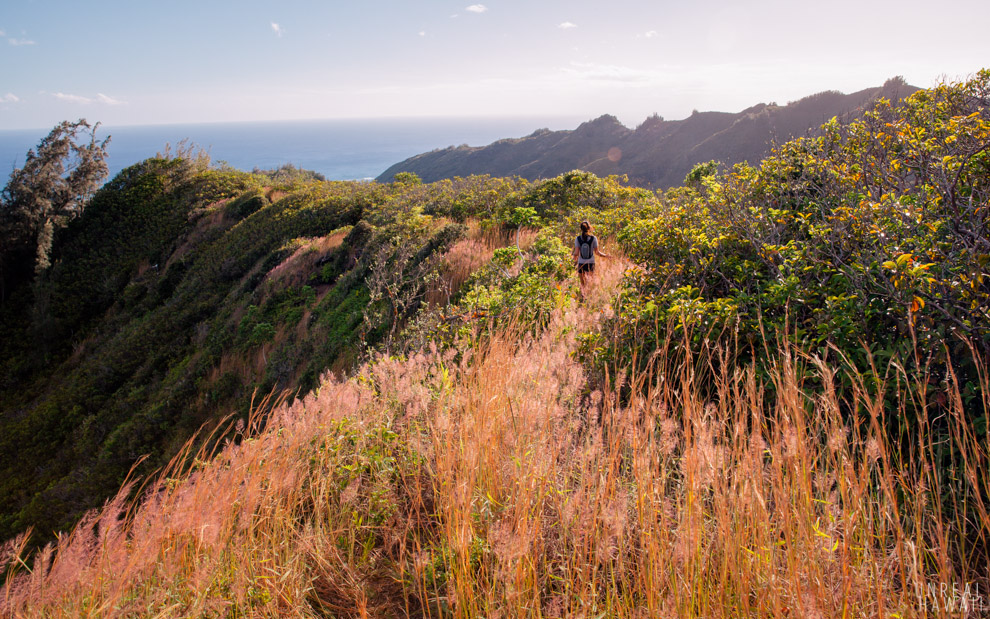 #4
As you do this Pu'u O Kona loop hike, you'll find that it is full of visual surprises. The afternoon glow made the colors come alive.
Pu'u O Kona is the peak on the Koolaus that sits above the western ridge of Kuliouou Valley. The east ridge of the valley is where you'll find the official state sanctioned Kuliouou Ridge Trail.
So to create this loop, you can hike up the state trail on the east ridge, then cross over along the Koolau summit (about an hour of hiking) to Pu'u O Kona and then hike down the western ridge.
In between the state trail summit and Pu'u O Kona there's an incredible stretch of ridge hiking. It's fun and scenic but also on the advanced side. So because of that, this loop should be considered an advanced Oahu hike.
In this story you'll see what the Pu'u O Kona loop hike looks like.
DISCLAIMER: If you attempt this hike you are doing so at your own risk. Hiking can be dangerous and has many potential hazards. It is up to each individual to know their limits, abilities and level of expertise before attempting any outdoor activity (full disclaimer).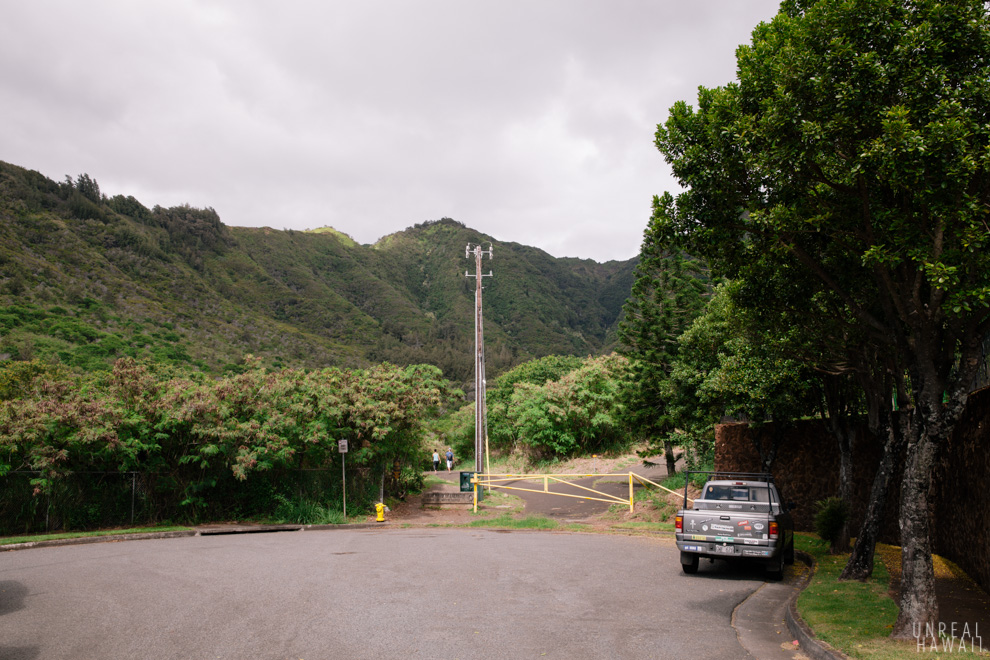 #5
You start (and end) the hike at the cul-de-sac of Kala'au Pl.
#6
Go right at this fork and take the ridge trail. Going left will take you through the valley trail.
#7
The signs here make it all very obvious. These trails are part of the state run Na Ala Hele trail system.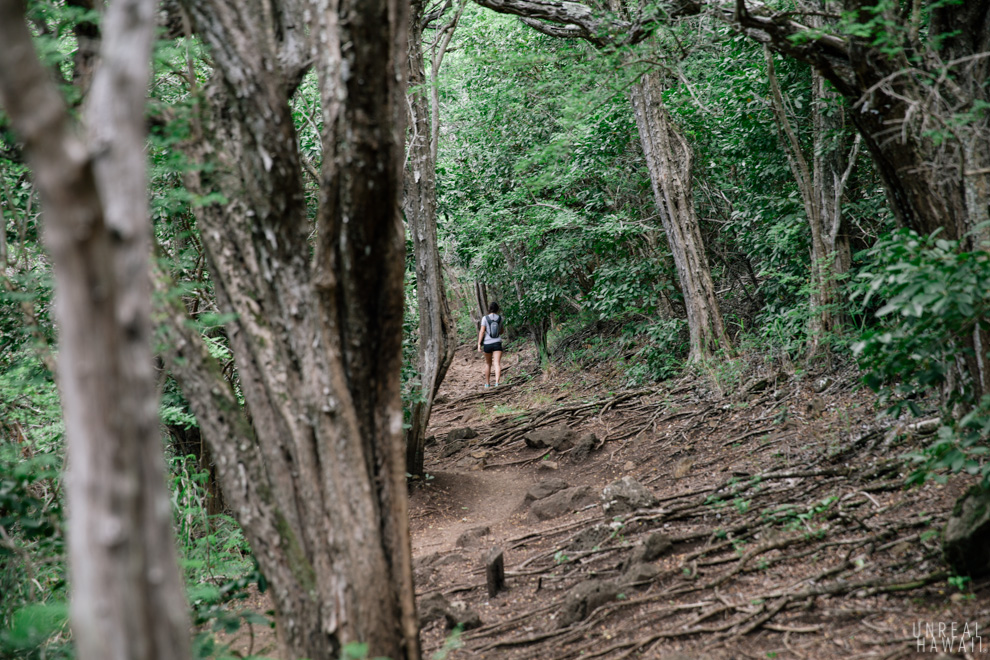 #8
The Kuliouou Ridge Trail is relatively easy. You'll gain 2,000 ft in elevation though so bring plenty of water and prepare to sweat.
#9
You gain elevation fast through a series of switchbacks so look back toward the ocean often to see these views of Kuliouou Valley.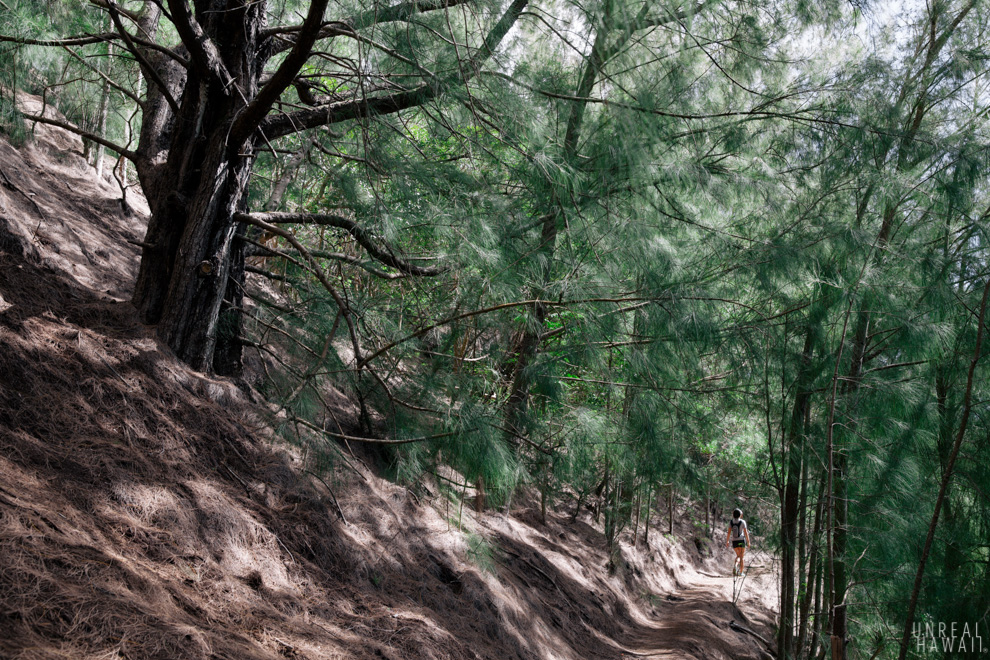 #10
What I love about the Kuliouou Trail (and all the trails on this side of Oahu) are the forests. There are ironwood needles everywhere and a crisp wind rushes through the trees. You feel like you've been transported to some park in Northern California.
#11
The trail is in good condition but the footing is totally uneven. Hiking shoes with good grip are recommended. It's super easy to turn an ankle on these rocks.
#12
The trail gets slightly faint here. Go left.
#13
Now you walk through the ironwood forest.
#14
This sign was spray painted over by a misguided street artist. That little arrow on the sign is kind of important. The trail is a bit less obvious in this section so look out for these signs and any pink ribbons.
#15
The trail continues through this grove of Norfolk Pines.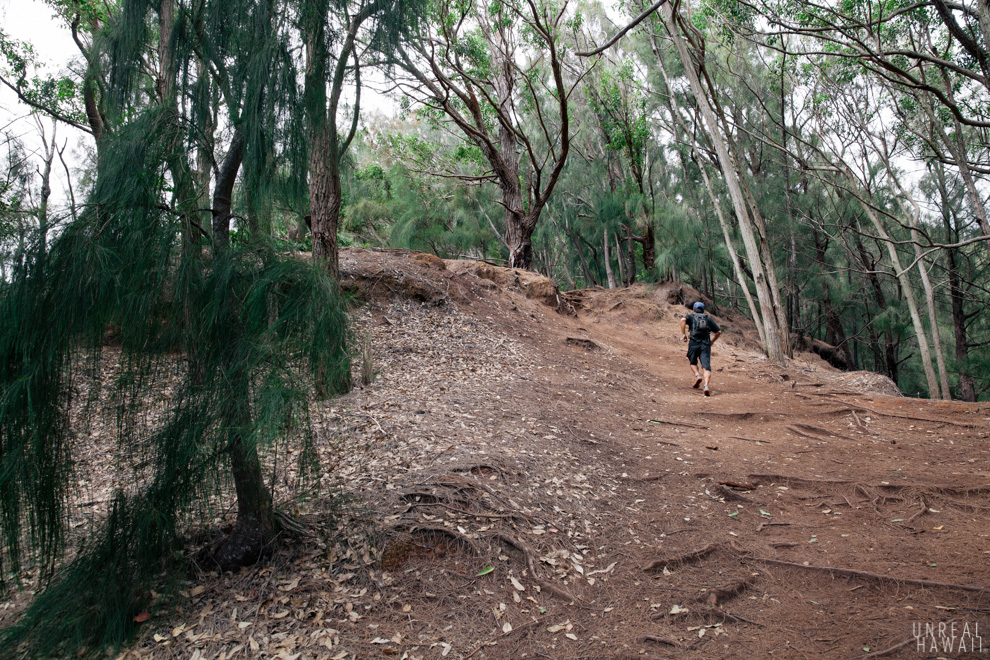 #16
The trail gets steeper here so take this opportunity to sculpt your calves and buttcheek muscles.
#17
Looking across Kuliouou Valley you can see the western ridge. If you squint your eyes and look really closely (or if you're Asian like me, just look really closely) you can see a trail on there.  That's the Kuliouou west ridge trail and it will be your return route.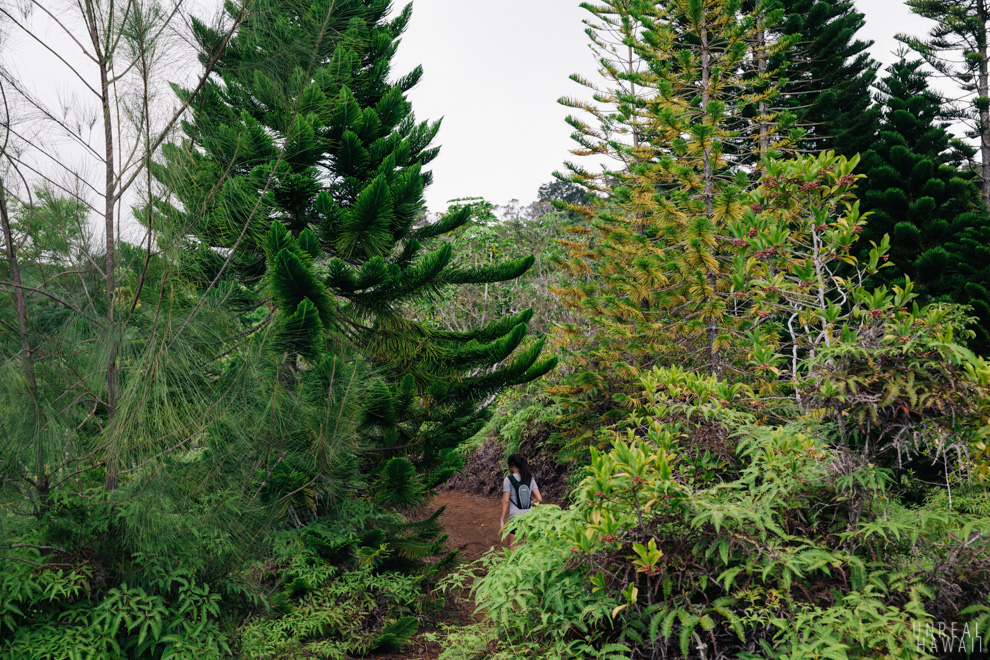 #18
The trail eventually flattens out and you hike a short distance through what looks like Narnia.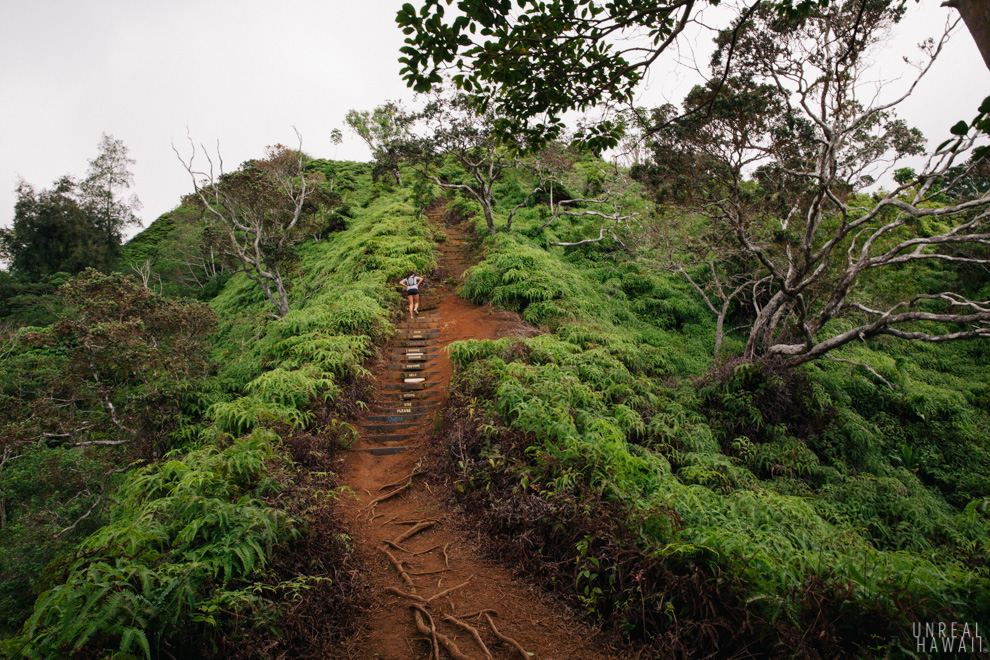 #19
The final section of the Kuliouou Ridge Trail is a series of steps that take you to the summit.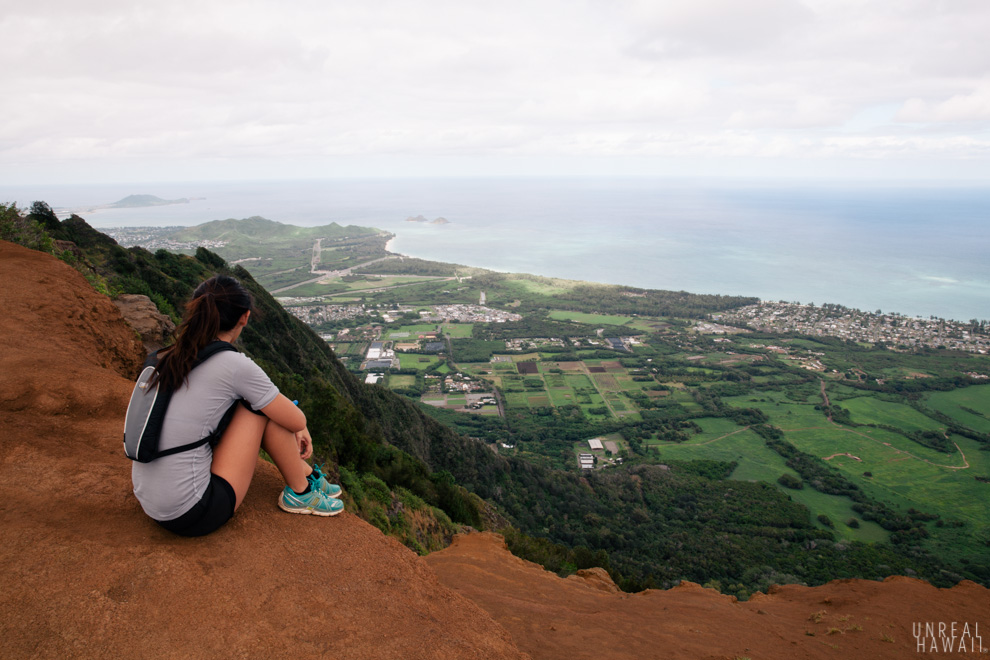 #20
The summit of the Kuliouou Ridge hike offers an expansive view of East Oahu. You are perched above Waimanalo and can see out all the way to Kailua. We took a short break here. The wind is cold and intense at the Kuliouou summit. It felt great after all those steps.
#21
To the left of the summit, there's a well defined trail that you use to cross over the next peak, Pu'u O Kona. This is where the hiking gets more advanced. From this point on, you're no longer on the Hawaii state trail. This is an unsanctioned trail and is done at the hiker's own risk. There are a lot of places where a fall would be fatal.
DISCLAIMER: If you attempt this hike you are doing so at your own risk. Hiking in Hawaii can be dangerous and has many potential hazards. It is up to each individual to know their limits, abilities and level of expertise before attempting any outdoor activity (full disclaimer).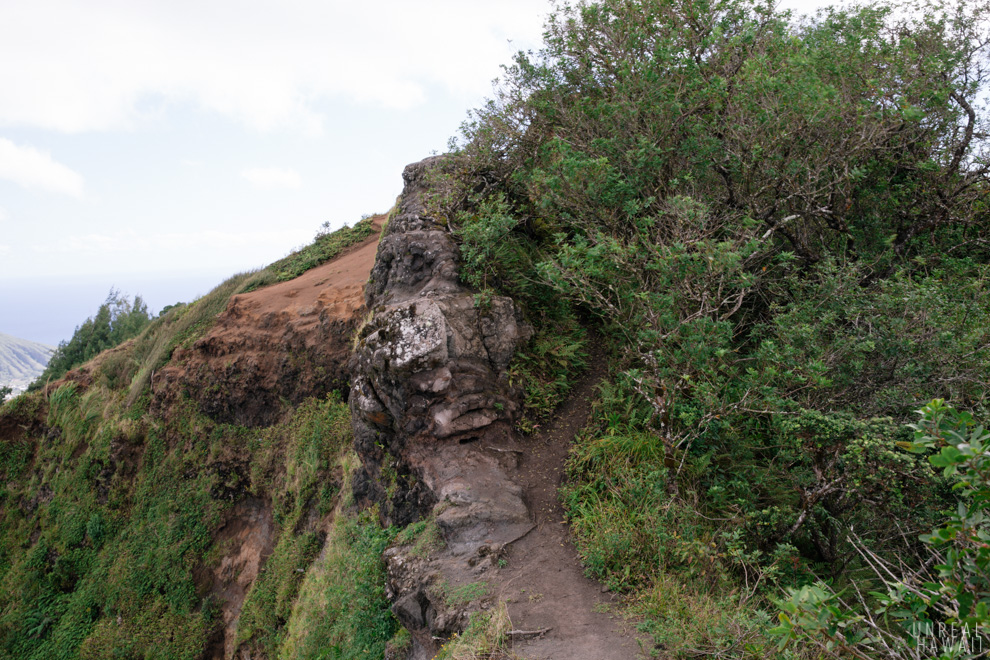 #22
The trail starts off looking super narrow and sketchy. After we hiked over the narrow section we looked back and realized there was a contour trail right next to it. Oops.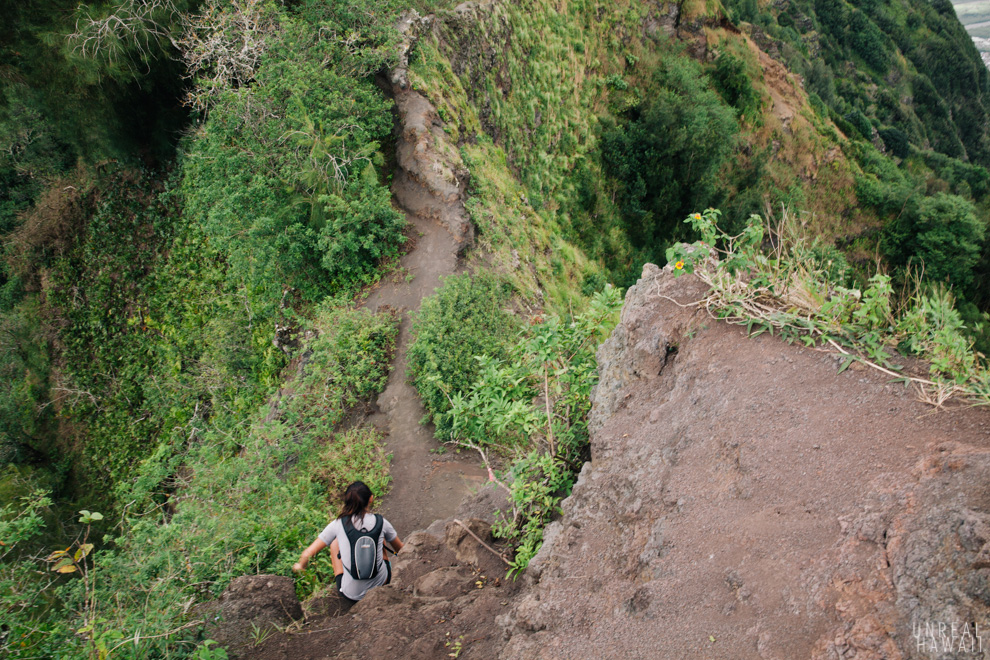 #23
Connecting the summit of Kuliouou to Pu'u O Kona takes about an hour.
#24
Much of the trail is loose gravel. The grip provided by hiking shoes or trail running comes in handy here.
#25
Have you noticed that guys are wearing short shorts now? Like, Jack Tripper short. Even boardshorts are getting shorter. Well I still wear long shorts and it's a good thing I do.  This section of the hike takes you through some waist high shrubbery and that shrubbery can get pretty scratchy.
#26
The peak in the top-left of the above photo is Pu'u O Kona. Views like this are why ridge hikes on Oahu are my favorite.
#27
As you can see, there is a steep drop off on your right for this entire stretch of trail. Again, this section can be considered pretty advanced hiking. This hike is not good for anyone with a fear of heights.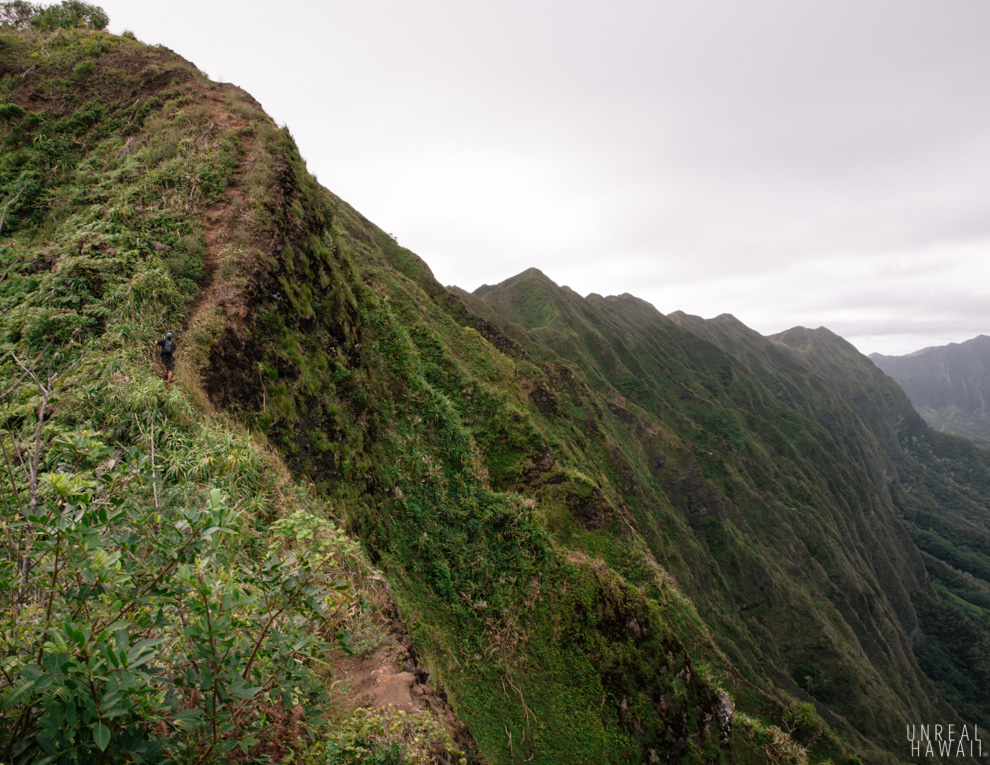 #28
The last stretch of trail is the final climb to the summit of Pu'u O Kona.
#29
Before reaching the summit I paused to pose for a photo with my new STUN sunglasses (thanks for the shades guys).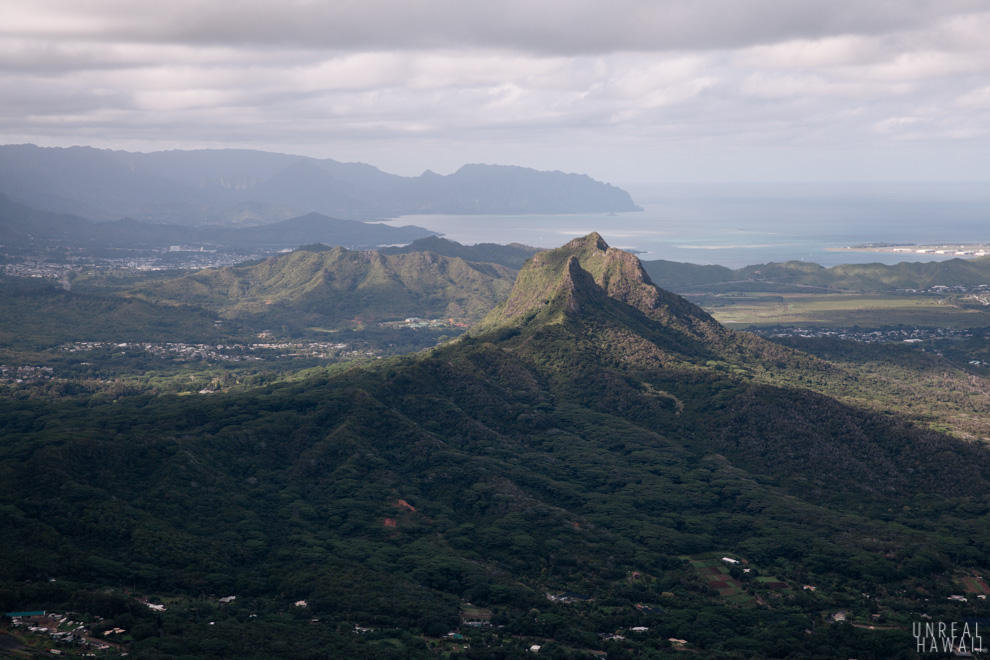 #30
From the summit we had impeccable views of Kailua and Kaneohe. A spotlight of sun was perfectly highlighting Mt. Olomana (see hiking story: Olomana Trail – Three Peaks).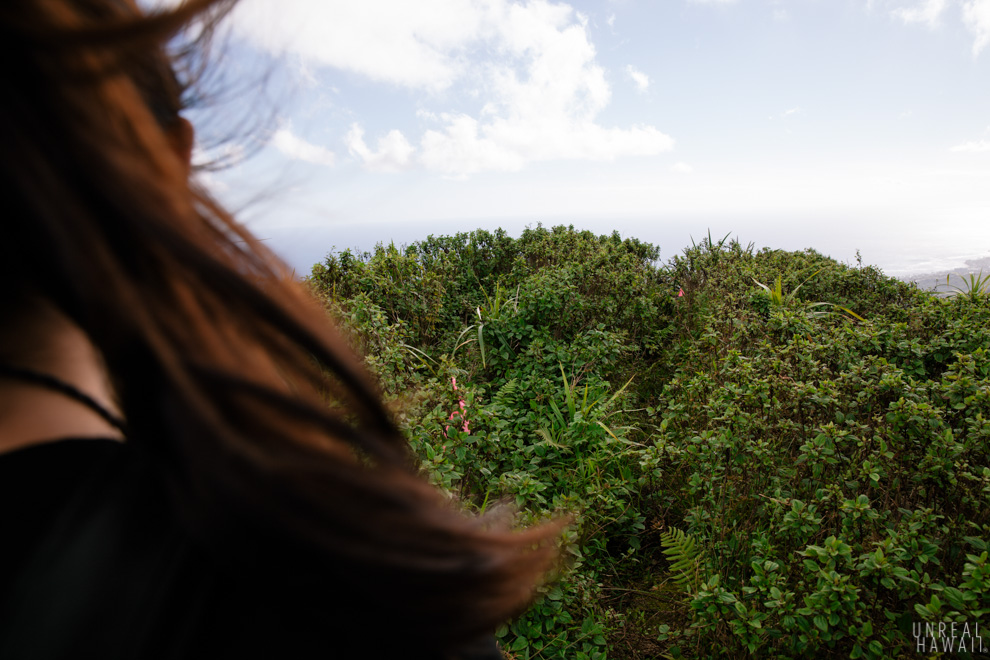 #31
There are easy to spot ribbons at the Pu'u O Kona summit that mark the trail for the Kuliouou west ridge.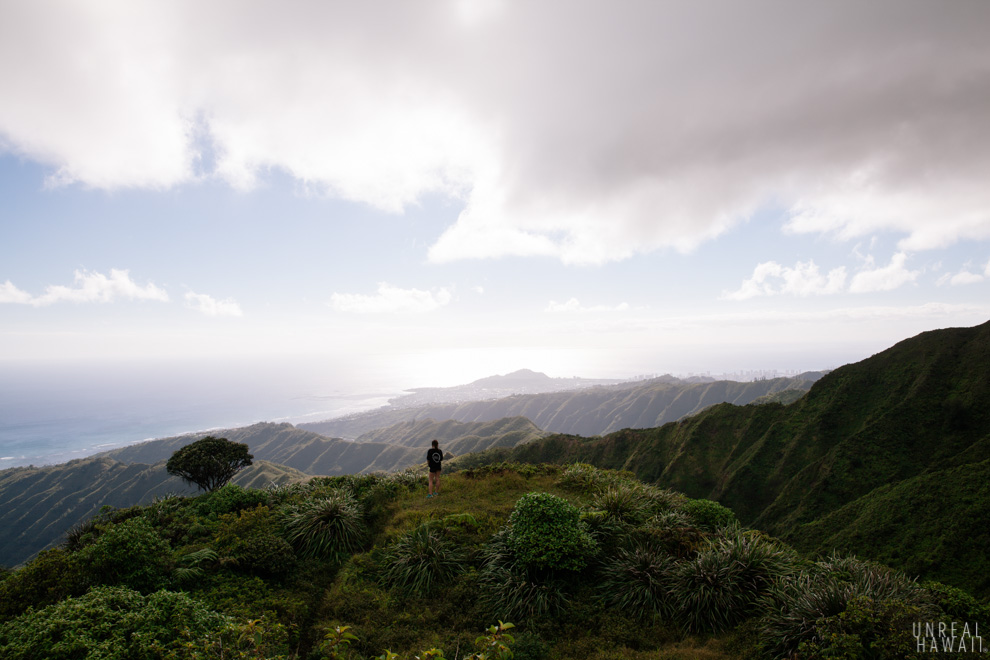 #32
This small patch of grass would be the perfect place for a picnic if it were easier to get to.
#33
We paused to Instagram the moment. (You can follow Unreal Hawaii at Instagram.com/unrealhawaii.)
#34
From the top, you can see the trail cut out of the brush along the ridgeline.
#35
I paused to caress some wild orchids.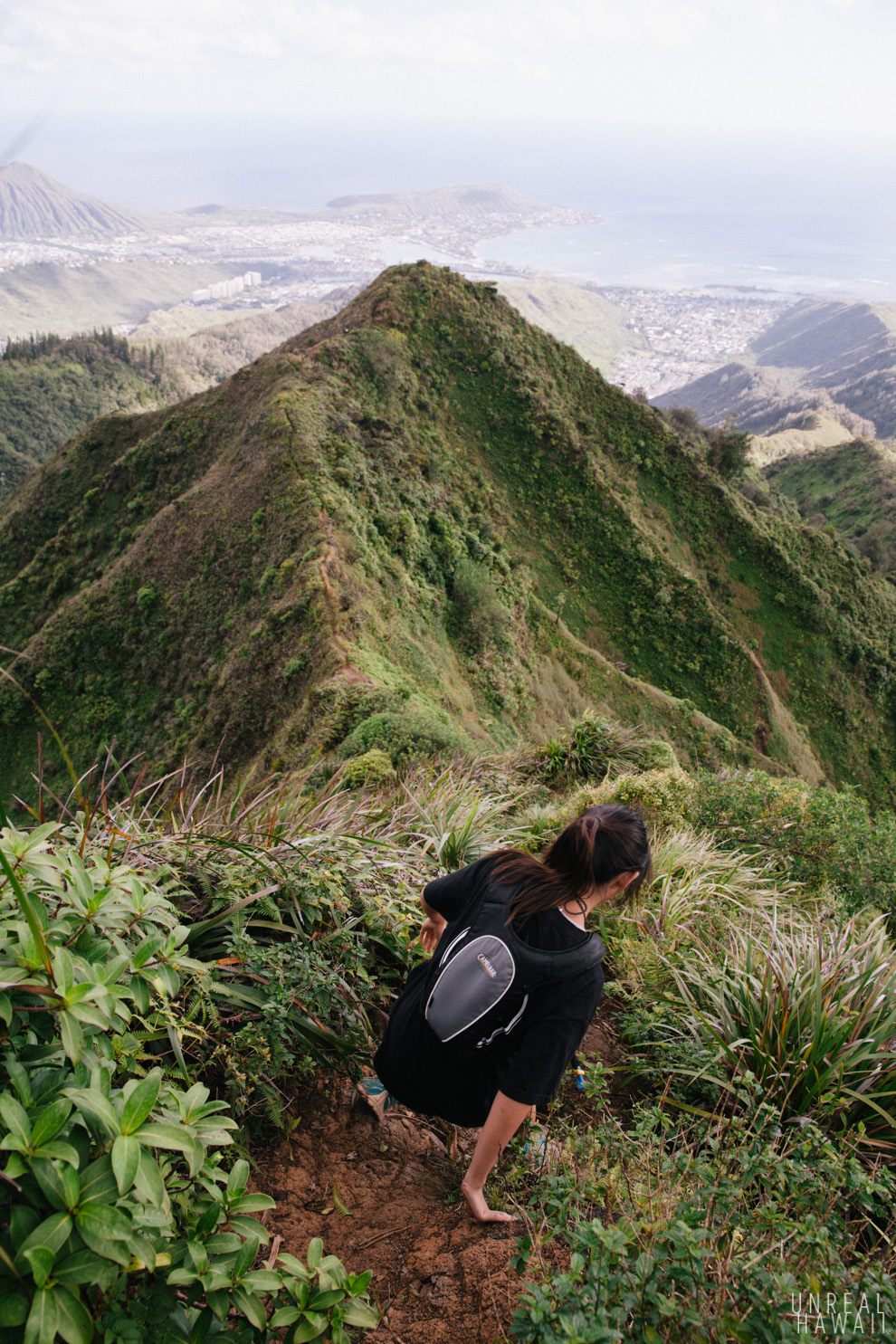 #36
This west ridge trail is more difficult than the official Kuliouou Ridge Trail. There are a lot of steep sections.
#37
Conveniently, there are ropes available at all the steep sections to help. Just don't trust these ropes with your entire weight.
#38
Most of this trail is exposed. We got lucky with perfect partly cloudy skies, but without the cloud coverage, I think we would have returned home with red noses and farmer tans.
#39
Hiking shoes come in handy here too. This is a steep slope made of loose dirt.
#40
Mahalo to whomever has been maintaining this trail (which I'm guessing would be the Hawaiian Trail and Mountain Club).
#41
Eventually you enter an ironweed forest along the ridge.
#42
Those orchids, I did not caress.
#43
At a clearing you can look down and to the right to see these trees swaying in the wind. It was an amazing sight. It looked like the forest was breathing.
#44
And then, another amazing sight. This grass was glowing pink in the afternoon sun.
#45
As you hike, the colors along the west ridge become surreal. We hiked slowly through here to soak it all in.
#46
Eventually you hike into a larger ironwood forest. At this point it's super important to pay attention and look for pink ribbons. You can easily get lost here.
#47
These two ribbons mark your way down. The trail looks like it continues on but I think any faint trail you see beyond these pink ribbons is used by hunters or is simply erosion.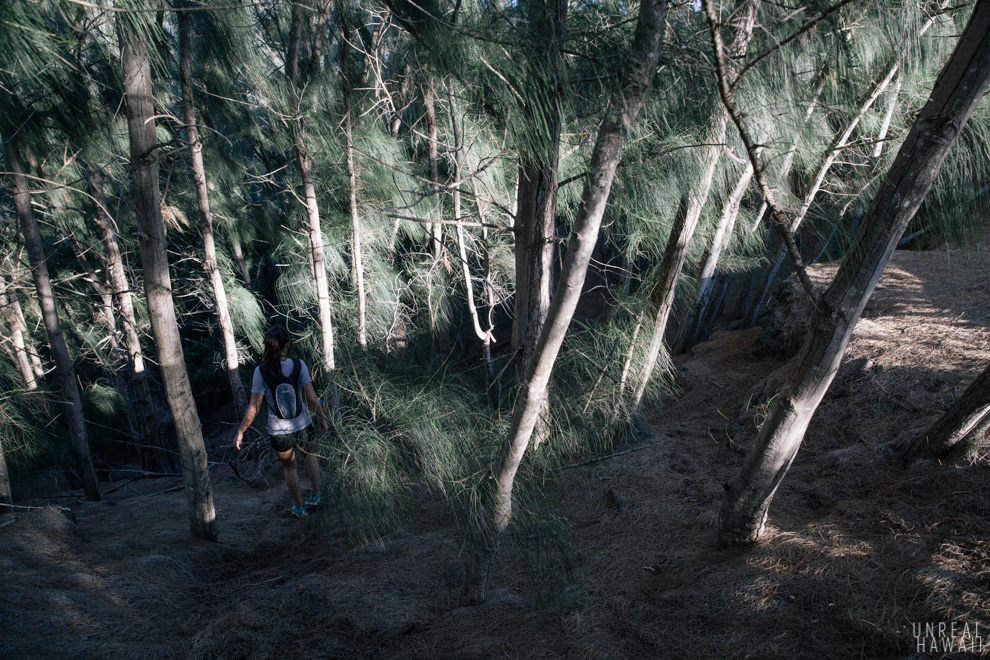 #48
As you can see, the trail is not well defined here so you just keep need to keep looking for pink ribbons. Only follow pink ribbons on this trail.
#49
The trail gets pretty messy further down but you can sort of make it out.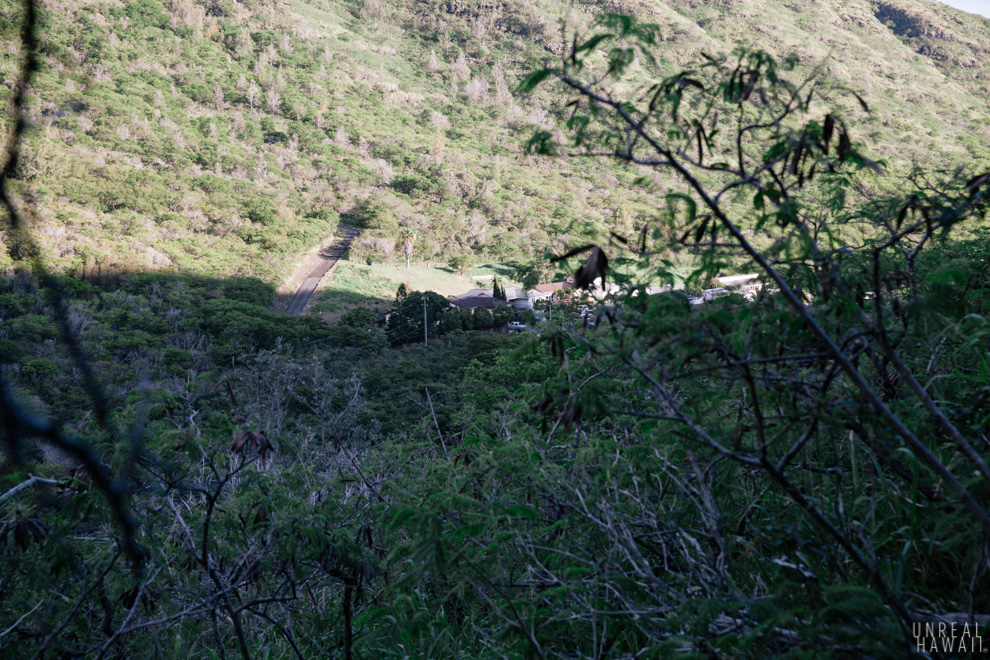 #50
Eventually you'll see the homes around the cul-de-sac you started at. Just aim in that direction.
#51
You pop out of the woods on a service road.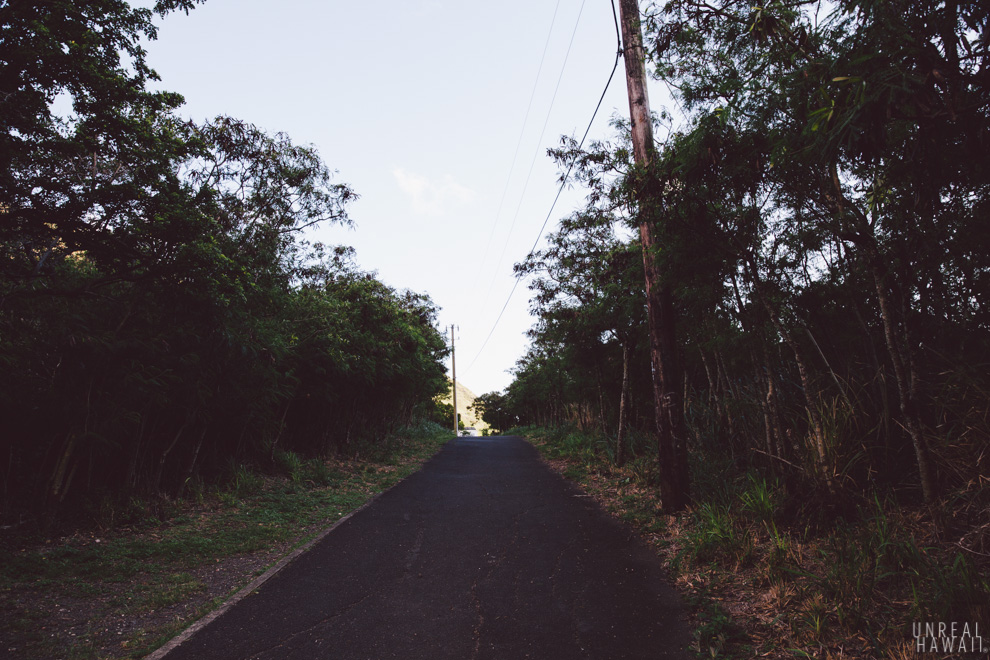 #52
From there you simply walk a short distance on the service road and you'll have completed the loop.
Getting to the Kuliouou Ridge Trail: the trailhead is located just past the gate at the end of Kala'au Pl. This hike covers close to 5 miles and can take anywhere from 4 to 5 hours.
See also: