#1
When you live in Honolulu, there's no better view of the city than from up in the mountains. It's crowded down there and when you can, it feels amazing to get away.
#2
We set off on an hike that would take us to one of the most scenic spots on the Koolaus. This is Oahu hiking at it's best.
DISCLAIMER:  The trail and activity descriptions are given to showcase the beauty of the Hawaii outdoors. This information is not intended to give specific advice on any trail or activity nor is it a recommendation to attempt the trail or activity.  The writer and/or publisher of this website is not responsible for any accidents, injuries, rescues, inconvenience, or loss of life by anyone attempting any of the hikes or activities on this website. It is the responsibility of the reader to use common sense and good judgment by interpreting and using the information to safely enjoy any outdoor activities. Hiking and any outdoor activity can be dangerous and has many potential hazards. It is up to each individual to know their limits, abilities and level of expertise before attempting any outdoor activity.
#3
This "trail", if you want to call it that is not for the faint of heart. It's also not easy to access. But we managed to find ourselves up on this ridgeline and, my goodness, the views were tremendous.
#4
There are numerous ways to get up to K2. We started our hike on a well maintained and graded trail. I joined Christina, Ryan, Katie, Darren and Cat on this day.
#5
Some serious way-finding is required to get up the mountain. We must have accessed 3 different trails before beginning our ascent. This hike should be attempted only by those that are familiar with Oahu trail systems. Especially in this area. It's like a maze in here. One wrong turn could send you off course for hours.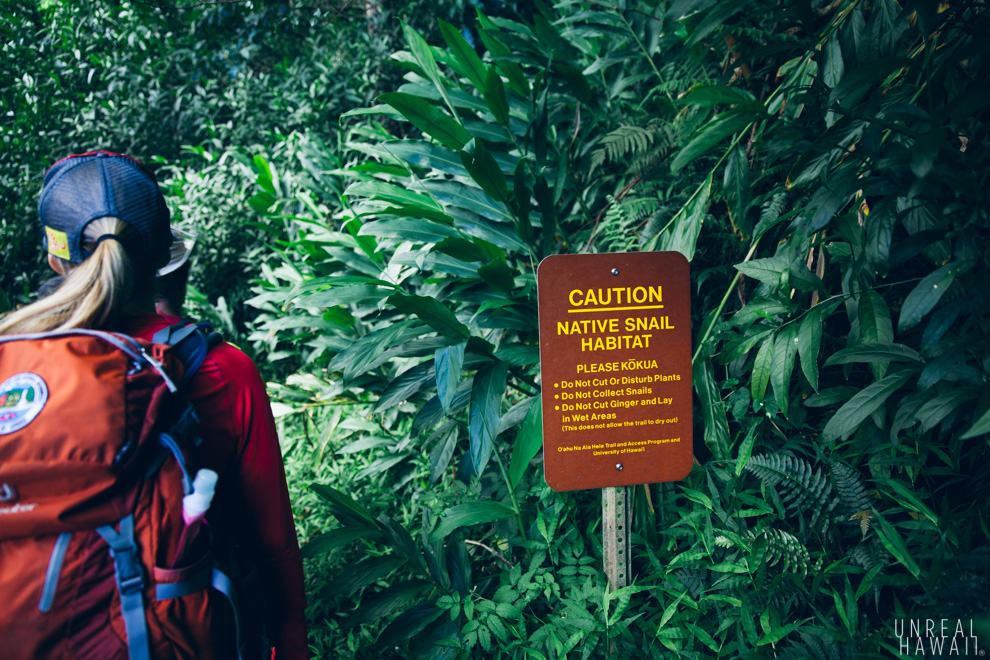 #6
Our trail took us through a protected snail habitat. Local Hawaiian (i.e., endemic) snails are monitored and protected because they are in danger of being overtaken by larger invasive snails.
#7
Ryan is adept at spotting native snails. I'm not sure how he does it as they are very small.
#8
He records them by taking photos.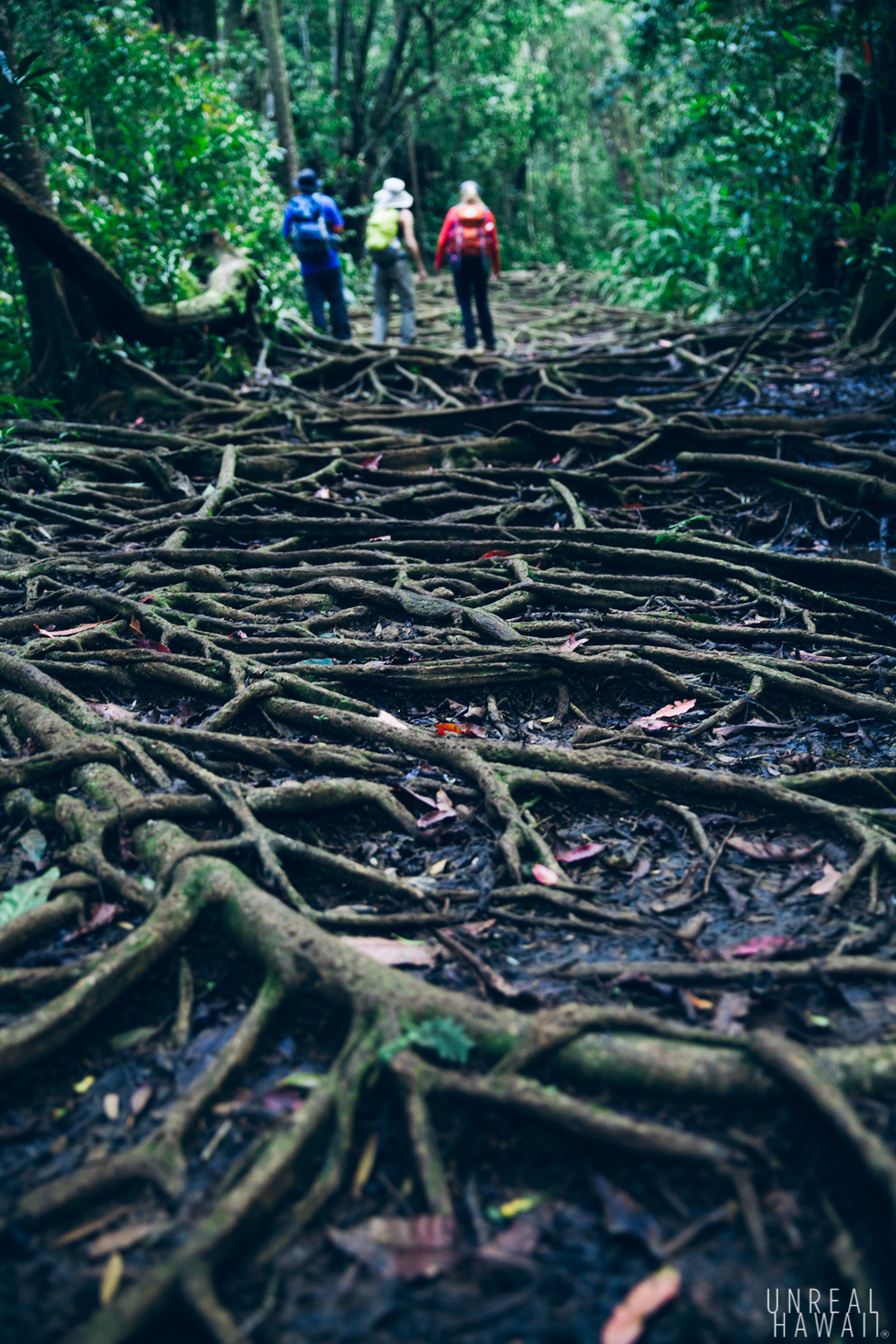 #9
We continued navigating our way through the network of trails.
#10
Eventually we started our ascent. This is one of those trails that's better left unnamed. Most experienced hikers on Oahu know about it already, but as a courtesy and out of respect for the hiking community, it's probably best to keep directions off the Internet and social media stuff.
#11
Our objective was the top of K2 (the peak in the photo above). This approach was just one of several ways to get to K2.
#12
This is a big ol' butt hill. The trail takes you straight up the side of the mountain. It's definitely advanced hiking and requires some decent cardio endurance.
#13
As we gained elevation, we could see different ridgelines of the Koolau Mountains off into the distance.
#14
We took a break here and there to soak in the views. Like this one of Ryan's (ryanschang.blogspot.com) sweaty chest.
We're halfway up the mountain now. The second half looks pretty intimidating. It was overcast but humid this day. We would sweat.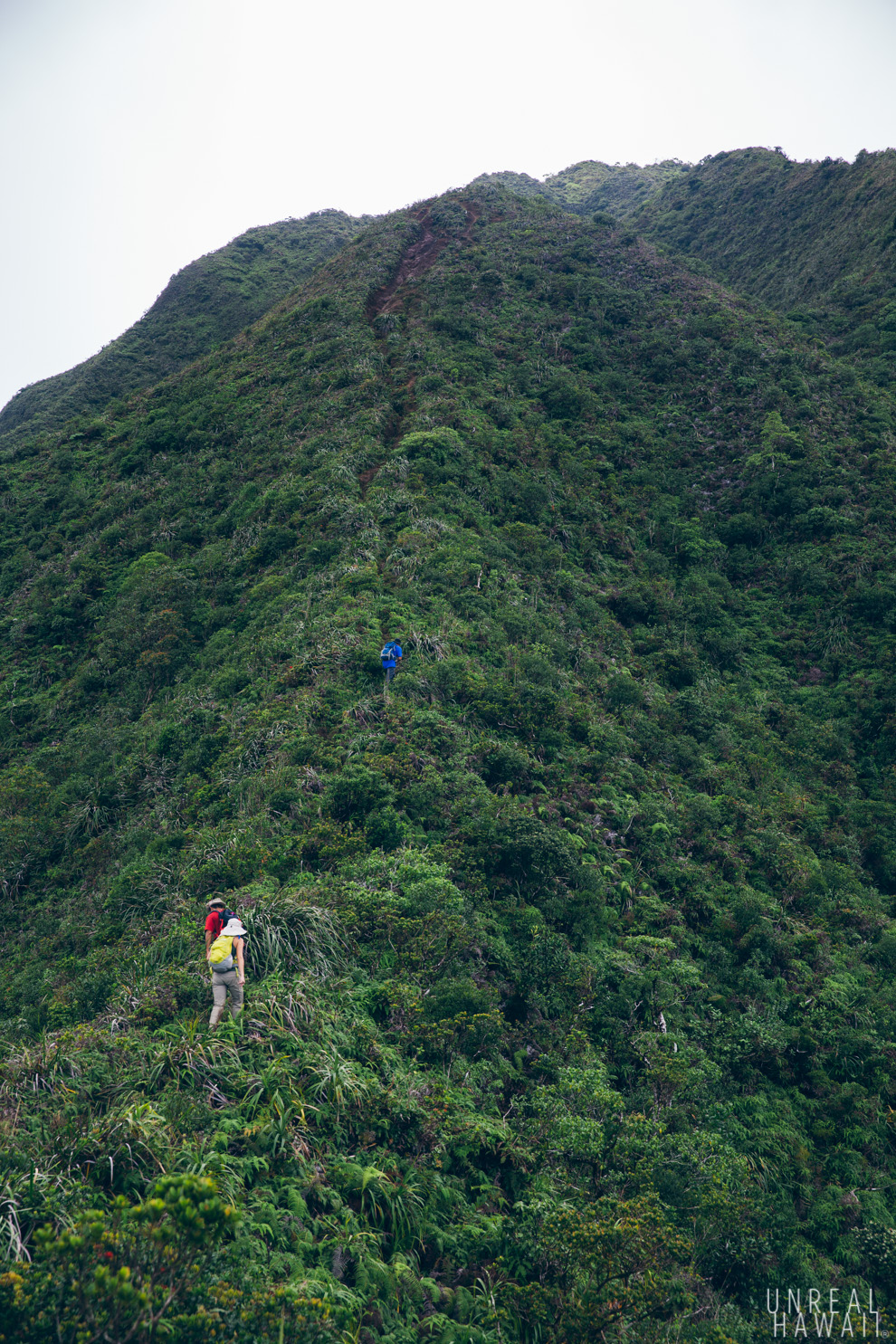 #16
The trail here is defined yet a bit overgrown. You can see it's eroded in places as well. We were lucky it didn't rain.
#17
When we reached the top, we looked back at Honolulu.
#18
We took a break before proceeding to the true summit of K2.
#19
We pushed through some shrubbery.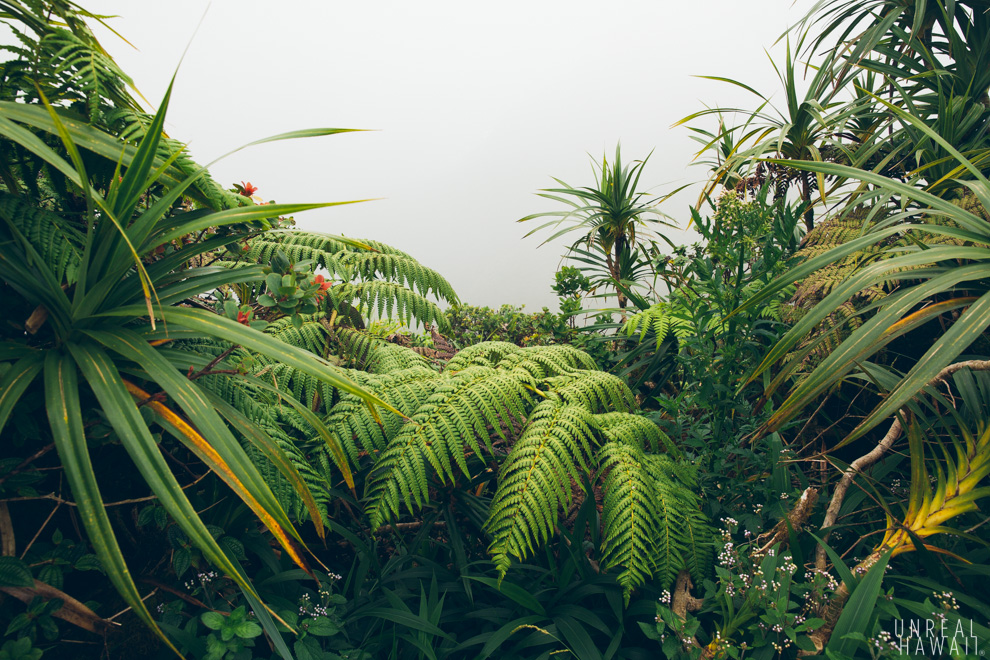 #20
A few steps further and we were at the peak of K2. The peak was totally socked in by clouds.
#21
Having been up here (and on many summits of the Koolaus) before, we knew that if just waited a little while, the clouds could burn off.
#22
We pushed on and the clouds indeed burned off. As we hiked, the crew pointed out native plants so we could observe them and learn together. Here, Ryan has spotted a sapling Hāhā tree.
#23
Here's what he was pointing at.
#24
From K2 we crossed over to Manoa Middle. It's the peak that sits at the back of Manoa Valley (in the middle).
#25
At this point the clouds burned off and we got to see this.
#26
The hiking in this section could be considered advanced or even extreme (depending on what you're used to). There's no trail here. This ridgeline gets so much rain that any trail that forms will become overgrown right away.
#27
We made our way across the Koolau summit pushing through foliage and trying not to trip on roots.
#28
There are sheer drop-offs to the left but to the right, we found that there were typically branches we could hold on to.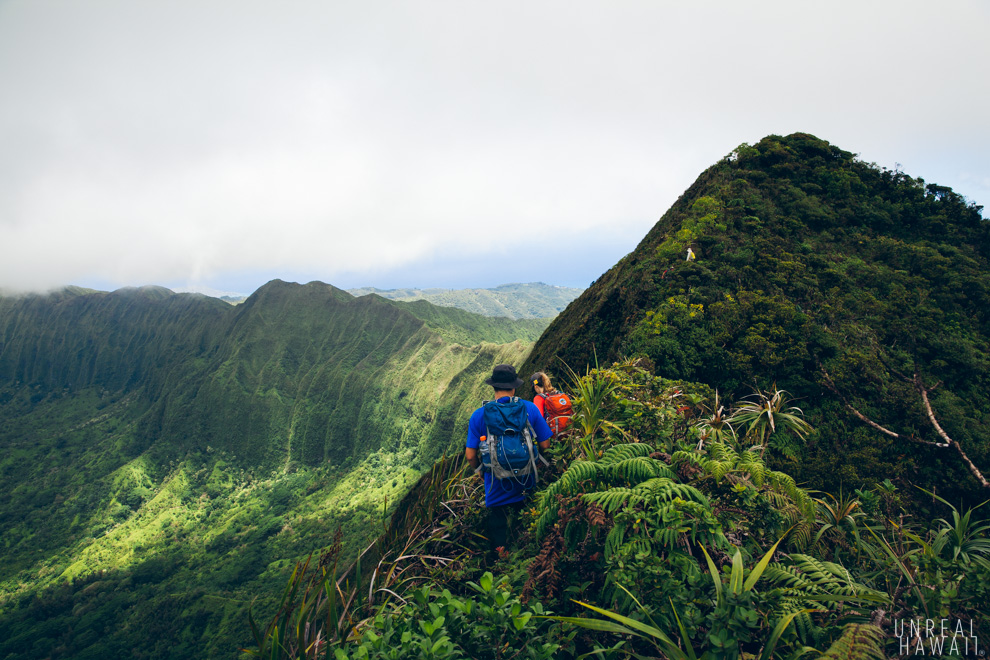 #29
You can see that the foliage up here is waist to head high. We pushed through this for a little over a mile.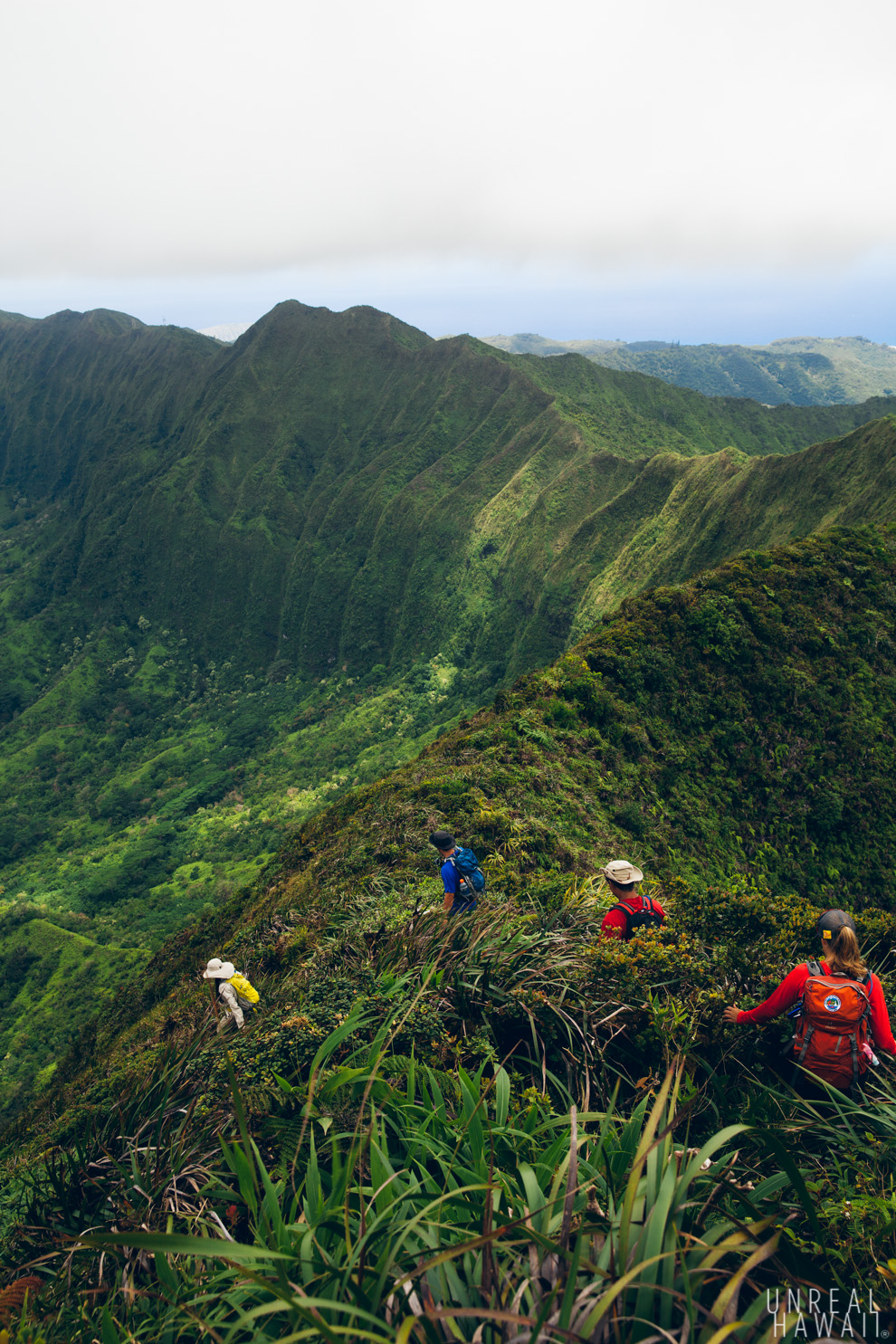 #30
I couldn't get enough of this view so just kept snapping photos of us hiking.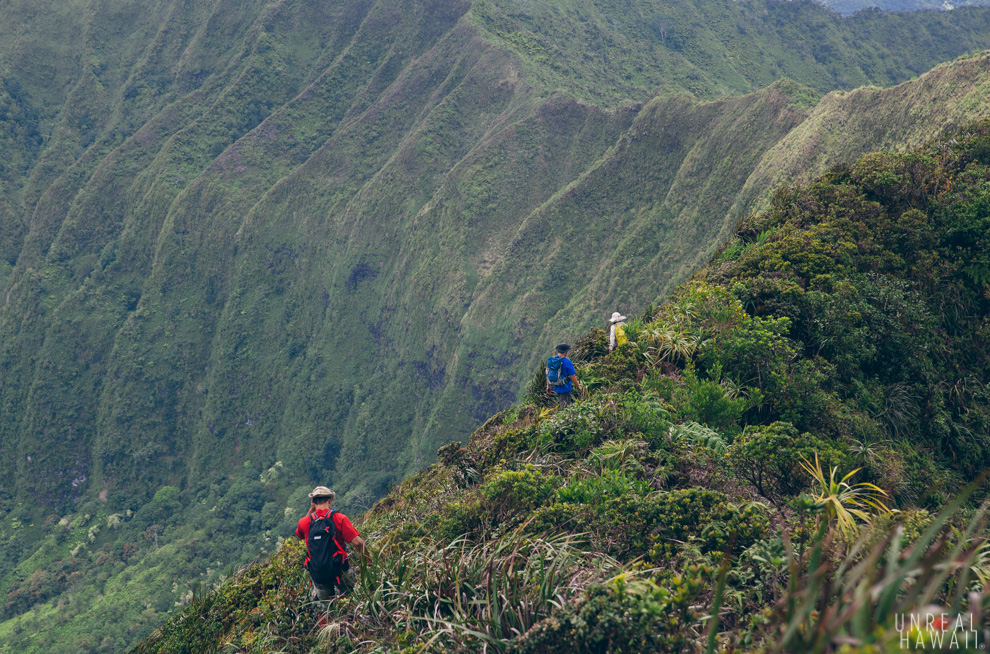 #31
The windward facing ridges of the Koolaus (those fluted ridges in the photo above) provide some serious eye-candy.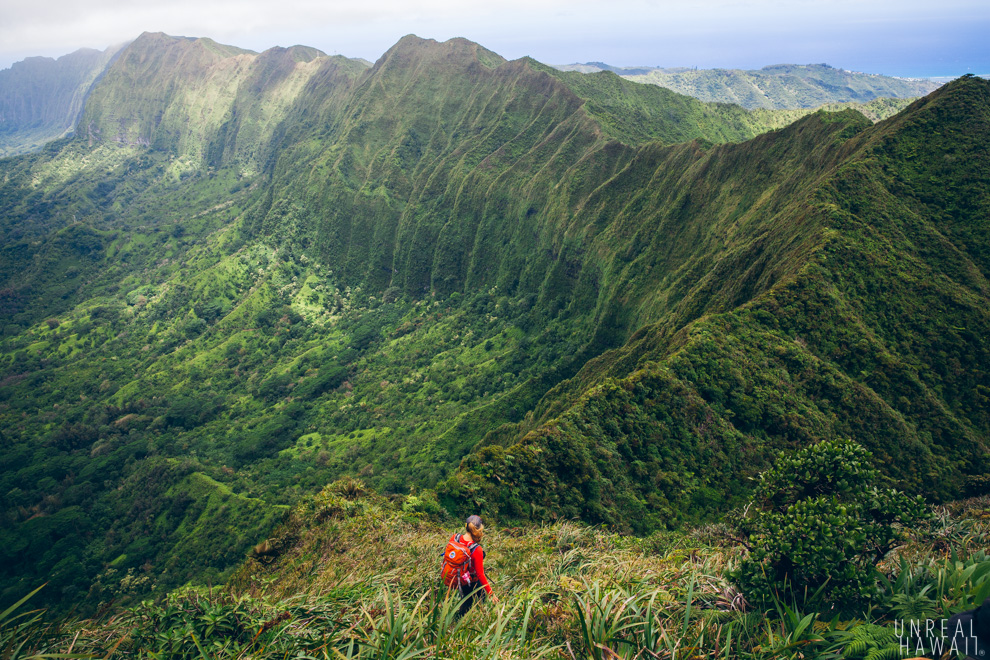 #32
This crossover took us up and down over a series of humps. Our destination, Manoa Middle Ridge, can be seen in the top right of the above photo.
#33
While looking to our left (windward) we could see the natural beauty of Oahu, looking right showed Oahu's metro side.
#34
My apartment is down there somewhere among those high-rises.
#35
I prefer this view.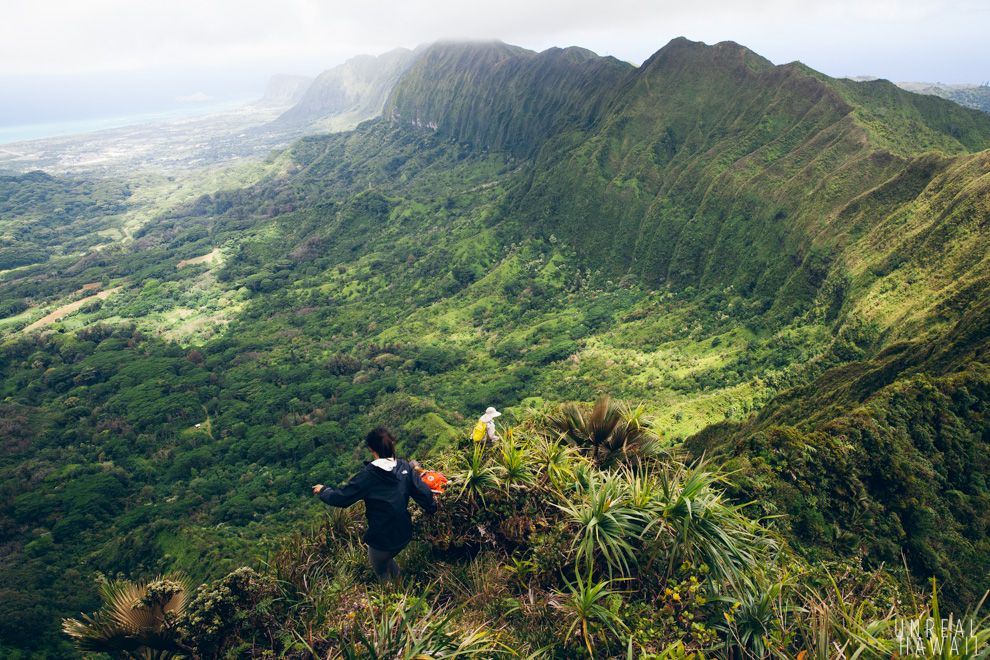 #36
At some parts of the trail it felt as if we would be walking off a cliff.
#37
And there were many times we were literally walking along the edge of a cliff. You can see here that Christina has to be careful to push branches out of the way so they won't trip her.
#38
Looking ahead I could see Darren (red) and Cat (yellow) way out in front of us.
#39
Looking behind me I could see Ryan pushing his way through the foliage.
#40
Almost at Manoa Middle, we had to take one more break to soak in this incredible view.
#41
Eventually though, we had to make our way down to civilization and I had to take my cat to the vet. This pink ribbon marked the junction to Manoa Middle Ridge. We would take that trail down.
#42
Manoa was looking picturesque on this day. A bit of rain was misting over the valley.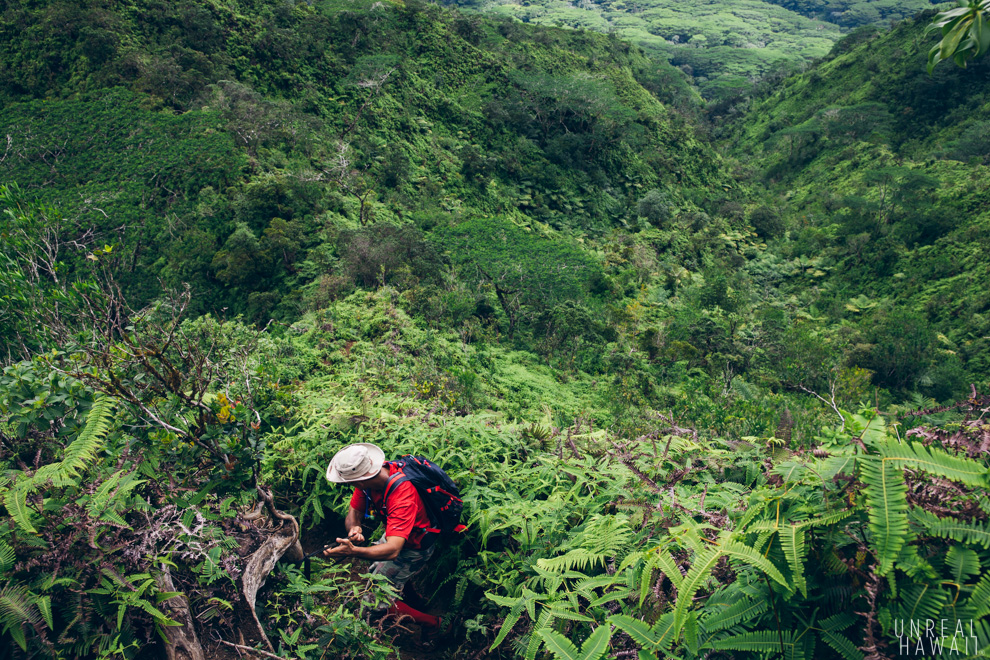 #43
Manoa Middle Ridge is a steep descent. We were able to use ropes to help keep our butts off the mud, but this is still a fairly advanced trail.
#44
This trail is not exactly a "fun" way to get down to sea level, but it's very efficient.
#45
In some sections, the descent is near vertical. You're using the trees almost like a ladder to get down.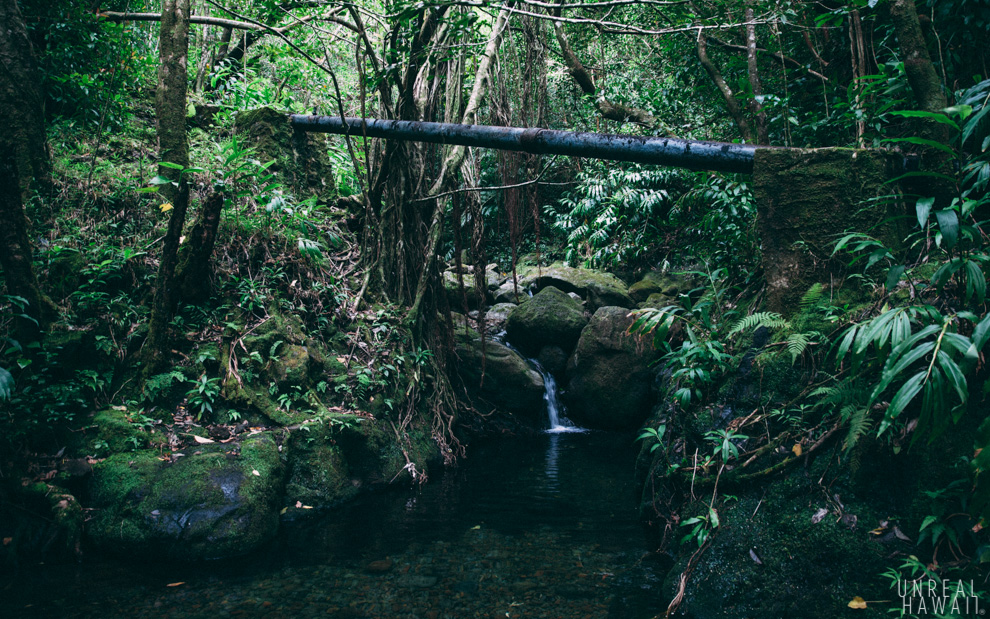 #46
But when you're down, a cool clear pond awaits. Some swam, I went home to get my cat.
A big mahalo goes out to Ryan (ryanschang.blogspot.com) for the invite and for leading the way on this day.
Help preserve adventure in Hawaii.
If you happen to make it out to this spot, please help preserve it by keeping the location undisclosed on blogs, Instagram, Facebook, Yelp and the Internet in general. It's more rewarding to discover things on your own or through friends anyway right? I know people that share directions online are just trying to be helpful but, when you live on a small island it can actually hurt more than help. My goal is to tell interesting visual stories and share beautiful imagery. Unreal Hawaii is here to provide inspiration with the hope that readers will create their own adventure in their own way. If you enjoy my website the best way you can support Unreal Hawaii is by helping keep directions and location information off the Internet. Mahalo for your help and thanks for understanding.
See more Oahu Hikes.
See Hawaii Neighbor Island Hikes.
– Photos by David Chatsuthiphan