#1
Above
Starting the free-fall.
Back in June a couple friends had the idea to go skydiving. I had always been nervous about skydiving before but for some reason, this time when the idea was brought up, I was all for it. So on Kamehameha Day, we woke up early and drove up to the North Shore. I'll try to describe my experience.
#2
Above
Skydive Hawaii: A bit west of Haleiwa.
We get to Skydive Hawaii in the late morning and waited about two hours before jumping. Get there early. The place gets crowded and it's pretty disorganized. However, the instructors are super organized and at no point did I feel unsafe. Well, except for one part…
#3
Above
Boarding the plane.
The plane. Funny thing is, the plane ride was the most sketchy part of the experience. It feels old and flimsy. But at least you are strapped to an instructor wearing a parachute.
#4
Above
View from the flight up.
Not only is the plane flimsy, but they leave the jump door open the entire way up. But by the time we were about this high up, I started to get really calm. I think the idea of jumping out over the ocean made me feel safer.
#5
Above
Inside the plane.
And then eventually, the stoke set in. Pretty excited to jump now.
#6
Above
Ready, set…
Go! The view from here was awesome. I could see the island and ocean but below me were white fluffy clouds (that turned out to be not so fluffy).
#7
Above
Just out the door.
I remember the feeling here very clearly. Because it surprised me. I didn't feel like I was falling and I didn't get that rush of speed yet. It was just a very quiet floating sensation.
#8
Above
Cameraman is right in our grill.
But then here's where the rush sets in. Big time. Your going so fast here it's hard to breath. All I wanted to do here was get this guy off my back.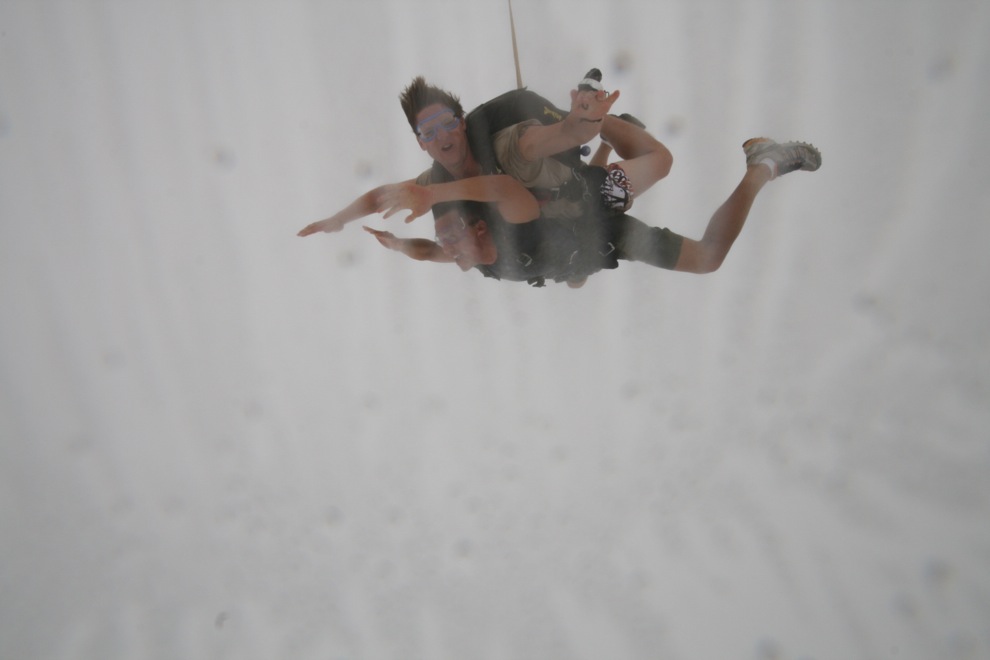 #9
Above
Falling through a cloud.
So clouds are made up of ice crystals. And that's pretty much exactly what they feel like. Ice crystals hitting your face at a hundred twenty miles an hour. Not fluffy.
#10
Above
Getting pulled up my the chute.
When the free-fall ends, the instructor taps you on the shoulder to let you know he's pulling the chute. When it comes out you get jerked up a bit but it's not too bad.
#11
Above
My feet.
I liked the randomness of this shot. The cameraman hasn't pulled his chute yet so he's below us.
#12
Above
Back to earth.
The parachute ride down is a mix of boring and scary. The instructor can make it as chill or thrilling as you want it to be. He can cruise down slowly or go into spins. We did the spin thing a lot.
See also: