#1
It's Thursday and I'm still stoked on last weekend's hike. The hike had exposed knife-edge ridges, rock climbing, expansive views, a mini-waterfall and … I ripped my shorts half way through the trail. (Tip: One section of the trail is heavily overgrown so wear sturdy pants. And sexy underwear, just in case.)
The hike we did was the Kahekili-Manamana loop on the East coast of Oahu. It's about 25 minutes north of Kaneohe. You go up Kahekili ridge and come down Pu'u Manamana. For much of the hike you're on a narrow ridgeline trail with views of the Eastern coastline of Oahu and Kahana Valley. The hike took about 5 hours.
DISCLAIMER: UnrealHawaii.com is for entertainment purposes only and does not serve as an official guide of any type. The information presented on UnrealHawaii.com has not been vetted for accuracy, safety or legality. If you attempt any of the hikes, climbs, or other activities documented on UnrealHawaii.com you are doing so at your own risk. David Chatsuthiphan is not responsible for loss, damages, legal fees, medical fees, injury or death incurred as a result of your actions taken after visiting this website.
#2
The ridgeline you see here is the trail. You start by hiking to the peak on the left. Then you descend into the valley a bit and climb to the top of Pu'u Manamana on the right. From there you hike down Pu'u Manamana's ridge back to the street.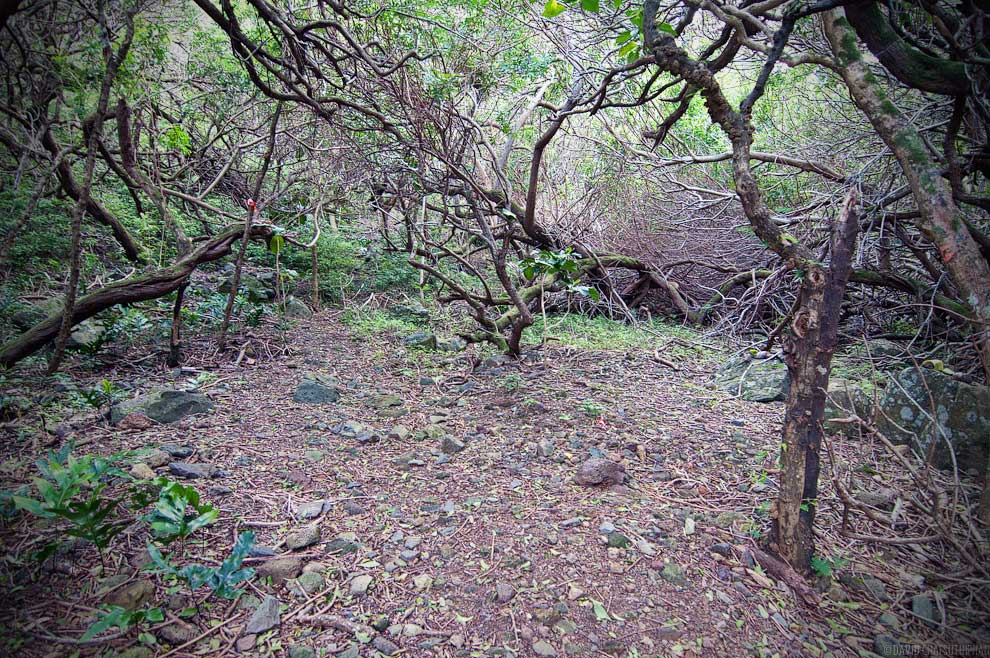 #3
We started the trail at a nondescript trailhead.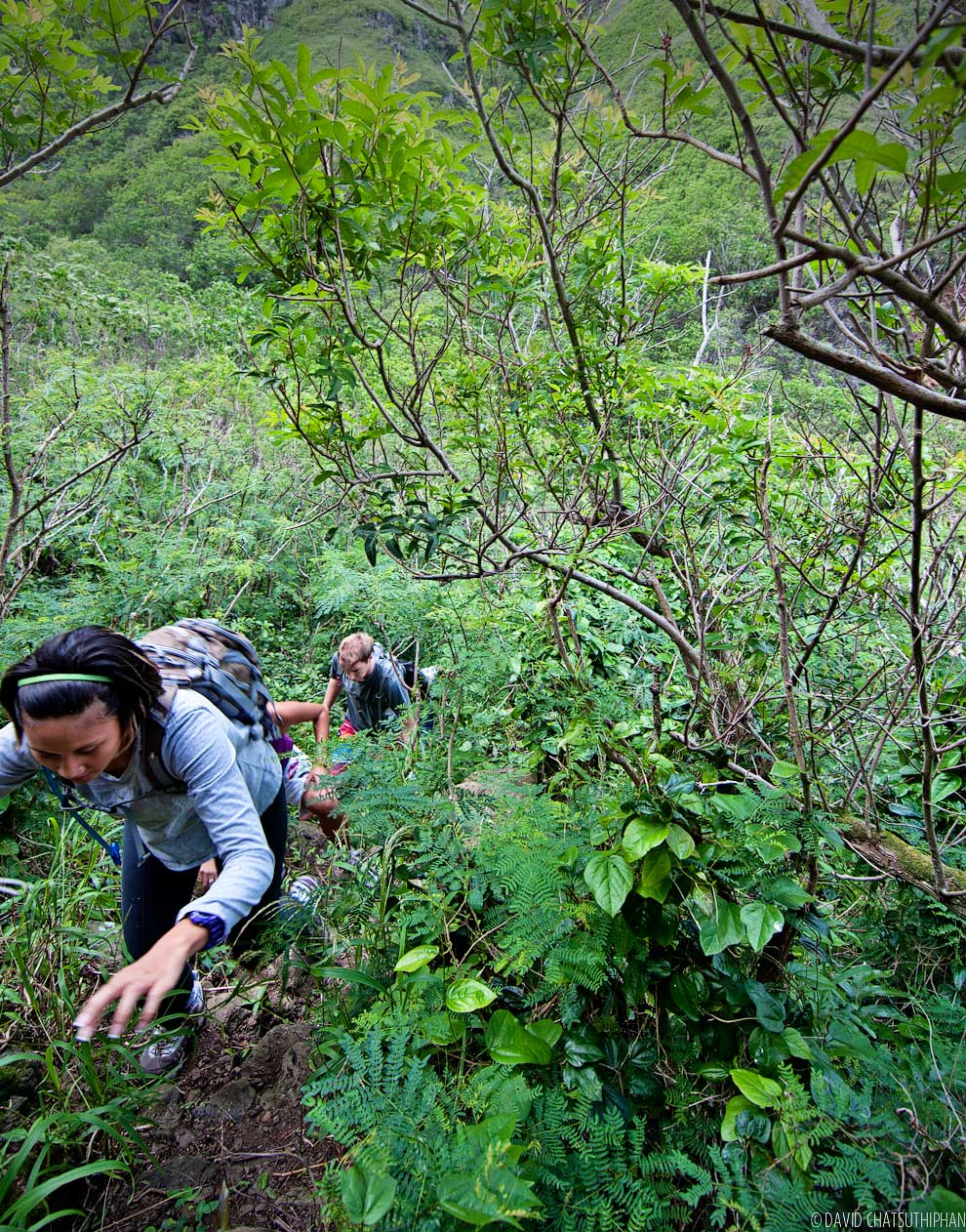 #4
You're gonna start heading up the hill right away. There's pretty much no warm up.
#5
We're maybe 6 or 7 minutes into the hike here and we're gaining elevation.
#6
These mountain walls are beautiful.
#7
That peak is your objective on this first half of the hike.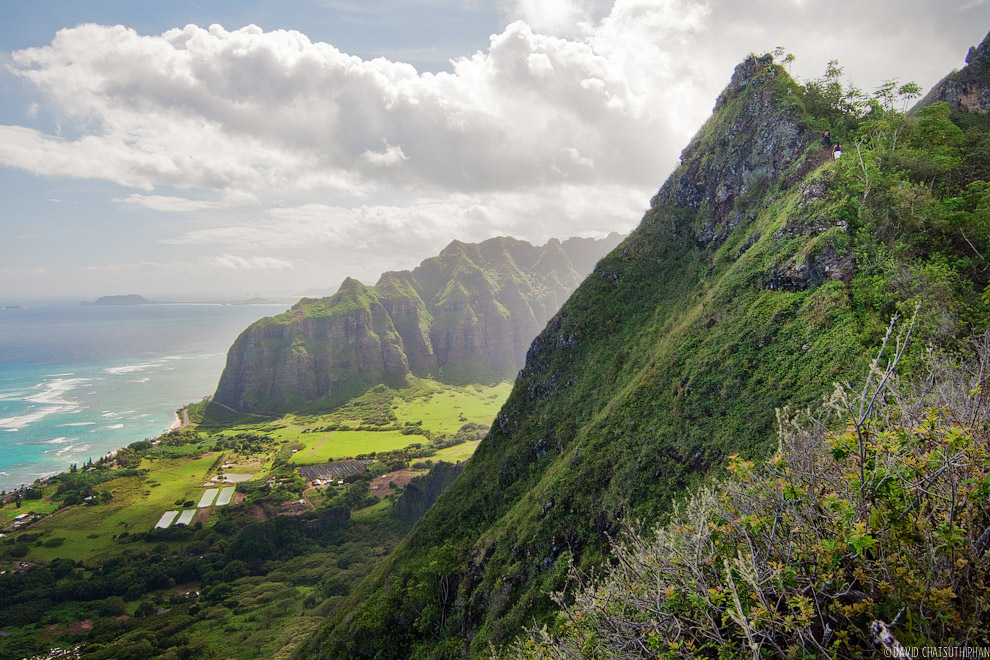 #8
And here, part of our group has made it. This view of the ocean and Kualoa Ranch is stunning.
#9
The trail is narrow so be careful. This is an upper-intermediate hike. But, as long as you're sure footed, the trail is not as scary as it might seem. It's more exciting than anything.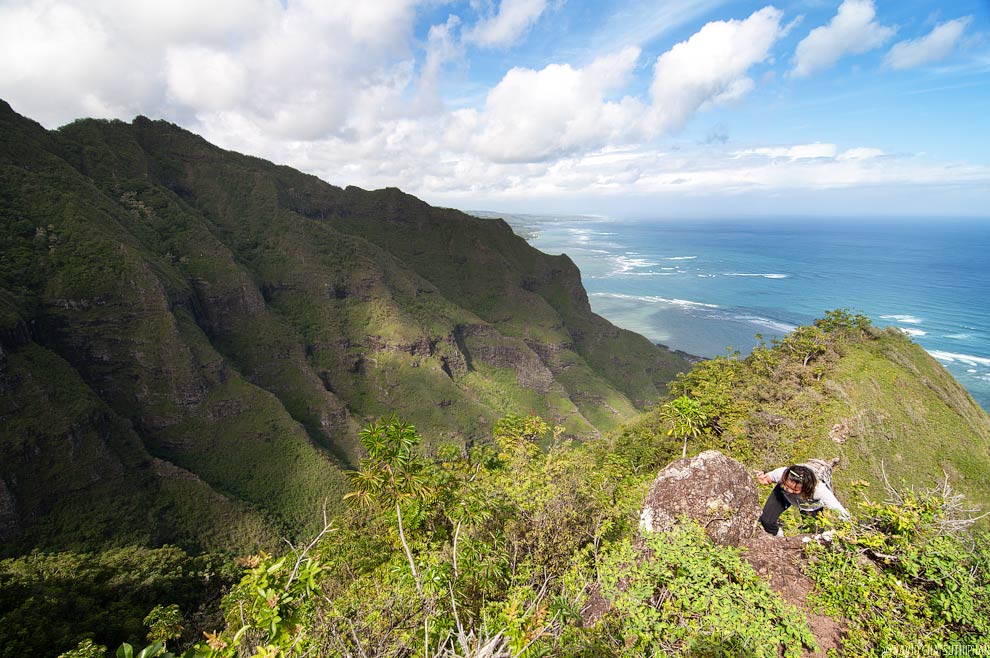 #10
Here's a view to the North. You can see all the way to Laie.
#11
We've made it to the peak now. Kris tried climbing up it and it looks like it can be done, but don't worry, you don't have to scale this beast. In fact the trail leads you around it and then down into the valley.
#12
You want to end up on the side of the peak.
#13
When you head down into the valley, these tangled trees keep things interesting. Channel your inner lemur.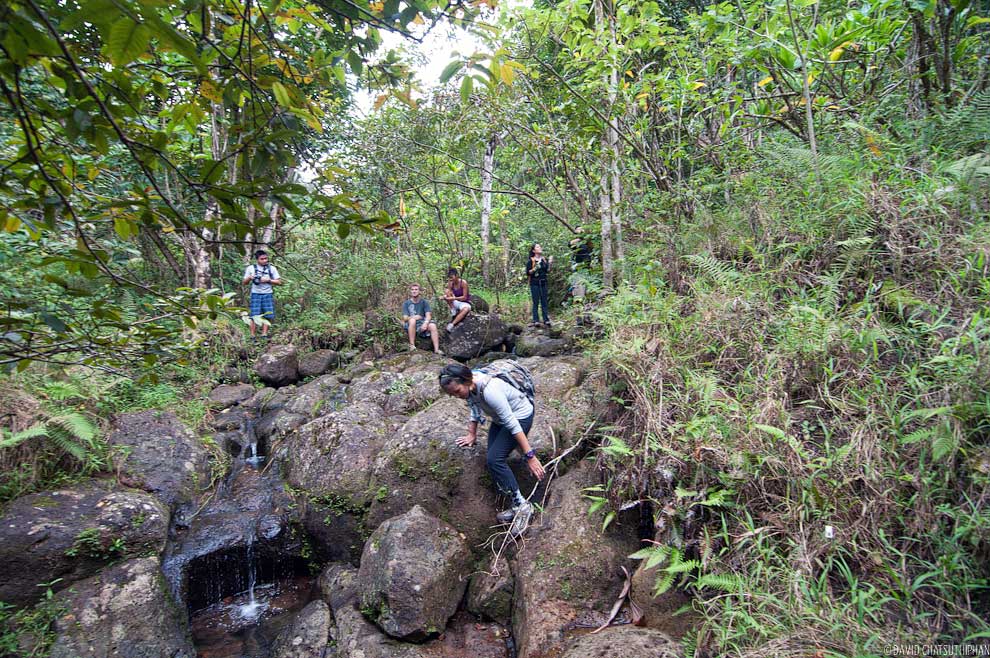 #14
Descend until you reach this stream. This is about the halfway point and it's a good place to take a break.
#15
There's a little waterfall here too. Chill, rest, hydrate and grab a bite in this spot. Once you move on, you'll be hiking up to the top of Pu'u Manamana on an overgrown trail (where I ripped my shorts).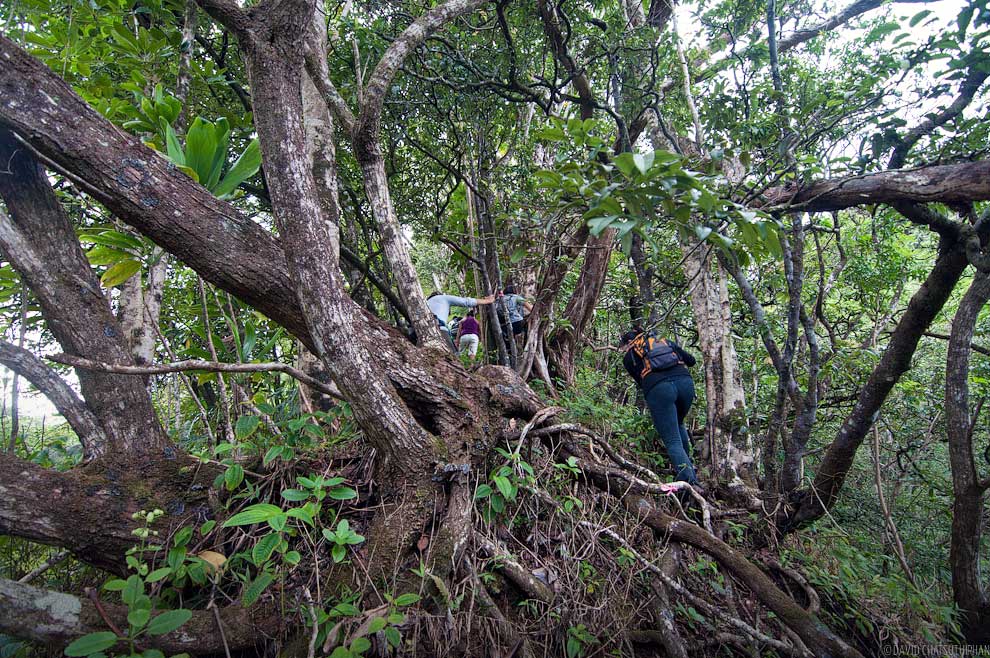 #16
And now it's upwards and onwards. This part of the trail gets gnarly.
#17
Remember what I said about the trail being overgrown?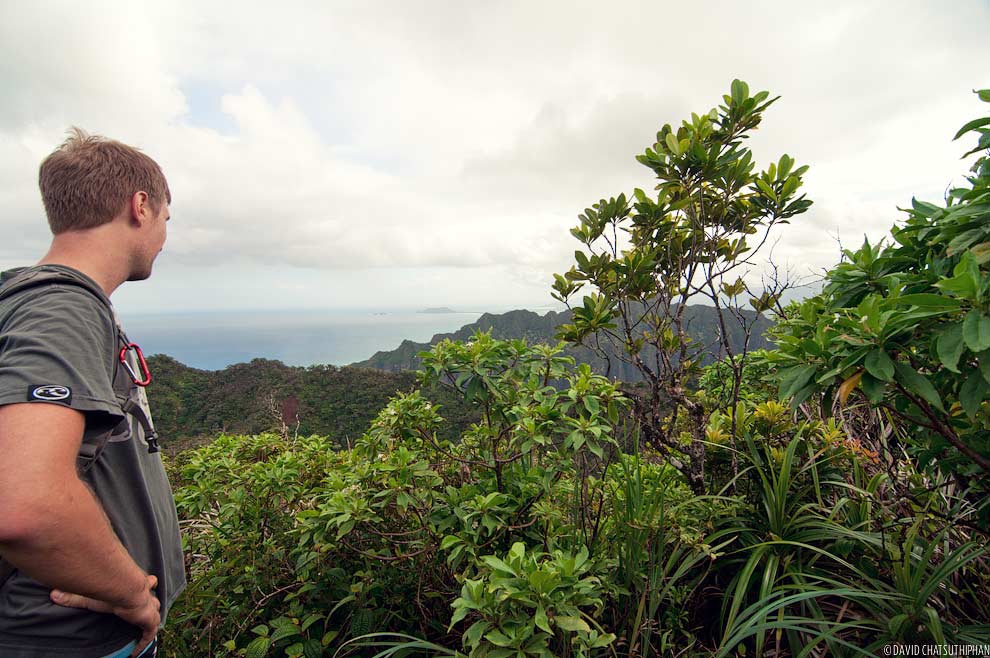 #18
After just under an hour of trudging through the shrubs, you'll be at the top. It's another good place to make a pit stop. You'll be a trail junction and you might see a bunch of pink ribbons around. To find your way down, just turn to face the ocean and you'll see the ribbons for your trail down. Pretty much right when you get to the top of Pu'u Manamana, if you look right, you'll see the trail down.
#19
This trail is better maintained. It's very popular among hikers as the ridge is notoriously narrow and dangerous.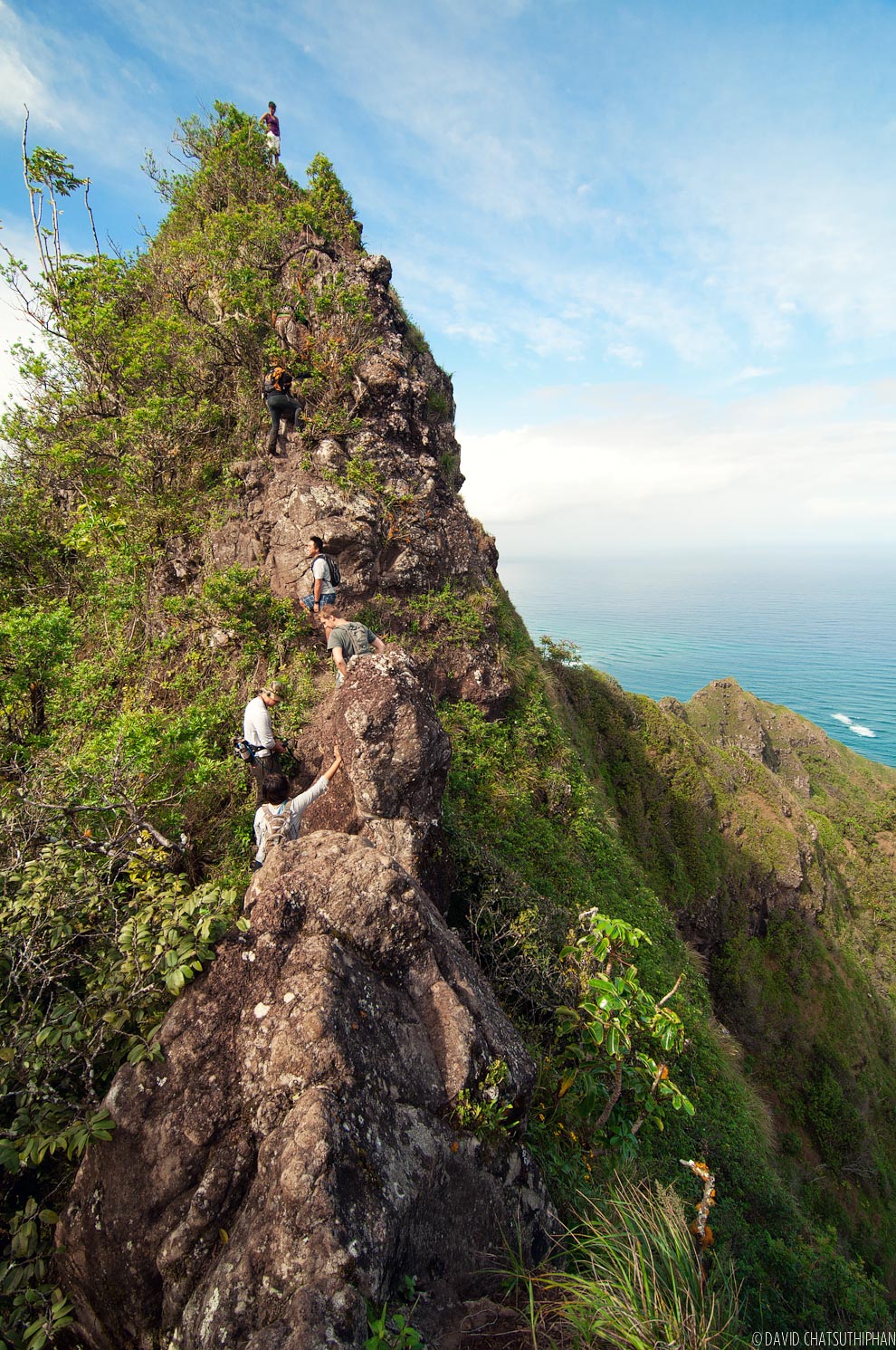 #20
This is what I mean by fun.
#21
The bird's eye view from these ridges in Hawaii is what I crave.
#22
The ridge goes up and down and down and up.
#23
Don't forget to turn around from time to time to see the crazy hike you just did.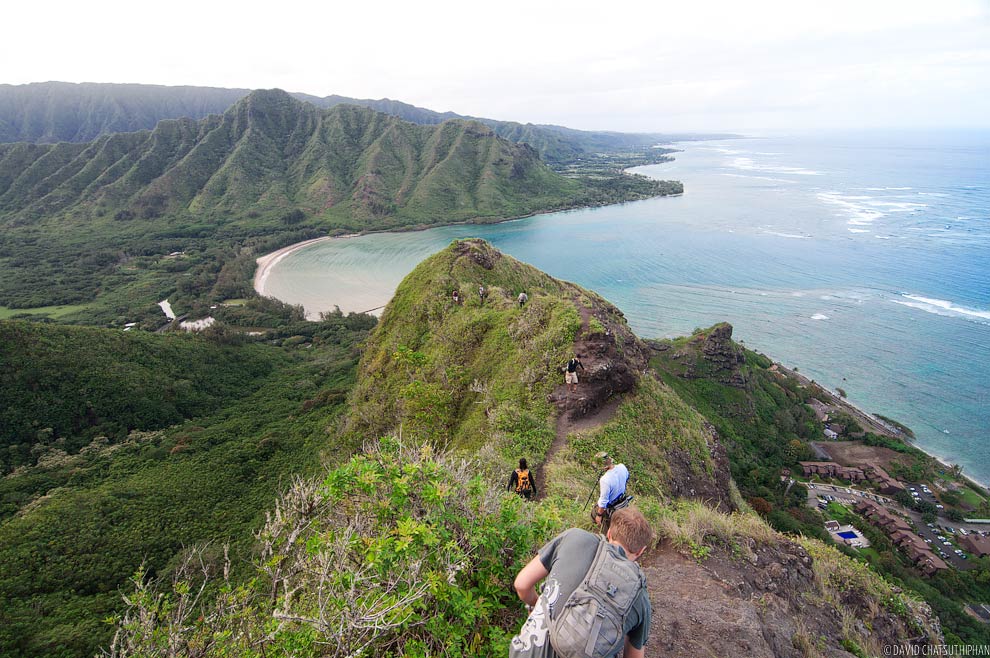 #24
We're almost down now.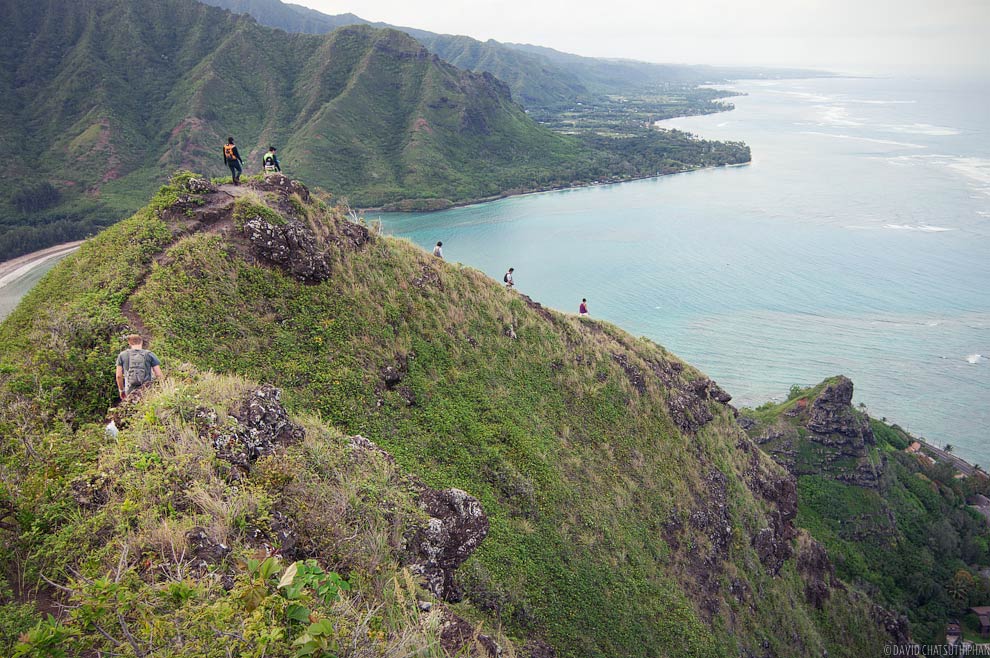 #25
That little knob on the right is Crouching Lion.
#26
The trail pops you out on Kamehameha Hwy about half a mile down up the road from your car. When you see the road, your legs will start craving the feel of that paved road.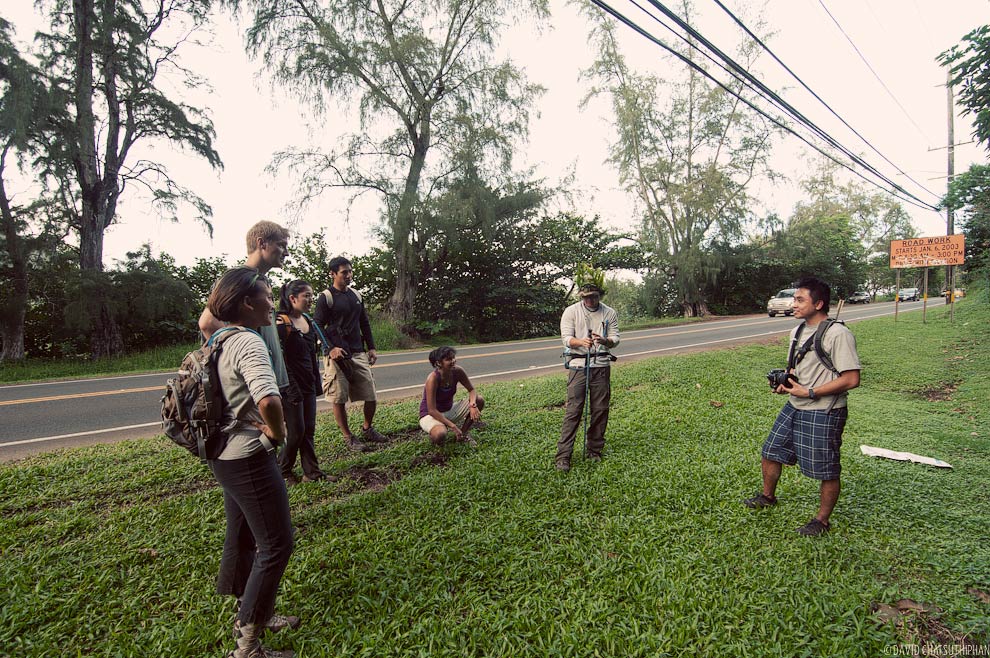 #27
Here's the group. Happy and accomplished. (And grimy as hell.) We make a good team.
#28
Time to eat.
See also: