#1
Above
Jason in the shaping room.
If you're looking to buy a surfboard from a local Hawaii surfboard shaper, there's a lot of people to choose from. You got the guys that have contracts with the local surf shops, the old school shapers and maybe even your friend that does it as a hobby. All are good options.
I recently decided to purchase a custom shaped board and had to make this decision.
#2
Above
Boards ready for pick up.
For me, the decision was simple, I wanted a J. Kashiwai surfboard. I see Jason in the water at my home surf break in Ala Moana every now and then so he knows the type of wave I'll be surfing. And, my buddy Joon has a new J. Kashiwai board and recommended him. Plus, he's a really nice guy.
#3
Above
Surfboard shaper's mask.
You can buy a ready-made surfboard off the rack at any surf shop on the island and that's totally cool. I've done that too. But, I ended up learning a lot by getting a board custom shaped. I had to do  research to figure out what type of shape I wanted and what type of wave I wanted to ride with it. I'd love to have more specialty boards in my quiver but in the end, I decided that I really needed to replace my main all-purpose shortboard.
And when I picked up my finished board, Jason gave me a tour of his shop. I'd never been in a shaper's shop before so I was stoked to see the process and tools it takes to shape and finish a surfboard.
I posted a bunch of photos so you can get a look inside a surfboard shaper's shop in Hawaii.
#4
This is Jason's shop in Kaneohe called Resinworks. He's got a super nice mauka view. You can see the top of Haiku Stairs from here.
#5
To shape a surfboard you can either give him some dimensions you're looking for or bring your current board as a starting point. (This board is from one of the pros he shapes for.)
#6
If you bring in your current board, he can use this measuring box to get the measurements for the shape and rocker (rocker = the amount of upturn at the nose and at the tail and flows along the bottom of the board).
#7
The dimensions of the board gets entered into this software. On screen is the shape for my board actually. It's on file and if I wanted another board from Jason in the future, he could pull up this file and tweak the shape however I want.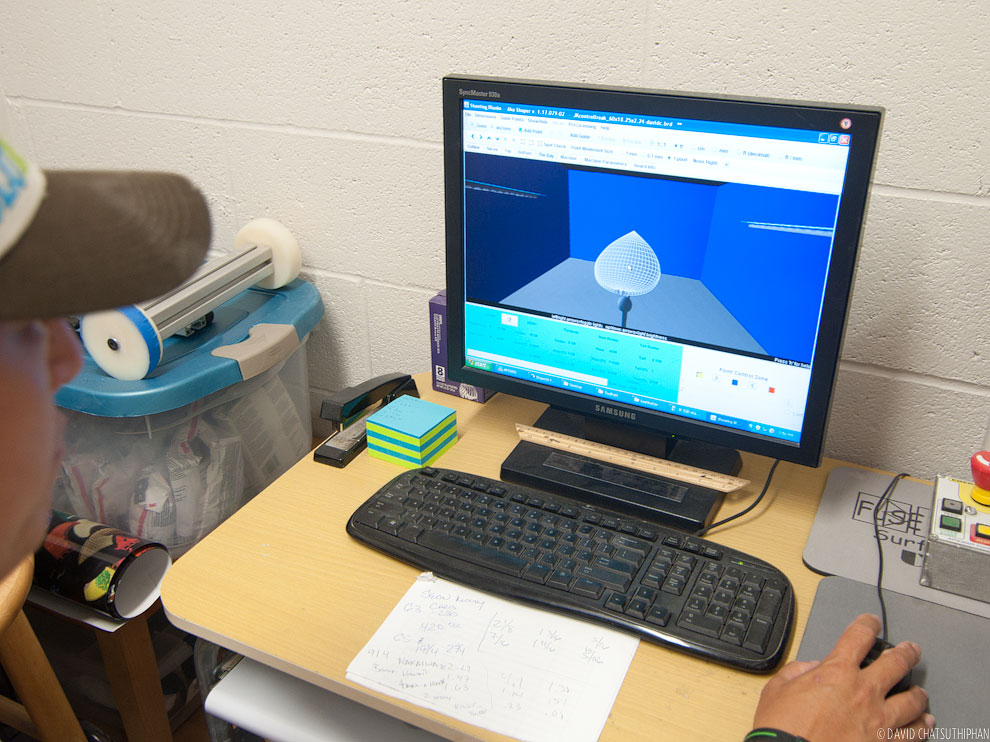 #8
You can then preview it in 3D to see the shape, rocker and rails.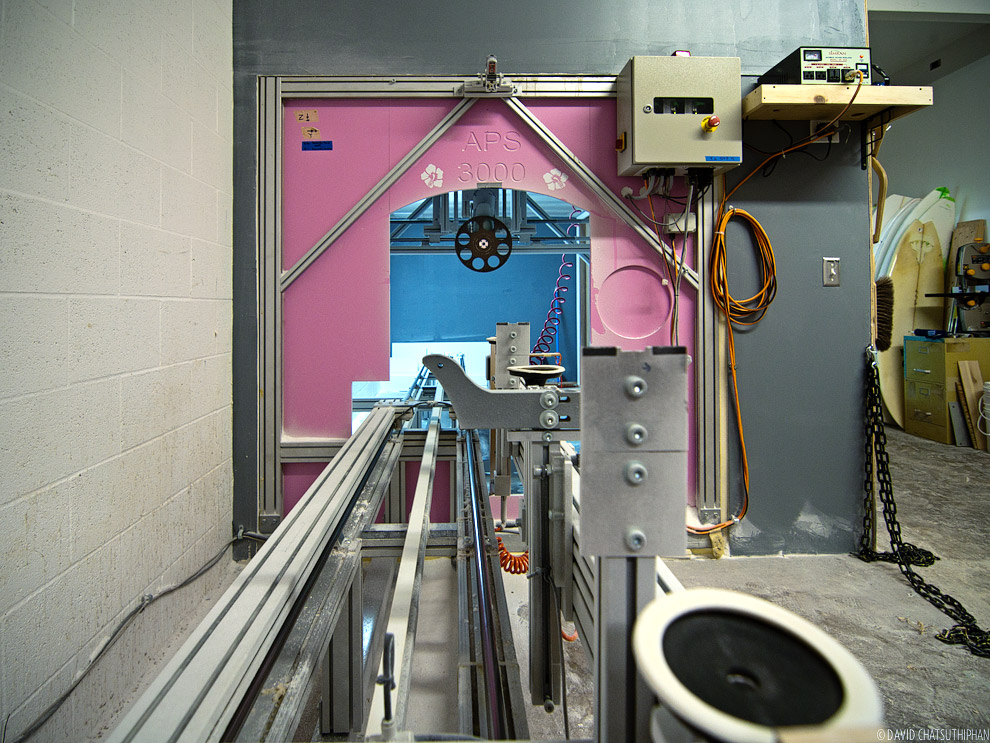 #9
Once the digital model is ready, a surfboard blank goes into the APS 3000 and it grinds off foam until the board is cut to your exact measurements. (Watch a video of the APS 3000 in action.) There are only a few shapers on the island with this machine.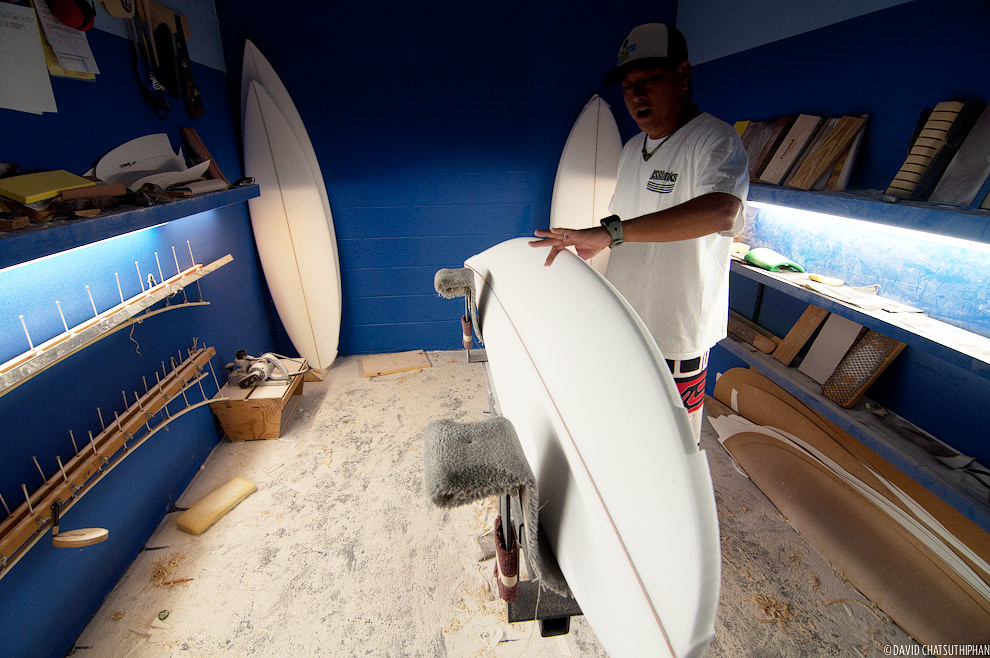 #10
Once it comes out of the machine, the surface of the board is still super rough and it gets brought into the shaping room.
#11
Here, Jason uses these tools to bring out the true shape of the board.
#12
The next step, after shaping, is glassing. This happens upstairs.
#13
The boards are covered in resin.
#14
They are glassed one side at a time and they go on these racks as each side cures.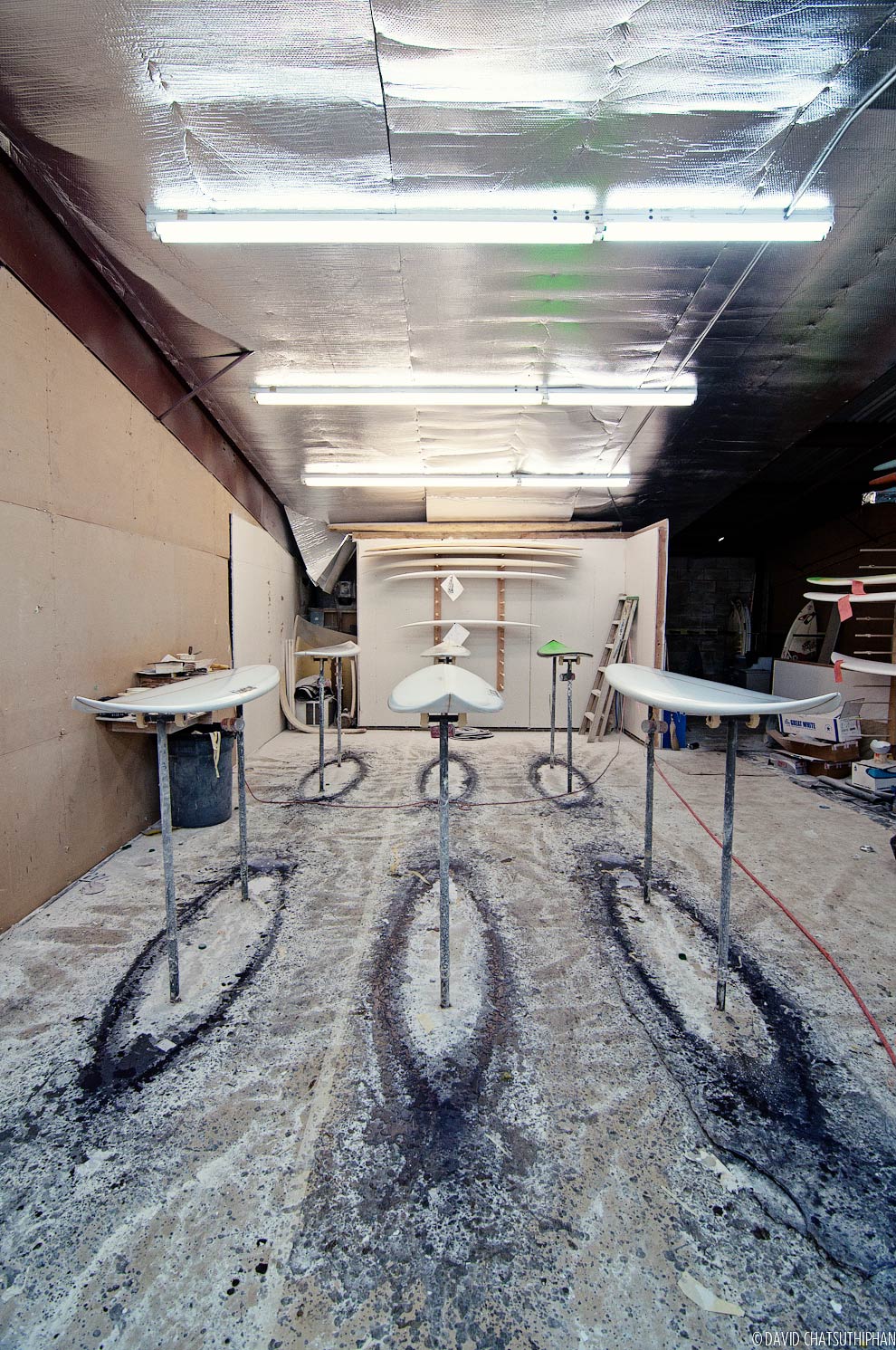 #15
They do glassing for a bunch of different surfboard brands here.
#16
After the glassing is complete, they boards enter the sanding room.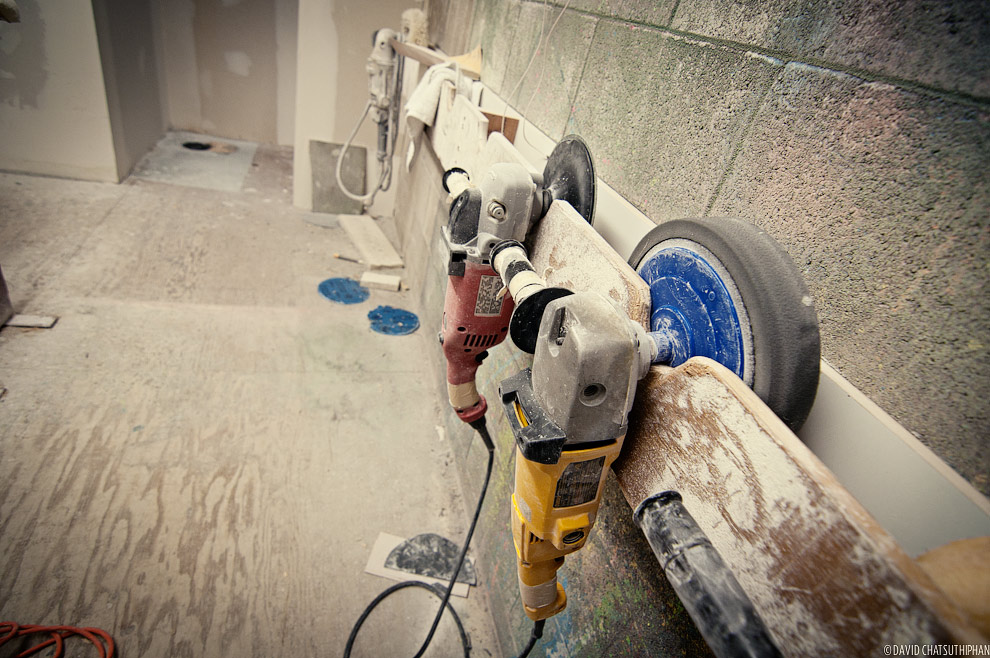 #17
The fiberglass gets cleaned up and polished here.
#18
And then you have the finished product.
#19
Jason showed me some other cool stuff in the shop. Like this new screwless fin system called Finesse.
#20
And this sweet design. Wouldn't mind having one of these.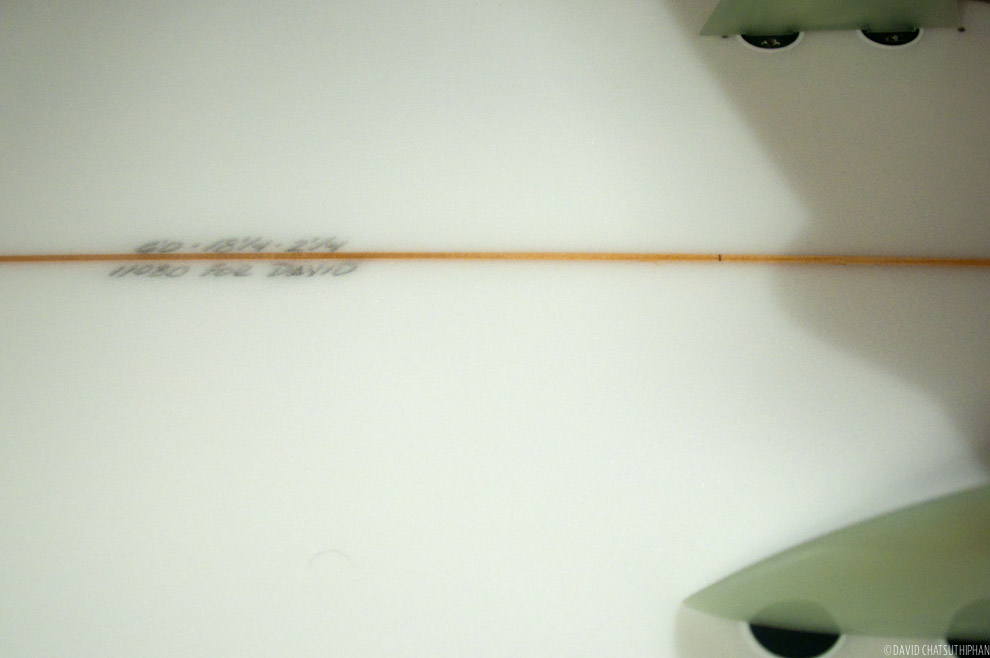 #21
I'm stoked to have a new thruster for the next swell. And, having your name on your board is pretty cool too.
* * *
If you want a custom board of your own (long or short), give Jason a call or drop an email. He said I could list his contact info on my blog so here you go.
J. Kashiwai contact info:
See also: