#1
I've always wanted to see Koko Head from this angle.
#2
You see, I like guns.
#3
Above
Shooting custom rifles at the Koko Head Shooting Complex in East Oahu, Hawaii.
The thing is, I don't own any. But, Reanne's friend John has a bunch. Big ones. And he offered to meet us at the range and let us shoot them.
If you've ever hiked up Koko Head during the day you know where this place is. It's inside a smaller crater between Koko Head and Hanauma. You can hear the guns firing during your entire hike up the stairs. It's unsettling and for the entire hike you need to remind yourself to have faith in humanity. And now that I've been to the range I can confirm that yes, hikers are totally within firing range. But, I'm happy to know that there are several range attendants on duty that monitor the shooters with eagle eyes.
On this day Reanne's friends John and Jeff generously let us shoot their custom built rifles. They taught us the rules of the range and showed us how to handle and aim the weapons. We had a blast. Get it? A blast.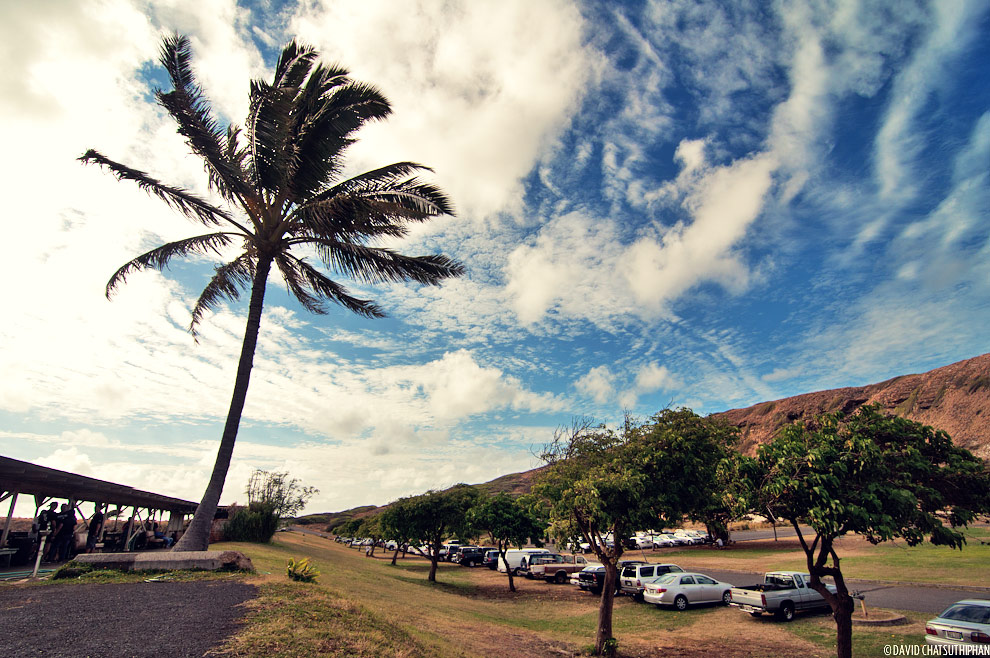 #4
I was surprised to find out that the Koko Head Shooting Complex is a public shooting range (only one in Oahu) and run by the city. It's operated by the Honolulu Department of Parks and Recreation and free to get into. Pretty cool.
#5
We arrived early. The Koko Head Shooting Complex opens at 9am. Well, that's when you are allowed to start shooting. People arrive much earlier though to claim a good spot or at least get their name high up on the waiting list. John and Jeff arrived at 7am and all the benches were already taken. But, several of these spots, the "prone" spots (where you shoot lying down), were available.
#6
John brought an assortment of rifles for us to try out.
#7
While we were waiting for 9 o'clock to hit we set up some gear and walked out to set up the targets. You bring all your own stuff here – weapons, ammo, targets … everything.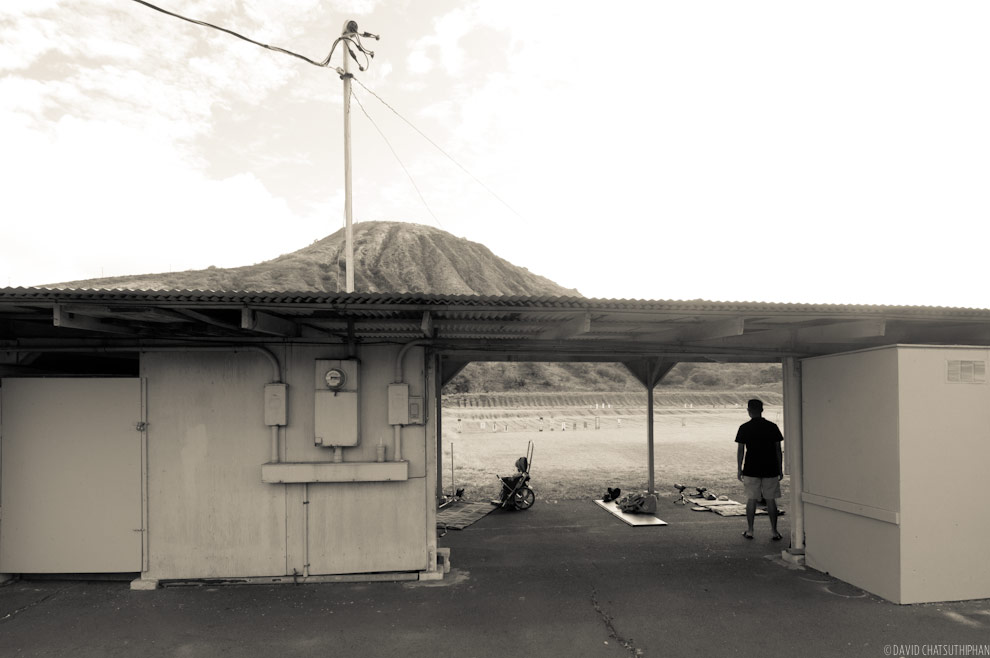 #8
And now we wait.
#9
While waiting, you can occupy yourself by looking at one of the most epic bulletin boards ever. So much cool stuff for sale.
#10
When 9 o'clock hits, the guns can come out of their bags. We started off with .22s.
#11
Hearing protection is required for all shooters but I'd recommend wearing them at all times. There are people that come here with HUGE guns and even with the noise cancelling head sets, your ears will hurt.
#12
We were told to load only 5 bullets in the clip each time.
#13
These rifles were all custom built by John and are super cool looking.
#14
And now it's time to get prone.
#15
But we had our names on the waiting list and were able to move up to one of the benches shortly after proning. Jeff is spotting Jen here to help adjust the aim.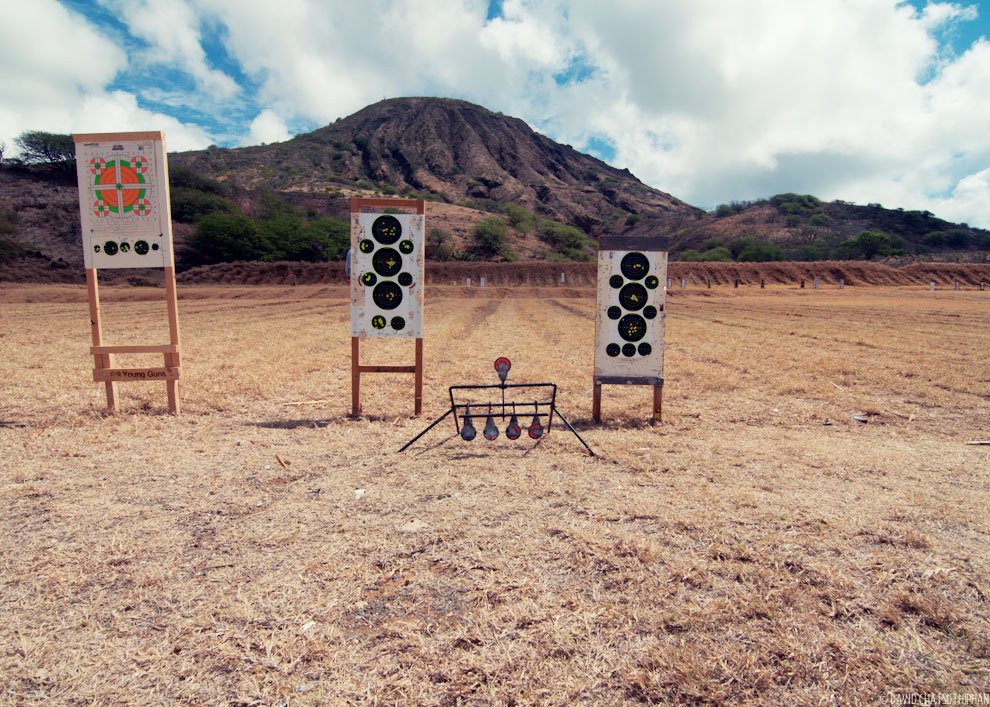 #16
Every half hour, the range attendants call a cease0-fire so you can go out and check your targets. If you look the the target on the right, you can see that some put a nice cluster right on the bulls-eye.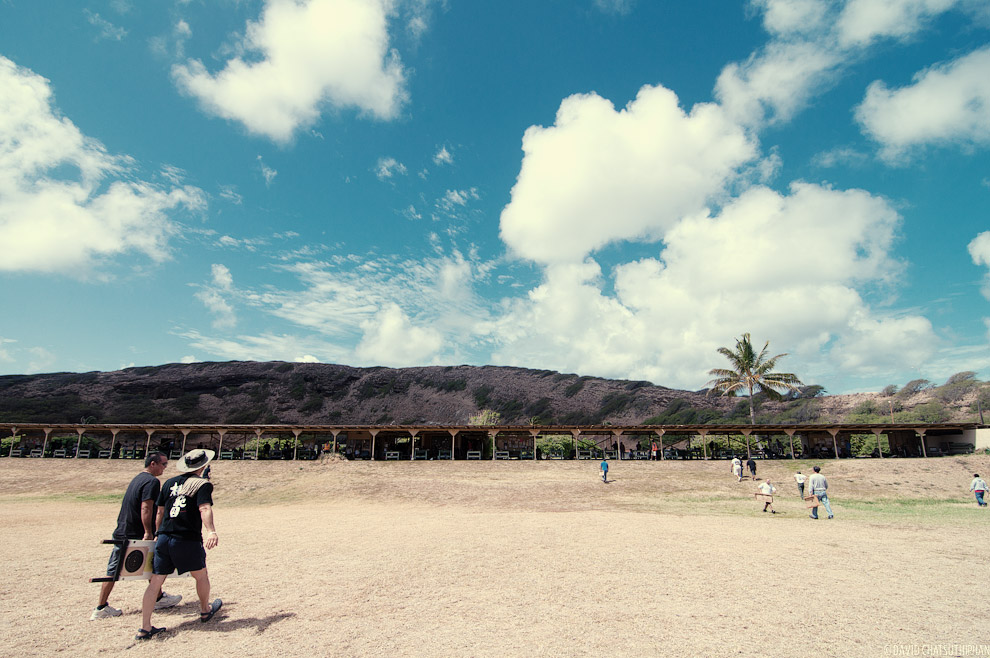 #17
Don't linger out here too long. They can't start shooting again until everyone gets back behind the line.
#18
Shooting is fun.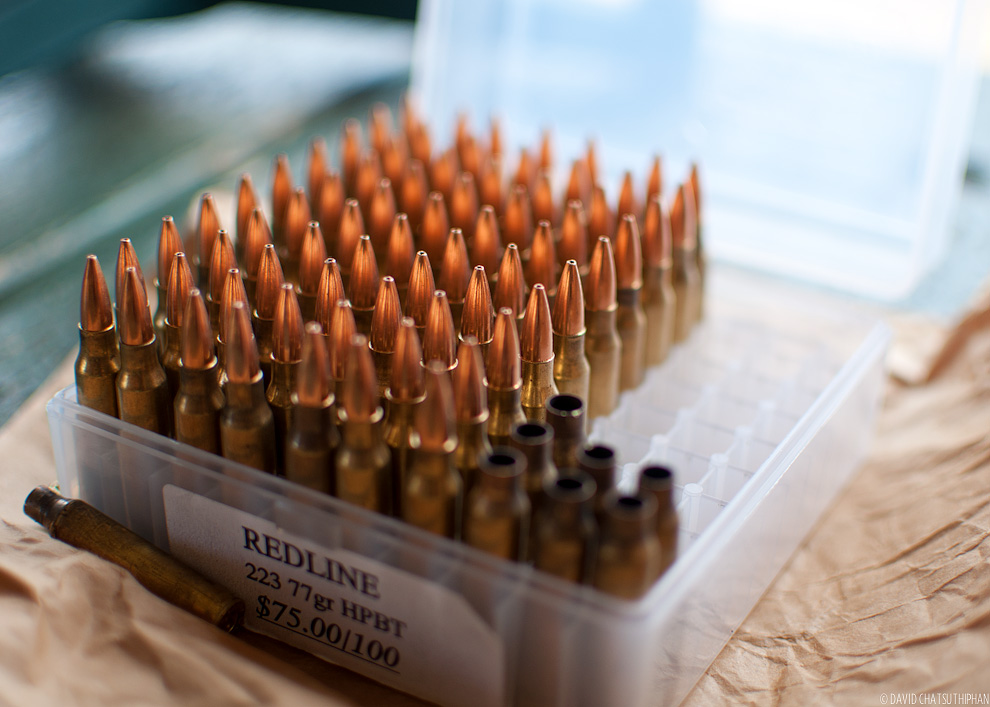 #19
After we finished out .22 caliber rounds, John moved us up to the assault rifles.
#20
The bullets were way bigger.
#21
Jen was happier with the bigger weapons.
#22
With the assault rifles, your face comes right up to the sight.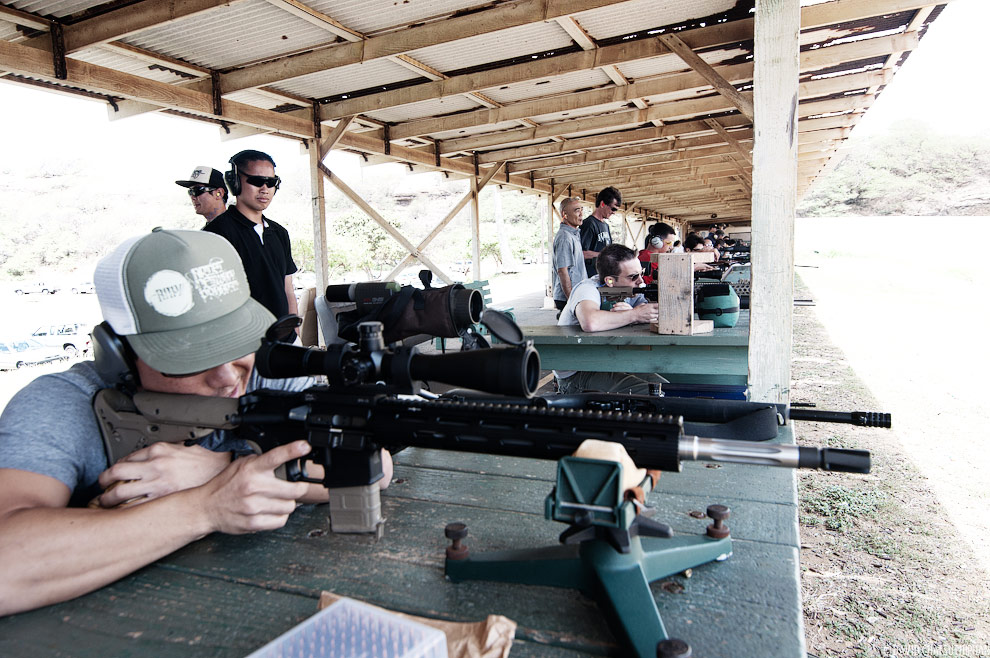 #23
Time to send 'um.
#24
And this time I'm getting some help from a spotter.
#25
We started off shooting the 100 yard targets and then Jeff set the scope for the 250 yarders. He also had to adjust it to account of the wind. (Koko Head is on the windward side of Oahu.)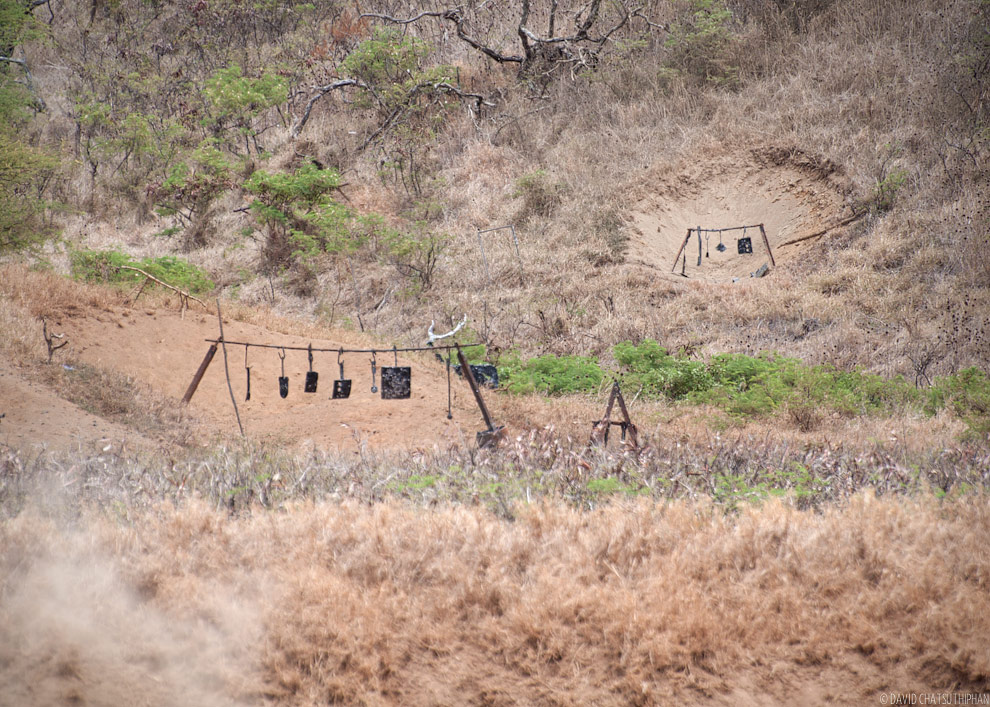 #26
At 250 yards out there's a set of metal targets. The one's further back are 300 or 350 yards out.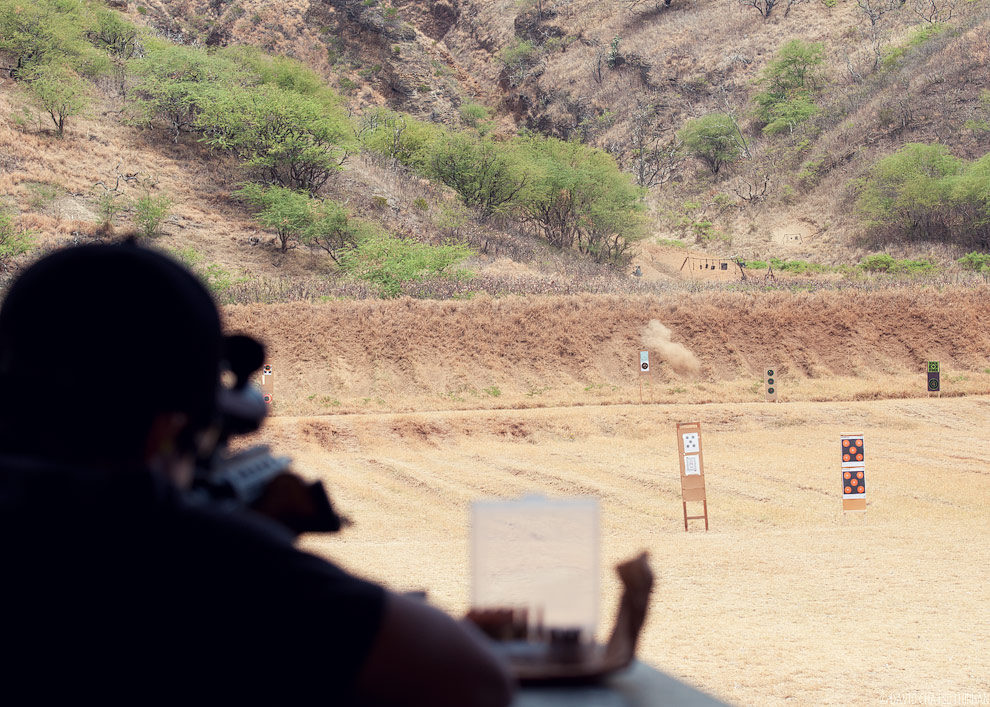 #27
From the benches you can barely see them.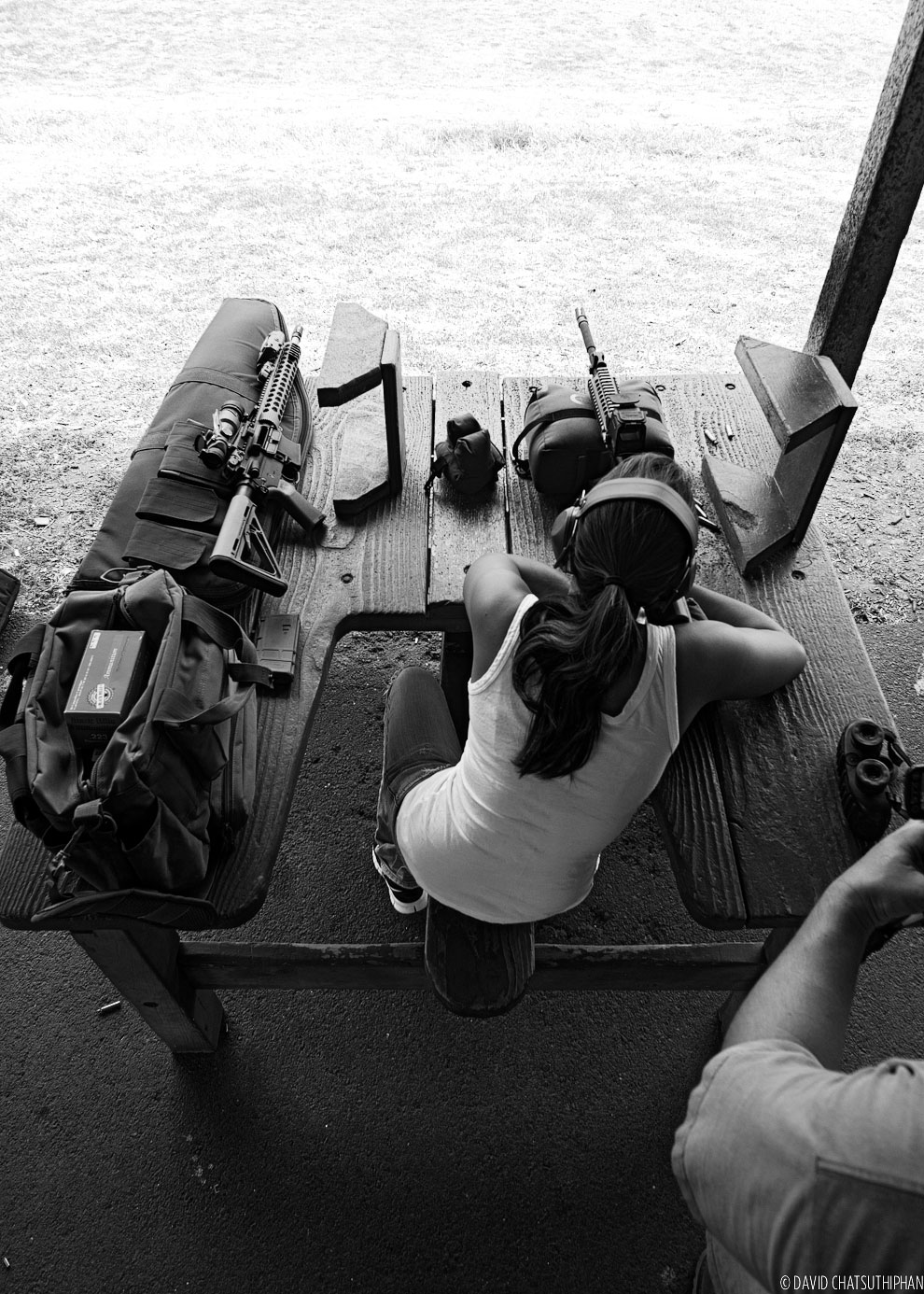 #28
This place is awesome for shooting photos as well.
#29
See what I mean?
#30
Gun porn. This thing is beautiful.
#31
More gun porn.
#32
Even the bag you rest the rifle on looks cool. There's a mount for the front and this bag for the base of the rifle. The idea is to get the gun situated so that the cross-hairs are still on your target, even if you're not touching the weapon.
#33
Don't forget to peel off you targets as mementos. This was an awesome experience. Mahalo to John and Jeff for their instruction. This was an epic way to start the day off with a bang. (See what I did there?)
To get an idea of what it feels like being at the Koko Head Shooting Complex, you should check out John's video from the day.
See also: