#1
Somewhere in Kaneohe, tucked away under a house, there's a cave where two monkeys climb.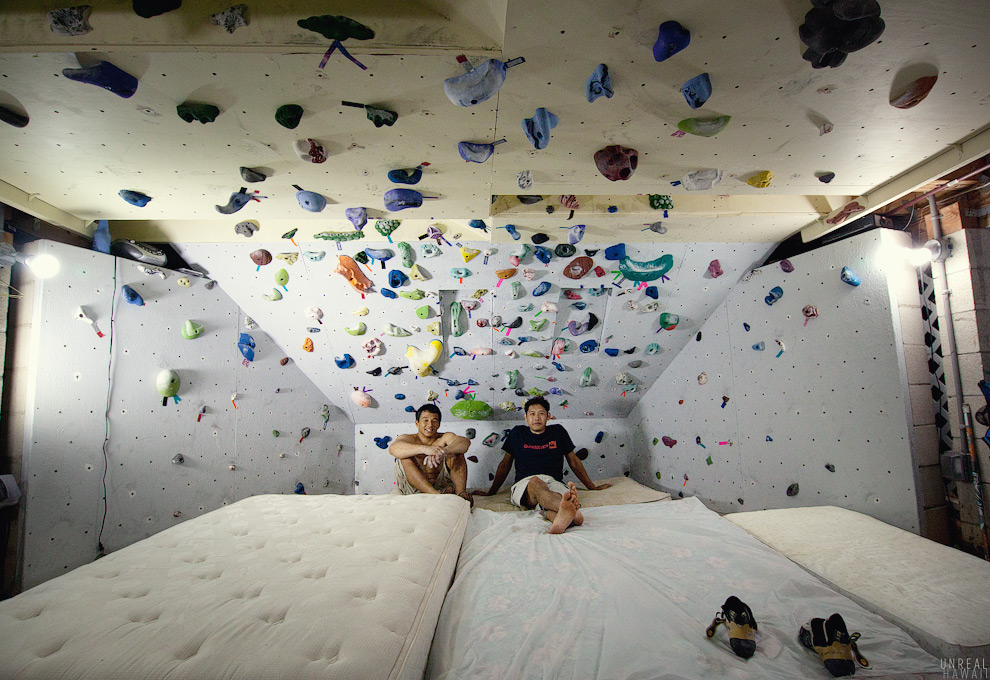 #2
Above
Clifton Hashimoto and Kyle Goto in the Monkey Cave. A home rock climbing gym in Hawaii.
They are named Cliff and Kyle and this is the Monkey Cave.
The Monkey Cave is a home rock climbing gym that the two guys built under Cliff's house. They built it because, at the time, there was no rock climbing gym on the island and they needed a place to climb at night or when it was raining. It took them a year to complete and they did everything themselves.
If you have ever seen Cliff or Kyle climb at Volcanic Rock Gym and wondered how they got so good, well this might have something to do with it. Of course, they are also both naturally freakishly strong.
#3
Cliff is a veterinarian.
#4
Kyle is a baker.
#5
Cliff's wife Elise documented the entire construction process and produced this amazing book.
#6
I got to hear the story of how the gym was built. It's a lot more complicated than I would have imagined.
#7
They had to dig out a bunch of dirt from under the house to make more space. Then they called in a concrete truck to pour a foundation.
#8
The process was quite a commitment. The two guys spent all their free time on this project. They basically gave up climbing for a year to get the cave built.
#9
Those cinder block walls were built up by Cliff and Kyle and then cut down to form the angle for the overhanging wall.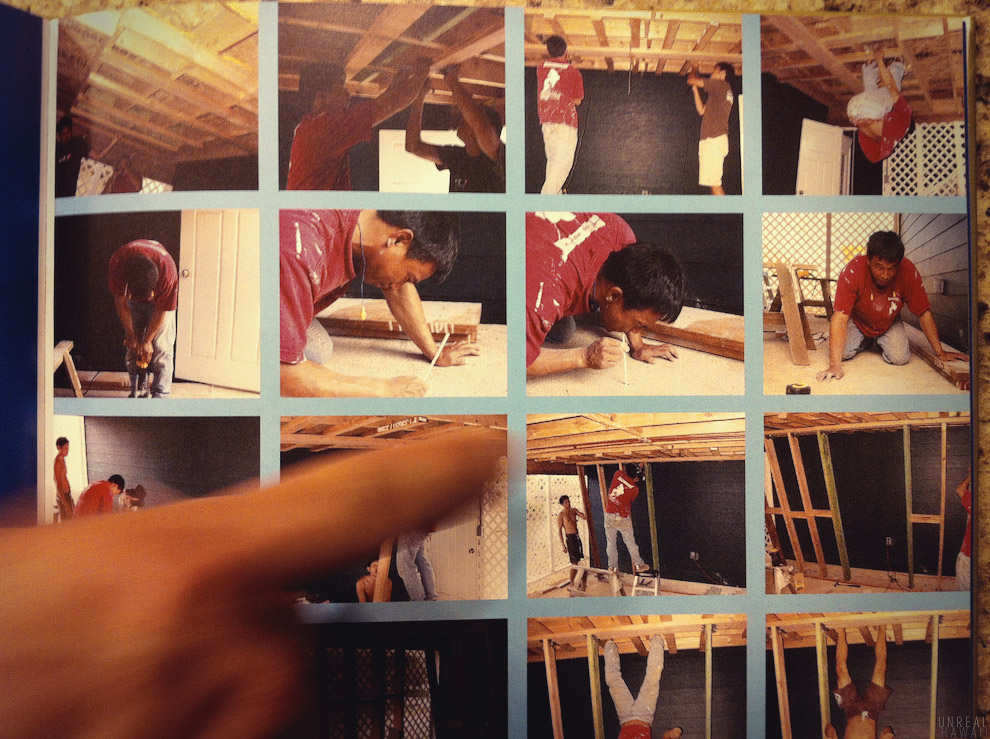 #10
These photos show the incredible amount of work that went into constructing the Monkey Cave. It's especially impressive since these guys have no training in construction. Not only did they figure out the logistics of it all but this is a huge amount of labor for two guys with full-time jobs. Cliff even had to halt construction for a month or two to learn how to do electrical wiring (by reading a book). And then once the room was all framed up, they had to drill all the holes for t-nuts that the climbing holds screw into.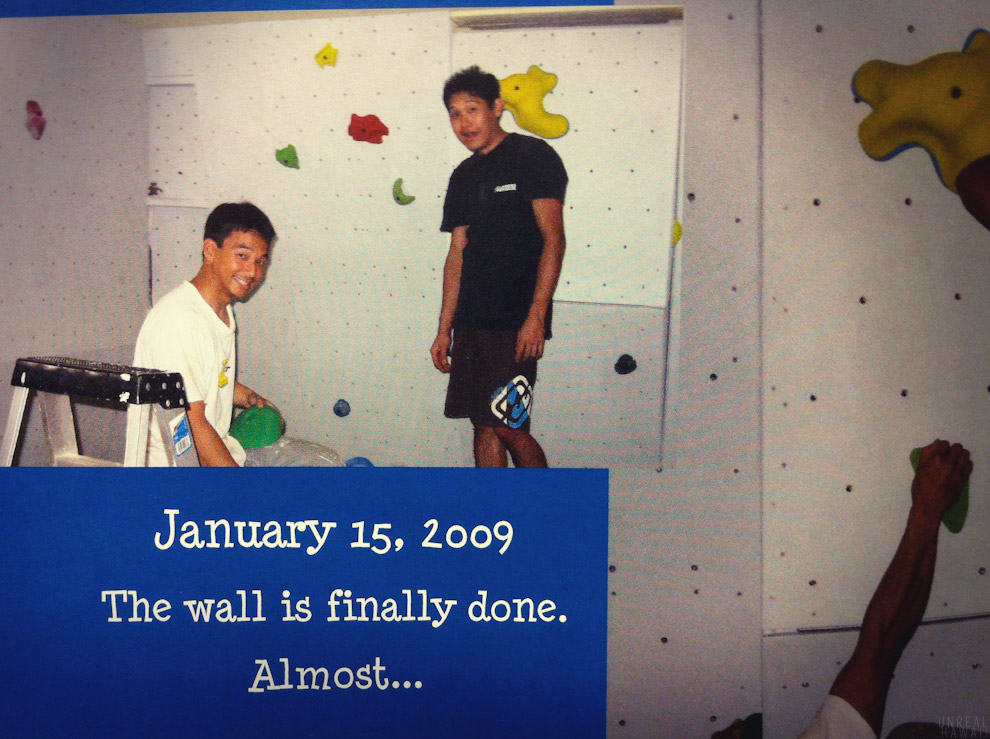 #11
When construction was finally done they could finally set some routes.
#12
Every wall is covered with holds.
#13
And because the gym mostly caters to their skill level, the problems here are not easy.
#14
You can get really good at hanging upside down (with all four points of contact on the ceiling) by climbing here. Kyle makes it look effortless, but if you've ever tried it, you know that the strain placed on your fingers and forearms while you're in this position is tremendous.
#15
I think the phrase Cliff used was "relentless roof." Some problems take you from one wall, across the roof, and then all the way to the other. Your forearms are dead when you're done.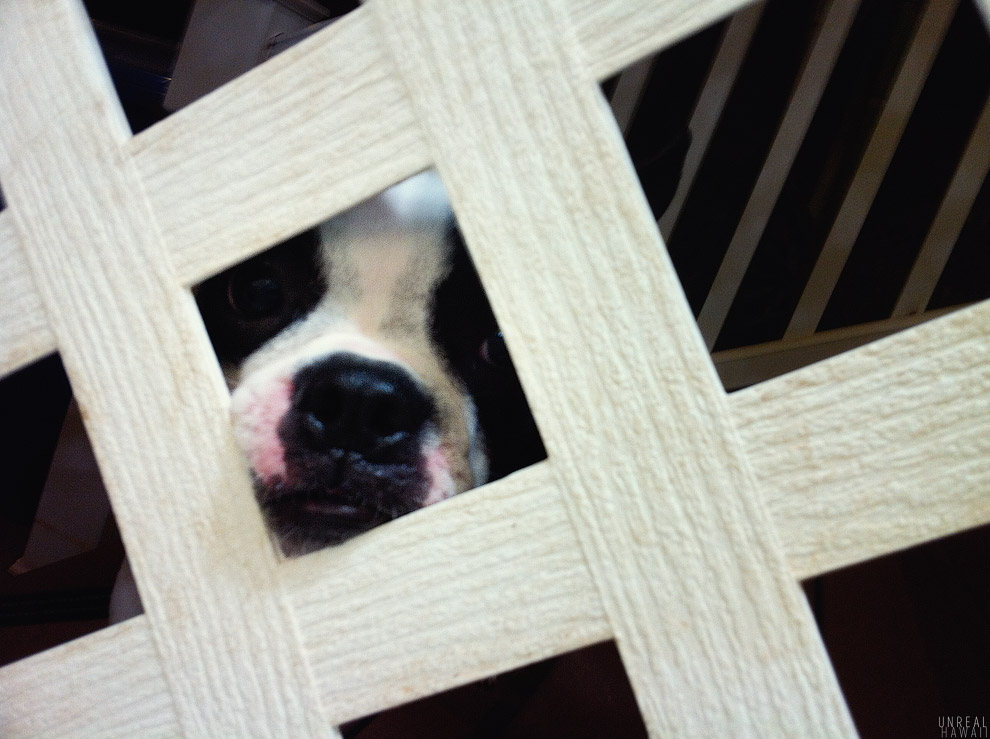 #16
Awwwww puppy. (Kyle's dog)
#17
I met Cliff well over a year ago and I knew about his home gym but this is the first time I've been here. He has parties here sometimes where a bunch of people cruise out for a potluck and climbing session but I've never been able to make it (on that one time I was invited).
But, on this night, I wasn't here to climb. My buddy Brad and I were here to interview the guys.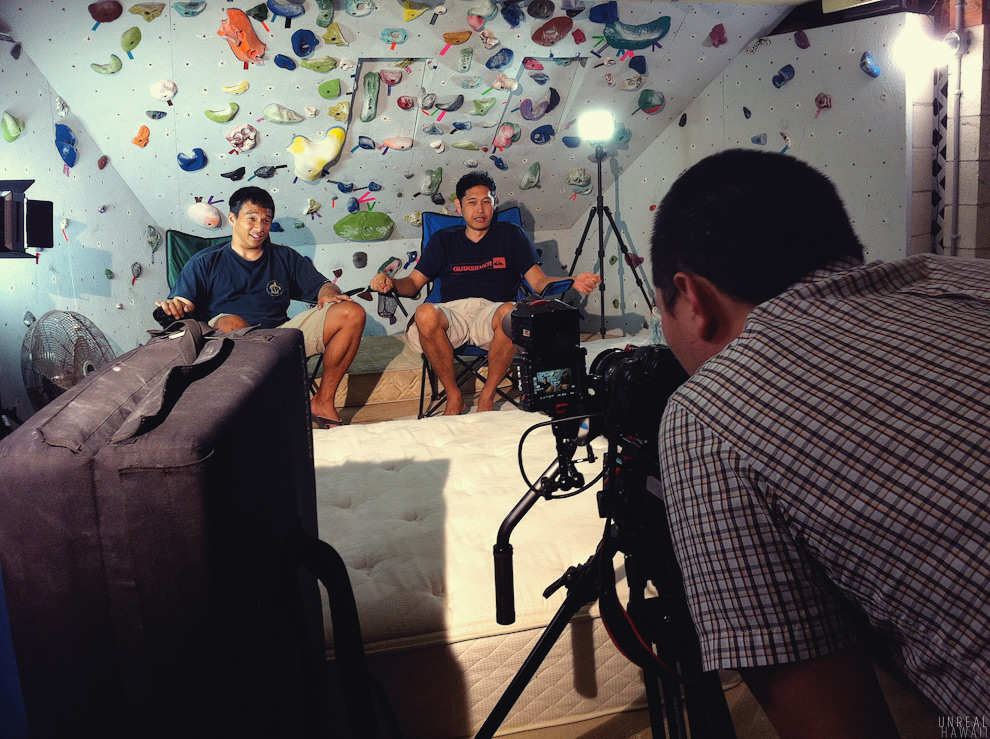 #18
Brad runs a local video production company called Berad Studio and is making a video segment for Hawaiian Skies, the video magazine for Hawaiian Airlines. This interview on Monkey Cave will be part of it. We were interesting in hearing the story of how and why these guys built the gym.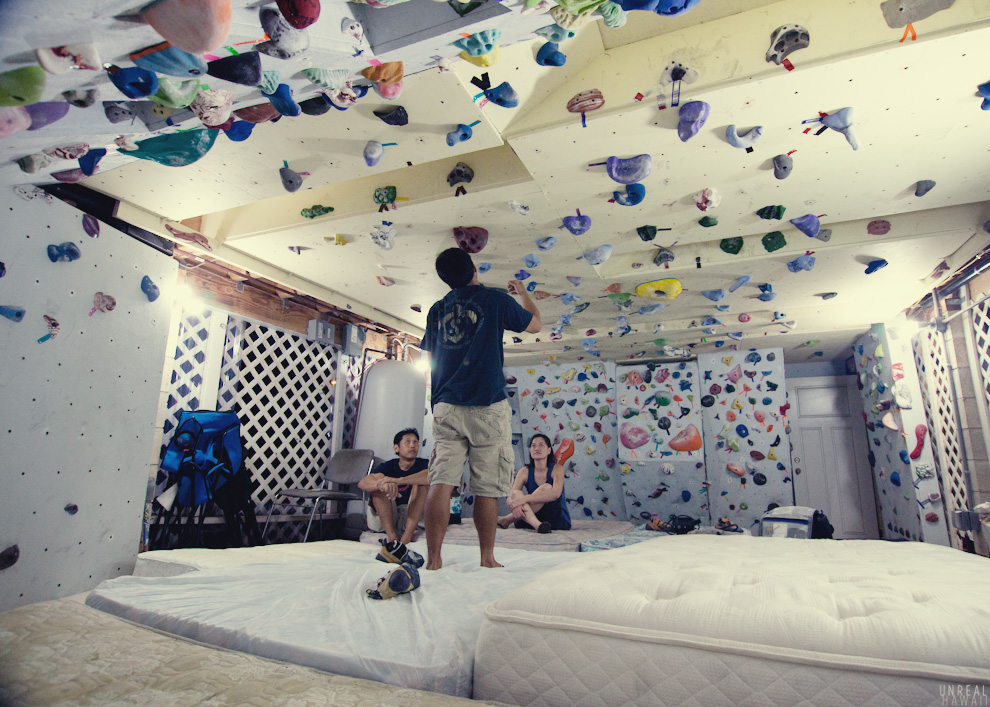 #19
A big thanks goes out to Kyle, Cliff and Elise for having us. And, a huge thank you to Elise for making a delicious dinner!
UPDATE 2/29/2012:
We've completed the video and it's playing on Hawaiian Airlines flights. You can also watch it online here.