A few miles off the coast of Maui is a crescent shaped island called Molokini Crater.
The island is actually the tip of a submerged volcanic cone (or crater). Molokini Crater is known as one of the best places to go snorkeling in Maui.
Photos and text provided by Pride of Maui.
There are a several things that make snorkeling at Molokini unique. The main one being its location. Being an isolated islet, you'll be treated to clear water and a healthy reef. And because you snorkel inside Molokini Crater, you'll be protected from waves and dangerous currents while you dive.
Snorkeling at Molokini Crater is also unique because Molokini is an official Island Marine Sanctuary in Hawaii. It's a place where thousands of fish live and feed off the reef. During your trip to Maui, this experience is not to be missed.
Getting to Molokini Crater. Â Â Â Â Â Â Â Â Â Â Â 
Pride of Maui offers several tours that take you to Molokini Crater. You can snorkel at Molokini, snuba or both. Their most popular snorkeling tour is the famous "Molokini and Turtle Town Morning Excursion".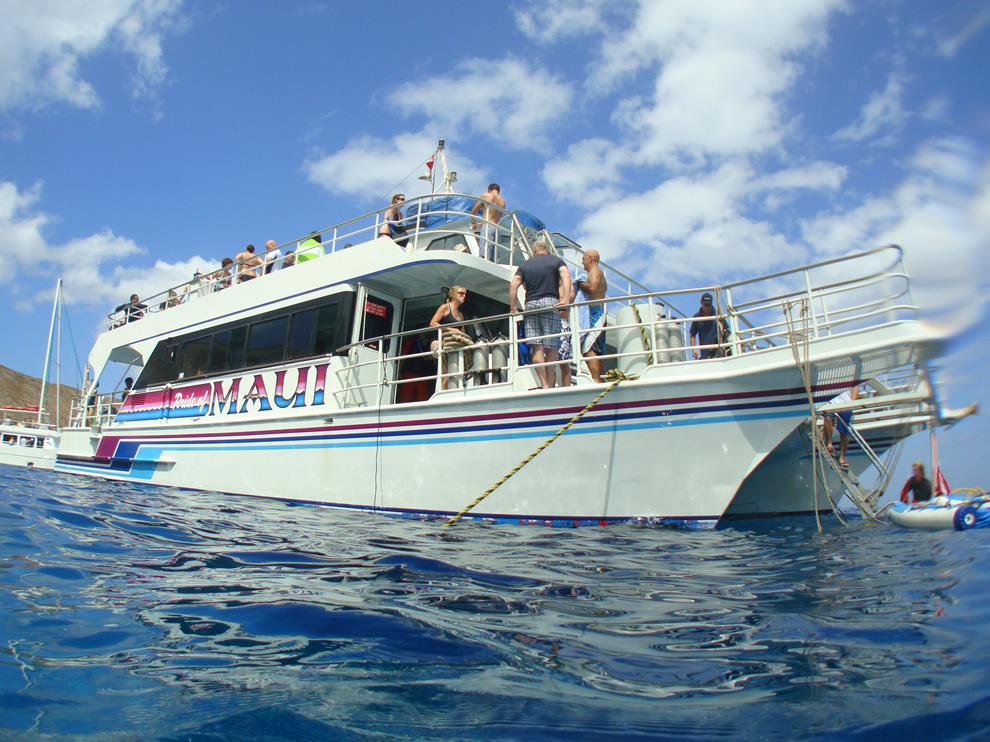 You'll travel to the island on a 65-foot Pride of Maui catamaran. With 2,500 square feet of open deck area on the Pride of Maui, you'll have plenty of space to relax during your five-hour snorkeling tour.
During the trip out to the crater, you might even be treated to sights of Hawaiian spinner dolphins or humpback whales as they migrate off the coast of Maui.
What you can see while snorkeling Molokini
In this Maui marine reserve, snorkeling lets you get up close and personal to over 200 species of fish living off the reef. Manta rays have also been known to frequent Molokini Crater. And on one snorkeling tour, a whale shark even came by the crater. (Whale sharks feed off microscopic plankton and pose no threat to snorkelers.)
Learn more about Pride of Maui's snorkeling tours to Molokini Island and reserve your tour today.