#1
If you live on Oahu you know that we've been having incredible sunsets all week. There's vog (vog = smog caused by volcanic gases) in the air and as the sun sets, the skies glow red.
I was surfing on Saturday and noticed that the skies were completely overcast. Sometimes this ruins the sunset but other times the clouds actually intensify the redness of the sky. The clouds spread the colors of the sunset across the sky which then reflects off the ocean.
I took a gamble, cut my surf session short, went home to grab my camera gear and drove out to Portlock Point to see what the sunset would look like. The skies were grey the entire drive out to Hawai Kai. But right when I stepped out onto the cliffs at Portlock, I saw a sliver of pink on the horizon.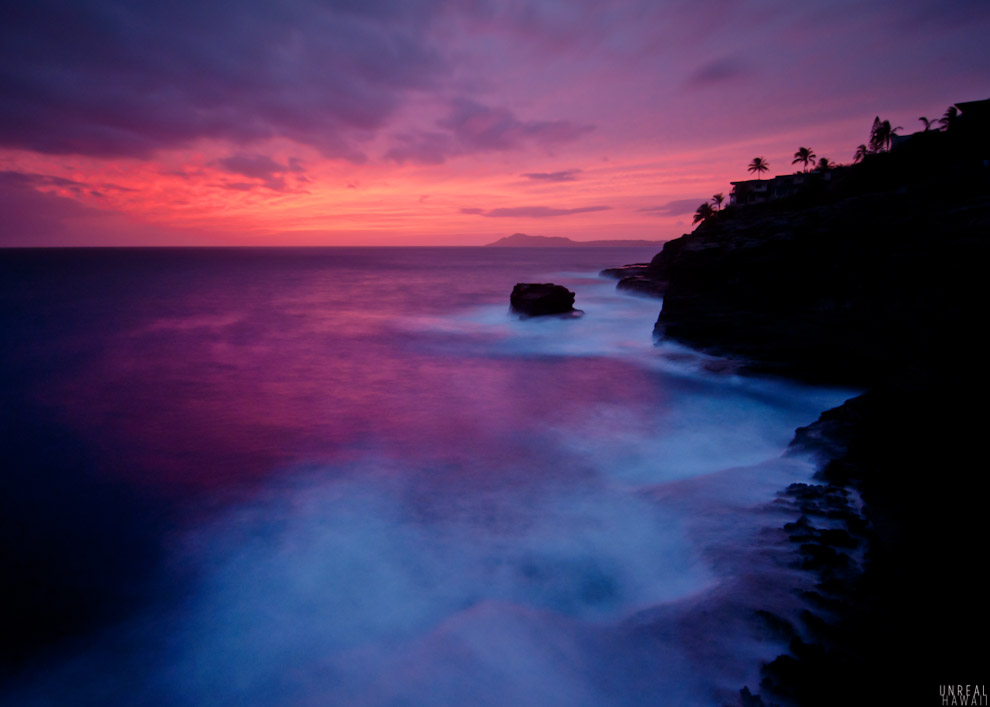 #2
A few minutes later, I saw this. I was happy to see that I didn't drive out there for nothing. The skies caught fire. Facebook and Instagram were flooded with photos of the sky as seen from my friends all across the island. It was an incredible sight.
#3
Above
Views of the voggy red skies over Portlock Point on the south east coast of Oahu.
As the sun set, the skies still glowed pink and purple but the water turned blue again. The intense red sky was a fleeting sight. It came and went in a matter of 15 minutes.
I just started learning how to take these types of photos so they are not nearly as clean as I wanted. But, I'm not sure when I'll be able to catch this moment again. To be at this location and see this view was unreal.
See also: