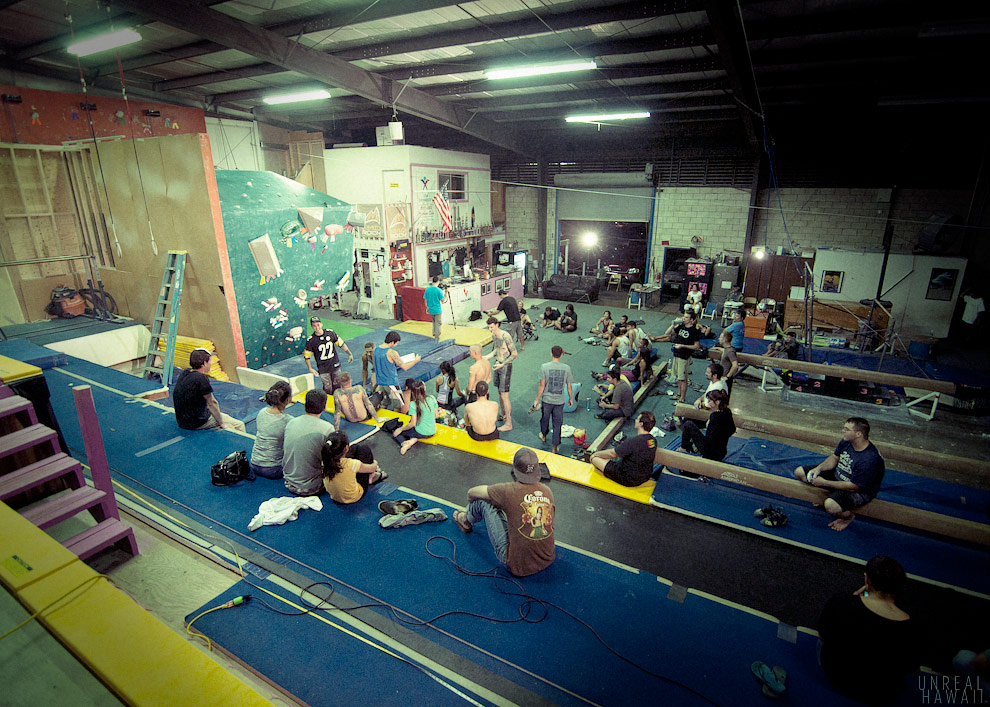 #1
* * *
UPDATE (1/4/2015): Volcanic Rock Gym has moved to Kailua. See Volcanic Rock Gym – Kailua, HI.
* * *
This event took place in February 2012.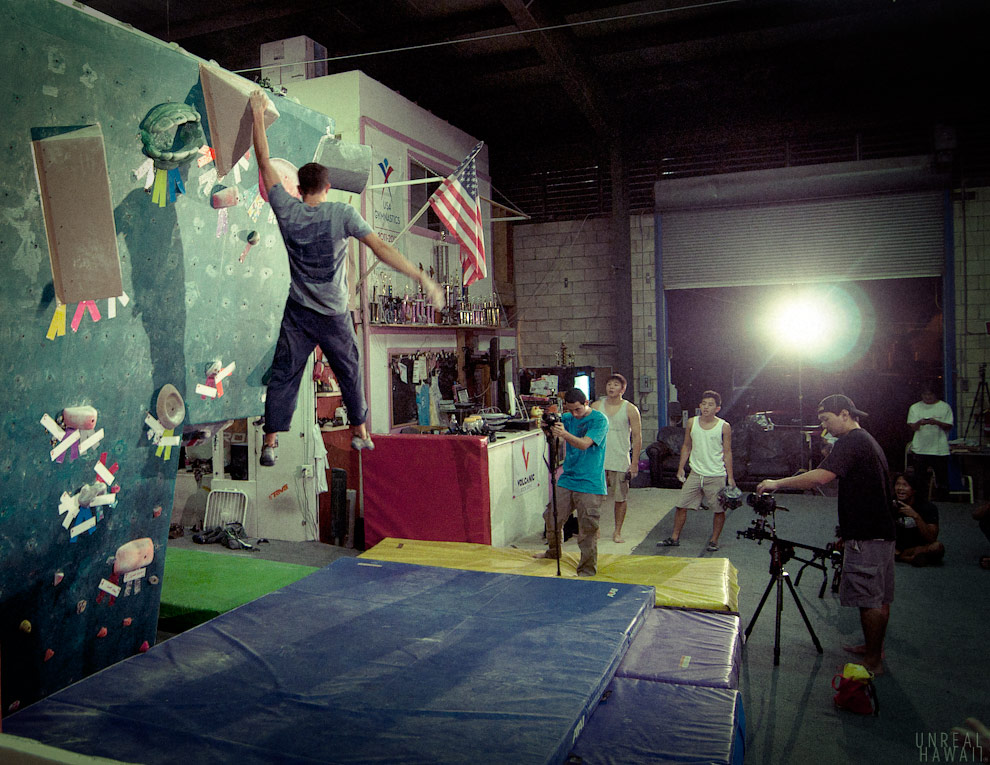 #2
A group of Hawaii rock climbers gathered at the rock climbing gym to have fun trying to nail some crazy dynos.
#3
A "dyno" is a rock climbing move where you fling your body from one spot on the wall to another.

Above
1) The crowd at Volcanic Rock Gym, Waipio, Oahu, Hawaii. 2) Beau Elliot levitates. 3) Bryce Yafuso goes almost parallel. 4) Video by Berad Studio.
Brad from Berad Studio came out to capture the event in slo-mo.
The idea is this. In some rock climbing routes, typically in bouldering, there are holds so far apart that the only way to get from one to the other is to jump. You crouch low, then pull up with your arms and push off with your feet to launch yourself at the far hold. If you catch it you are all good. If you don't you fall. At the gym, we were able to stack pads on pads so that falling would be safe, fun and funny.
At the gym, several dynos were set up with different levels of difficulty and climbers could compete to see who could get the most done.
#4
Justin Ridgely explains the rules.
#5
Matt sticks a dyno. Ian is on deck.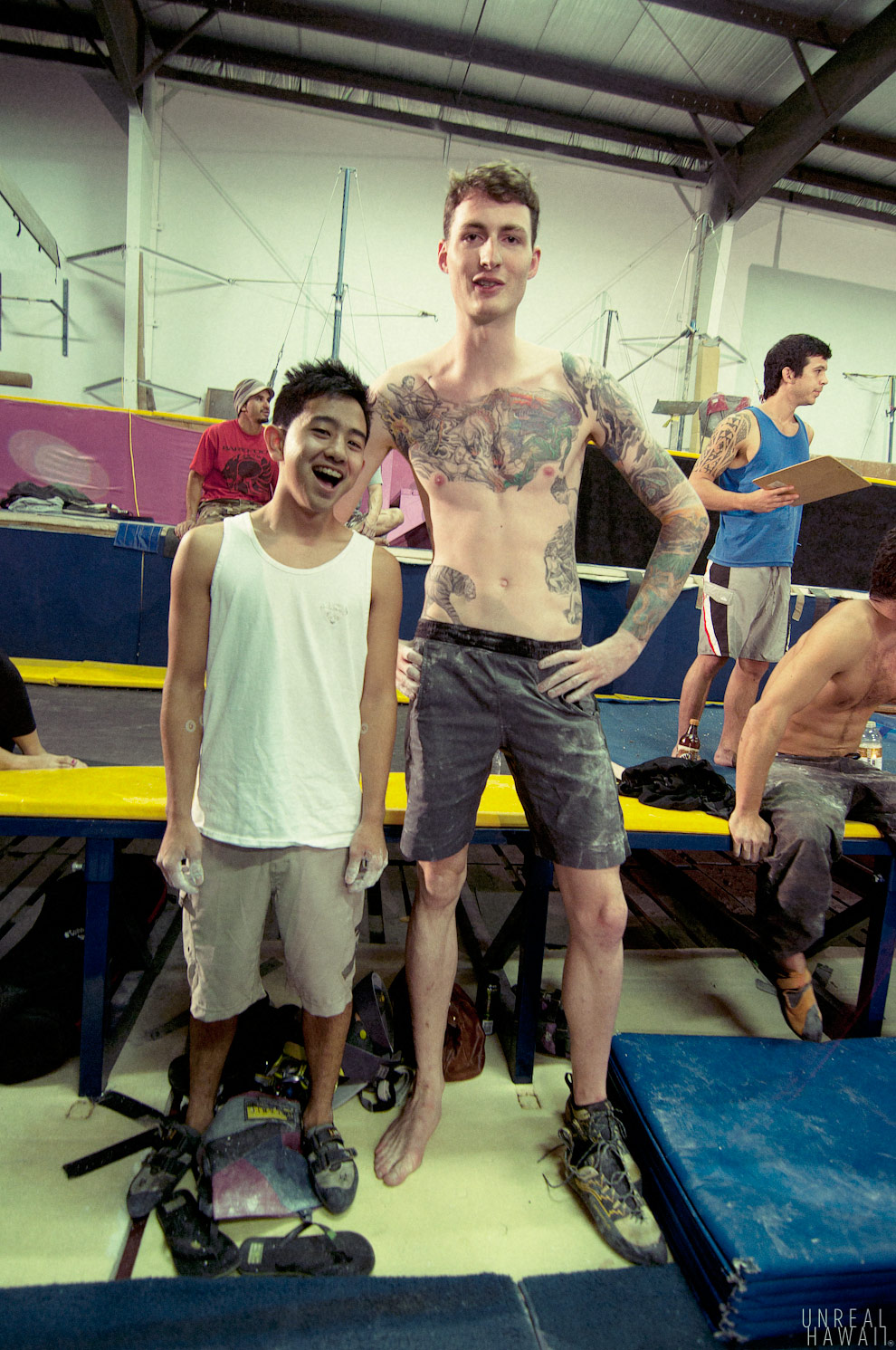 #6
Bryce and Harry.
#7
The crowd lines up to get on the wall.
#8
Justin on the wall.
#9
Matt throws himself up high to grab the hold.
#10
Hiro and the crowd watch.
#11
Phil grabs the bucket.
#12
I'm gonna guess and say this is Nancy.
#13
Cody and Bryce on deck.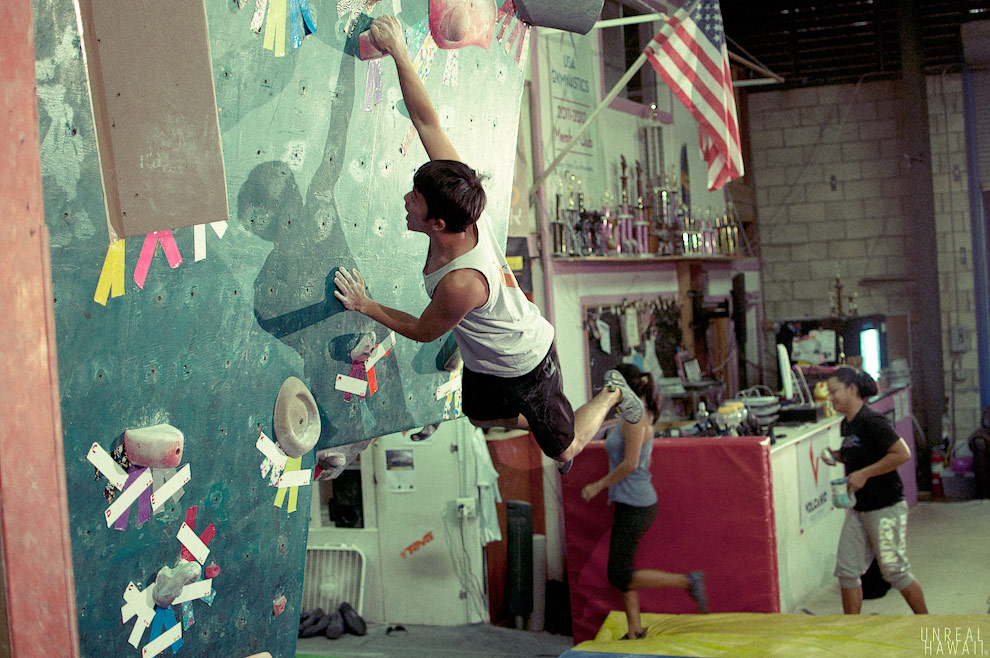 #14
Cody Yafuso swings out after sticking dyno.
#15
Hiro keeps score.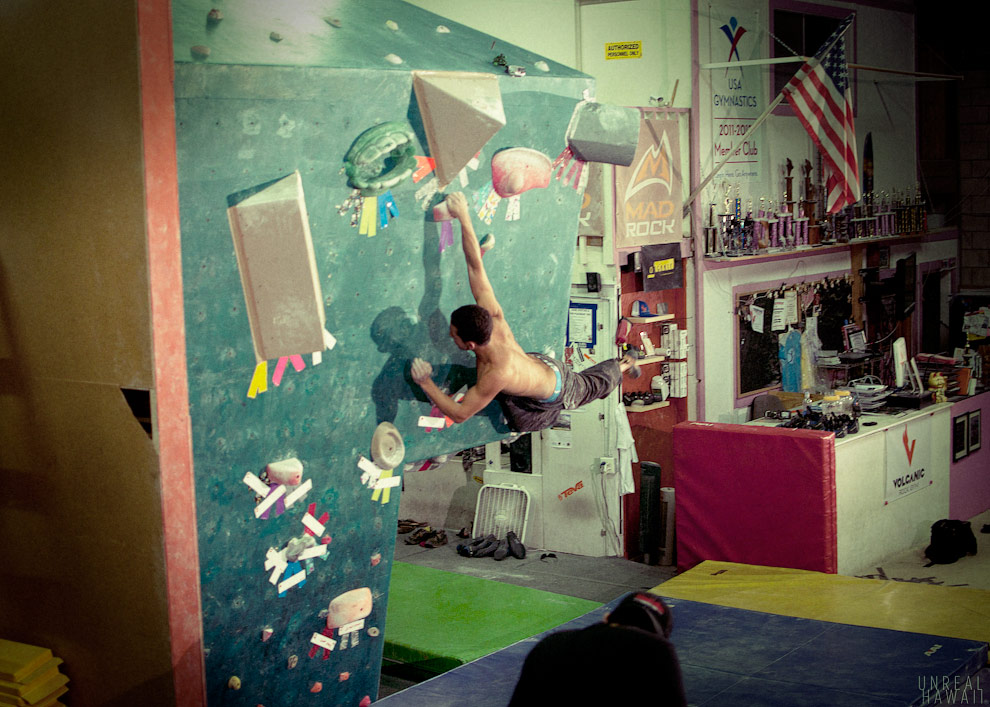 #16
Matt goes sideways.
#17
Dennis hits the pyramid.
#18
Justin.
#19
Harry.
#20
Matt.
#21
Matt gets a boo-boo.
#22
Jimmel places 3rd.
#23
Matt placed 2nd.
#24
Harry takes 1st. Wins a VRG hoodie and the coveted VRG custom torn and beaded garment.
#25
After the comp, we turned off the lights and watched the 12-minute Hawaii Bouldering video that we had just released.
Thanks to all the Hawaii rock climbers that cruised out to compete. And thanks to Volcanic Rock Gym for hosting this super fun event.
See also: