#1
Something around 40,000 people attend the Lantern Floating Hawaii ceremony. Here, crowds of people cross Ala Moana Blvd to walk to the beach.
#2
It feels like you're at a concert.
#3
This being Hawaii, even with the enormous crowd, you'll still run into people you know. We ran into our friends Topher and Doc Rock. This was my first time going to the Lantern Floating Hawaii ceremony and Doc gave me some really good advice on where to take photos.
#4
The main stage and most dense crowds are on Magic Island.
#5
If you want to have a bit more breathing room you can walk further down the beach park (towards Kewalo Basin) and you'll see the crowd becoming less dense.
#6
Lantern Floating Hawaii is an annual ceremony held on Memorial Day in Honolulu. Lantern floating has it's roots in Japanese Buddhist tradition but this ceremony, while organized by the Shinnyo-en Buddhist Order in Hawaii, is meant for all. Anyone can participate and observe. The intent of the ceremony is to remember our loved ones who have passed away and bring people together.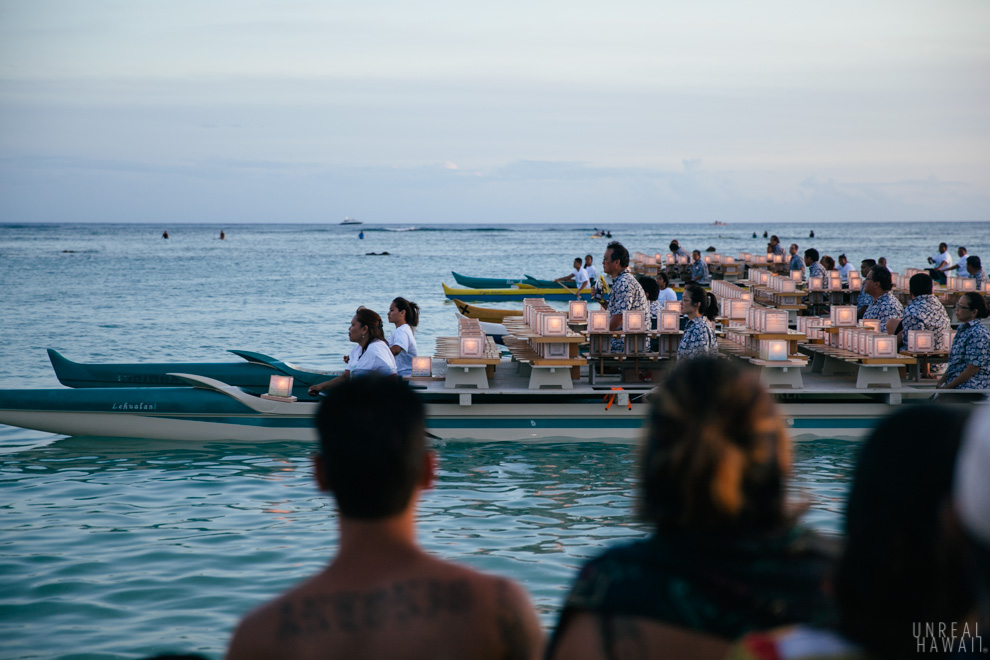 #7
Lantern Floating Hawaii goes from 6 to 7:30. The first set of lanterns to float are the "Collective Remembrance Lanterns." The full list of elements of the ceremony are all outlined here.
#8
Once the Collective Remembrance Lanterns are released from the canoes, everyone else can begin floating the lanterns with personal dedications.
#9
About 5,000 lanterns were estimated for this year. The lanterns are made by Shinnyo practitioners, individual volunteers and groups from schools, businesses and organizations.
#10
People that wish to float lanterns line up in the morning at Ala Moana Beach Park. They are provided with a lantern (for free) and can write dedications on them.
#11
Surfers paddle in a bit to get a good view of the ceremony.
#12
As the lanterns float out, everyone takes pictures. I think that's what makes this ceremony successful. People want to pay respects to their fallen loved ones and in doing so they collectively create this beautiful scene. This beautiful scene in turn draws crowds of spectators which then makes the event more meaningful and substantial.
Here are some scenes from the ceremony:
#13
#14
#15
#16
#17
#18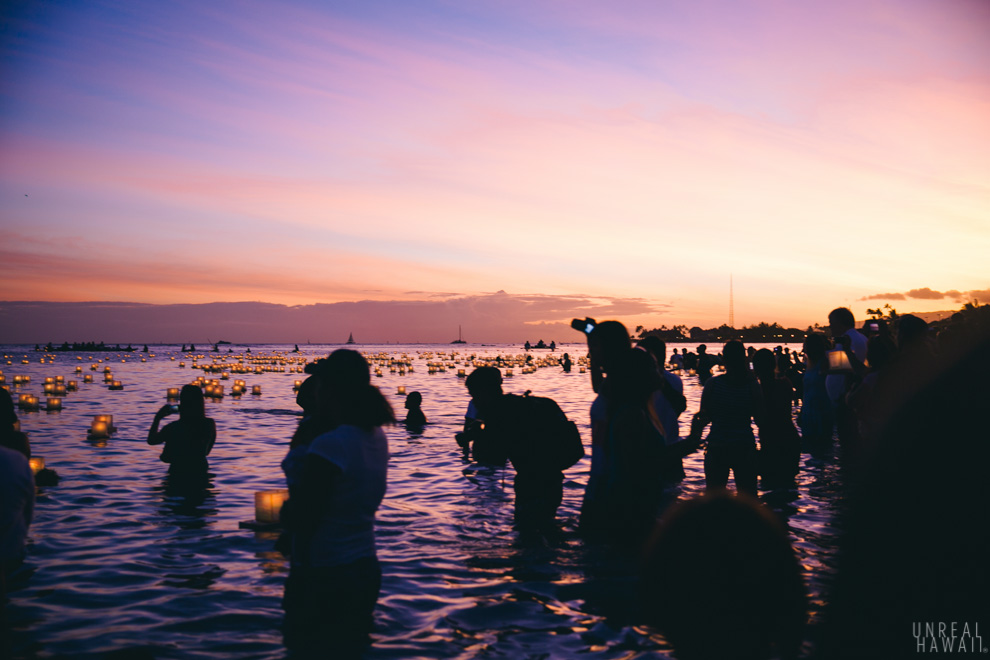 #19
#20
#21
Fittingly, we were treated to a beautiful sunset this evening that turned the sky pink.
#22
As the sun set, all you could see were glowing dots along the water.
#23
The ceremony comes to an end at nightfall and people help push the lanterns out to sea.
#24
The lanterns don't float out too far though. The current takes them down the channel at Ala Moana Beach Park. They are then collected by boats and will be refurbished for next year's ceremony.
#25
We saw the occasional flying lantern as well. These are launched from the crowd illegally though. Flying lanterns, I guess, are not the safest thing in the world so we'll just have to imagine how amazing a Flying Lantern Hawaii ceremony might be.
#26
When the ceremony ended we walked back towards Ala Moana Blvd. I happen to live really close by so I just walked home. My guess is that most people are walking to their hotel in Waikiki or to a car parked at Ala Moana Shopping Center or at the Hawaii Convention Center.
Learn more about Lantern Floating Hawaii: