#1
On the third and final day of our backpacking trip, we hiked out of Haleakala Crater.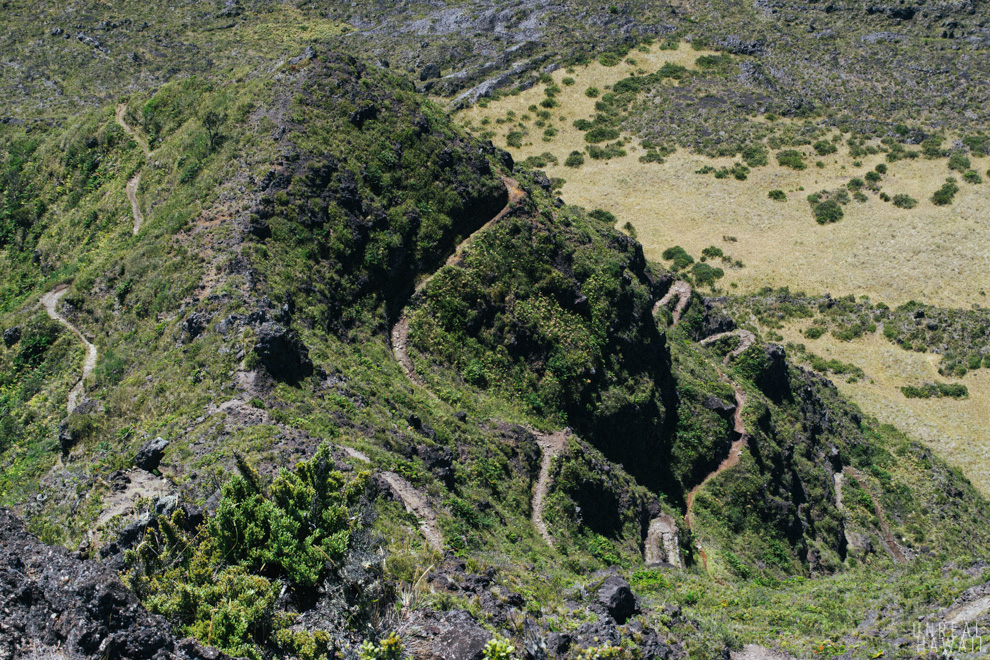 #2
Getting out of the crater involves hiking up this series of switchbacks. The elevation gain is about a thousand feet.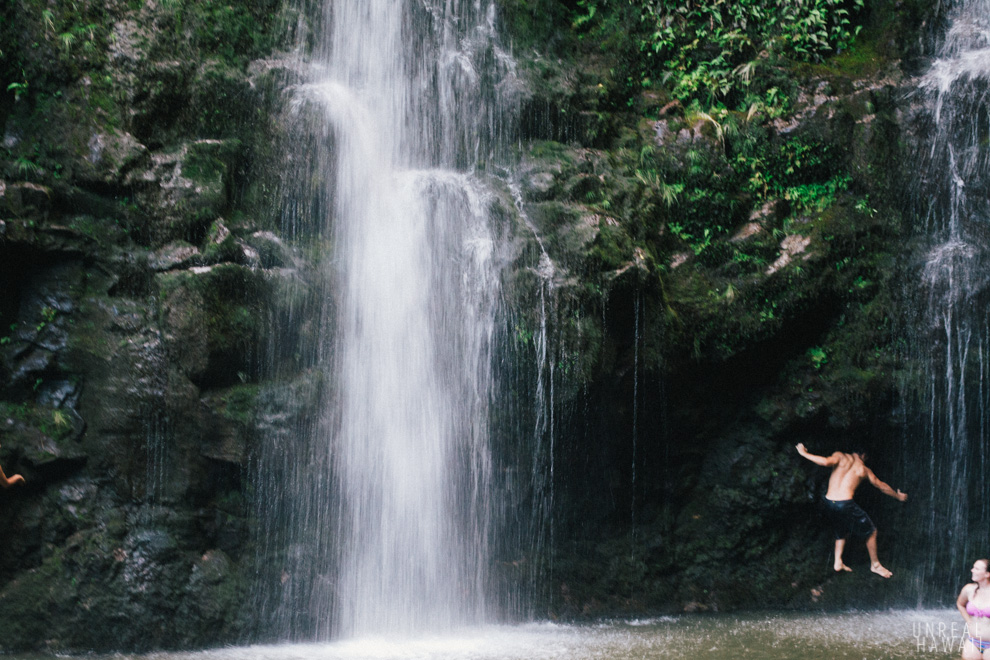 #3
We then drove our stinky bodies out to Hana to rinse off in a waterfall.
To recap, our itinerary looked like this:
If you look at the map of Haleakala Crater (PDF), you can see that our route forms a triangle inside the crater.
The crew on this trip: me (David), Christina, Josh, Carli, Thomas and Sean.
This was another enjoyable day of hiking. It would involve hiking a long series of switchbacks, but I kind of like hiking switchbacks. The hiking would be easier now since we had eaten all our food and our backpacks were lighter. And knowing that we would only be covering about 4 miles, we didn't need to carry that much water (2 liters would suffice).
Being that we were at close to 7,000 feet above sea level though, we knew that we should take frequent breaks to let our bodies adjust to the thin air.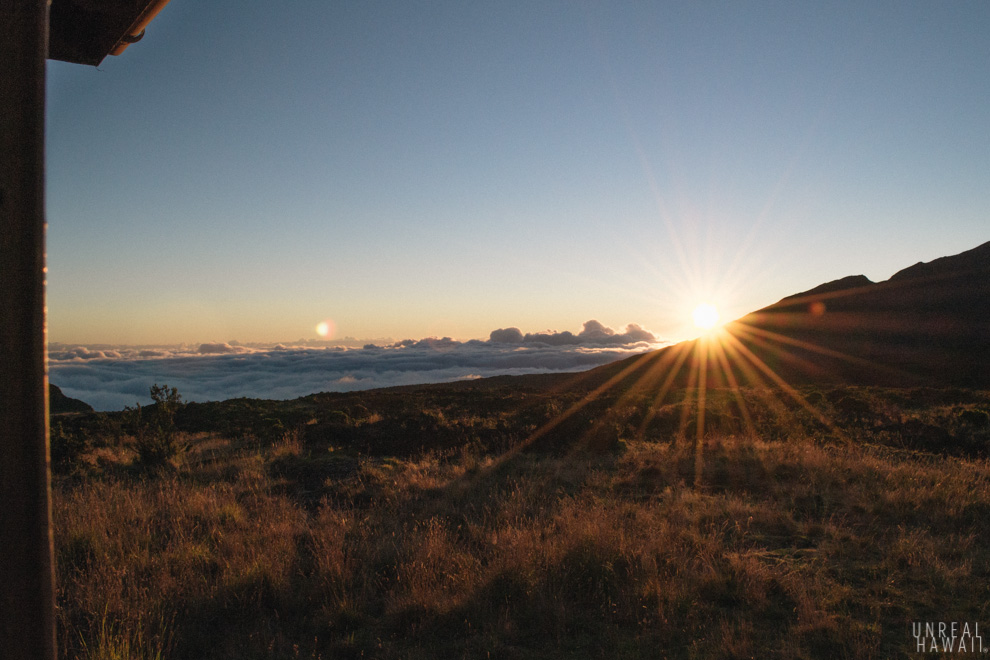 #4
The day started early. In the summer, the sunrise shines right into Holua Cabin and the brightness woke us up. I'd recommend setting your alarm for sunrise anyway so you don't miss it.
We got out of bed and took a bunch of pictures. Then we went back to sleep for a couple hours.
#5
Eventually we all got up, ate breakfast, cleaned up the cabin and packed up our gear.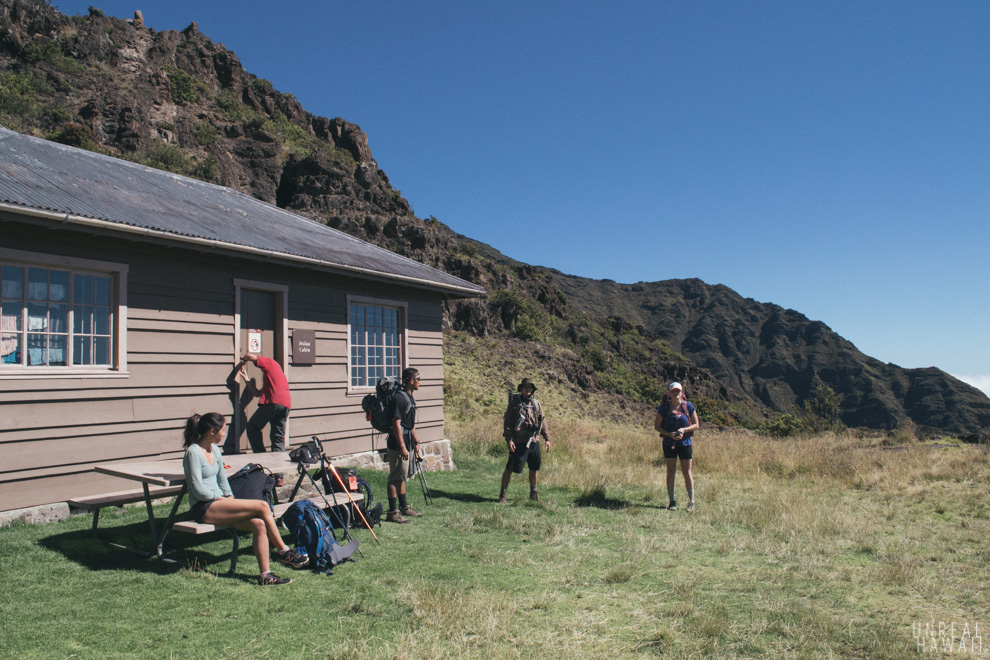 #6
Josh locked up the cabin and we were ready to hike our way out of Haleakala Crater.
#7
We would jump on the Halemau'u Trail and head toward "Park Road."
#8
The hike starts flat as you approach the crater rim.
#9
From here you can see the switchbacks that zigzag all the way to the top of the mountain. That's what we were heading up.
#10
From the ground, the switchbacks look intimidating but after a two days of hiking, our legs felt pretty strong and we were looking forward to the climb.
#11
You pass through a gate before starting the ascent.
#12
You gain elevation fast.
#13
At each turn the views got better and better.
#14
We paused frequently to let our bodies acclimate to the altitude. Thomas admired the view.
I remember feeling a tiny bit light headed as we started our ascent up the switchbacks. But that feeling went away after we took our first break. It's super important to drink plenty of water when hiking at high elevation.
#15
From up here you could see the clouds rolling into Haleakala Crater from the Ko'olau Gap.
#16
With a heavy backpack on, I think these switchbacks would be brutal but since we were doing this hike on our final day, no one seemed to have any problems.
#17
We were hiking above the clouds now.
#18
I believe that is the peak of Hanakauhi (8,907ft) in the background.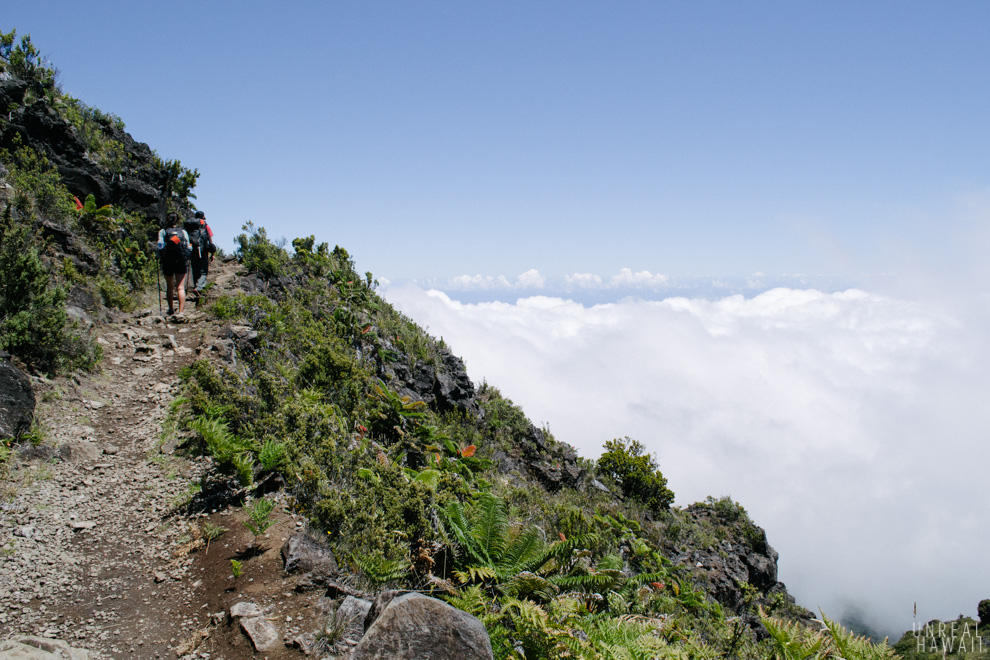 #19
We were approaching the top of the ridgeline.
#20
We could now see outside of the crater. This was the view looking North.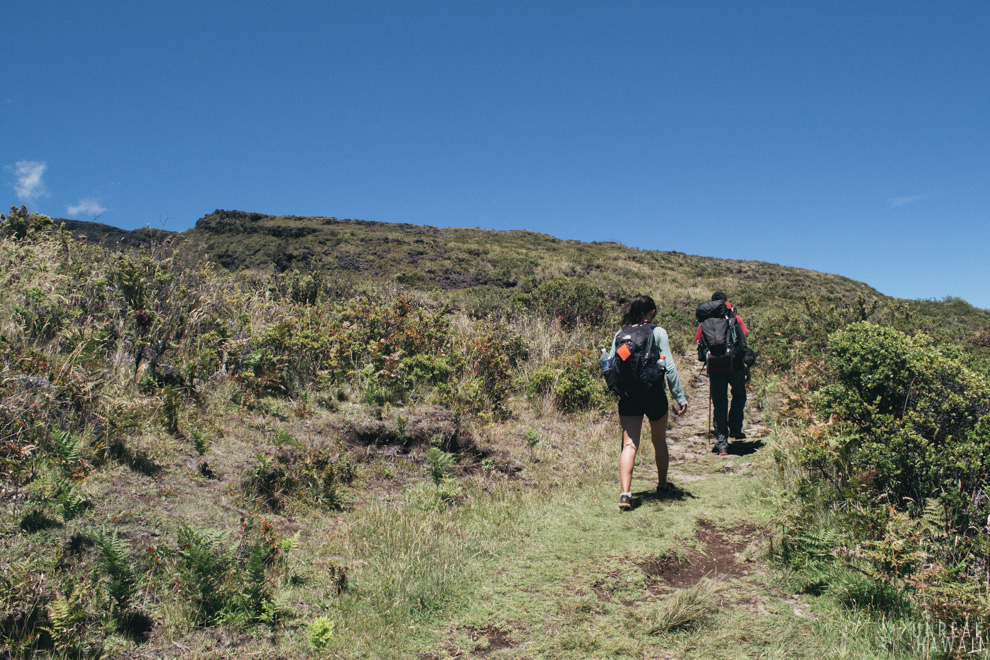 #21
Once on the ridgeline, the feel of the trail totally changed. You can feel that you're outside of the crater. It's hot, and the terrain looks more familiar (i.e., less like Mars).
#22
But there was one last lookout where we could soak in the view.
#23
And now, we would hike the .7 miles to the parking lot where we had parked one of our cars.
#24
After spending two nights in the remote wilderness area of Haleakala Crater, it felt strange to see all these cars. It was a welcome sight though as seeing these cars meant we would soon be able to obtain the one thing we all had on our minds. Pancakes.
#25
At the top we did some of this.
#26
And some of this.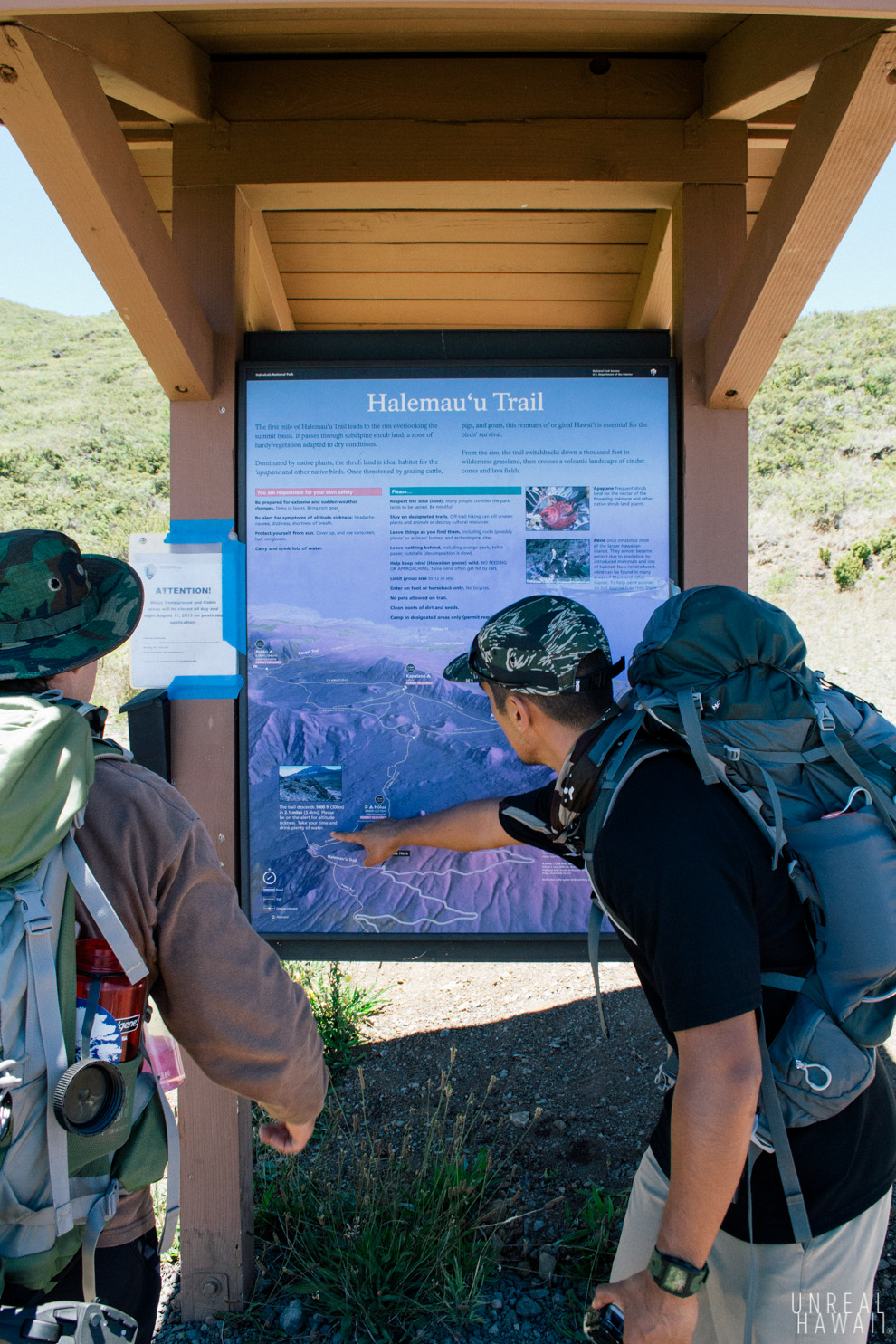 #27
There's a trail map up here and we were able to review our entire trip.
#28
Then we somehow managed to get all of our packs into the trunk of a Hyundai.
Then we drove up to the Haleakala Summit where we started our backpacking trip to pick up our other rental car. We had parked it there at the start of the trip.
Then we drove to IHOP (in Kahului).
#29
After IHOP, we had a bunch of time to kill. Our flights back to Honolulu weren't until later that night. Josh thought it would be a good idea to rinse off in a waterfall so we drove our filthy bodies out towards Hana.
#30
If you've ever driven the Road to Hana you know there are a lot of waterfalls along the way. We picked one that would be good for swimming.
#31
The water was flowing perfectly. Not too heavy, not a trickle.
#32
The walls of this little gulch are lush.
#33
After "showering" with those camping bath wipe things for two days, swimming under a waterfall felt amazing.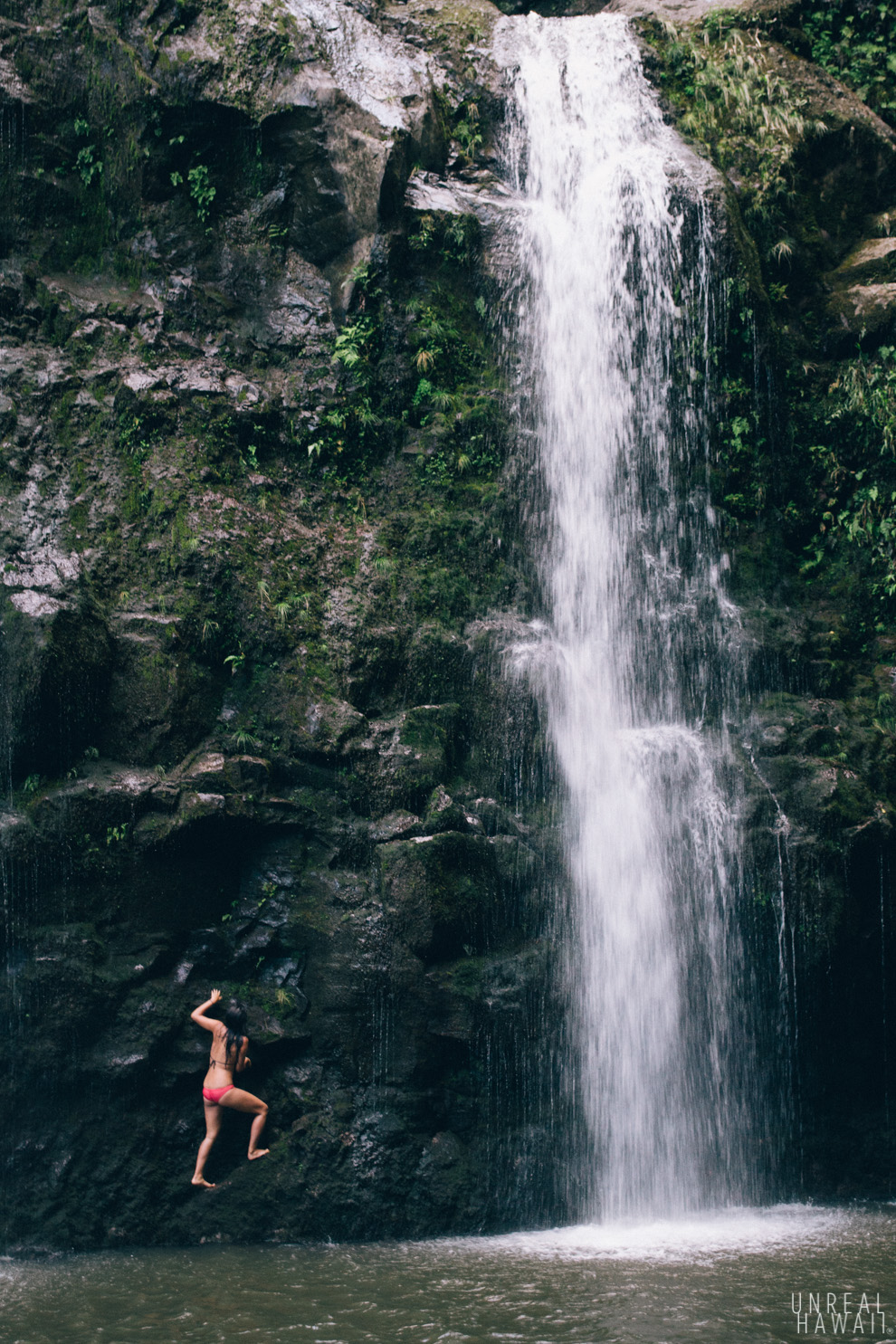 #34
Since the water wasn't flowing super hard, it was safe to get close to the falls.
#35
We walked around the pool for a bit soaking it all in.
#36
This place was a stark contrast to the desert of Haleakala.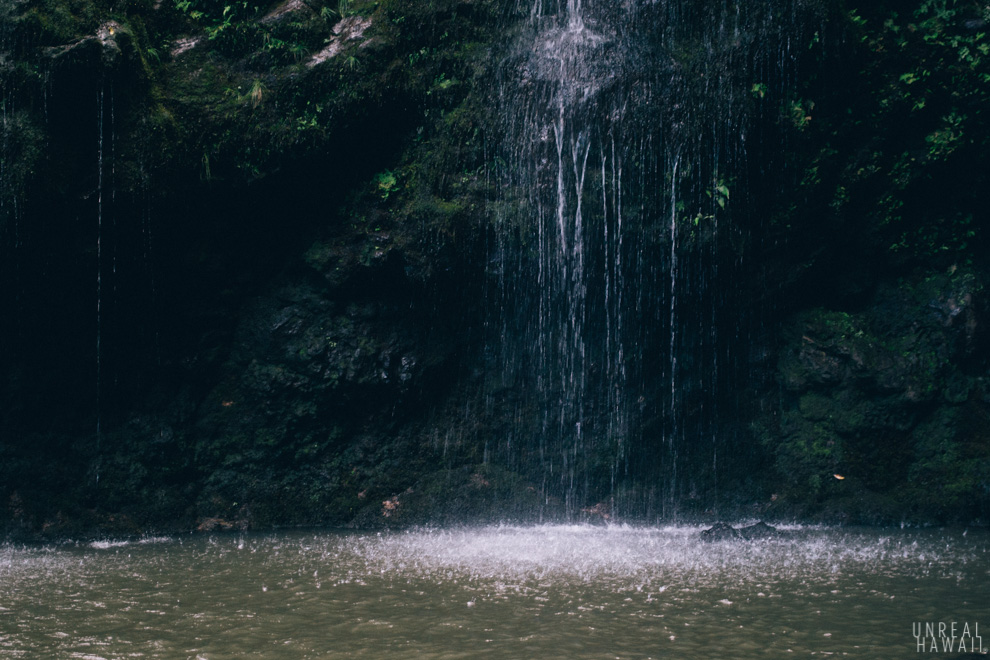 #37
We stayed at the falls for an hour or so.
#38
The water recharged us.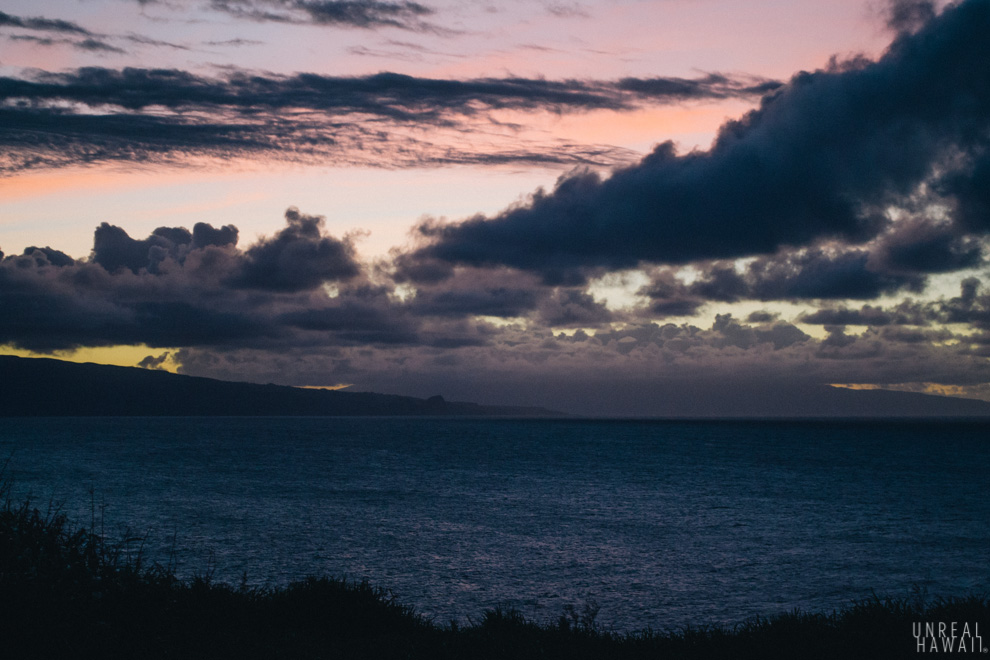 #39
On the drive along the Hana Highway we pulled over to get one last scenic view of Maui.
Our next stop would be Da Kitchen Cafe for dinner (you gotta try this place) and then we were off to OGG.
* * *
This is the final installment of a three-part series on backpacking Haleakala. Each story covers a day's worth of hiking and activities.
See also: