#1
We went sailing the other day.
#2
I was invited by my friend Eddie (Aloha Sailor).
Sailing was much different than I expected. We were on small vintage catamarans. Whereas the big sailboats have motors, these don't. You are completely reliant on the wind to move. You're constantly moving the sails to catch wind or make sure the wind is pushing you in the right direction.
I envisioned sailing to be something you do while smoking a pipe and wearing an ascot. What Eddie and his friends do is much different. It's very active.
We spent the day cruising the waters around Kailua Bay.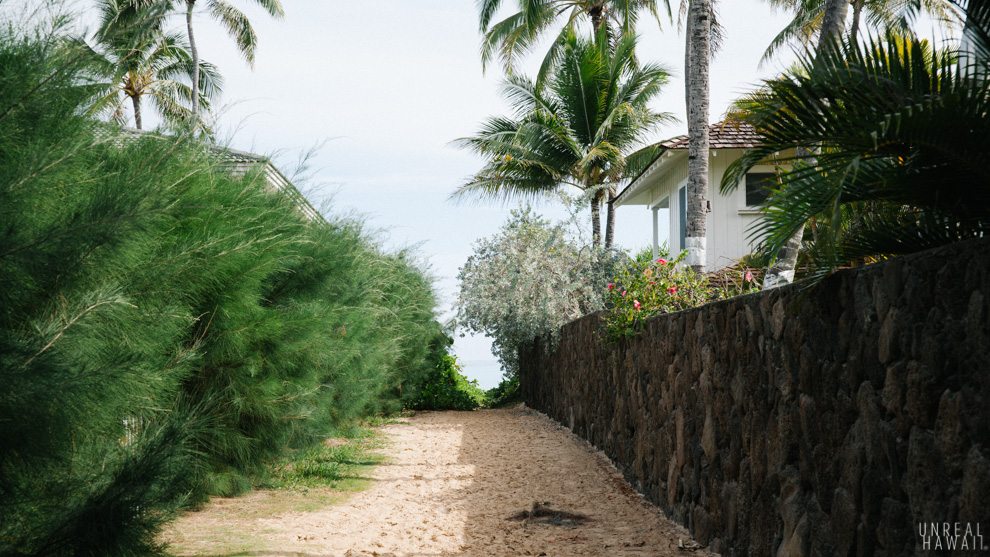 #3
The day started here. We all know where this path goes.
#4
It goes to one of the most famous beaches on Oahu.
#5
This is Lanikai Beach. From here, you have a perfect view of the Mokulua Islets (Moku Nui on the left and Moku Iki on the right). Usually when I come here I just lounge and have lunch on the beach. I've also kayaked to Moku Nui from here (which is super fun).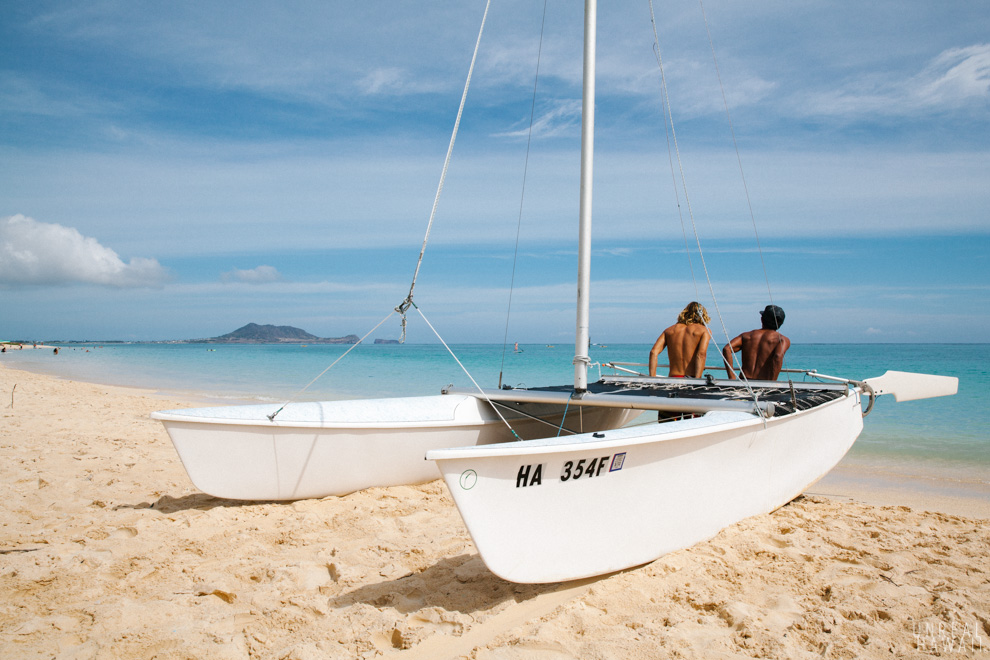 #6
On this day, we came to sail.
#7
And be studly.
#8
This is my friend Eddie. He recently bought this boat. It's a vintage Prindle catamaran and he's been sailing it every weekend.
Eddie is so into sailing right now that he even started his own sailing inspired clothing line called Aloha Sailor. (He also is they guy behind the popular local brand, Organik Clothing.)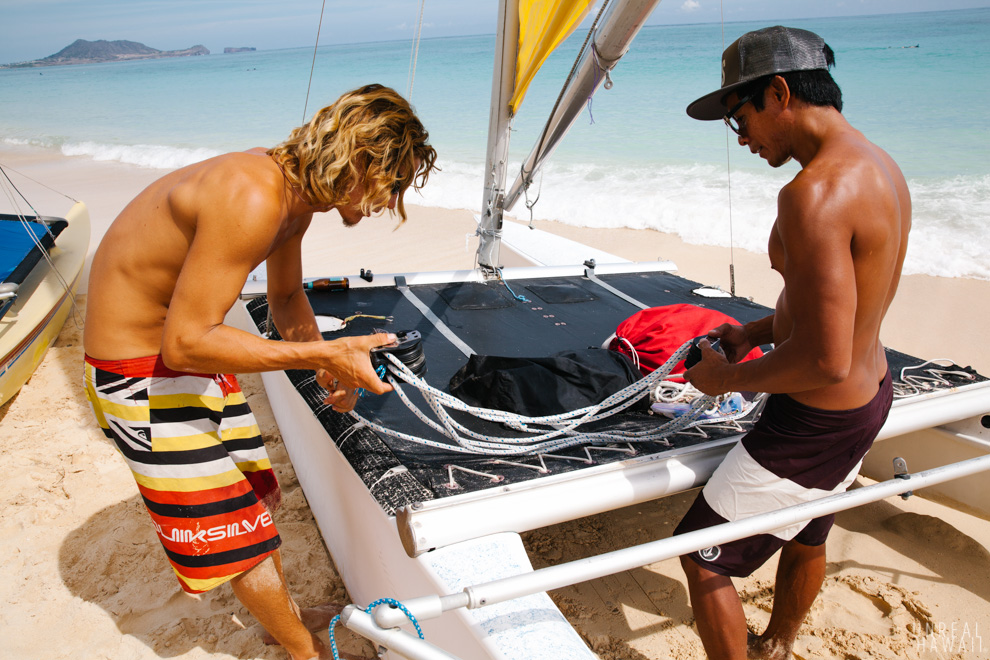 #9
Levi here (on the left) has been teaching Eddie how to sail. Levi pretty much makes his living sailing and doing boat repairs. He grew up on Oahu and has been sailing here since he was a kid. Now he sails almost every day on big boats or on his Hobie catamaran.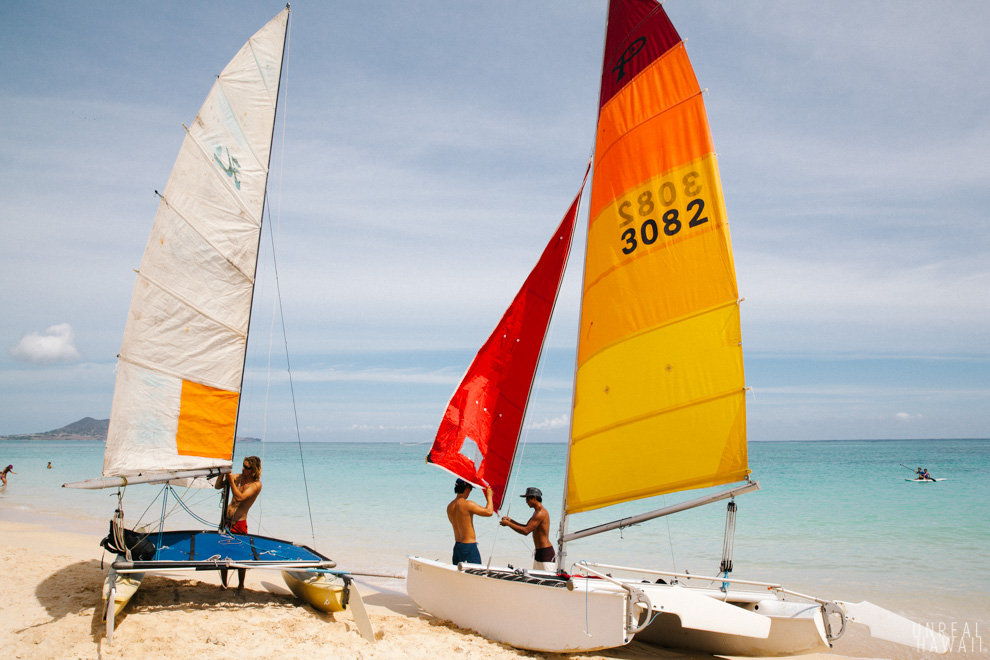 #10
There wasn't much wind on this day so they would be attaching their jib sails (the smaller sail in front). Eddie explained to me that adding this sail would allow us to sail with very little wind. It was like sailing in four wheel drive.
He needed some help getting the sail attached to I de-shirted, sucked in my belly, flexed a little and went to help out.
#11
The first step to sailing is to drag your boat into the water (preferably while chicks are watching).
#12
It's actually a two person job so I sucked in my belly, flexed a little and went to help out.
#13
And we were off.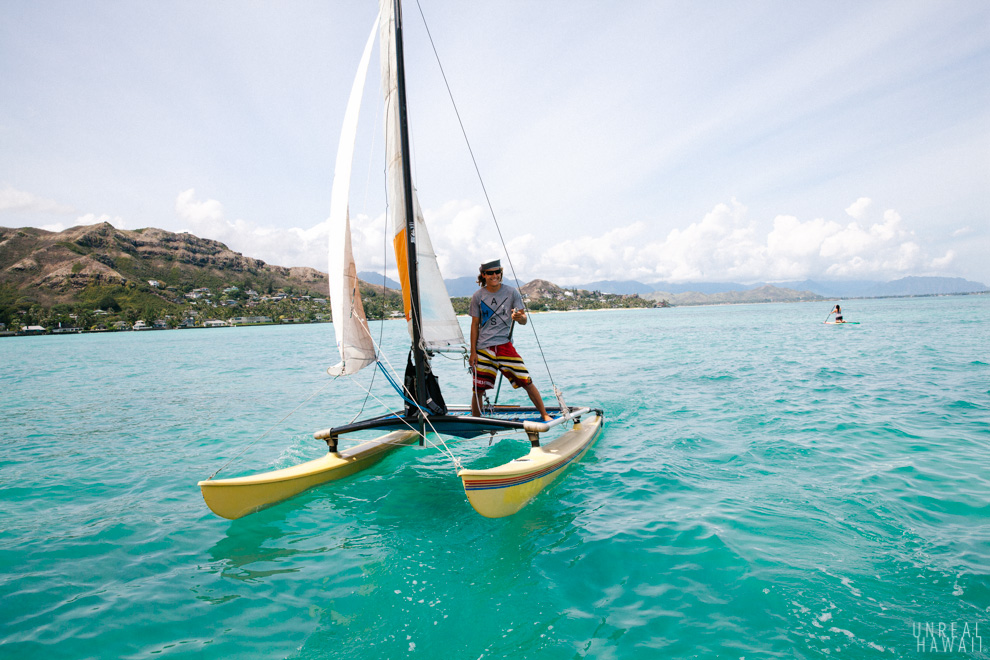 #14
Once we were out on the water and away from the beach babes we were able to put our sailing shirts on and cruise.
#15
We set a course that would allow us to circle the Mokulua Islets.
#16
When you stand up on these boats you can really feel the wind pulling you.
#17
Or you can let the whole boat pull you.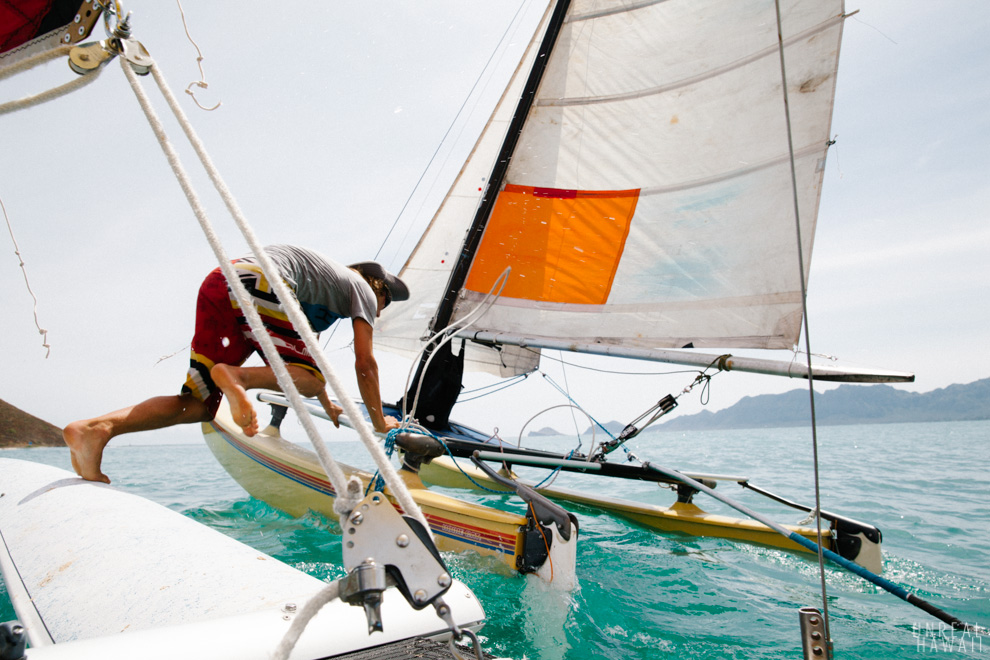 #18
Levi eventually had to jump back on his Hobie.
#19
First we sailed towards Moku Iki.
#20
There were stand up paddlers surfing the channel between the two islets. This looked awesome.
#21
Being that this was the weekend, Moku Nui was looking crowded.
#22
We decided to take a break in the water. Levi leashed the two boats together.
#23
We all jumped in the water and went for a swim.
#24
On sailboats, if you turn the sails in the right direction and then loosen up the sails, the sails won't catch any wind and the boat will come to a stop.
#25
After a quick swim we carried on.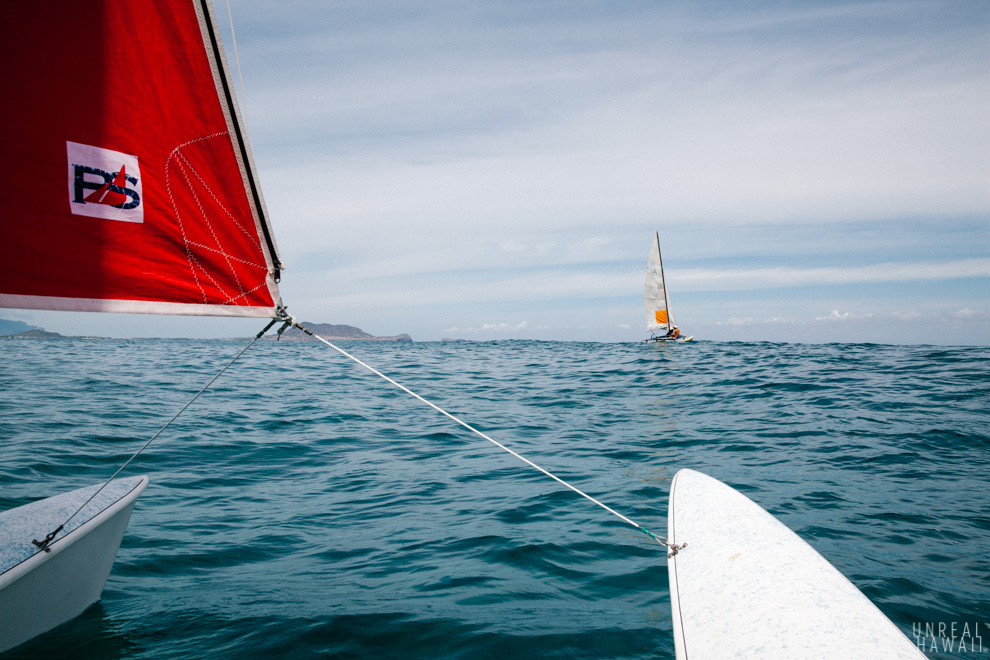 #26
What we're doing now is called "tacking." It's when you go in a zigzag line to catch wind. So, since we want to circle the Mokulua Islets, we had to sail South towards Moku Iki, and now we're sailing North away from the islands to ride the wind. Then we'll turn back around and sail South again to sail behind the islets.
#27
Now that we've sailed far enough out, we can set a course back towards the Mokuluas. Each time we zigzag, Eddie has to turn the sails and catch the wind the in the right direction. As we sail towards the Mokuluas, we need to watch out of incoming waves on our left. If a wave were to catch us off guard while pointing in the wrong direction, it could flip the boat.
#28
As we sailed by Moku Nui, we could see the cove and cliff jump area from the sea.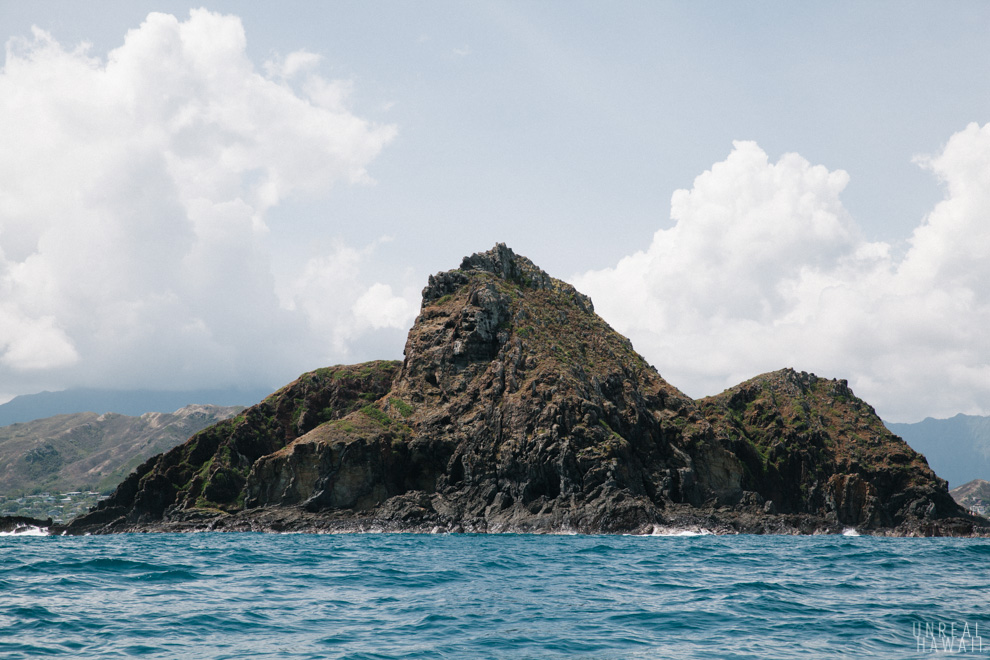 #29
This is the backside of Moku Nui. I've always wondered what it looked like. Kind of looks more like a crouching lion than Crouching Lion.
#30
I've always wondered what the back of Moku Iki looks like as well.
#31
You can kind of tell that the ocean was mellow on this day. When there's a lot of wind there can be big swells around the Mokuluas that the guys actually ride. And when they are not riding waves on their boats, the wind can take them up to 20 knots.
#32
But since the winds were mellow, we just cruised and Levi did a little fishing.
#33
After we had circled the Mokuluas, we set a course toward Kailua Beach.
#34
We passed by Flat Island.
#35
And headed straight for the beach.
#36
Once on the beach Eddie and I dragged the Prindle up on the sand to park it.
#37
Levi brought up his Hobie.
Here in Kailua we would take a break.
We grabbed some beers and snacks at the Kalapawai Market and Deli. This deli has great food and it's conveniently located right off Kailua Beach.
But we were in the mood for pizza so we walked up Kailua Rd to Bob's Pizzeria.
#38
When we got back to the beach after stuffing our faces with pizza, I noticed this dog had dug this whole for himself. I thought that only happened in cartoons.
#39
We jumped back on the boats and Eddie let me steer. I'm a quick learner. You see, you pull the stick left, the boat goes right. You push the stick to the right, the boat goes left. I didn't ask how to work all the sails though. That looked way more complicated.
#40
Christina steered the boats for a minute.
#41
We eventually made our way back to Lanikai. The afternoon was looking cloudy and our wind had died. This is where the reality of our wind dependence set in. Just to get from here to the beach took 10 minutes. With wind it should have taken something like 1 minute. I thought about what would happen if we were further out to sea. That would've been bad.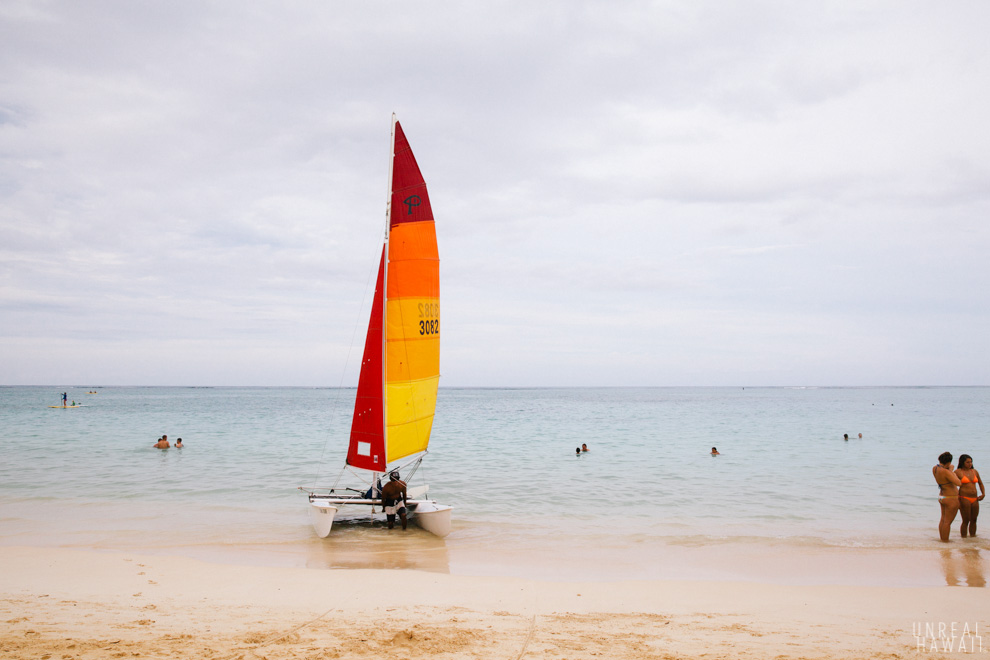 #42
We pulled the boats back on shore at Lanikai.
#43
Then we bade farewell to our happy captain. Thanks, Eddie.
#44
You can check out my friend Eddie's new clothing line, called Aloha Sailor, at:
See also: