#1
As of October 26, 2013, the largest surf mural in the world is located in Honolulu, Hawaii. It's in Kalihi on the corner of Waikamilo Rd. and Kalani St. to be exact (see map).
The mural was painted by the guy you see pictured above. That's Hilton Alves, a Brazillian-born fine artist who's based on Oahu's North Shore. His paintings can be found at the Wyland Galleries in Haleiwa and Waikiki and on his website TheArtOfHilton.com.
#2
This thing is huge. It's five stories tall and covers over 14,000 square feet.
The mural depicts a giant peeling wave at Oahu's Banzai Pipeline.
#4
Hilton specializes in painting waves and was able to free hand all the details in this mural.
#5
When you see this wall in person it becomes clear that this sign will probably be accurate for a long time.
#6
This photo was taken on the final day of painting. It took Hilton just 8 days to complete.
#7
But, this project took over 6 months of planning.
I met Hilton last year through a mutual friend and did a story on him called "The Art of Hilton Alves." A few months ago I found out Hilton was going to paint the mural. I made a small donation but wasn't sure if the project was actually going to happen. You see, Hilton would be donating his time and talent to the project but needed to raise $10,000 for paint and supplies. He need 150 gallons of paint to cover this wall.
He also needed permission from the company that occupied the building, the building and land owner and the owners and business in the surrounding area. There was a lot of prep work involved.
But one day, I got a message on Facebook saying that the project was a go. So I marked my calendar and when the start date hit, I drove out to see the painting in action. The amount of blank wall space he needed to cover was overwhelming.
#8
When I arrived, I saw that Hilton was on a huge lift with Brian Wyland (owner of the Hawyland Styles art gallery at Aloha Tower Marketplace). Brian is the nephew of the famed marine life artist and muralist Wyland, so he knows murals. He contributed his time almost every day working the lift, setting up paint and helping with whatever else was needed.
#9
Also on the scene was Jessica, a teacher in Hawaii and Hilton's wife.
#10
This is Hilton's art van. Check out that custom paint job.
#11
I remember thinking I couldn't imagine having to paint this wall in one color, let alone create a work of art.
#12
Hilton and Brian were wearing these harnesses during the project. Because the wall is five stories high, they had to tether themselves to the lift in case they they tripped while up there or if a strong gust of wind rocked them.
#13
For the initial layer, Hilton used an industrial strength paint gun so that he could cover the wall as fast as possible. The pressure on this thing is so strong that if you accidentally painted your arm, it would rip your skin off.
#14
You can see that this type of project is not good for those with a fear of heights.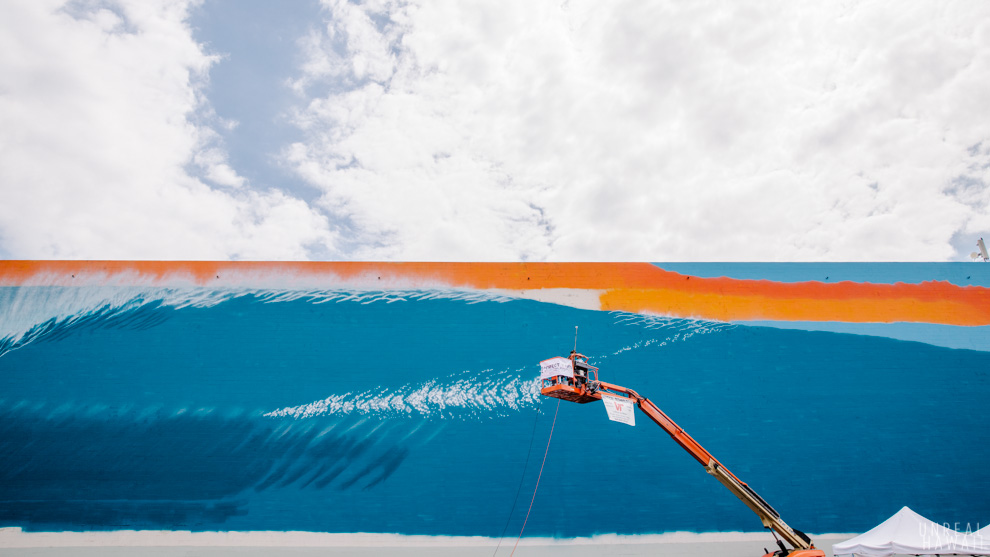 #15
I came back on the third day of the project and found that Hilton had made a ton of progress. The entire wall was covered in paint.
#16
From time to time, Hilton and Brian would move the lift back from the wall to see if the proportions were looking right.
#17
Then I got to ride the lift.
#18
This is probably the closest I'll ever get to being in the barrel of a wave at Pipeline.
#19
On the fifth day of painting I returned to find that Hilton was already working on details. This guy works fast.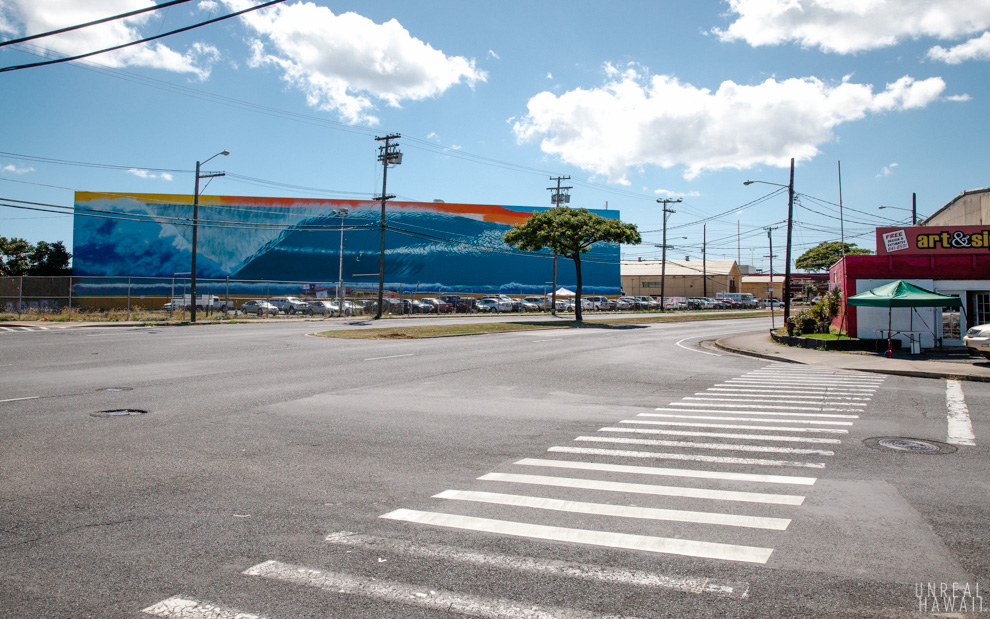 #20
Whereas once this was a giant white wall, you could now see a wave. The ocean is maybe 1/2 mile from here but it's not exactly a "beachy" part of town. Having this mural here is a nice reminder of how close the ocean is.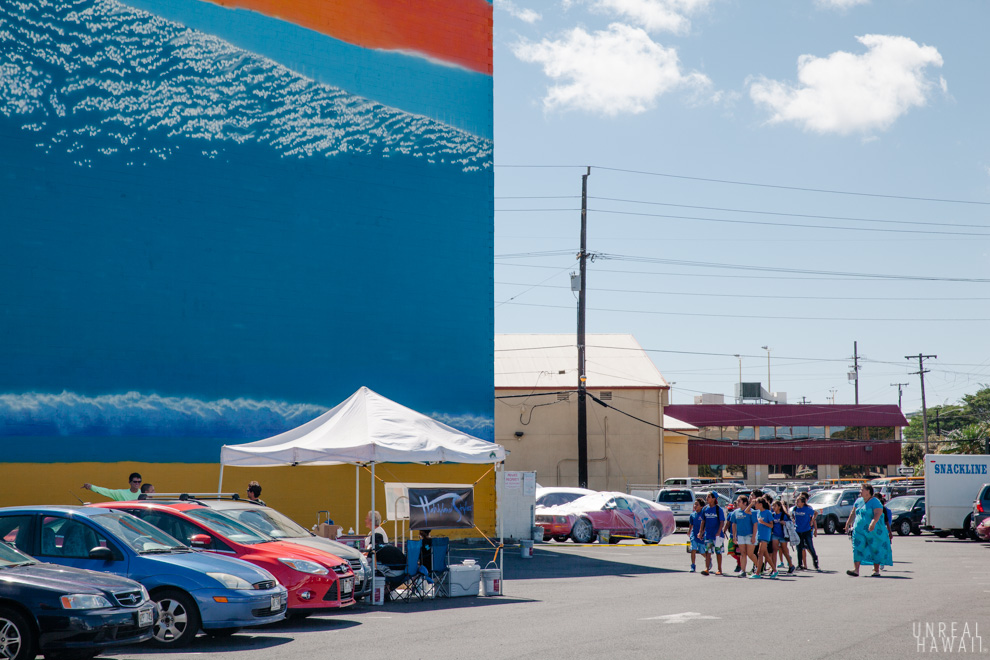 #21
While I was walking around shooting photos, a class from a local school walked over to check out the project.
#22
Hilton joked around with the kids and talked to them about art. He's good at this stuff. Hilton actually runs a non-profit org called Surf Art Kids where he teaches youth about ocean awareness through art.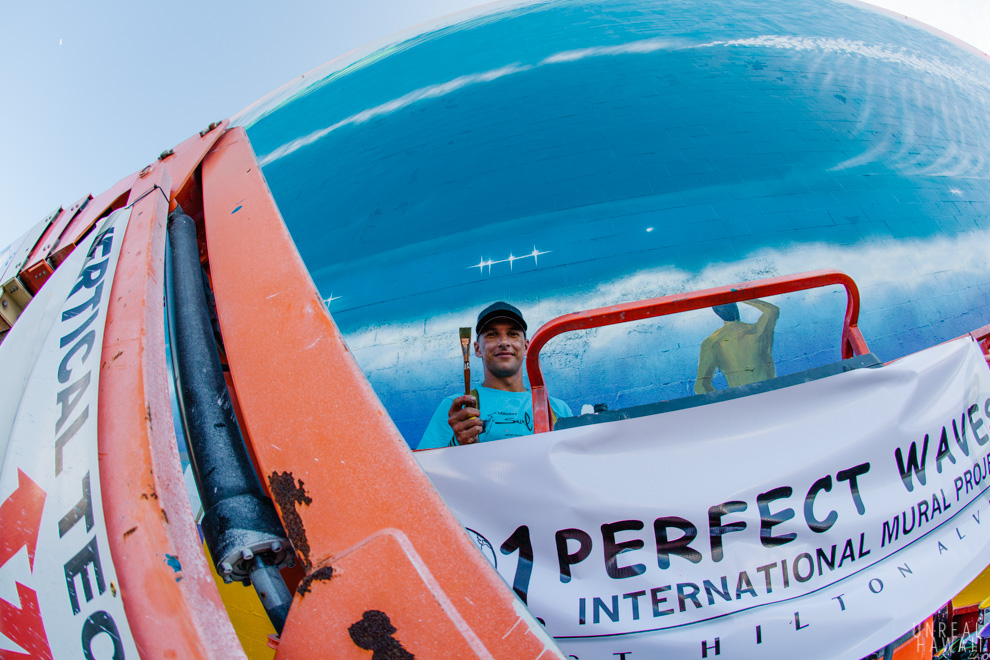 #23
Alright, it's the final day of painting now and Hilton is on the lift painting a 14,000 sq ft mural with a one-and-a-half inch paint brush. It's detail time.
#24
I talk to him as he walks around adding shading and touch ups. Murals are meant to be viewed at a distance so the details don't actually have to be too detailed.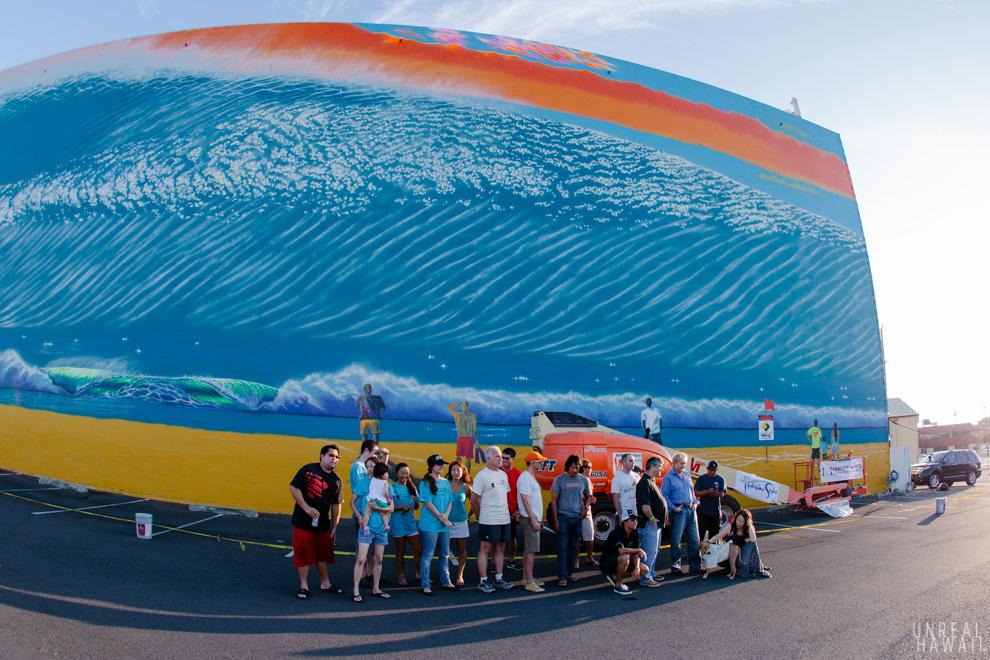 #25
A group of friends and fans have formed to help Hilton celebrate the signing of the mural.
#26
Kia (Hilton and Jessica's dog) arrived in her best t-shirt.
#27
Jennifer Robbins from Hawaii News Now was on the scene to do a story.
#28
For the signing, Brian brought the lift to the top of the mural so Hilton could do his thing.
#29
And it is now official.
#30
And then it was time to celebrate.
#31
Hilton got interviewed.
#32
Brian got interviewed.
Here's what they said:
#33
Congrats Brian.
#34
And congrats Hilton.
#35
Notice the 01/101. Hilton and Brian have partnered on a project they are calling 101 Perfect Waves. They want to put up 100 more wave murals around the world. No word yet on how big each one will be.
Learn more about Hilton:
Learn more about Brian: