#1
High above the Koolaus on Oahu, looking West.
#2
The western tip of Oahu's North Shore.
#3
Down by Makapu'u. The pilots pictured are Veso Ovcharov (Bulgaria) and Petar Loncar (Serbia).
#4
These are the photos of the guy pictured above, Jorge Atramiz (the photo above, I guess, is a "selfie"). Jorge is originally from Venezuela but now lives on Oahu. To get the photo above, Jorge mounted a camera on his wing and had it aimed down at himself.
#5
A better view of Jorge can be seen in this photo where he mounted a camera to his foot.
#6
And here's Jorge on the ground at a coffee shop where I figured it would be easier for us to talk. We're outside of Paiko in Kakaako enjoying drinks from Breu Bar.
#7
I think I keep saying this, but I'm always surprised by how much photographic talent and variety you can find in Hawaii. I met Jorge at a dinner party last year. We were introduced because people knew we both took photos. I asked if I could see some of his work and he showed me some of the stuff you'll see in this story on his phone. My jaw dropped.
I'm sure you've seen plenty of aerial photography of Hawaii before. Especially with all the drones flying about these days. But you might notice something different about the photos you see in this story. It's hard to pick up on but there's quality here that makes Jorge's photos special. A few things stand out to me:
For one, being that he's flying thousands of feet in the air covering miles over the island, Jorge is able to access views most people don't get to see.
Second, not only is Jorge a skilled paragliding pilot (which on it's own is impressive), he's a published professional photographer. The guy has an amazing eye and he's extremely selective with his shots.
And third, you'll notice that the weather and lighting conditions are perfect in Jorge's photos. He flies almost every day. So when the clouds and sunlight are just right, Jorge is there with his camera. And that really is the most important part of outdoor photography – being there with your camera when the conditions are good.
#8
We sat and talked about photography for about an hour. The passion in this guy's voice is infectious. Were it not a death defying sport, Jorge's passion would make me want to get into paragliding.
Please enjoy this collection of photos of Hawaii from Jorge Atramiz.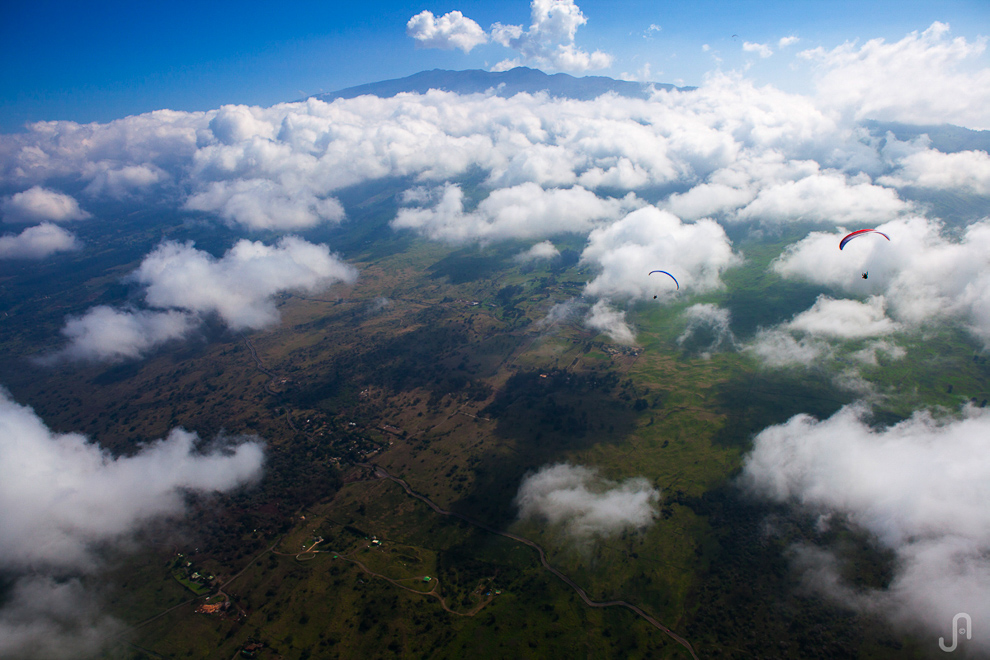 #9
Crossing Maui after launching off of Haleakala. As Jorge describes it: "One of the most epic flights in Hawaii is in Maui. On the right day we took off from the Haleakala summit at 10,000 feet and we glided for 40+ minutes to the town of Kihei where we landed along the shore. The best part is that most of the flight happened above the clouds and over endless green fields."
#10
Flying over the Pacific off the shores of Maui.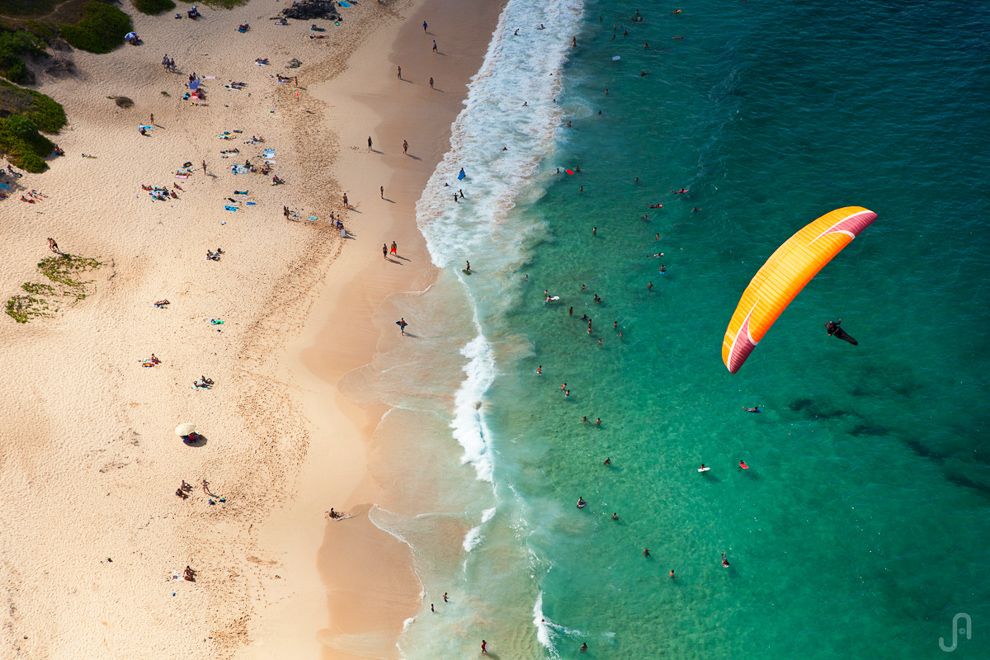 #11
Cruising over Makapu'u.
#12
Soaring above the Koolau summit ridge.
#13
Flying over Kaaawa.
The thing you gotta remember is that when Jorge takes these photos, he's flying too. He told me that he lets go of his controls to operate the camera. But he has to be ready at any moment to drop the camera and grab his controls if the wind shifts or the wing starts doing something funky. Yet even under these conditions, Jorge is able to frame compositions like these.
#14
Gliding above the H3.
#15
I'm not even sure how this is possible.
#16
Or this. I guess the guy on top needed a break. That's Koko Crater in the background.
#17
When you fly as often as Jorge does you get to see some visions that only perfect conditions can offer. This is what they call "The Glory," a colorful rainbow surrounding one's shadow. The glory can only be seen when the pilot is directly between the sun and a cloud of refracting water droplets. Jorge got to experience this vision while flying above the mountains over Kahana Bay.
#18
This is one of my favorite images of Jorge's. We don't have fog on Oahu so it's rare to see a view of the Koolaus like this. On this day there was a haze over the island that emphasized the layers of ridges on the Koolaus. It was just the right amount of haze that you could still see far into the distance. Jorge was flying on this day and had his camera so he was able to capture this frame. He said he's only seen it like this that one time.
* * *
Like many athletes and outdoor photographers, Jorge is also a world traveler. His travels have taken him all over. He promised to share more photos from his adventures with me in the future.
#19
Here's one experience from a trip to Guatemala where they went hiking on volcanoes.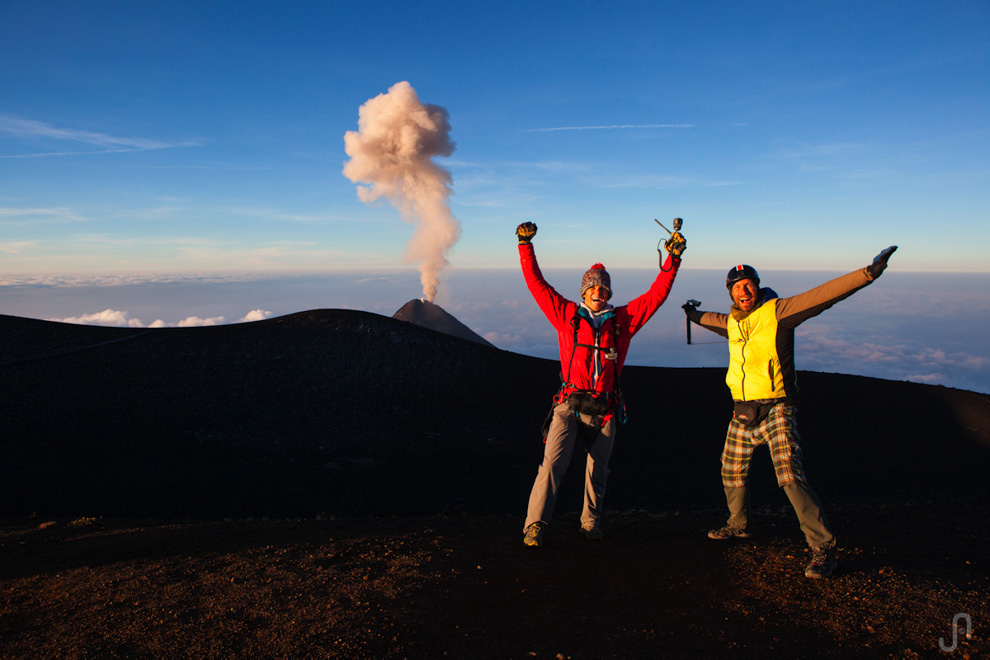 #20
As Jorge describes it: "One of my most recent adventures was in Guatemala where we were hiking different volcanoes and flying from their summits. During our last ascend and before taking off, the ground started to shake and a few seconds after, El Volcan El Fuego erupted, we didn't know what to do, it was a mix of happiness and fear. It was too late to run…" See the full photo essay of this story.
Anyway, this is the life of a paragliding athlete/photographer. Here's how you can find more info on Jorge:
See also: