#1
On our first day of backpacking inside Haleakala crater, we hiked 9 miles from the Haleakala summit to Palikū Cabin and saw a plethora of flowering Silverswords (see story). On our second day we would hike 6 miles to the next cabin, Hōlua Cabin.
If you look at the map of Haleakala Crater (PDF), you can see that our route forms a triangle inside the crater.
Our itinerary looked like this:
It had rained throughout the night in Palikū. I think that's common for this area. And that's why you need to be sure to bring a rain jacket. This is also why it was so nice to be in a big, warm, dry cabin (as opposed to in a tent).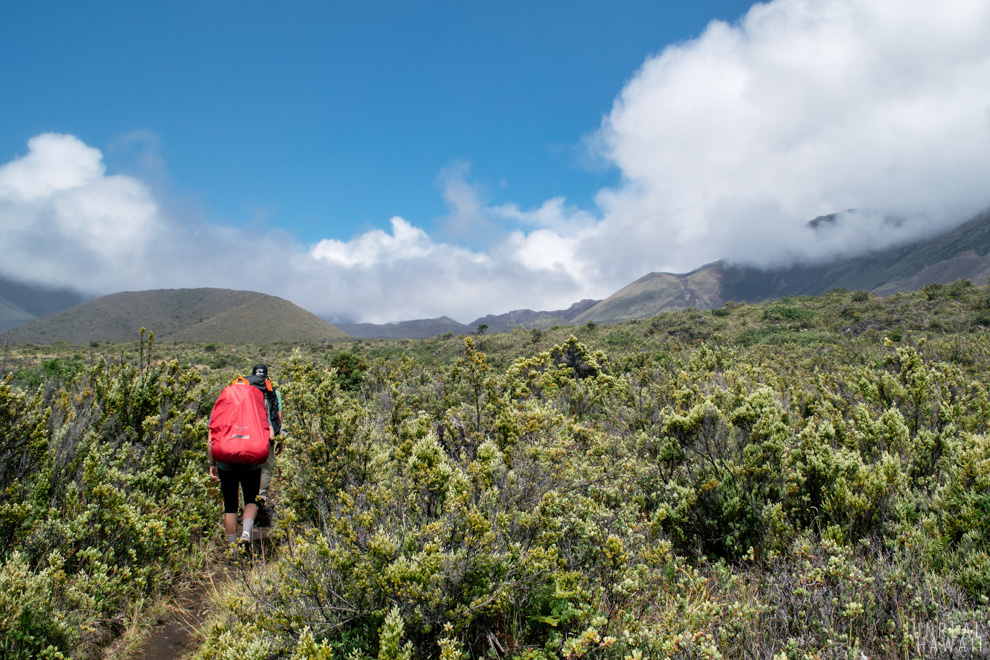 #2
We ate breakfast, packed up our gear, cleaned up the cabin and pushed off. Checkout time is at noon but we were out the door by 10ish. We were hiking West toward Hōlua and gaining elevation. After just a mile or so, the sky had cleared.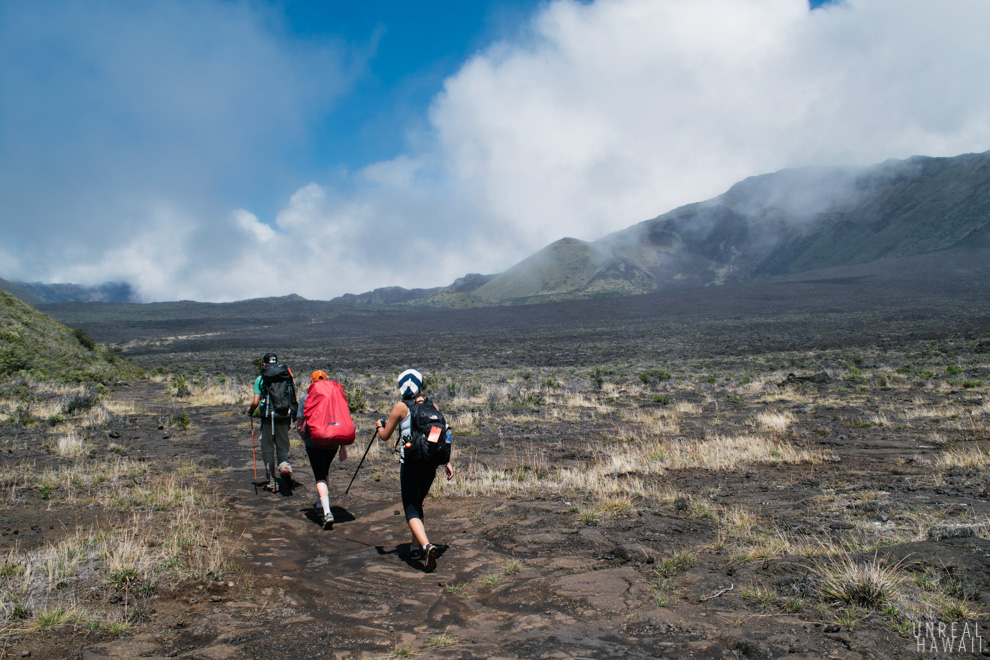 #3
The morning started cold but it actually got pretty hot. The farther West we traveled, the drier it got. The dense vegetation that surrounded us had disappeared.
#4
Five miles along the Halemau'u Trail is not bad at all. This is a great hike. The trail connects Paliku Cabin to Holua cabin and has more to offer than you would think. I was worried this trail might be a little boring but I was totally proven wrong.
#5
As we hiked the mist followed us.
#6
Once we gained enough elevation, the mist couldn't keep up.
#7
We had gained a few hundred feet in elevation now and, looking back towards Paliku below us, we could see the unreal Haleakala crater landscape. The Paliku Cabin is tucked back against the mountains. The tuft cone in the distance is called 'O'ilipu'u. Towards the right you can see the gap in the ridgeline. This is called the Kaupo Gap. (See the map for reference.)
#8
We proceeded along the Halemau'u Trail and observed how the landscape became more and more barren.
#9
The rock formations now looked rugged and prehistoric (probably mid to late-Jurassic).
#10
Dikes jut out of the hillside resembling the back of a Stegosaurus.
#11
We hiked on. The trails in Haleakala are hiked often (by both people and horses) and are well defined.
#12
We were now farther West and at higher elevation. This put us back in the desert and back on Mars. This is the most un-Hawaii-like terrain you'll ever hike on in Hawaii.
#13
Just 2.7 miles to go. This was easy and enjoyable hiking.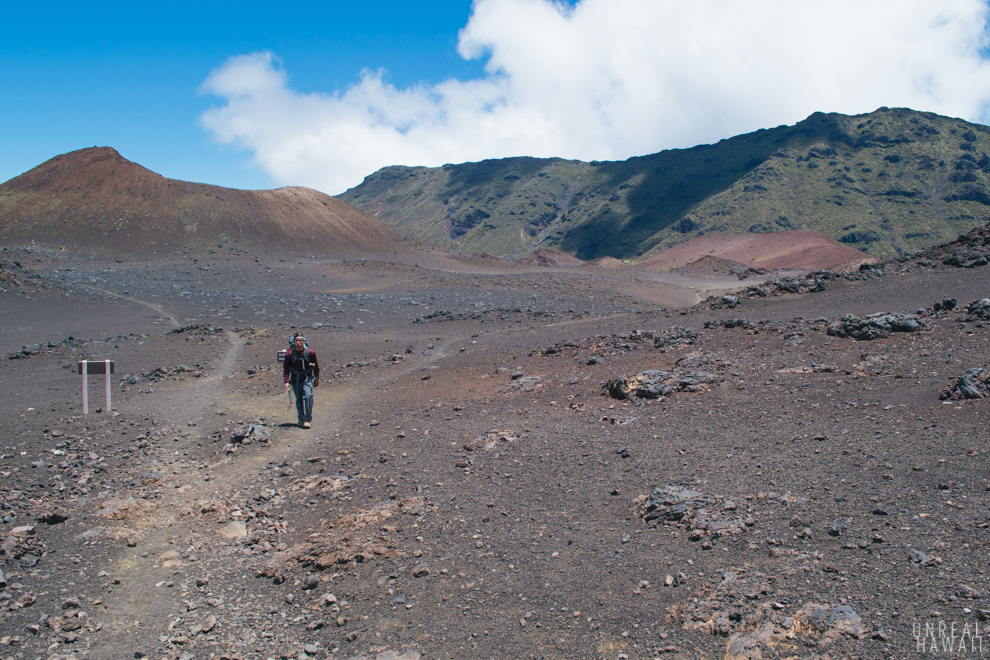 #14
The trail is soft and flat, the air is crisp and there's no one around. This is why people backpack Haleakala. It might not seem like it, but Thomas here is stoked.
#15
We hiked over a small hump and saw that some mist was rolling in. We were approaching the Ko'olau Gap. It's a gap in the ridgeline that surrounds Haleakala crater that allows clouds to roll in from the North.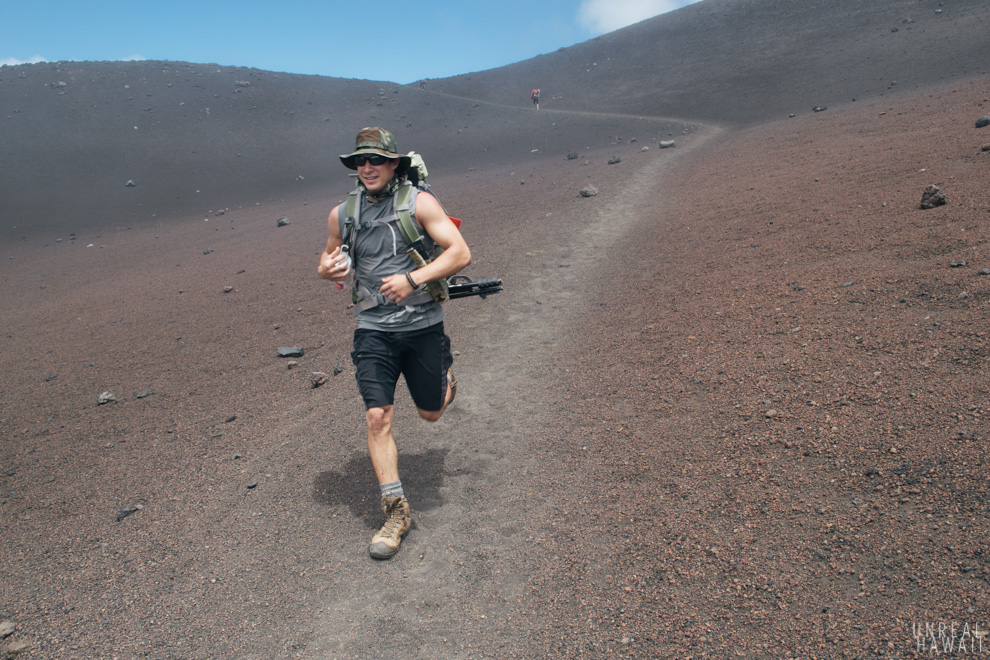 #16
Sean took advantage of these perfect hiking conditions to get in a quick run.
#17
I actually prefer to have cloud coverage up on Haleakala. It makes the terrain feel more mysterious. Also, it keeps the sun off you and prevents farmer tans.
#18
Christina, Sean, Carlie and Josh. Thomas was hiking behind me.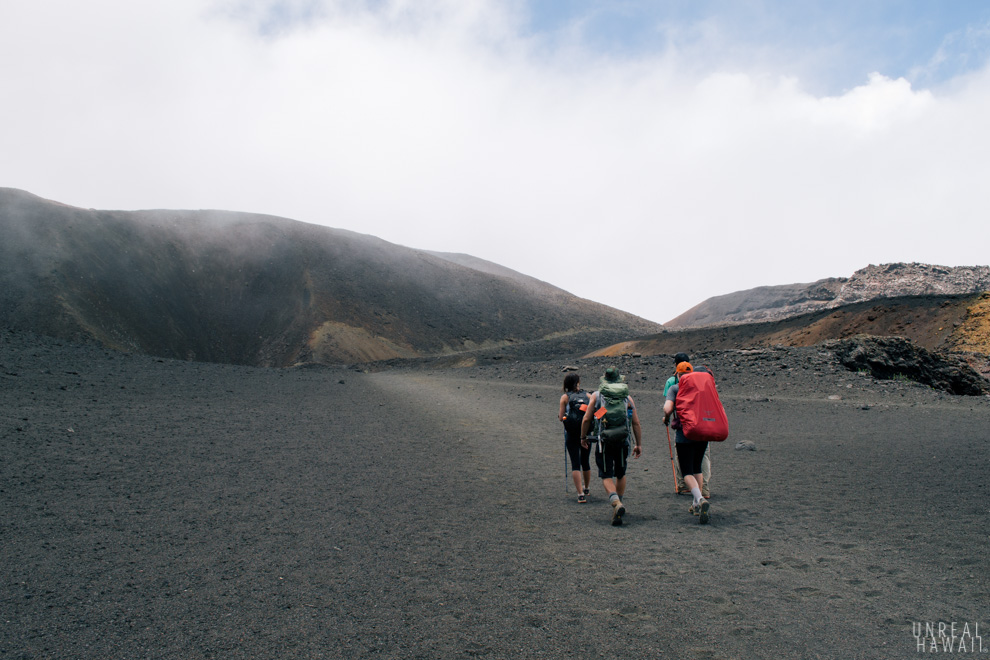 #19
It's hard to believe this is Hawaii. If I didn't tell you we were backpacking in Hawaii, I wonder where you would think this is.
#20
We approached something that looked important as it had a fence around it.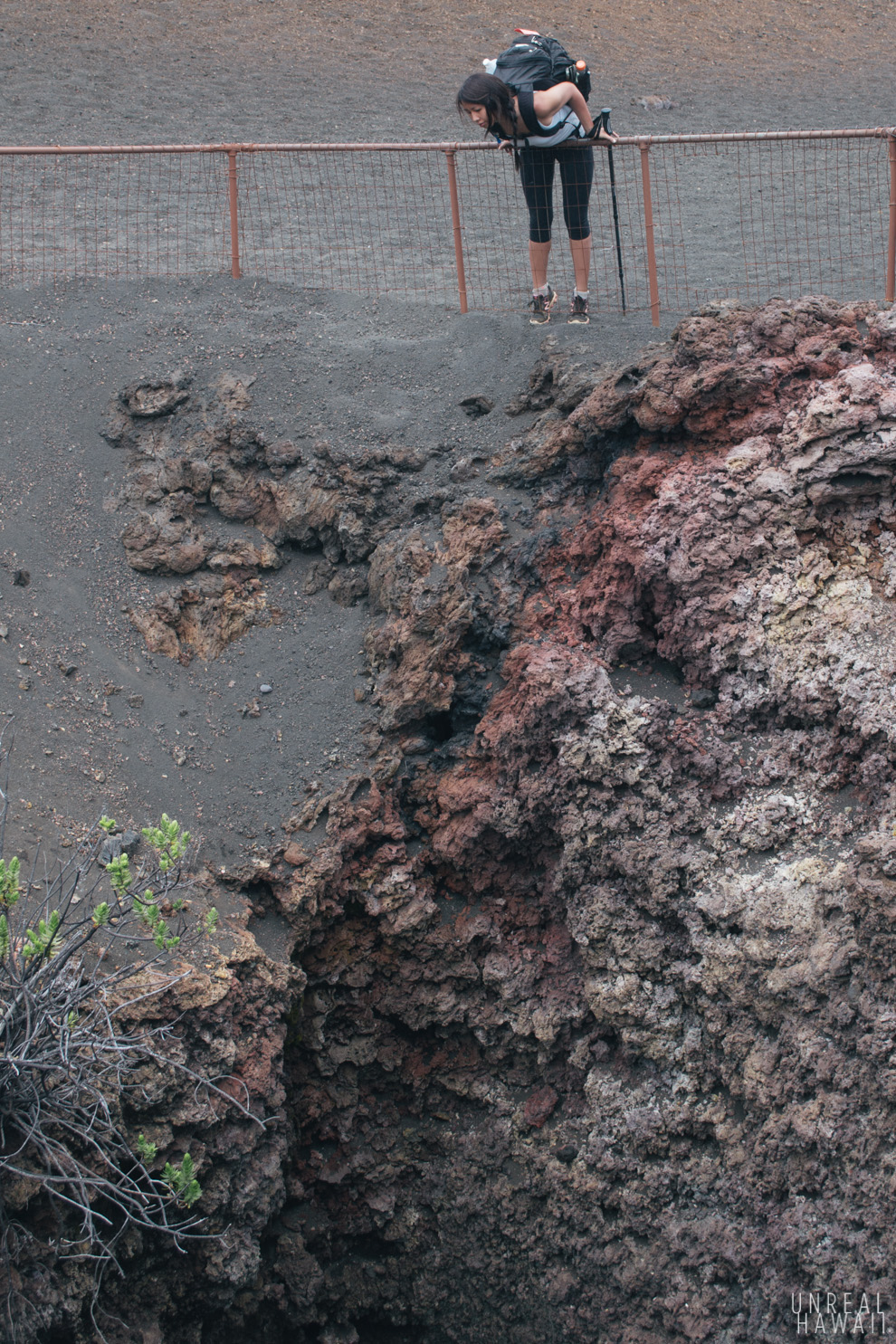 #21
This is colloquially called the Bottomless Pit. It was supposedly a vent that emitted gases when Haleakala was erupting. That means this "pit" goes down over 6,000 feet to sea level. But, when you look down you can see a bottom as the opening has been filled with rock, dirt and debris. Probably a good thing. Especially for virgins.
#22
After a quick break by the pit, we hiked on.
#23
During our hike along the Halemau'u Trail the terrain kept changing. Every hump you hike over reveals a new landscape.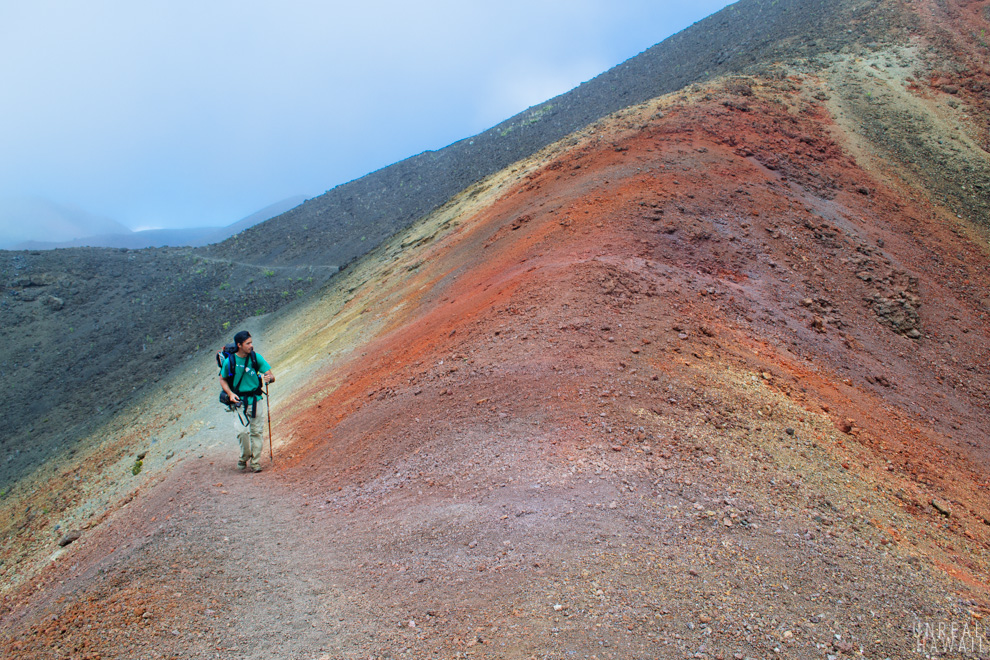 #24
We were surprised by some random splashes of color.
#25
And then, another hump.
#26
And then, another new terrain. The Ko'olau Gap was to our right now and that's why clouds were rolling in.
#27
When I'm hiking I like to look back here and there to see what the view looks like. I was not disappointed.
#28
The trail here is outlined with rocks to discourage people from going off trail. They say if you go off trail here, your footprints could last for years.
#29
You can see footprints and hoof prints outside the rock borders. I think if the borders weren't there, the trail would start to get too wide.
#30
The Halemau'u Trail now would take us up off the floor of Haleakala crater and up into the hills.
#31
We took a break to admire the birds-eye view.
#32
We were less than two miles away from the cabin now and our feet were finally starting to feel it. No matter how nice the trail is, when you're backpacking, your feet get tired faster than usual.
#33
On the way back we took a short detour along "Silversword Loop." It's a super short detour that takes you through a patch of Silverswords.
#34
They were covered in water drops from the mist.
#35
These plants are very special.
#36
Holua Cabin was coming right up.
#37
Being close to Ko'olau Gap, Holua Cabin does get some rain. This section of Haleakala crater is not nearly as wet as Paliku though.
#38
Like Paliku, the Holua Cabin is surrounded by the majestic mountains that make up the ridgeline of Haleakala crater.
#39
Holua Cabin, and outhouse.
#40
The inside of the cabin was in just as good condition as the Paliku Cabin. This felt totally luxurious compared to the other Hawaii backpacking trips I've done.
#41
When we got to Holua Cabin there was plenty of daylight left. We noticed a small cave in the hillside so went to check it out.
#42
The cave is tiny and there's not much to see here.
#43
But, above the cave is super nice. Some rock scrambling is required to get up here. Getting up here can be very dangerous. (Proceed up here at your own risk.)
#44
This dike was sticking straight up out of the mountain so we climbed it. (Climb this at your own risk.)
#45
The rock didn't look or feel real. It looked like rock you would see at a fancy resort swimming pool. (Sit here at your own risk.)
#46
From up on the hill we looked down on the Holua Cabin and noticed some rain was approaching. We took photos of the rainbow and made our way down before things got too wet and slippery.
#47
Holua Cabin is an elevation of 6,940 feet. It's colder up here than Paliku so we made a fire when evening approached.
#48
But we couldn't stay indoors with this view.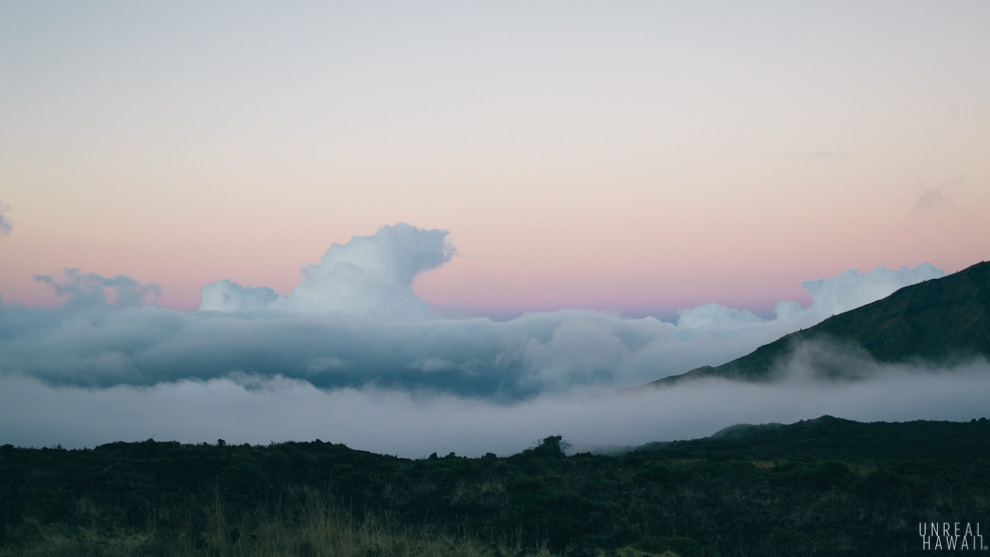 #49
Dusk from Holua Cabin in Haleakala crater is magical.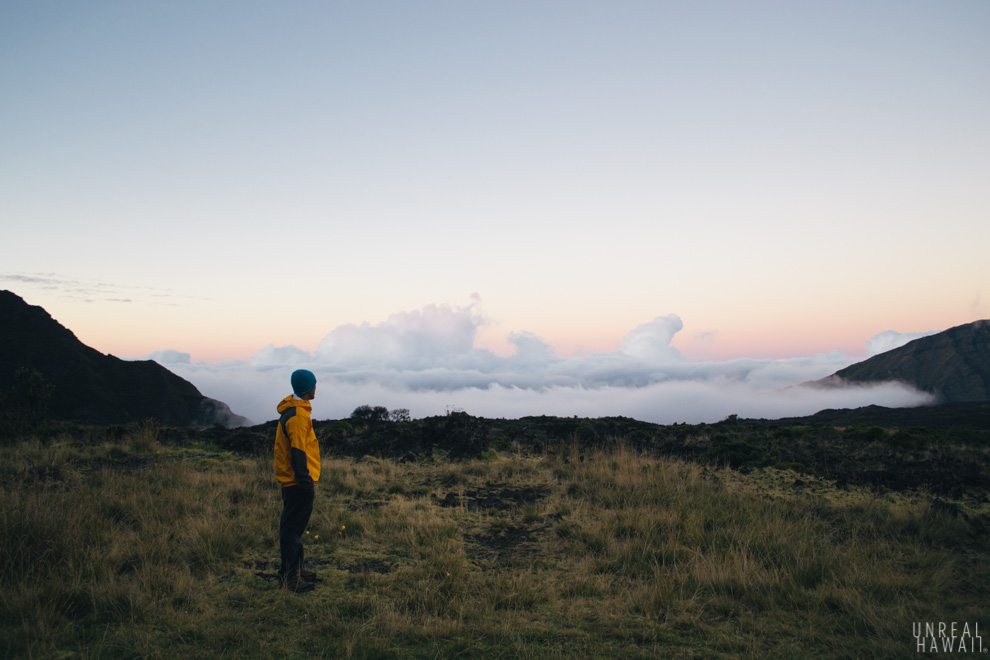 #50
We stayed outside watching the sky change colors.
#51
We smoked some mini cigars (which feels pretty great at high elevation).
#52
And eventually it got too cold and we came in.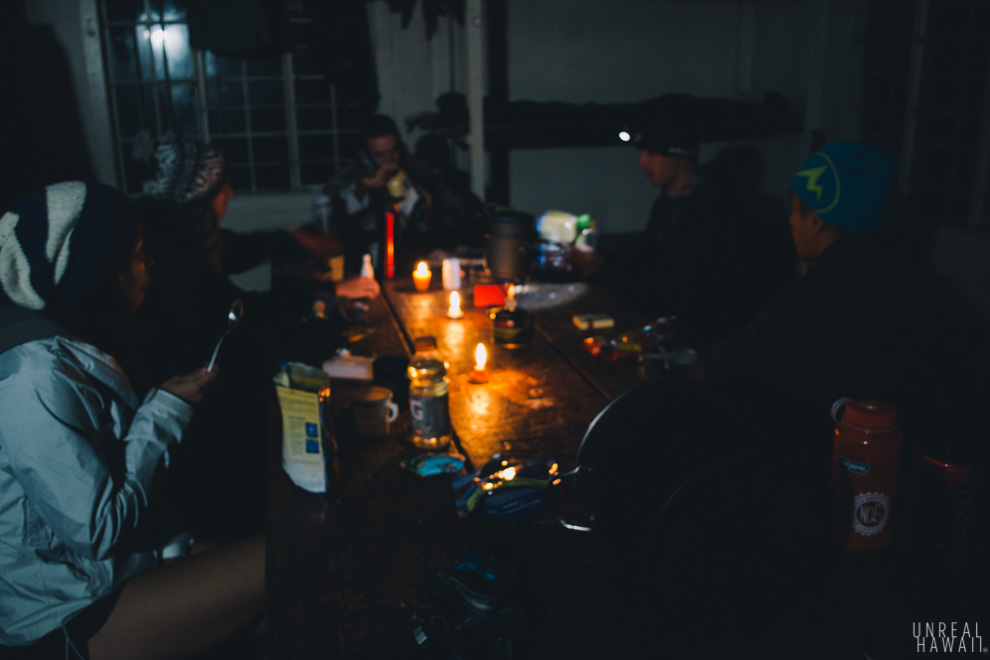 #53
When darkness finally fell, we gathered around for a table for a candlelight dinner.
#54
Then we did some stargazing. During the summer, the Milky Way is super prominent in the Hawaii skies. You can see it pretty well on Oahu even. But up in Haleakala, the Milky Way looked crazy.
#55
My camera was running out of batteries but Josh let me use some of his photos. The Milky Way stretched over the entire sky right above us. It was so bright. I've never seen anything like this before. This is yet another reason to visit Haleakala in the summer.
#56
We hung out for a little while as shooting stars entertained us. It was very cold though. This is why you need to bring a beanie, rain coat, a fleece and gloves on your Haleakala backpacking trip.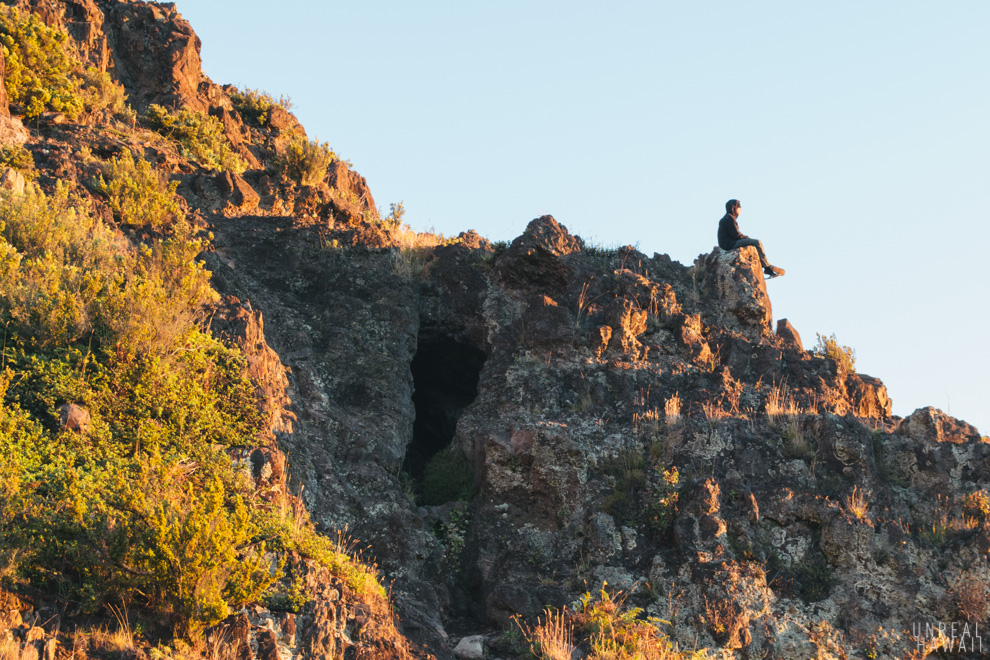 #57
The next morning I woke up to the sound of people shuffling around the cabin. I looked around and people were putting on their shoes. I noticed Josh's bunk was empty and he wasn't in the cabin. I walked out the front door, looked to my left and saw him perched up by the cave.
#58
This is what he was looking at. The start of Day 3.
* * *
This is the second part of a three part series on backpacking Haleakala. Each story will cover a day's worth of hiking and activities.
Tips:
Bring cold weather gear for Haleakala stargazing. I'd recommend a beanie, rain coat, fleece and gloves on your Haleakala backpacking trip.
Cold weather is known to drain batteries. So if you'll be taking photos, bring extra batteries.
Also, if you're taking photos at night, you'll need a tripod. The MeFOTO Backpacker Tripod is worth looking in to.
Set your alarm to wake up just before sunrise. You don't want to miss this.
See also: