#1
Meet Chase Norton.
#2
Bro really likes hiking.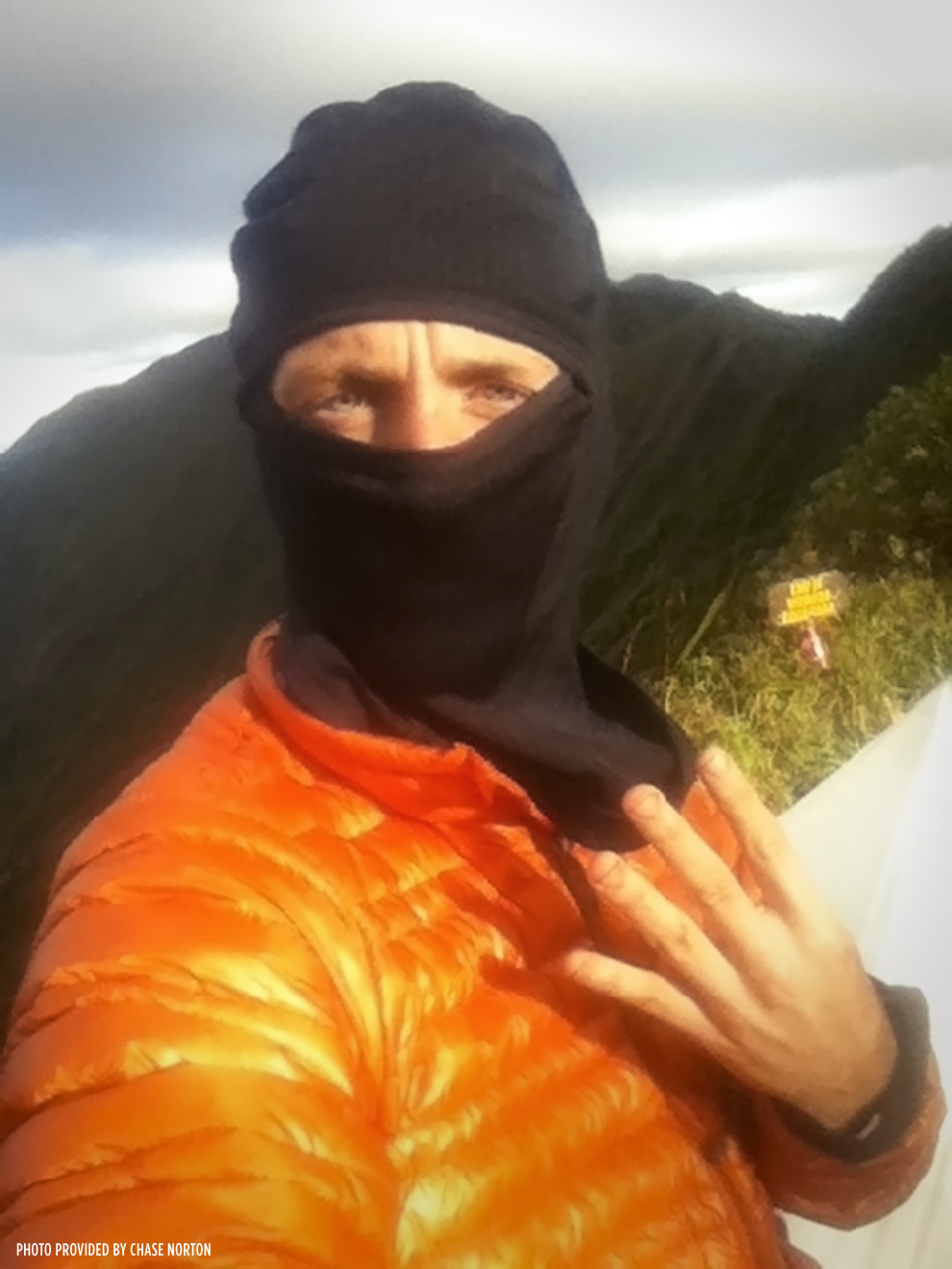 #3
About a month ago, Chase spent a week up in the mountains and completed a hike that no one has completed before. (In modern times at least.)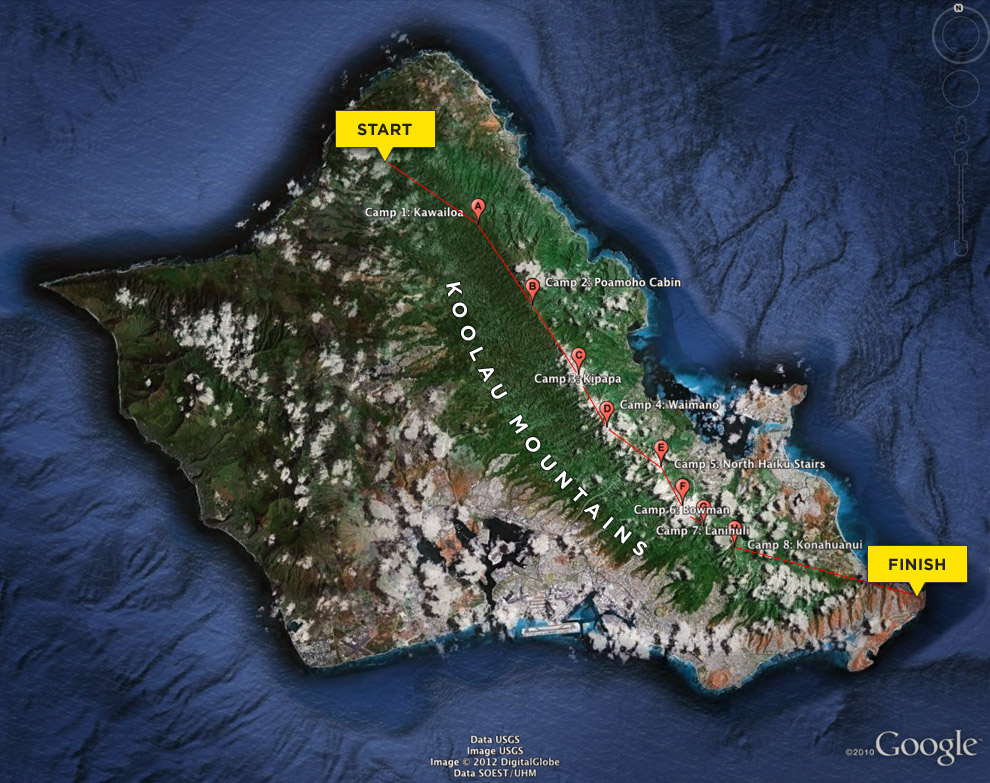 #4
Above
Chase Norton.
Oahu, Hawaii.
He hiked the entire length of Oahu's largest mountain range.
On April 1, 2012, Chase Norton became the first documented person to hike the entire Koolau summit in a single trip.
It took him 8 days. He brought in a two days worth of water and hiked down to streams when he needed to fill up his supply. He carried all his food and camping gear on his back. Nothing was stashed along the trail in advance. He had companions on a couple sections of the trail but for the most part, Chase hiked and camped alone.
When it was done, Chase had traveled by foot from the North Shore of Oahu to the southeast point of the island. From Pupukea to Makapu'u to be more specific. He had covered some 50 miles. With the side hikes needed to collect water, it was probably a bit more. It's hard for me to imagine trying to even walk that distance on a paved road. Chase did it along the top of a mountain range.
Now, I don't know how to put this but … this is kind of a big deal. If you're interested in hiking in Hawaii at least. When you see the Koolaus I'm sure many of you have wondered if anyone has ever hiked the entire thing and if it's even possible. I know I've wondered that and I never knew the answer. But now we know. It's finally been done and the name Chase Norton is now in the Hawaii hiking record books. (Yes, there are Hawaii hiking record books. And no, that is not at all totally nerdy.)
But even if you're not interested in hiking, the story of how Chase was able to complete this goal is pretty fascinating. To hike the summit ridge in one shot takes serious mental and physical endurance. And because no one has ever done it before, it took a lot of planning. Four years of planning to be exact. And, one failed attempt from which he learned some major lessons. This was a big project that consumed all of Chase's free time. Every hike he did for the last four years was done with the purpose of learning the Koolau mountains, finding natural water sources and testing out backpacking gear.
It sounds like a lot of work and it is. But what surprised the heck out of me more was when I asked Chase what activities he was into before he started hiking. I assumed he was a soccer player in college or a runner of some sort. But no, Chase did nothing. Like, he was sedentary. Before he started hiking in Hawaii, he smoked two packs of cigarettes a day, drank beers every night and did nothing active. Then, literally overnight, he switched gears. And over the course of the last four years, Chase has hiked every weekend and transformed himself into a lean healthy endurance athlete who has found his passion in life.
So the lesson we can all learn is that if you move to Hawaii you will become active and healthy and find your passion. Nah nah just kidding. (But seriously, you might.)
In the rest of this post you'll learn some details about the preparation for this hike, see some photos Chase took during the hike and learn a bit more about the history of this hike. Chase has also written up a day-by-day report on the hike with a full gear list. You can download the PDF here.
DISCLAIMER: Do not attempt what you see in this post. It is extremely dangerous and can lead to death or serious injury. The purpose of this blog post is to tell the story of Chase's accomplishment and does not serve as a guide of any kind. I am not recommending that you attempt this hike. The website UnrealHawaii.com is for entertainment purposes only.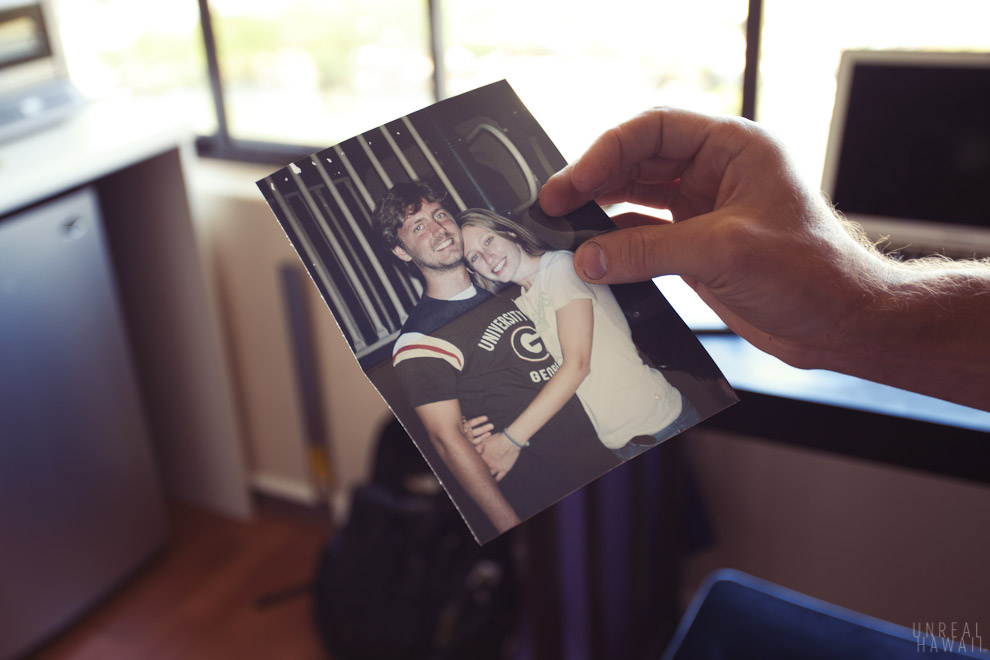 #5
Here's Chase over four years ago. The photo was taken in Georgia where he grew up. He looks like one of the last people you would ever expect to accomplish a milestone hike in Hawaii. He's thirty pounds heavier and living the life of a student that drinks and smokes too much (yet still manages to get girls apparently). To be honest it didn't sound like that bad a lifestyle, but you know, you can't sustain that.
#6
And here's Chase now. We're at his studio apartment in Waikiki and he's explaining to me the motivation for setting out to hike the entire Koolau summit.
#7
Chase is a normal guy. I met him for the first time through mutual friends on a hike up Keaau Ridge. When I heard he completed the Koolau summit hike, we met up for lunch to talk about it and then I asked if I could come check out his gear and take pictures at his apartment. As it turns out, he's lives just down the street from me. He's a student at University of Hawaii Manoa working towards a Ph.D. in Meteorology. He also works for the state as a climate researcher.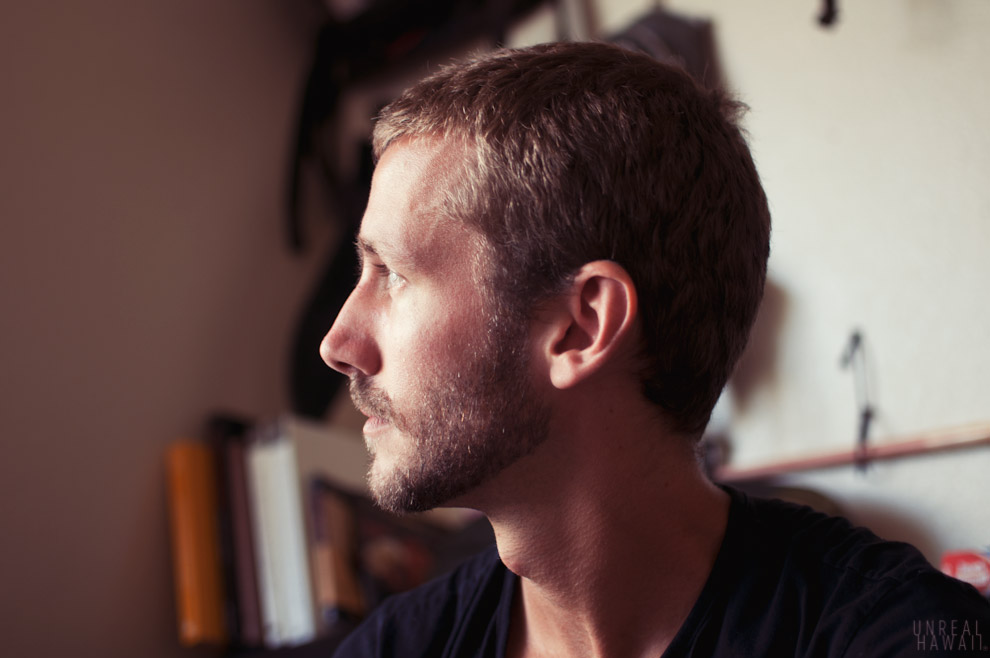 #8
When Chase first moved to Hawaii, he kept up the same lifestyle he had back in Georgia. Student by day, barfly by night. One night at the bar in Waikiki though all that would change. The conversation somehow turned towards hiking. Chase and his buddy Chappy were having a drunken argument about whether or not it was possible to hike the entire Koolau summit. Chappy's stance was that is was impossible. He had been hiking in Hawaii for 8 years and knew the dangers of certain sections of the trail and how difficult it would be. Chase emphatically disagreed and refused to believe that it couldn't be done. Chase had never hiked in Hawaii. That argument must have been hilarious.
But that was the turning point. Chappy's insistence that the hike was impossible sparked a synapse in Chase's brain. That night during that conversation, Chase set the goal to hike the entire summit of the Koolaus.
I guess now that I think about it, Chase is actually not so much a "normal guy." Not too many people are able to commit to goals that will require so much effort. I mean, I've committed to a lot of things while drinking beers but what makes Chase different is that when he woke up the next morning, beer out of his system, the commitment was still there. And from that point on, he set out to make it happen. I forgot to ask him how hard or easy he expected it to be, but I'm sure he was in for a reality check once he started to do the research. The Koolau summit is no Everest but it's still no joke.
#9
Photo by Chase Norton. From Day 5.
The top of the Koolau Range is actually hiked regularly. There's an official trail at the northern half of the summit called the Koolau Summit Trail (or KST). The trail that traverses the southern half of the summit however does not have a name. It's just called the "summit," "spine," or "crest" of the Koolaus. You can see the summit pretty well in this photo.
The trial up there is maintained on an ad hoc basis by hiking clubs. In some parts the trail is very apparent, in others, it might be completely overgrown and invisible. And there are so many trail junctions up there, if you don't know exactly where you're going you are going to get lost.
Most people hike the summit trail in sections. You hike up to one peak (say Mount Olympus), cross along the summit to another peak (say, the top of Ka'au Crater) and then hike down to sea level. It makes for a fun day hike.
Some people like to hike certain sections of the Koolau summit (like the Moanalua Saddle) because they are known to be steep, narrow and very dangerous. So much so that you need ropes to climb up and down parts of the ridge. These make for stressful day hikes.
But the summit is not meant for multi-day backpacking. If you've ever done a backpacking trip you know that the size and weight of the pack changes everything. You're less agile and feel bulky.
To make this hike possible, Chase had to go ultralight.
#10
This is the gear he used on the 8 day hike. Including water and food, at the start of his hike his pack weighed about 35 pounds.
#11
All the materials used are as thin as possible but they are still durable.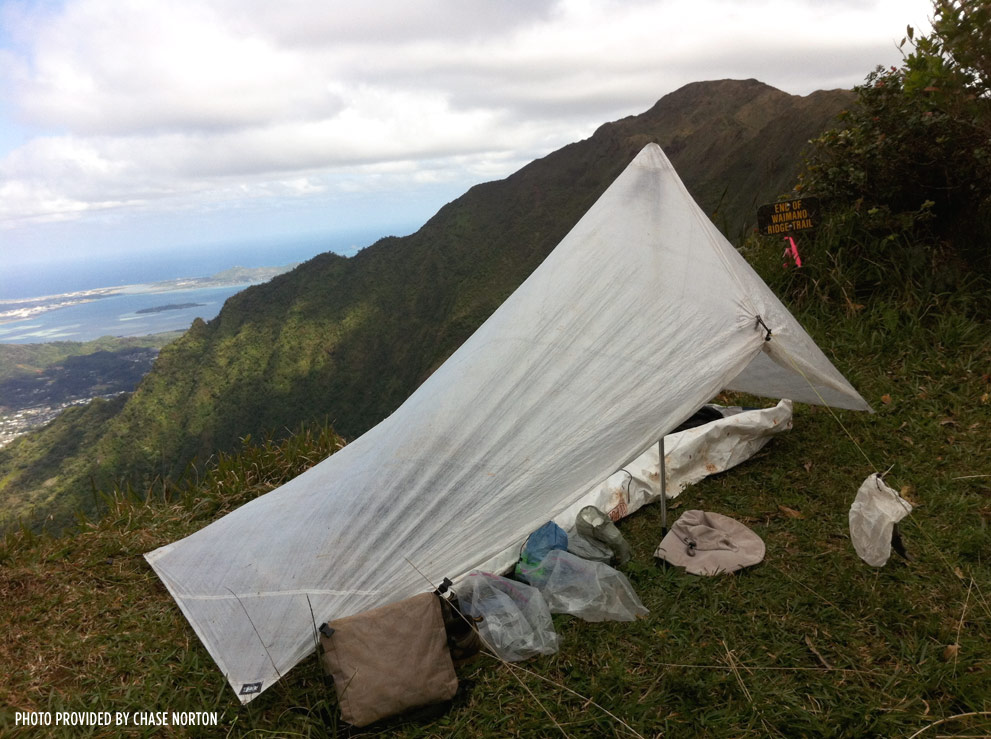 #12
This is his shelter. Not a typical tent you buy from REI. It's a tarp that is supported by his trekking pole.
#13
His pack is totally modified. Unlike most people, the first thing ultralight hikers do when they buy a pack is cut off all the unnecessary straps and flaps. Myself and a lot of people I know tend to feel like the more straps on a pack the better. You know, because it looks cool.
#14
Built into the pack is a sleeping pad. But not a full or half length on that you've probably seen. This is it. Just enough to support the hips and butt.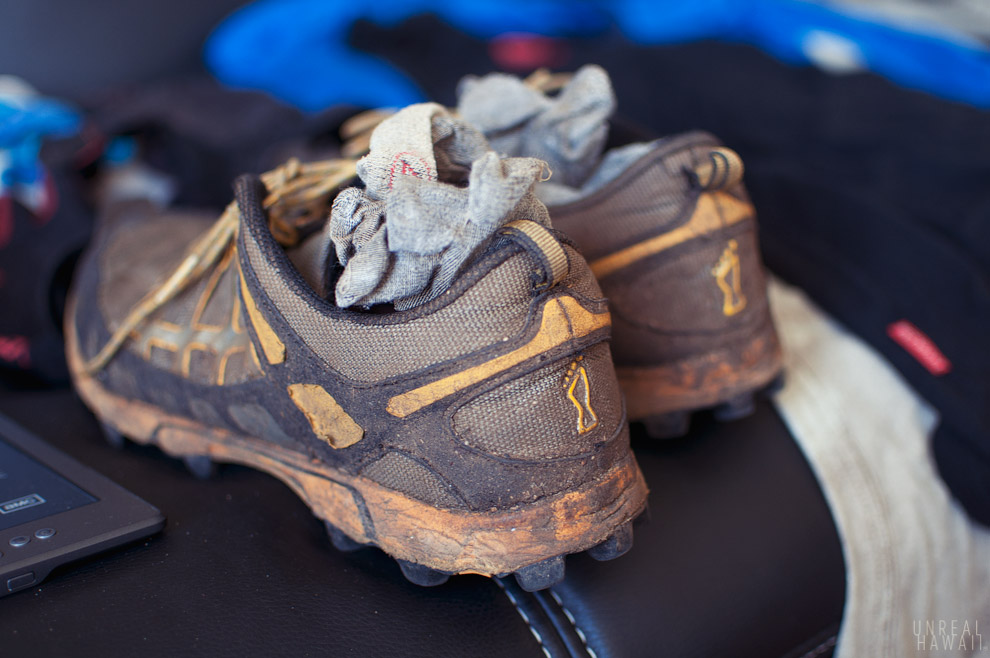 #15
Footwear wise, his shoes are not hiking shoes. These are made by Inov-8 and used by competitive trail runners.
#16
Here's Chase on day one. Already covered in mud with seven more days to go at the top of a mountain.
Were it me up in this position, I might be having a panic attack at this point. But Chase was excited. Knowing that he could exist outside of the city and focus only on one thing (surviving) for the next week made him relaxed and very happy.
#17
Views like this of the North Shore probably help as well. This was taken at the end of Day 1.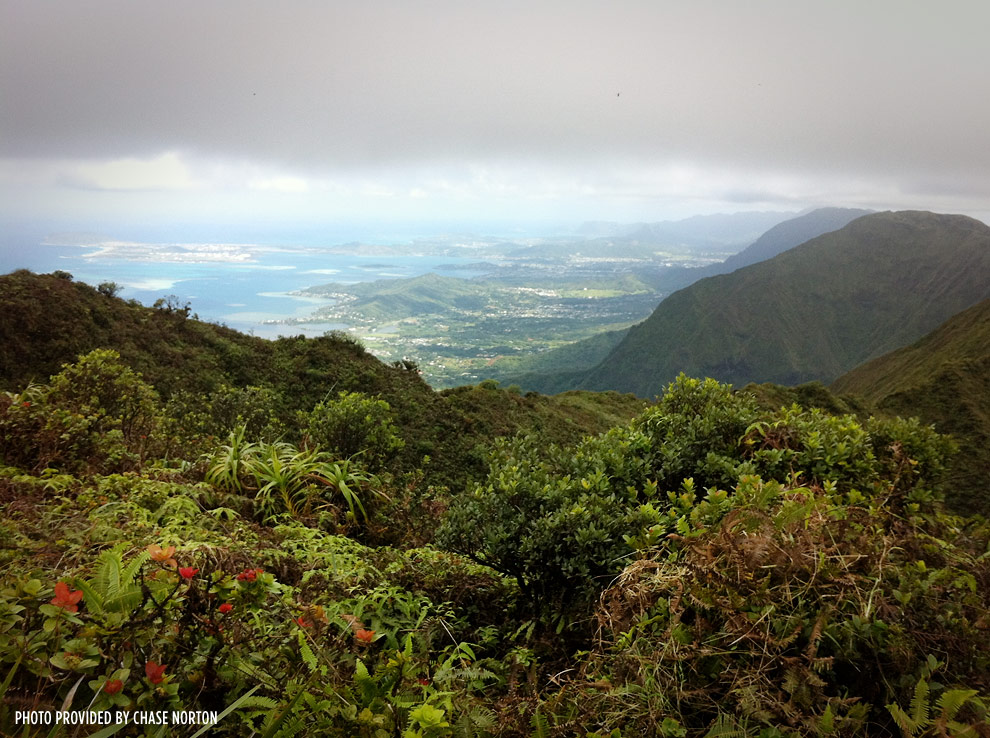 #18
The daytime views are pretty good too. The Koolau summit offers, hands down, the best views of the island of Oahu you can find. So if you're hiking the entire length of it, you're pretty much hiking through a buffet of eye-candy.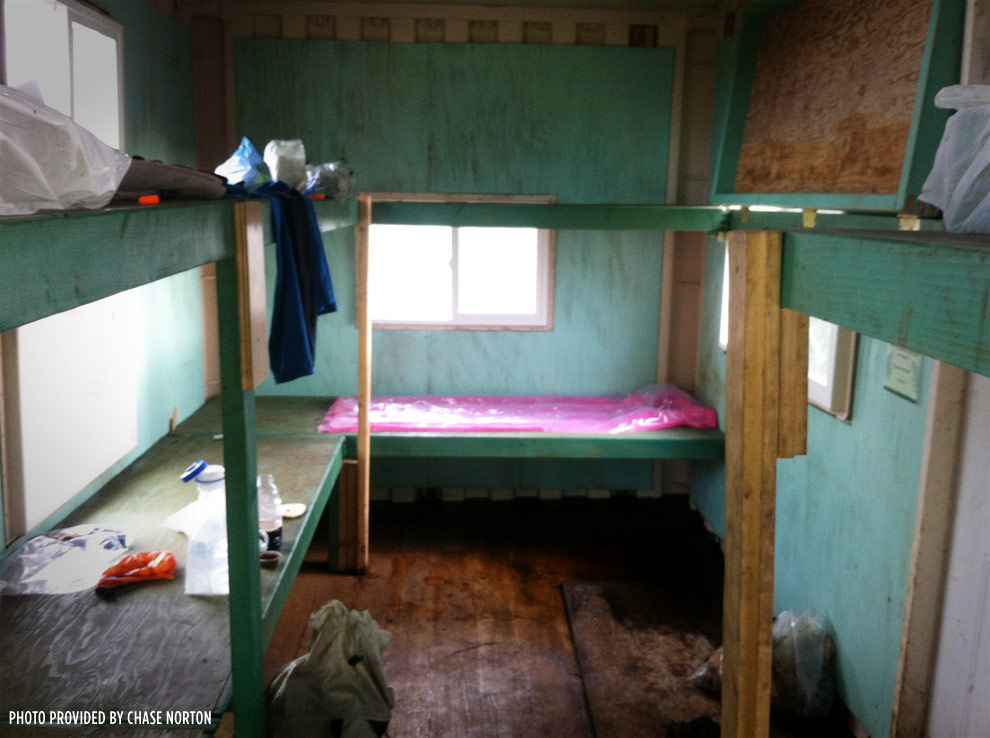 #19
Scattered throughout the Koolaus are cabins that kept Chase out of the elements for a few nights on the hike. These were built as hunting shelters or for trail maintenance crews to use.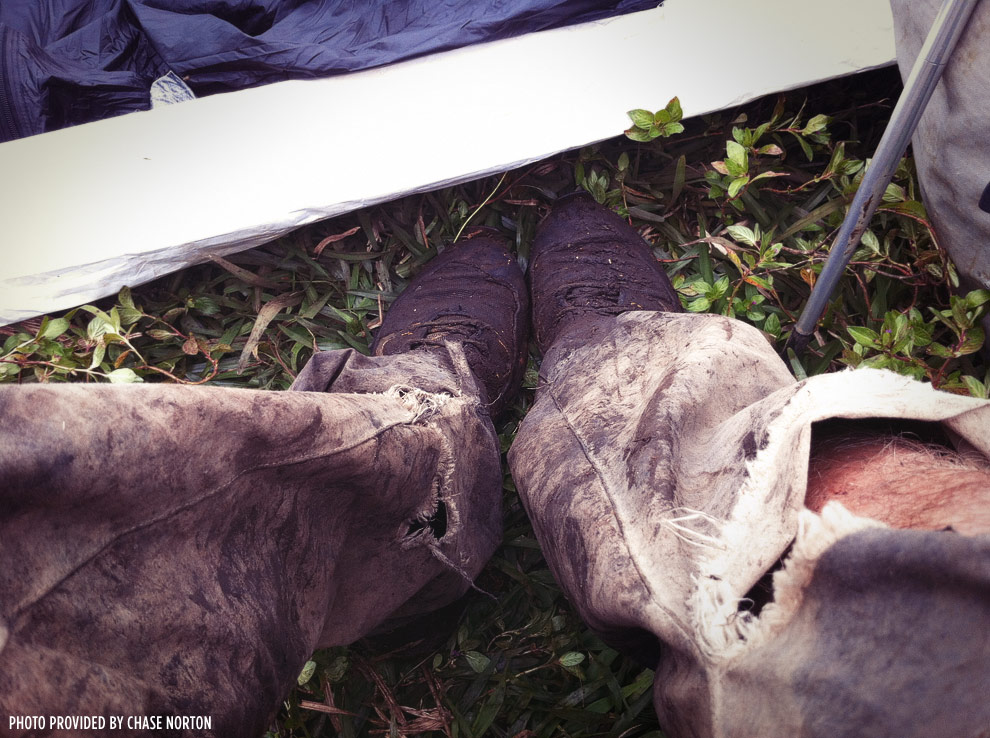 #20
I read Chase's full report on the hike and it sounds like some days were mellow, some days were intense and some days (like the final day) were just grueling. This photo shows his shoes and pants on Day 7.
#21
The hike was planned out meticulously. He knew exactly how far he wanted to travel on each day, approximately how long it would take him and where he would find water and take shelter. He created a daily routine of chores that he would perform each night so that his gear would be in working order and ready to go the next day.
At night, he would email a small group of people (friends and family) that knew he was on this adventure to let them know how he was doing and that he was alive. For entertainment he would read books off his Kindle.
This level of planning seems to be the key to his success. There was no mention of any mental breakdowns in his report. When Chase did make mistakes (like getting lost while looking for water and loosing precious daylight) he was able to stay calm and find solutions. He even had bail out routes mapped out along the entire hike just in case he was in trouble. I think having these escape routes helped keep his mind calm and confident.
#22
But nonetheless, hiking for 8 days is taxing on the mind and body. And the most difficult part of the trail comes at Day 7. It involves some of the most treacherous ridge hiking on the island. Alone, tired and with a backpacking pack on, this part of the hike becomes even more dangerous. This is Chase's face at the end of a crazy day.
Here's an excerpt from his report:
The challenges fell fast and then as if my body knew the worst was behind me I hit a mental and physical wall of exhaustion. It felt like my body just let go of all the built up stress over the last 7 days. I had never felt so empty of everything inside me. I had run out of water around the last rock climb and still had 2 1/2 hrs until the hairpin water was deemed drinkable. It was around 3:30 pm at this point and I knew even if I went extremely slow I would make it to the summit before dark so the remainder of the ascent became 2 minutes of rest for every minute of hiking. Literally, 5 or 6 steps, rest, then repeat. That last climb up the steep mud with the tree you have to use for footing was by far the hardest thing I have had to do the entire trip. But I made it and dragged myself to the summit laying on top K1 at 4:45 pm.

It took about 30 minutes until I could move enough to call friends and family to let them know where I was and I was safe. Even talking was difficult. My mother later told me she has never heard me sound like that and it had worried her. I played with the idea of crossing over to K2 but my body quickly told me what I could do with that idea so the highest point on the summit of the Koolau mountains was my home for that night and I could not have been happier. I was exhausted, extremely dehydrated and starving but I was alive and had successfully crossed the saddles in 2 days.
#23
Completing one of the most challenging days of his life, Chase was rewarded with a night spent here.
The final day of the hike approached, Day 8. Wake up time was 6:30am. On the final day he would hike for 15-hours to cover the final 12 miles of the Koolau summit and return to civilization.
Now, I don't know about you but I've never hiked for 15 hours before. I've hiked for 10 hours and it exhausted me. So to do a 15 hour hike after hiking every day for the last 7 days is a bit beyond my realm of comprehension (and ability). I'm not sure how he was able to pull off this last leg of the hike but he did it. It was not easy though. Chase had run out of water with about 5 miles left to go. He was dehydrated but determined.
Here's an excerpt from Chase's account of the last day of the hike:
My head was down and my legs were pumping to get me home. Around Hawaii Loa I was down to 1L of water and by the time I reached Mariners I was empty. The section between Mariners to Makapuu while enjoyable hiking wise, was very difficult due to lack of water. It is not like I was well hydrated to begin with and by the time I was empty I was already very dehydrated. As the sun began to lower itself and the heat reduced some I was able to move a little faster but still my hiking was mainly, "Get up that and then I'll lay down for 10 minutes" and repeat. I have done this section countless times and again knew if I took my time, rested when needed, I could make it to the lighthouse by  nightfall. Just as the light was starting to fade away I tagged the lighthouse fence and quickly descended back down to make it to the road/look out right as complete darkness set in around 7:45.

PAU!
And with that, he was done. ("Pau" is Hawaiian for "done".)
Now at Makapu'u he called some friends to let him know he had completed the hike and they came to pick him up.
#24
An excerpt (the final two paragraphs) from Chase's report:
I called Rasta for a possible pick up but he was unavailable so he called Duc and Thea who both happened to be coming to pick me up. I descended down to the Makapuu beach park water fountain for a well needed water chugging session. Silly, just a little knob and fresh clean ready-to-drink water in unlimited supply. With the last few percentages of my battery I let family know I was safe and let Duc know Thea was coming to pick me up. She showed up with what I believe to be my first lei and an amazing one at that! It had the power to mask all of my horrible smells! I enjoyed a great conversation with her on the ride back into civilization. She had driven me home on the attempt in November and we both agreed this drive felt much better:-)

Slowly, we pulled into my apartment building and with a hug and good byes I walked back into my old life, stronger and more confident in who I am and my abilities than a mere 8 days ago. My apartment may be in town but my home will always be in the mountains. A great friend summed this entire journey up well in an email afterwards, "I feel like you have completed a long journey that has covered years gradually building up your knowledge and abilities. Discovering the KST, the tough sections, not listening to naysayers (like me) and just seeing and doing for yourself."
#25
So what's next for Chase?
Well, he's still hiking in Hawaii. He's still got his Ph.D. to work at too. But, he's already got a new goal. One that's more ambitious than the Koolau summit hike and that will take even longer to plan and achieve. He has his mind set on hiking ten of the highest peaks on the planet in ten years. This goal is out there. And trust me, I watch a ton of Nat Geo and Discovery Channel so I know. But now that I've gotten to know Chase and learned about his ability to dedicate a tremendous about of time and energy into a single point of focus, I wouldn't count him out. Congrats on achieving your goal Chase, and best of luck to you on your next one.
* * *
Some history on hiking the Koolau summit.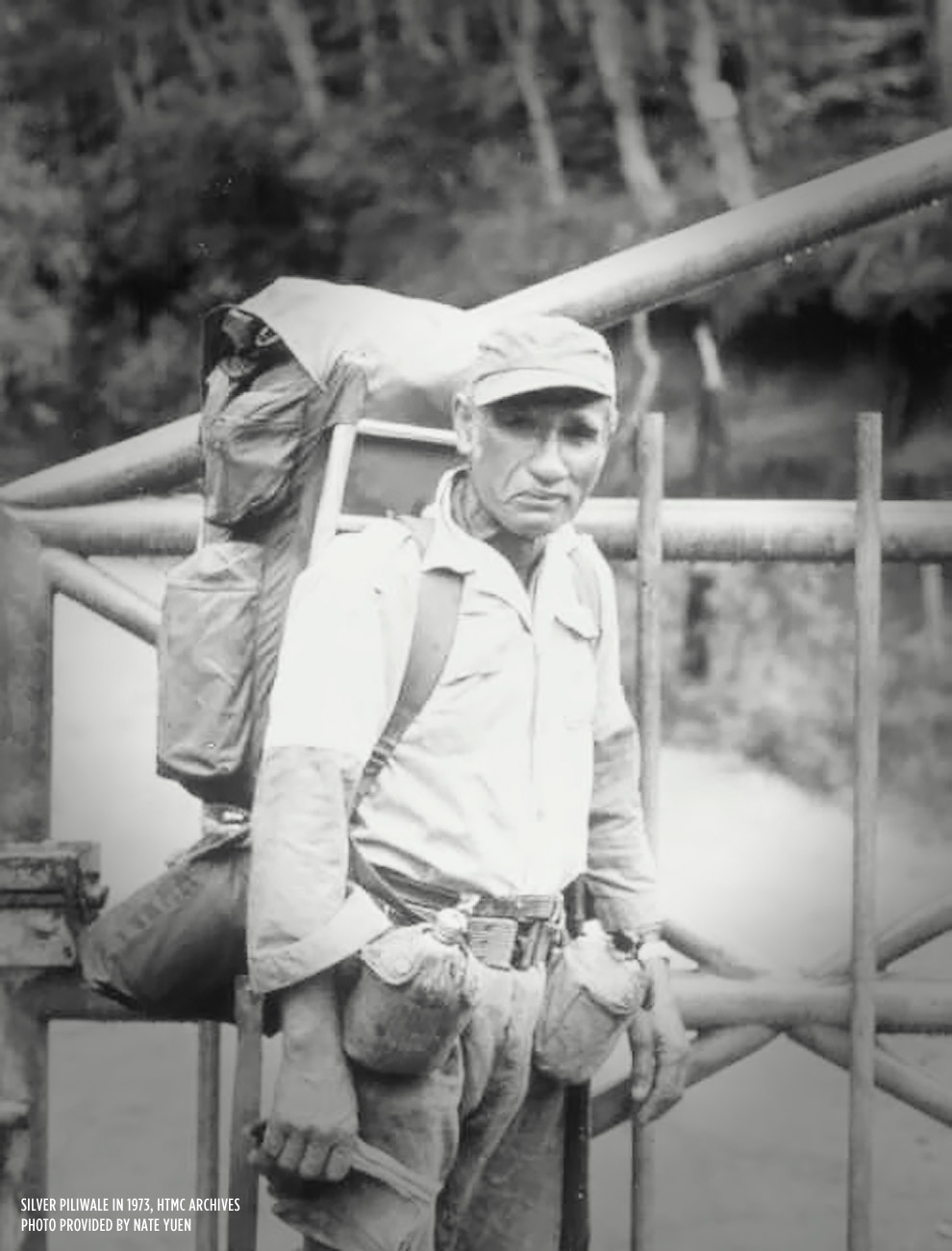 #26
The first known account of anyone completing a significant portion of the Koolau summit is Silver Piliwale's hike on his 72nd birthday. This was in 1973. He didn't go all the way to Makapu'u but he also didn't have as much of a trail to work with. His pack was also heavier. And he was 72. Silver Piliwale is a Hawaii hiking legend though so I'm willing to bet at 72, he was a stronger hiker than myself and most of the people I hike with now. The photo above was provided by Nate Yuen (HawaiianForest.com) who obtained it from the Hawaiian Trail and Mountain Club (HTMC) archives.
Others have hiked long sections of the summit as well and accounts of those are all over blogs and the Facebook. But, I think the best resource on the Koolau summit you'll find online is a webpage created by Dayle Turner. It contains a list of the major sections of the summit and hiking reports for each. See "Hiking the Koolau Crest."
I'd like to reiterate that Chase's hike is the first known account of this hike ever being done. We will never know what intrepid Hawaiians have done before it was cool to keep records of such things.
[Update: 5/9/2012]
A quote from Nate Yuen (active member of the HTMC) regarding Chase's hike:
"Chase is the only person over the 102 history of the Hawaiian Trail and Mountain Club who has done this is a single shot. No one we know has made a claim of completing the entire length of the Koolau Mountains from Pupukea to Makapuu backpacking self-contained. It is possible it was done prior to western contact but there are no historic claims we know of. Realistically, the feat is probably only doable since the advent of ultra light backpacking about 20 years ago."
See also:
Read Chase's full report on his hike: KST 8 Day Thru Hike – by Chase Norton (PDF)
Chase has also created a Google Earth map that lists all his camp sites, water sources, peaks and ridges. This map is a huge contribution to the hiking community in Hawaii. Even if you're not planning on hiking the entire Koolau summit, I'd encourage you to download this just to learn the terrain. Download here: KST9DTH.kmz (You'll need to install Google Earth to view this.)
Chase's profile on BackpackingLight.com, a forum for ultralight backpackers.